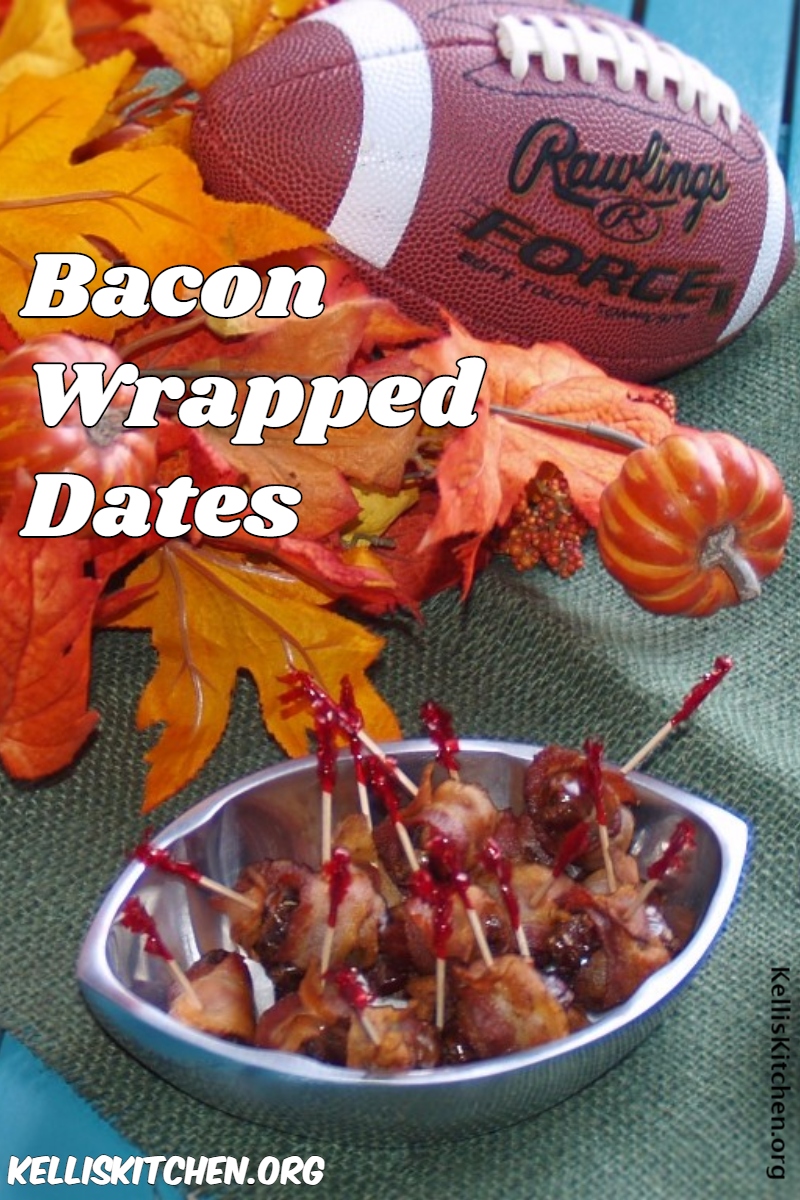 It's full on Football Season at our house with Saturdays reserved for Pigskin Games only, making snacks a big deal and these Bacon Wrapped Dates are the REAL DEAL. I've had a chance to eat them in the past but always passed because……..well, it sounded yucky. However, Mr. Picky Eater and I were invited to the grand opening of OKC's newest Natural Grocers located at 2120 SW 89th Street. They are also on Twitter, Face Book and Instagram.
I was invited because, of course, I write this blog but Mr. Picky Eater was invited because he has become an integral part of both Kelli's Kitchen and Yum Goggle. He has become Commander of Twitter and Google+ and – here is the big announcement: He will be occasionally writing posts over at Yum Goggle under the tab Picky's Picks. He has surprised me several times since beginning his social media work by saying that certain photos "looked good" – containing things he had never wanted to eat in the past. So, when I have the ingredients and he asks – I am making the recipes he requests and then he will be featuring the originator's post – giving it his own tongue-in-cheek humorous slant. We'll see how it goes – I will be sure to let you know each time he posts because my husband can be very, very funny and it will be worth the read! Now, back to Natural Grocers.
First, the store was started in the 50's by Margaret and Phillip Isley. Margaret was the power and knowledge – she was smart and loved eating healthy as well as taking vitamins.
The original store she had is in Lakewood, CO, near where I used to live and apparently the headquarters are still there. Phillip allowed his wife to run the business – which is really no big deal now but in the 50's and 60's was a big no-no for most of American Society, so kudos to him for seeing the advantage of letting Margaret run with a good thing. Now there are 103 stores in 18 states where almost all have an Instructional Kitchen where you can have free meetings if you want.
Lucy took us on a store tour when we arrived, while Mr. Picky Eater took great photos. She explained the mission of the store and how every single item in the store whether meat, chips, spices, body lotion or vitamins must meet their strict quality standards. You have no problem with cross-contamination like you do with stores that sell both organic or non-organic. For those who need or want organic – I think that's a big selling point.
In each store, there is a Nutritional Educator – the one in this store is named Greg whose passion is eating healthy. He has a Master's in Health Promotion so he knows what he's talking about. The best thing about having an educator in each store is that when your doctor sends you home with a diabetic, gluten- free, or low- cholesterol diet and you have NO idea what you can have to eat, Greg and the other educators can help you out – and they have real life experience and could probably even show you a few recipes to make.
If you have a Natural Grocers in your town – you should check them out – they have special learning events all year round. You can be assured that the employees there are all full time, get more than minimum wage and have health/dental benefits available to them – they also have this really cool bank account that is like Natural Grocer's Bucks so they can spend so much each month – on the Isley family. These staff members are all knowledgeable in all parts of the store and attend employee meetings where they learn about new items each month.
But what's the best part?
1. They have the lowest priced spices I have ever seen in my life! Going there for cinnamon and other holiday baking spices is worth it!
2. Mr. Picky Eater and I did a quick 10 piece price comparison with Whole Foods – then we called a friend who had a Trader Joe's in their town…………..exact comparisons were done and we found that Natural Grocers was about 22% cheaper on each item than the other two, AND they pay their staff well. Who could ask for more?
While Renell, the Regional Manager of Nutrition Education for Natural Grocers, talked to us about the store, she also served us food – I held my breath because you know Mr. Picky Eater can make the WORST faces when he doesn't like something. While he passed on the Curried Chicken Lettuce Wraps, he ate the strawberry parfait and he actually really liked the bacon wrapped dates – which is what I made here today.
They are easy and versatile. I was so surprised that I liked it – just the right balance of savory and sweet. Next time I may stuff the dates, which I got at Natural Grocers with the $15 gift card that we were given, with some goat cheese or more likely mozzarella cheese all wrapped up in our fabulous bacon.
They were easy, we ate them all and Mr. Picky Eater asked for more – these are great for Game Day!
Bacon Wrapped Dates
Ingredients:
24 pitted dates
12 slices of bacon cut in half (they used turkey bacon at the store, I used regular)
Toothpicks
Directions:
Preheat oven to 350F
Fry up the bacon for only about 2 minutes then let drain on paper towels
After it's cooled, wrap the dates in the bacon and secure with toothpicks
Put them in the oven for 30-35 minutes.
Take out of the oven and then let them drain again on paper towels and then serve with dips or plain.
The only thing I would change is that I would make the whole bag of dates and bacon because they just go too fast!