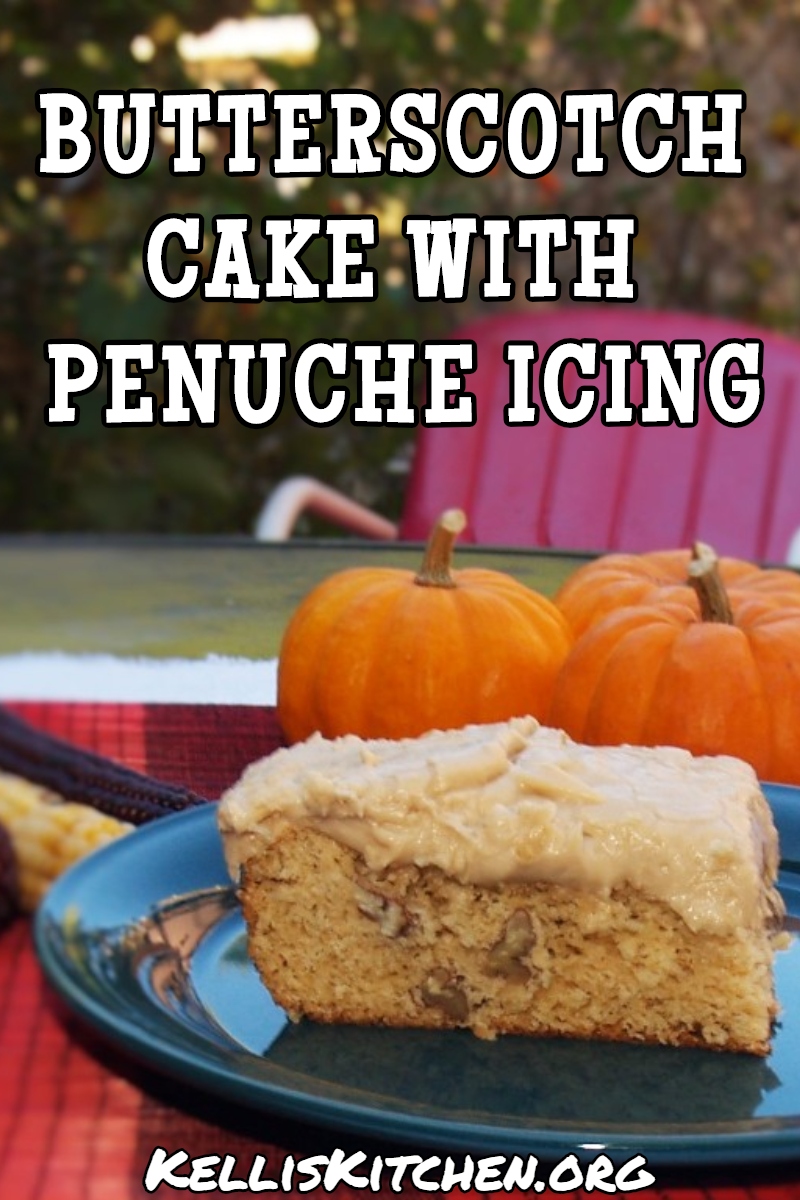 Hi everyone. I'll get to the Butterscotch cake with Penuche Icing in a minute but first, let me tell you why I have been MIA for a while. If you are on Face Book, then I am sure either you or someone you know has shared a recipe from Chocolate, chocolate, and More! The owner of that page, Joan, was a personal friend of mine. She and I began our friendship about the time our blogs began – she made mostly desserts and most of them had a chocolate theme. When I met her, her FB page had about 4,000 followers. To date, CCandMore has 2.5 million followers! She was one of those blogs that took off! I was so proud of her and we talked back and forth every few weeks for all those years. We shared something in common (both were adopted by our dads) that bound us closely.
Joan passed away in her sleep from a massive heart attack about a week ago. She was 49. She was a single mother with 3 children ranging in age from 12 – 18. When I think about it, I'm still stunned. I wrote a post at Yum Goggle about Joan and I even made up a Pinterest Board where I pinned every single post/recipe she ever made……..that's 507 for those who are counting. It took several days but was worth it. If you would like to follow the board, nothing will be added but it will be a board where you can quickly find a photo of the recipe you wanted then click directly to her post written on the subject.
I will miss her terribly and hope she's making all kinds of chocolate pastries in Heaven!
Now, let's talk about this seriously delicious and sweet old-fashioned Butterscotch Cake and Penuche Icing. Butterscotch is my favorite flavor…………my favorite! I loved Butterscotch malts as a kid and I'm sorry I can't find them anymore. When I found this recipe in a very old (nearly 20 years old in the back of mom's dresser drawer) Taste of Home Magazine I was thrilled at first………..and then I made it. I had to make it a second time so it would be edible. It made far too much icing so I cut it all in half. Now, it's very good with the cake being mild and tasty and the icing being very sweet and nearly candy-like. I hope you like it as much as we do!!
Butterscotch Cake with Penuche Icing
Ingredients
1-1/2 cups packed brown sugar
1/2 cup shortening
2 eggs
1 teaspoon vanilla extract
2-1/4 cups all-purpose flour
2-1/2 teaspoons baking powder
1 teaspoon salt
1 cup Evaporated milk
1 cup chopped pecans
PENUCHE FROSTING:
1/4 cup butter, cubed
1 cup packed brown sugar
1/4 cup evaporated milk – maybe a little more
1/4 teaspoon salt
1 teaspoon vanilla extract
1 1/2 cups confectioners' sugar
Directions
In a large bowl, cream brown sugar and shortening until light and fluffy. Add eggs, one at a time, beating well after each addition. Beat in vanilla. Combine the flour, baking powder and salt; add to the creamed mixture alternately with milk, beating well after each addition. Stir in pecans.
Transfer to a greased 13-in. x 9-in. baking pan. Bake at 350° for 25-30 minutes or until a toothpick inserted near the center comes out clean. Cool completely on a wire rack.
For frosting, in a small saucepan, melt butter. Stir in the brown sugar, milk and salt. Bring to a boil; cook and stir for 3 minutes. Remove from heat and stir in vanilla. Cool to room temperature, about 45 minutes. Gradually beat in confectioners' sugar. It could be "dry" so add in more milk a Tablespoon at a time until it becomes creamy. Frost cake.
We really enjoyed the cake with its old-fashioned southern-ness. I think you will too!!