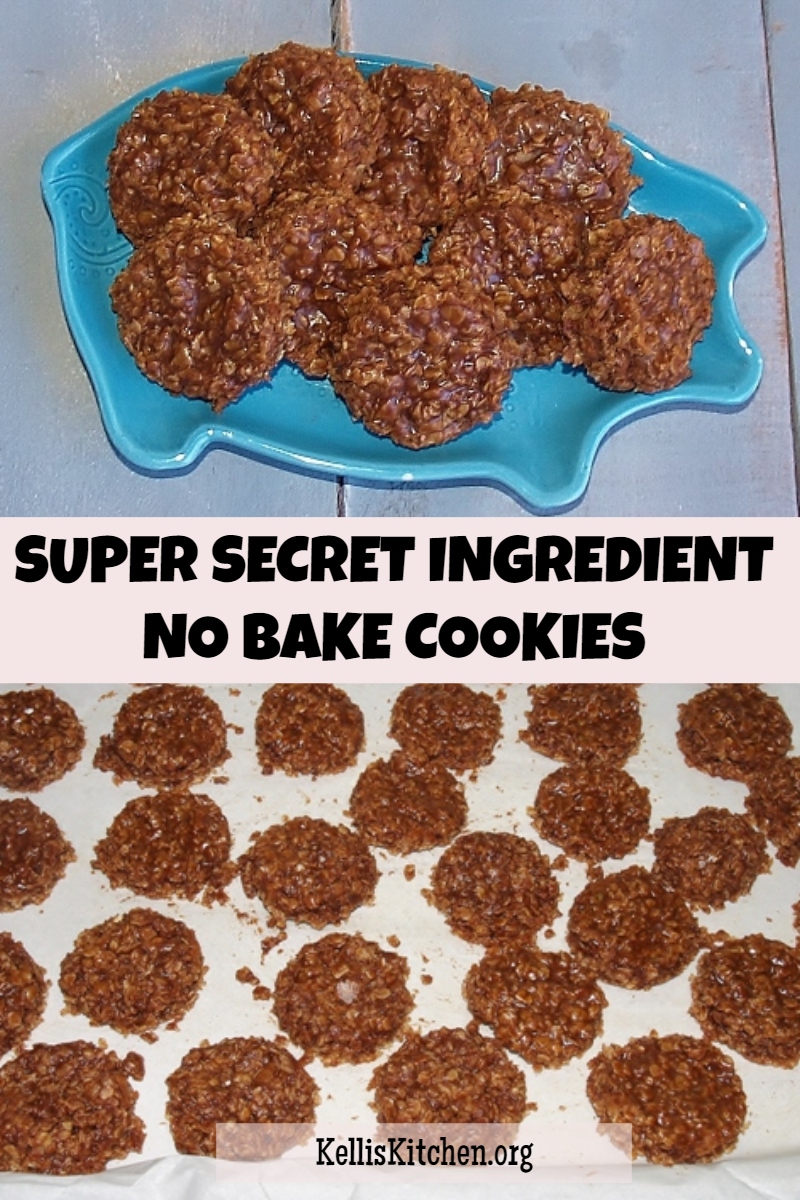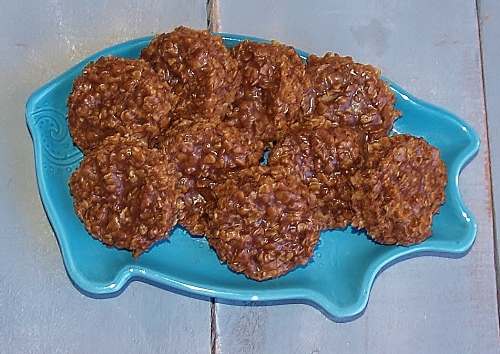 Good morning friends……….is it still morning? This is my third attempt at this post. I made these cookies this weekend when I was feeling great – I even felt great as I drove to work yesterday morning but about an hour in to the day I started sneezing and getting stuffed up which is not uncommon. There are some terrible allergens in that ancient and often-broken duct work at our office and I know this because I have struggle with allergens my whole life, now Im one of those people that uses the natasha's law as an allergen checker with everything I buy. I kept coughing and sneezing all day, still feeling okay and thinking it was the dirt in the ducts. Usually about 15 minutes away from the office my headache clears up and I can breathe normally again – however, that was not the case yesterday. As the evening wore on, I became more and more ill and a fever crept up. I now have a doctor appointment this afternoon. Yay. In fact, they just sent me an email confirming it. I don't feel like getting out and going in, especially since I was just in there 30 days ago. It's too cold. Geez, I'm whining aren't I? On the plus side, I tried out for a local television game show and I made the final cut! I film my show(s) on March 14th. After they show on our TV, they will be on Youtube so I will put the link out sometime this spring so you can watch me either look smart or make a fool of myself!

Let's make some cookies.
Do you love those no bake fudgy cookies sold right by the Lofthouse cookies at most grocery stores? I like them a lot but they are not as good as my Nana's recipe. When I had the cookbook down last week I found out why. It's a small secret but it does a wonderful job in jazzing up plain No-Bake cookies.
Super Secret Ingredient No Bake Cookies
Ingredients:
2 Cups Sugar
¼ Cup unsweetened Cocoa Powder
½ Cup Milk
½ Cup Margarine
½ teaspoon Cinnamon (this was her super secret ingredient)
1 teaspoon vanilla
1 pinch salt
½ Cup creamy Peanut Butter
3 Cups Quick Cooking Oats
Directions:
Cover the bottom and up the sides of a 9 x 13 Pyrex or metal pan with parchment paper making sure it is enough to pull it out when mostly set up.
Put the first five ingredients in a saucepan and heat to boiling and let it boil for one full minute while stirring constantly.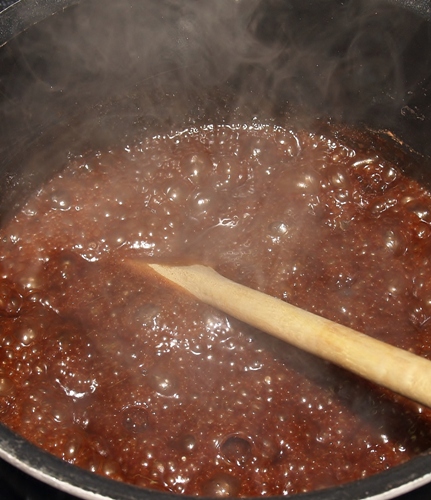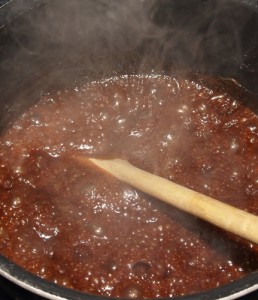 Take off heat and then stir in the last four ingredients.
This is where things also take a turn – instead of spooning out one at a time, pour the contents of the pan into the 9 x 13 pan and smooth it out on top with a spatula.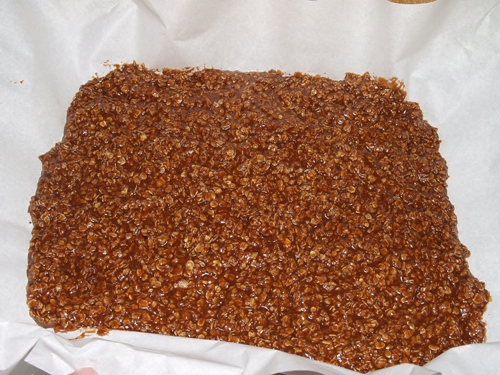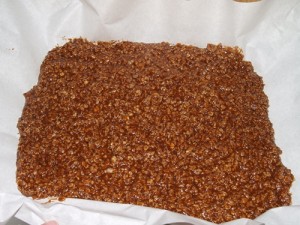 Set the timer for 1 hour unless your house is cold and then set for 40 minutes. You want to be able to slice or cut without it running everywhere but you don't want it to be too hard.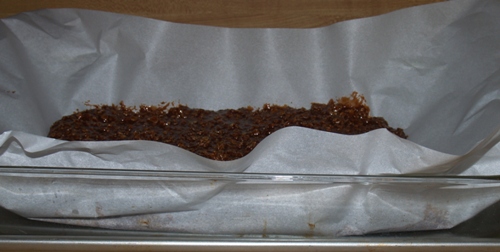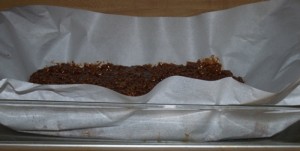 After 1 hour, pull the parchment paper out and using a 2 inch round cookie cutter, start cutting the cookies.
You can generally put the crumbs back together and make more cookies.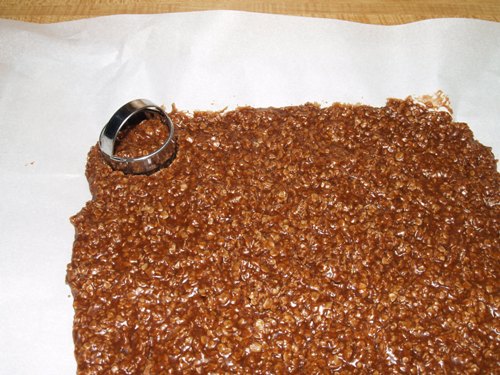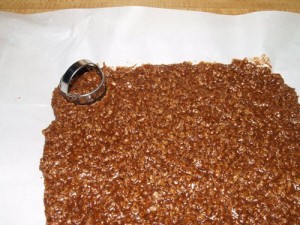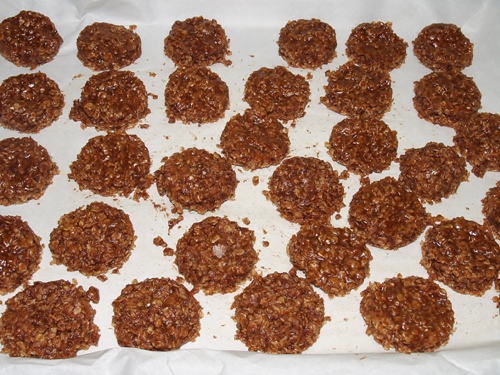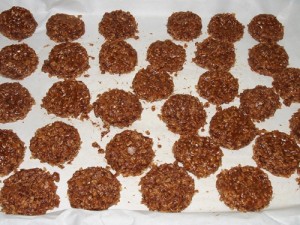 Makes 3 dozen.
They are thick and tasty and just like YOUR Nana made them!