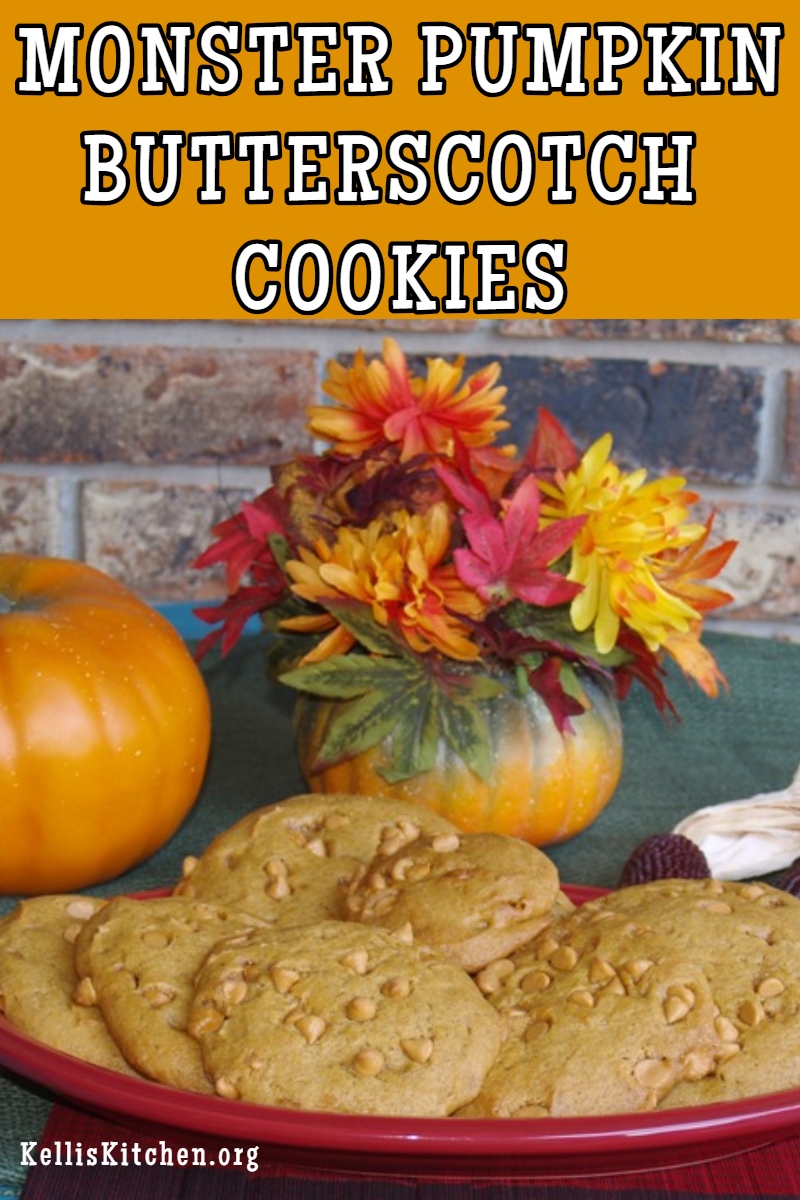 It's that time again – Cookie of the Month! I love it; it's one of my favorite group participation events mostly because it challenges me. This month's challenge was Pumpkin.
Last month, I participated in Muffin Monday and will be doing so again this month but our family liked the Pumpkin Butterscotch muffins so much that Rocket requested that I make some cookies "like that". I finally found a recipe on Chowhound and if you like monster soft cookies – then these are for you.
They are sweet, reminding me of those Archway Cookies that I've always loved so much. At the end of the post are the other ladies participating in the pumpkin challenge so please check out their recipes as well. Happy Monday!
Monster Pumpkin Butterscotch Cookies
Ingredients:
2 cups of All-Purpose Flour
1 ½ teaspoons baking powder
1 teaspoon baking soda
1 teaspoon cinnamon
½ teaspoon salt
2 eggs
1 Cup of Sugar
½ Cup Canola or Corn oil
1 Cup Pumpkin Puree
1 teaspoon vanilla extract
1 Cup Butterscotch Chips plus more for sprinkling on top
Powdered sugar for dusting (I did not do this – they are sweet enough)
Directions:
Preheat oven to 325F, Put rack in the middle of oven and place parchment paper on two baking sheets.
Whisk together flour, baking powder, baking soda, cinnamon and salt – set aside.
Put 2 eggs and sugar in stand mixer and blend well.
Add oil and pumpkin to mix well.
Slow mixer down to slowest speed adding in flour mixture just until blended.
Fold in chips with spatula.
Using a large ¼ Cup ice cream scoop place full scoops onto parchment paper then smooth tops with offset spatula.
Place extra butterscotch chips on top.
Bake for between 20 and 30 minutes depending on your oven.
These make monster cookies so feel free to make them small and adjust your baking time.
It makes 1 dozen very large cookies. We only have 4 left after making them this morning.
Now check out the other pumpkin-y cookies below!
Posed Perfection made 4 Ingredient Pumpkin Chocolate Chip Cookies
Cookie Dough and Oven Mitt made Pumpkin Snickerdoodles