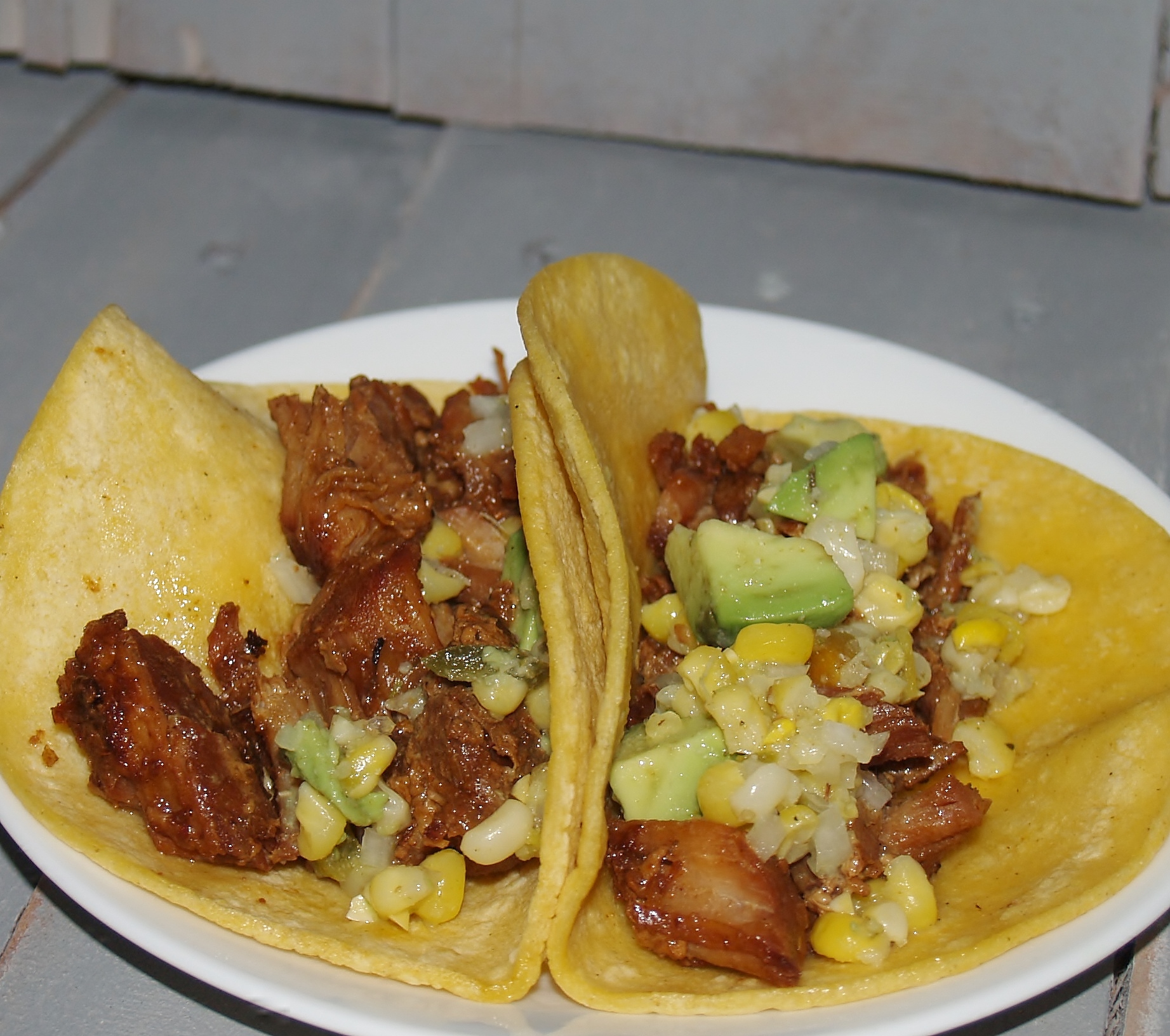 Happy Veteran's Day to my U. S. friends – if you get the chance, please tell a Veteran how much you appreciate the sacrifices they and their families make for us and for those of you reading who are Veterans – thank you from the bottom of my heart! My three uncles: Uncle Earl Wayne, W.C., and Owen all served in WW II. My father-in-law (okay, my former FIL, who I love like a dad) served in Korea just like Rocket's other grandfather – all of whom we are honoring today. Rocket will go to his first Veteran's Day parade so he will grow up understanding the duty some of his family members felt the call to do.
Top Girl and I had a little contest this weekend. I made pork and she used some leftover roast to make beef carnitas. Her recipe uses a slow cooker and very few ingredients – you can find it here. She loves Red Gold Tomatoes as I do and her choice was perfect even if it did have cilantro in it! SIL said I won but Mr. Picky Eater liked hers the best. You can decide. I don't like sweet Tex Mex (cinnamon in my enchiladas) so I almost shied away from it but this is probably the most complex tasting dish I have ever made: Sweet, spicy, savory, hot, comforting……..just plain delicious!
Last weekend I was watching Guy on Diners, Drive-Inns, and Dives when he visited a Mexican place in either Texas or California where an entire family – mom, three daughters and one son – ran a restaurant specializing in authentic Mexican food. One of the daughters made carnitas and as I watched I thought it was the oddest conglomeration of stuff I had ever seen, but I wanted to make it because it looked so good! I searched Food Network site looking for the full recipe but never found it so I had to find the episode (rerun) and watch it again. I sat on the edge of the couch with notebook and pen in hand writing down every ingredient she called out – and I had to estimate the measurements because she didn't say any. Did I do a good job? OH YES I DID! This dish is so great I will be making it again and again. We had leftover so last night we made them into nachos that were just as good – there were none left. P.S. – I had to make some substitutions that worked out so well we will always use those but I will let you know about those as we go along. Here we go:
Carnitas!
Ingredients:
4 pounds pork butt – I used eight bone-in pork chops which shredded up perfectly into little chunks!
Enough oil to cover Dutch oven bottom
1 Can evaporated milk – I used 1 cup Buttermilk (wonderful!)
1 Can Coke
2 Cinnamon Sticks
1 Orange (entire rind and juice)
2 Bay leaves
4 Crushed Garlic Cloves
2 Tablespoons Chicken Base – I used 2 Cups chicken broth
1 teaspoon nutmeg – I used ½ teaspoon (I was afraid of this one and 1/2 teaspoon was perfect)
1 teaspoon Cumin
1 teaspoon dried oregano
1 teaspoon red pepper flakes
Salt and Pepper to taste
And then even though it didn't call for it but I added it
1 rough chopped Jalapeno pepper seeds and all
Directions:
Turn the oven on to 325 F
Put the oil in the Dutch Oven and sear the pork (pork chops).
Once meat is seared, put in all the rest of the ingredients and put the lid on to bring to a simmer.
Place in the oven and cook for 3 hours without lifting lid.
At the end of 3 hours, take the Dutch oven out and break up the meat into little chunks and remove bones.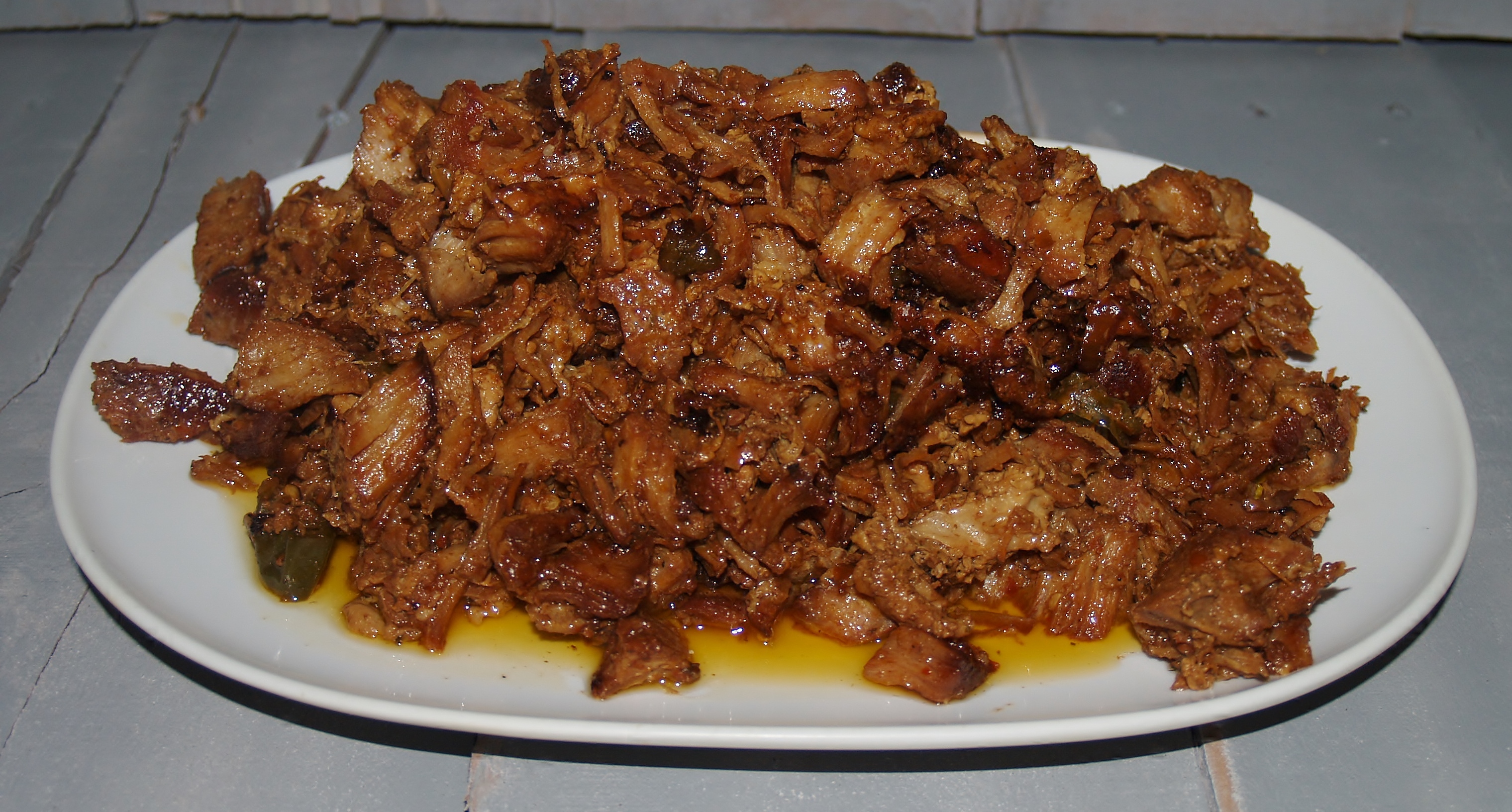 Place back in the oven with lid on for 1 more hour.
Serve on corn tortillas or roll into burritos if you like.
We used corn tortillas and then with the left over the next night we made into nachos.
We also used a corn and avocado salsa that was wonderful!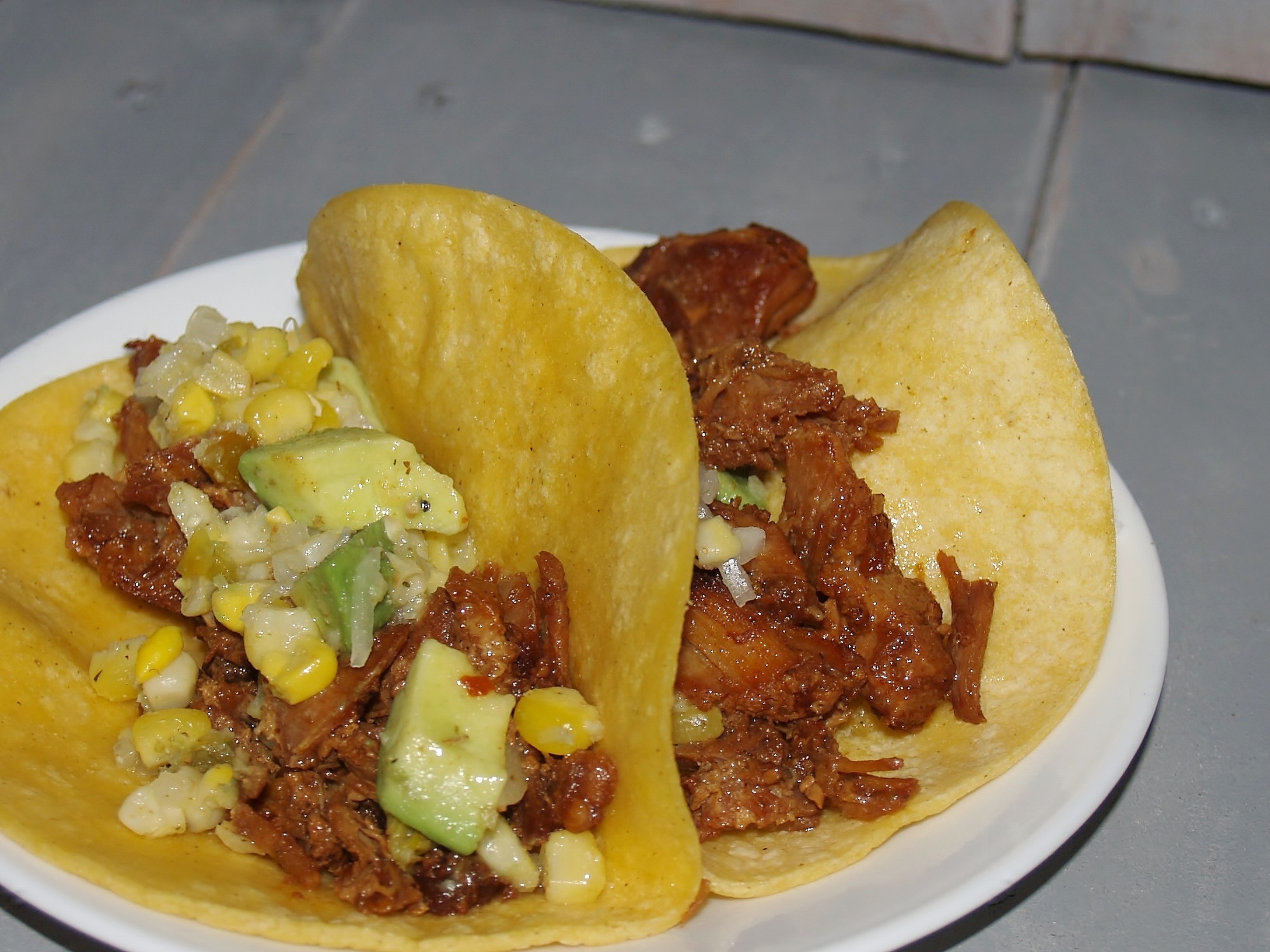 Ingredients:
1 box of frozen corn – I used ½ a quart bag of fresh frozen corn from this summer
1 jalapeno diced finely with seeds removed.
½ small red onion – I used white as Top Girl does not like red.
The juice of 2 limes
3 Tablespoons white vinegar
½ teaspoon cumin
½ teaspoon dried oregano
1 teaspoon granulated garlic
Salt and pepper to taste
1-2 chopped avocados
Directions:
In a bowl, mix everything except the avocado together and toss then set in the fridge for about 20 minutes.
Right before serving add the avocado.
Serve!
I think this would be perfect for football games and tailgating or holiday parties. You could make the meat ahead and serve the next day. The nachos are perfect for appetizers and what a time saver it would be. You know, this may just be our Christmas dinner!