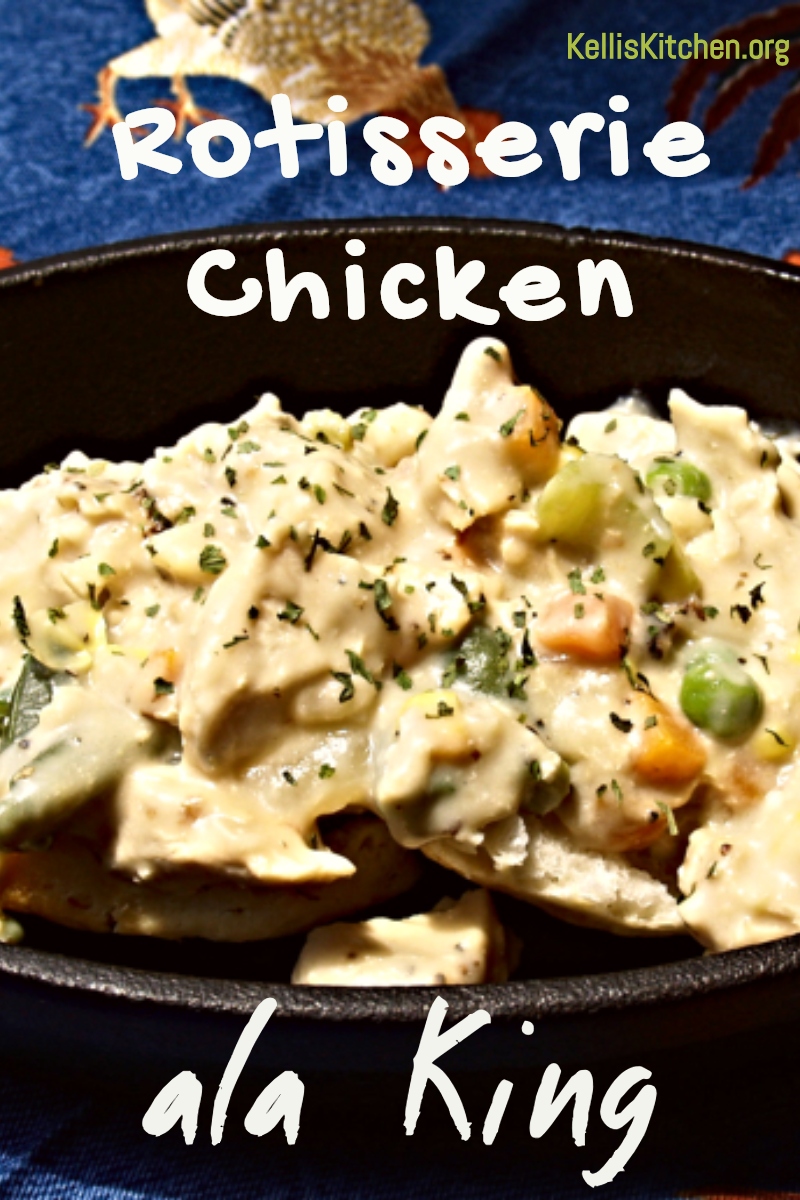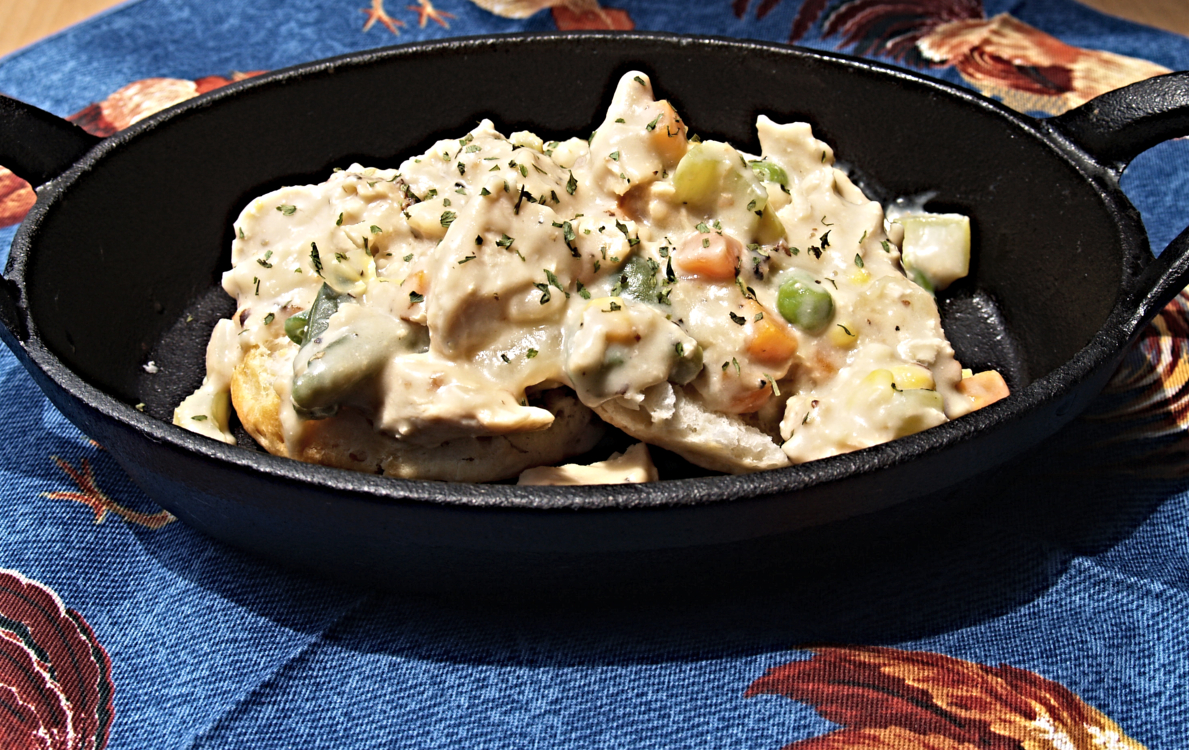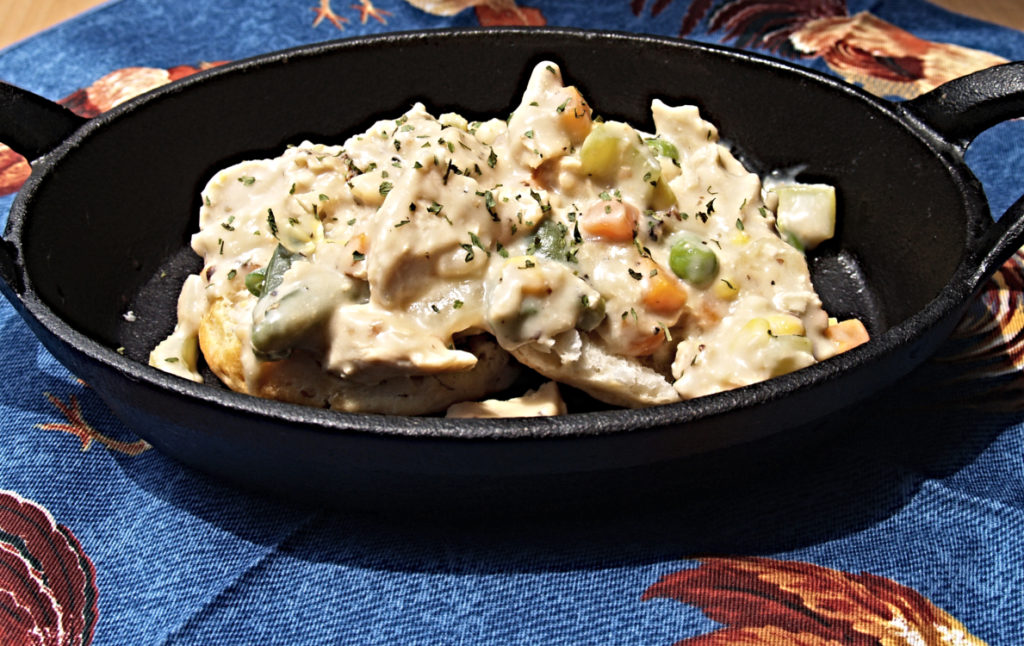 Chicken ala King. An oldie but goodie that is versatile and tasty. If you use my shortcuts it will become an easy weeknight meal. If you remember it, the taste will bring back great childhood memories. If you never had it – you will love getting all the food groups into one dish that your family will love!
Last week my mom called and while in conversation, she mentioned that she and her friends were all thinking about that old dish chicken al a king and how good it was as they remembered it. I only vaguely remembered the dish but set about looking through mom's old cookbooks to find a recipe that I could make for mom and her lady friends. It didn't take long. I found the perfect recipe inside The Searchlight Recipe Book from the late '40's.
It was a very long recipe with the making of the chicken then the making of the biscuits blah, blah, blah…. The recipe was going to take me all day to make and I did not have time for that. Besides, I could do it so much faster and it would be as good as if I stood at the stove all afternoon long. If you are feeling ambitious, please feel free to cook your own chicken and make your own cream of mushroom soup and biscuits but I am putting in the shortcuts I came up with.
Ingredients:
One Rotisserie Chicken, cut up
One bag of frozen Mixed Vegetables – we like peas, carrots and corn but use what you like.
3 stalks of celery, chopped finely
1 onion, chopped fine
6 Tablespoons butter or margarine
1/3 Cup Flour
4 Cups Water
2 Chicken Bouillon Cubes
1 Cup Milk
1 Can Cream of Mushroom Soup
1 Can Biscuits or 6 Frozen Biscuits, prepared according to directions
1 teaspoon salt and ½ teaspoon black pepper
Directions:
De-skin the rotisserie chicken then cut meat into bite-sized chucks. You will need 4 cups. Set aside.
Bake Biscuits as directed and set aside.
To a saucepan, put in the 4 cups water and the bouillon cubes. Bring to a boil over medium heat. Once the mixture comes to a boil, turn off the heat.
In a large pot, over medium heat, add the margarine or butter along with the celery and onions along with and black pepper. Sauté until the vegetables become soft. Add the flour and stir continuously to make a roux. Slowly (I used a ladle) add in the bouillon water whisking as you go to keep the lumps out. Add the unthawed vegetable mixture and stir to combine.
In another saucepan over low heat or a microwave safe bowl, combine the milk and condensed cream of mushroom soup cooking until heated through. Add the milk mixture and the chicken chunks to the vegetable mixture and simmer for about 10 minutes.
Arrange the biscuits on serving plates by splitting them in half, then spoon the chicken mixture over the biscuit halves and serve.
I know you are going to enjoy this throw back meal as much as we did and you know? I will be making it again!