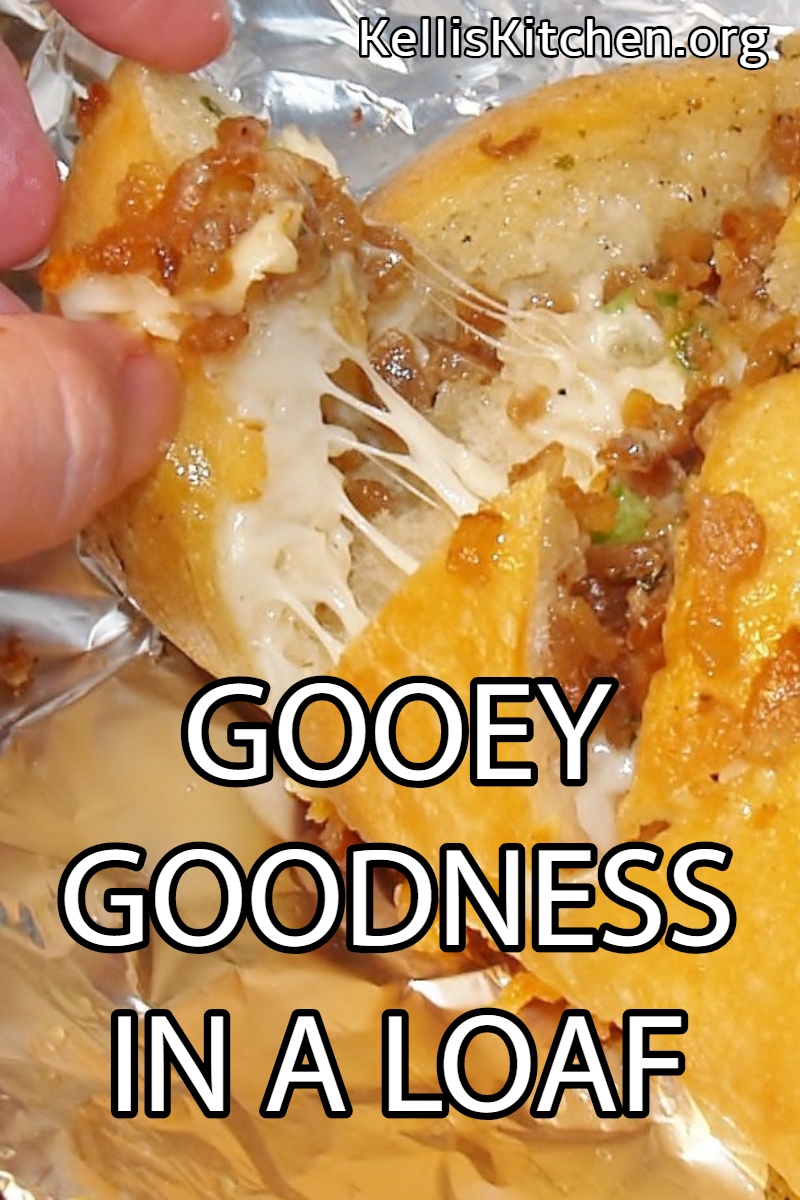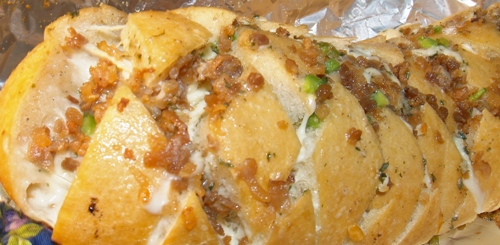 A few weeks ago, I was at Panera bread making a purchase. It was pretty late and as they were putting things away I was offered a loaf of bread for free. Of course I said yes without even asking what kind it was! It sort of has a sourdough bread feel and taste but it is a long loaf. I brought it home, double wrapped it and threw it in the freezer. Tonight, I got it out and looked up a bread dish on The Country Cook – where you can find the original recipe. I changed it up because I thought the hubs would like it better AND I had more of one thing than another. Here's what you need: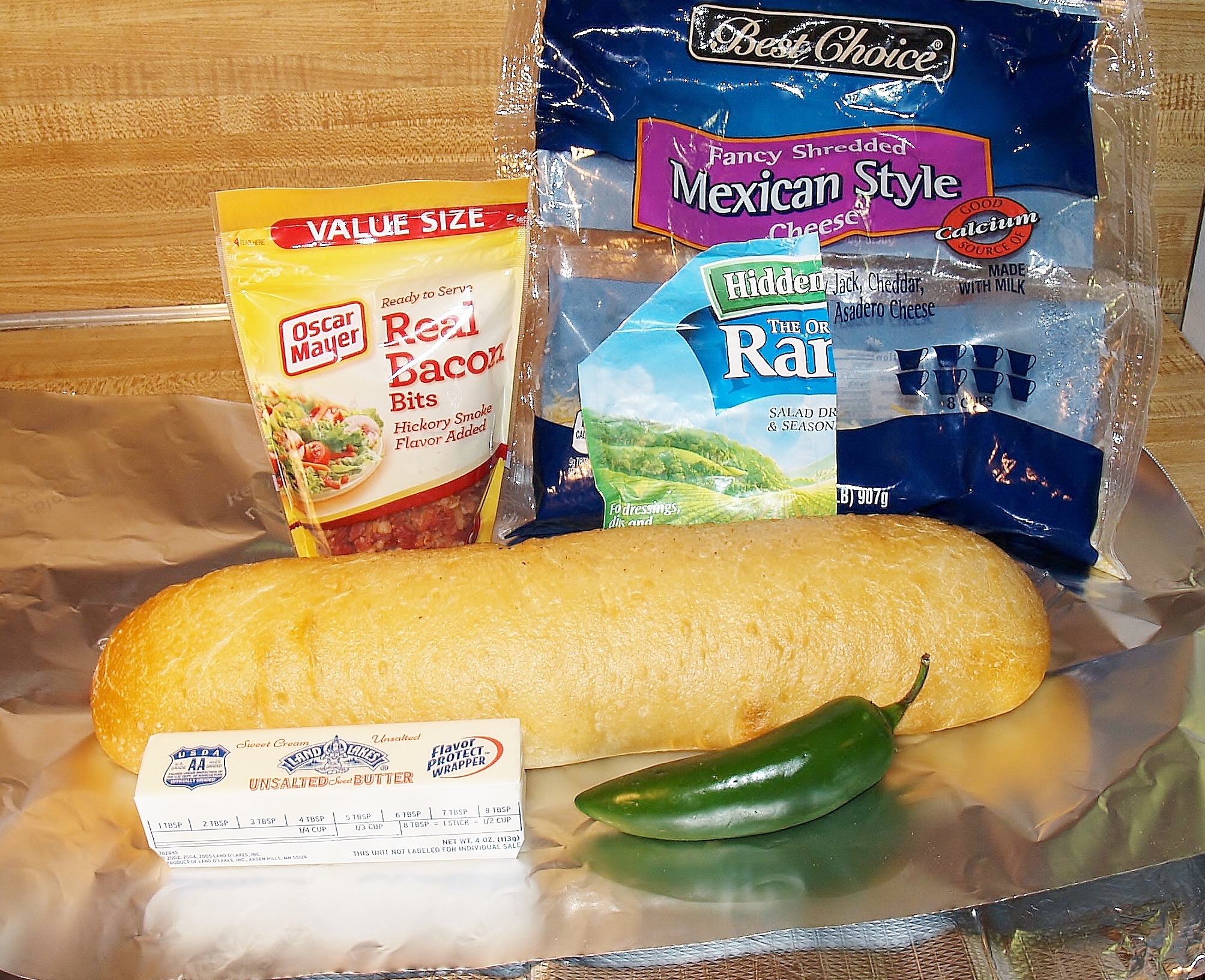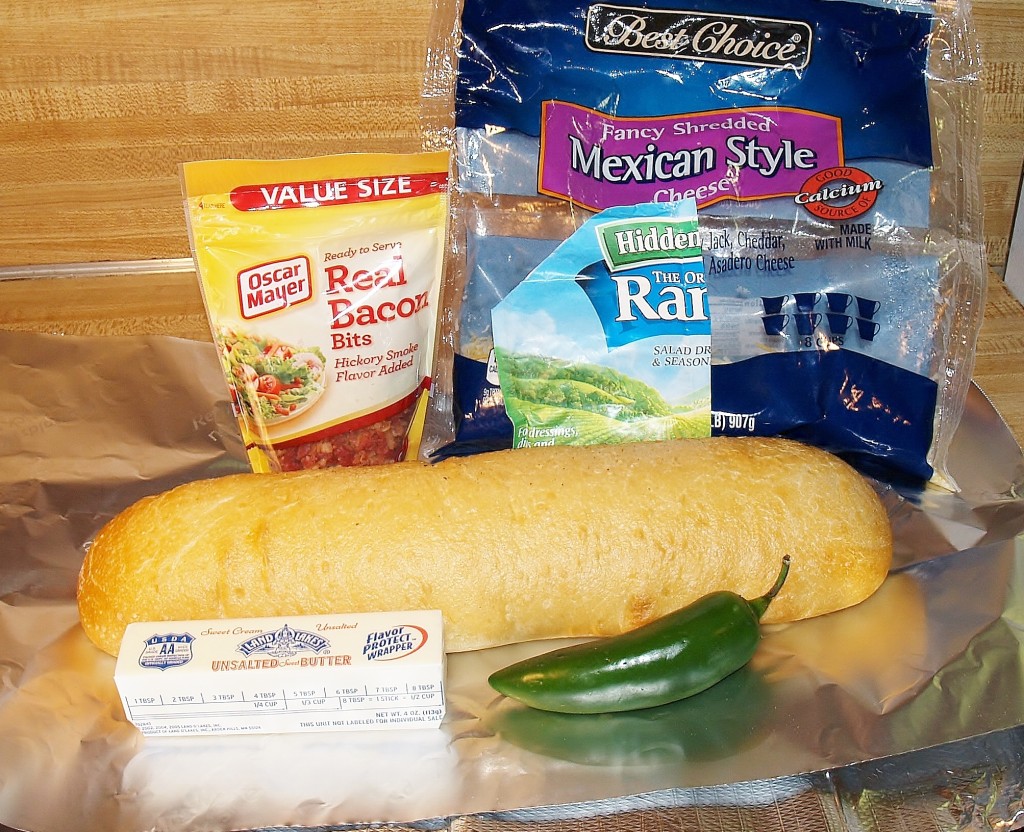 1 loaf of sturdy bread
2 cups Mozzarella cheese, shredded (I know, pix shows Mexican Blend, but I changed my mind)
1 package Oscar Meyer real bacon bits
½ fresh jalapeno de-seeded and deveined chopped finely (optional)
1 stick butter melted
1 Tablespoon Original Ranch Dressing Mix (powdered stuff)
Pre heat oven to 350 F
I sliced up the loaf like this:

Stuffed all the ingredients inside – this is pretty difficult but really get in there and get that cheese down in those cracks and crevices.
Melt the butter in the microwave and mix in the Tablespoon of the Ranch Dressing.

Wrap up the entire loaf in foil – love that non-stick Reynolds – put it in a pre-heated 350 F for 20 minutes.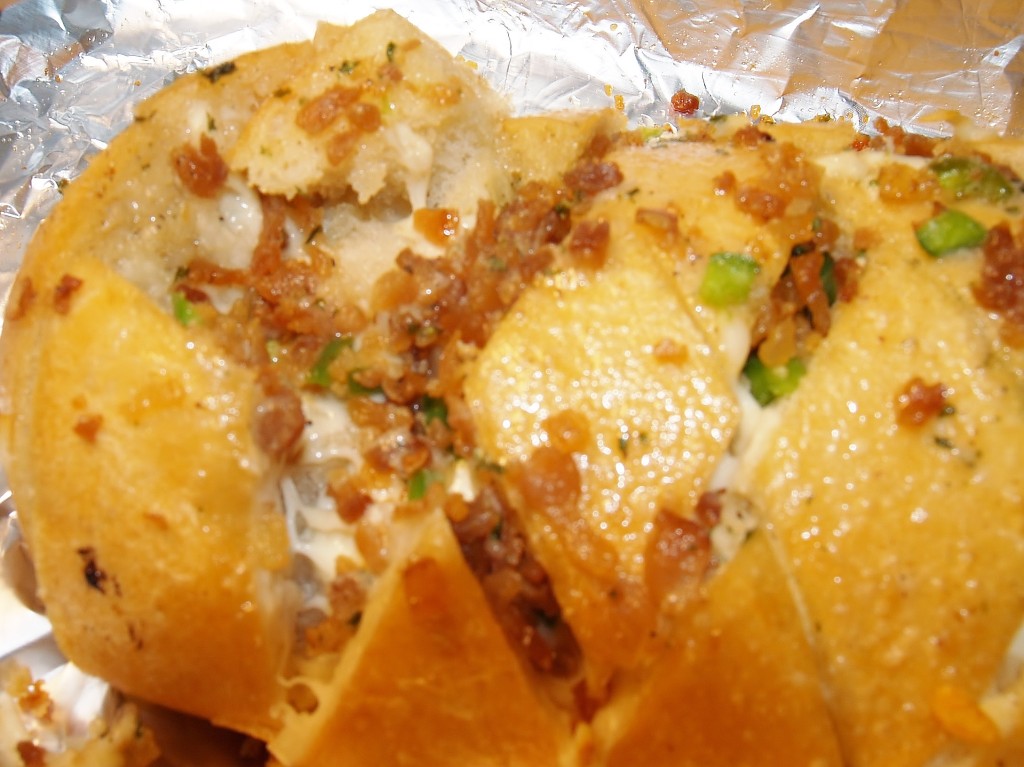 Unwrap, admire, serve, devour!!!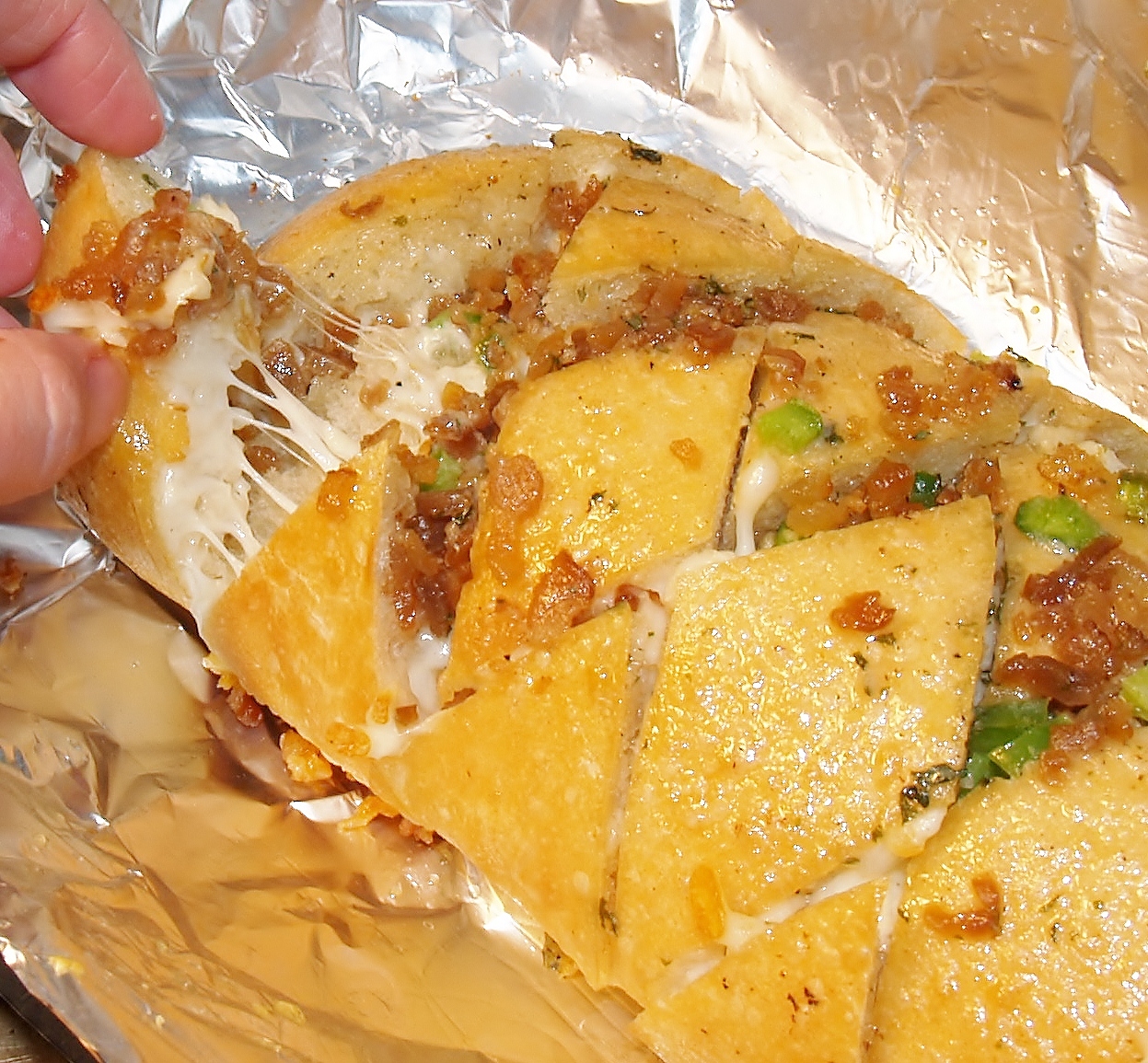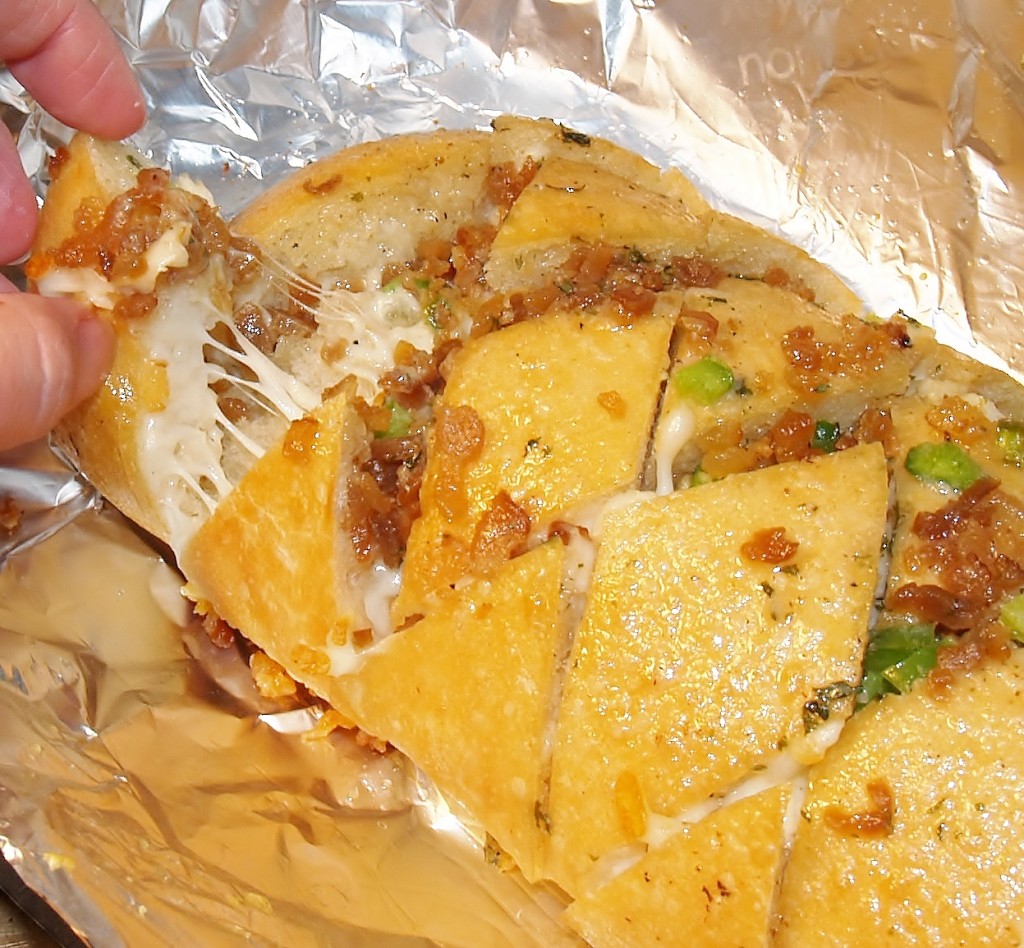 If you don't eat pork, try steak or chicken fajita meat chopped finely. If you are vegetarian, use some sauteed mushrooms – that sounds great too!
P.S. – Mr. Picky Eater was not thrilled when he came into the kitchen expecting another dish but when he ate it, he said to forget making supper because he wanted to eat this. Then, when he walked through the living room a few minutes ago, he suggested either marinara dipping sauce or some Ro-Tell dip. Yep, even he liked it and he hardly likes anything!!