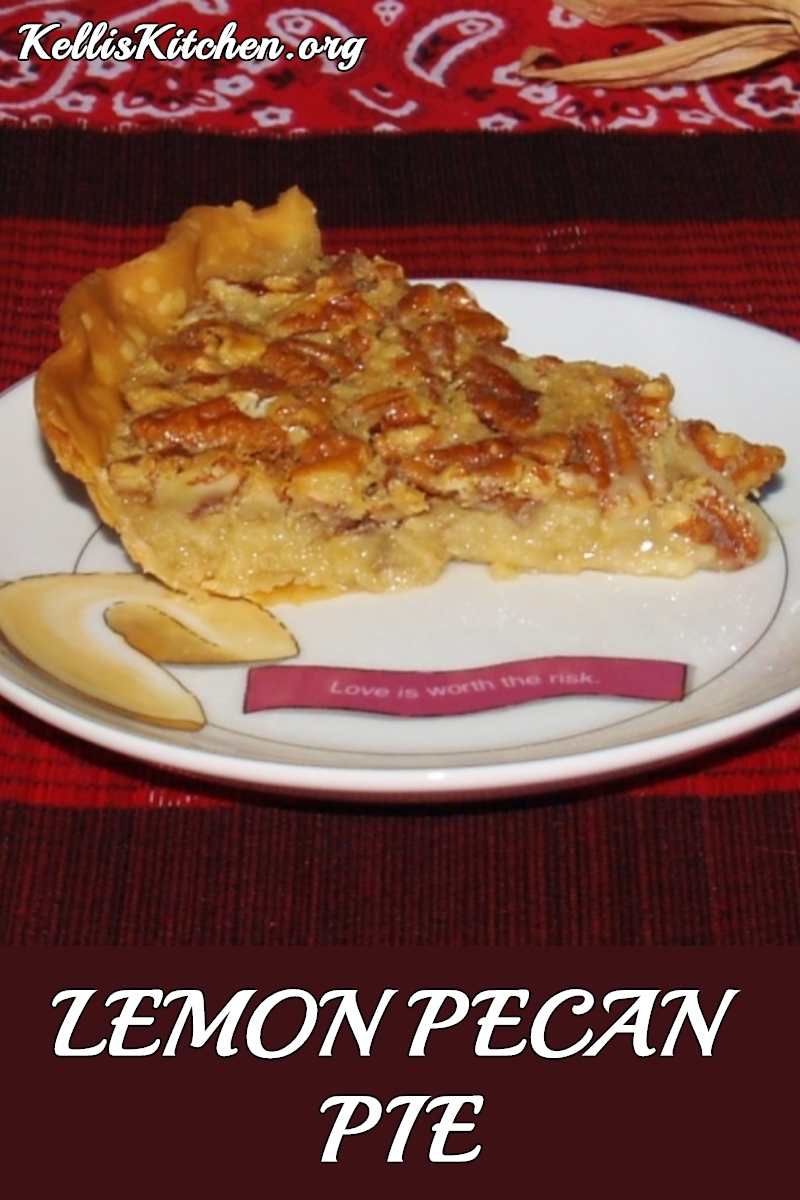 I must tell you this Lemon Pecan Pie is the most fabulous pie that I have eaten in a long time – it is lip-smacking, finger-licking deee-lish! We have found a new addition to our Thanksgiving table.
The other night I was reading my Face Book newsfeed and a photo caught my eye taken by a childhood friend.
She was thanking a woman named Mrs. Rousselot who is almost 80 years old, for a pie she had made – A Lemon Pecan Pie……….wait, what was that?!!? I had never heard of this kind of pie but it sounded great! I asked my mother, who is still with us convalescing, and she had never heard of it either but she said it sounded good. Since she hasn't been eating much, I was happy to make one – but I had to find a recipe for it. I should have just emailed my friend who owns Mahylon's BBQ in my hometown……….she does a brisk catering business (her weddings are to die for!) so should you need a caterer for any size event in Oklahoma, Vickie Berner is the person you want to work with. Instead, I went on the Internet – there were several pies but I chose the one from the Georgia Pecan Commission. Tonight, when I put in the address so I could link back to it……….I got an error message. You can try to click the link above which is the Home Page and then you could search for Lemon Pecan Pie.
Lemon Pecan Pie
Ingredients:
¾ Cup light Karo Syrup
½ Cup light Brown Sugar
6 Tablespoons butter or margarine, melted and cooled
3 eggs
¼ Cup Lemon Juice
2 Tablespoons All-Purpose Flour
2 teaspoons grated lemon rind
1 ¼ Cups roughly chopped pecans
1 nine-inch unbaked pie crust
Directions:
Preheat oven to 350F
Combined the Corn Syrup, Brown Sugar and Butter – beating until well combined.
Lightly beat eggs and add to sugar mixing well.
Stir in the flour and lemon rind.
Place pecans on the bottom of the pie crust like this.
Pour the lemon mixture on top – see how the pecans float up to top?
Bake for 50 minutes or until a knife comes out clean from middle of pie.
Allow to cool and serve – it is sweet, tangy and crunchy all at once!
This recipe is at Weekend Potluck and I want to invite you over to check out all the great recipes!