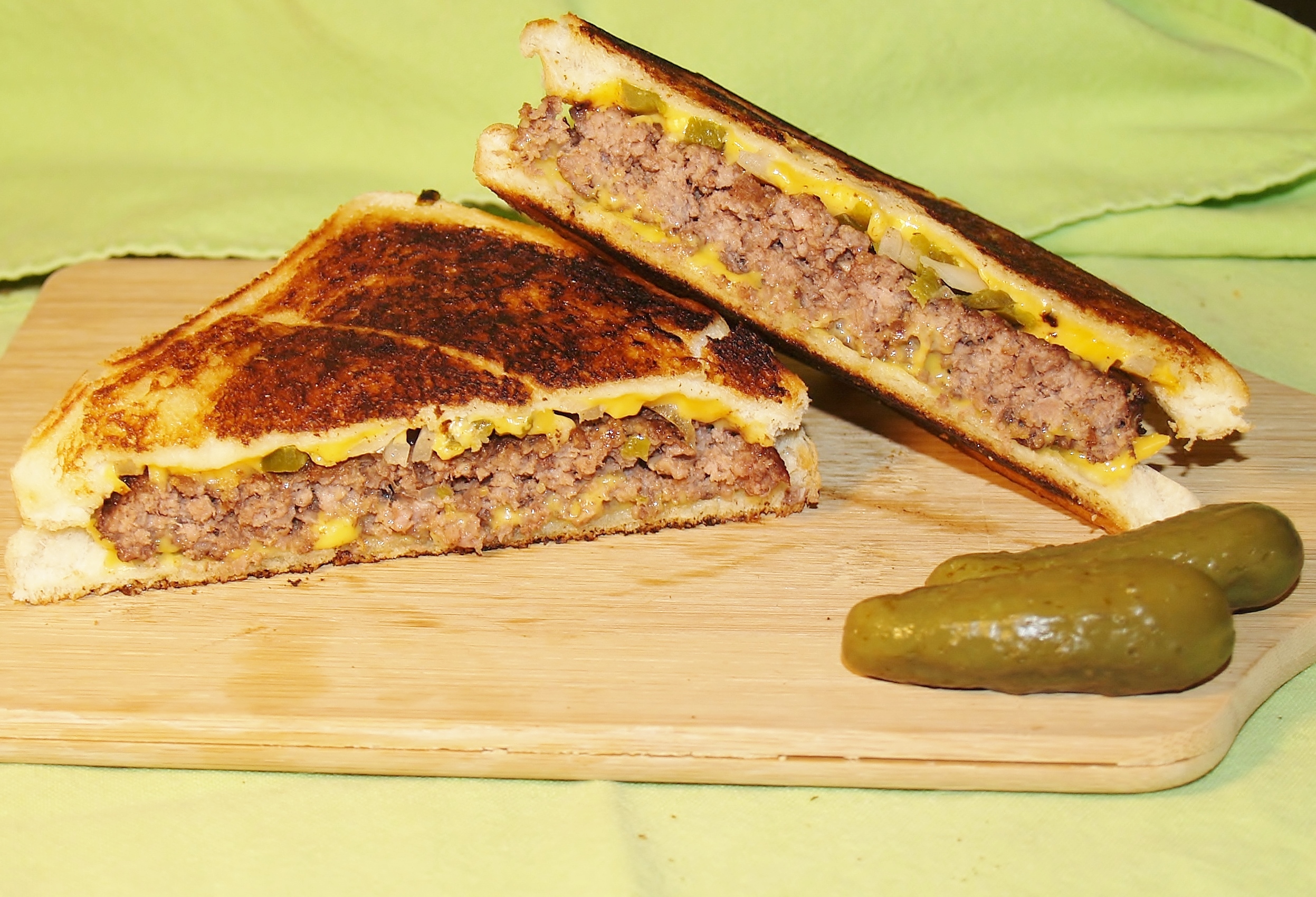 Sorry everyone, only plated pictures of this one. No tutorial because Rocket is here this evening and while I am cooking, he is usually in his high chair "helping" me. There's no time for pictures when Rocket is in the room, unless they are of him – he loves to have his picture taken. The only time he is not moving is when Wheel of Fortune is on. Yep, my 11 month-old grandest son is an old man and has been since he was about 5 months-old. He giggles when the wheel turns and claps when the audience claps. When someone wins he squeals and when someone goes bankrupt, he says a whole lot of something to the TV. He even blows kisses at Vanna.
I saw the original recipe in an email I get everyday called Tasting Table from Williams – Sonoma. I couldn't resist making it because just last summer Mr. Picky Eater and I went into a diner to eat lunch on one of our picking excursions and when I ordered a patty melt, he asked me exactly what that was. Not only had he never eaten one, he had never even heard of it before. Never heard of it??? Was he born in a barn? Under a rock? On another planet? Once it arrived, he asked for a bite. Well, that was it – next thing you know, I'm eating chicken fried steak and he's got my patty melt on his side of the table! I made several substitutions but I will add the original recipe with my subs in parenthesis.
The Elegant Hamburger
Ingredients:
2 Bacon strips sliced cross-wise into ½-inch strips
1 ½ teaspoons Caraway seed. (I used Cumin Seeds)
2 Tablespoons Butter, divided
Medium onion sliced thinly
2 ¼ teaspoons salt, divided
¾ lb. ground beef
1 Tablespoon Worcestershire Sauce
2 teaspoons Dijon mustard
½ teaspoon pepper
¼ teaspoon garlic powder
2 Tablespoons Mayo
4 slices Swiss cheese (I used American)
4 slices Rye bread (I used regular white)
Directions:
On a small plate, freeze the bacon for about 20 minutes
Meanwhile, toast the seeds for about 2 minutes (since I used cumin, I then muddled them with my mortar and pestle) and set aside.
Add 1 tablespoon of butter to the skillet the seeds were in and then add the onions. Stir in 1 ¼ teaspoon of salt then turn heat down and cook until onions are caramelized, about 10 minutes. Transfer to plate.
Remove bacon from freezer and put in the food processor – process until finely ground.
Put bacon, beef, seeds, Worcestershire, Dijon mustard, garlic powder, remaining salt, and pepper in a bowl and mix – not too much – just until it is thoroughly mixed.
Shape the patties. You have to get them pretty big as they need to be as large as the bread and I think a thin patty is better. So my trick is to make a ball of the meat, lay it on a piece of Saran wrap or maybe parchment paper then using a saucer, smash it down until it is really big and about ½ inch thick.
Put the other Tablespoon of butter in a clean skillet. When it's melted put the patties in and cook them.
Meanwhile, cover one side of the four pieces of bread with Mayo. Mayo is better than butter because it browns more evenly and the finished product is not greasy like it can be when you use butter or margarine.
Place two slices of bread in a clean skillet, mayo side down. Add 1 slice of cheese, the burger patty, onion and anything else you choose (I put some of my diced pickled Jalapenos I canned last summer), then another slice of cheese and the final slice of bread, may side up.
Stay close, mayo brown more quickly than butter. Brown on both sides (I like mine almost burnt) and then transfer to a carving board, slice on the bias, and serve!