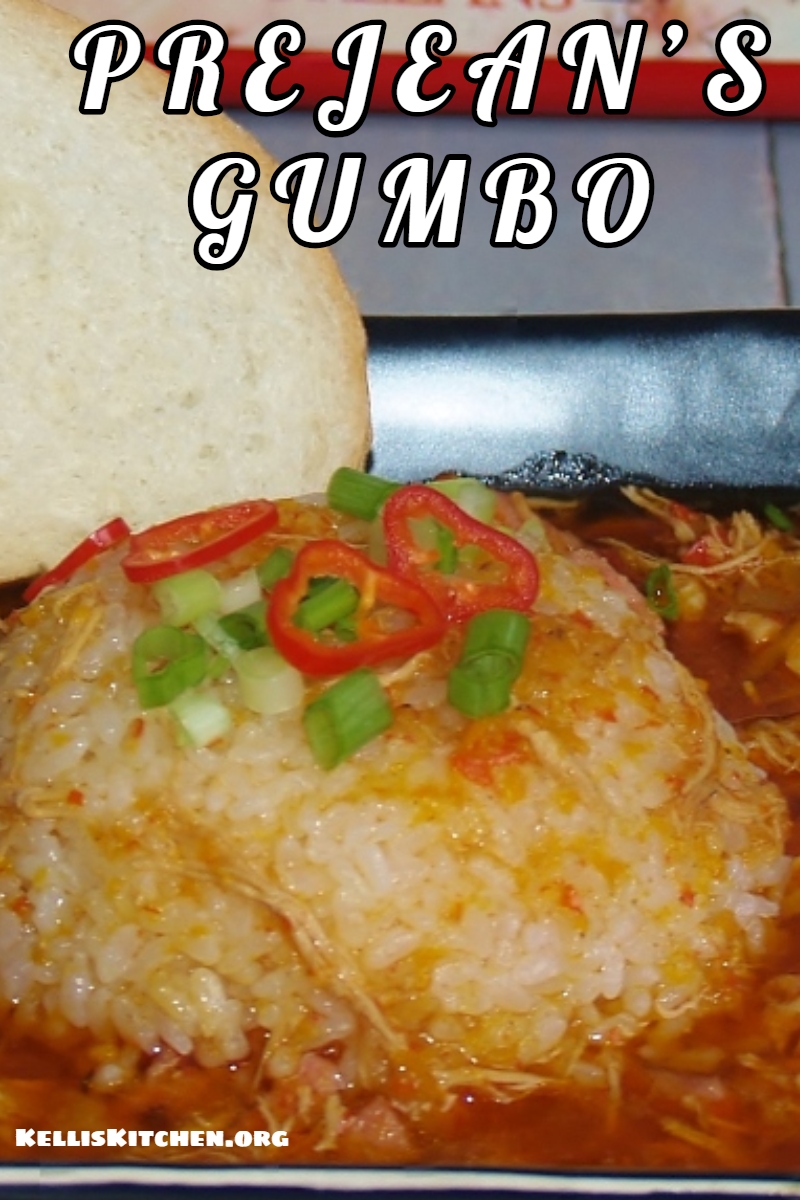 October 12 was national gumbo day, giving me an excuse to make the warm comforting dish. I began making it at the request of Lawyer Boy after he spent one summer in Lafayette, La for an internship. His dad and I visited him while he was there and had the pleasure of eating dinner at Prejean's Restaurant where I watched, in shock, as Mr. Picky Eater ate gumbo, boudin, and even bread pudding! He did even know what was in those foods but he ate them anyway – which is a big deal for the man who frets over chicken contamination like a mother frets over a sick child. On the way out the door I bought Prejean's Cookbook and determined to make gumbo at home – it's such a tasty dish.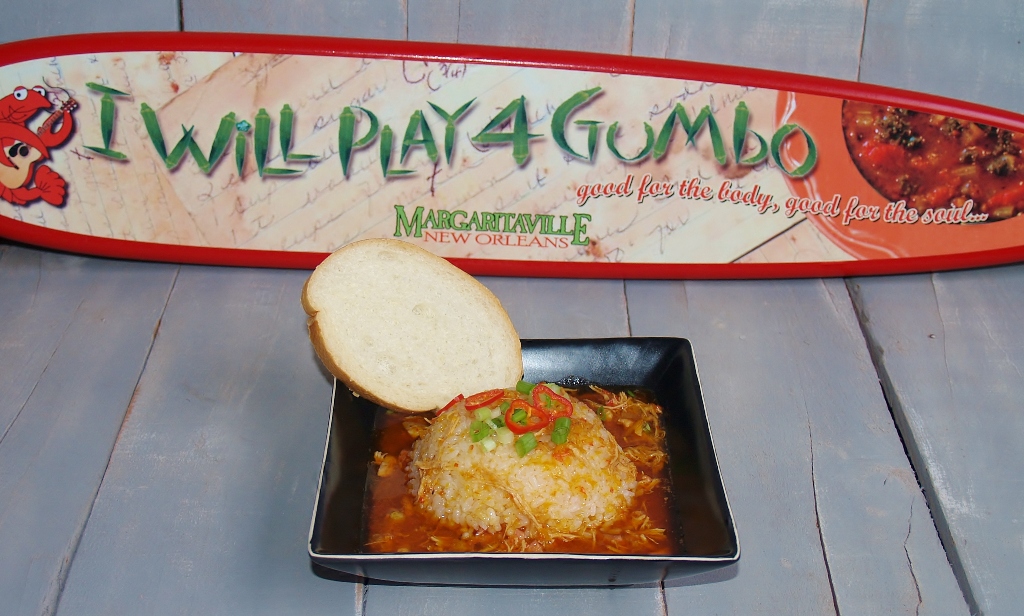 For those of you who sat in Algebra class and said, "Why am I learning this? I'm never going to use it in real life" this next part is for you: Each recipe is written like you are cooking for a restaurant and not a family of four. Gumbo is also full of many ingredients and so there was a lot of Algebra used to cut the recipe down correctly in order to serve just a few. It took a couple of tries but I finally mastered it and have been making it at least once per year since. You should know that this freezes beautifully and is perfect for workday lunches. In fact, I microwaved it many times in the work break room where co-workers often commented on the great smell asking what in the world I had made. It sure beats the nearly constant smell of Lean Cuisine wafting through the air in lunchrooms all across the nation……….man, I hate that smell.
Prejean's Restaurant was opened in 1980 by Bob Guilbeau as a tribute to his grandparents, Walter and Inez Prejean. The place is built on their property in Lafayette, La. And features live Cajun music each night starting at 7 PM. Chef Remy Laterrade holds court in the kitchen each day for breakfast, lunch, and dinner offering a wide variety of traditional Cajun dishes as well as updated and new creations. If you are ever in Lafayette, you must stop by and eat a bite because you will not be disappointed.
I made some deer and duck gumbo a few years ago and published the recipe but have never shown you how to make more traditional chicken and sausage fare. When I made it last week, I worried because son-in-law does not like soups but he ate 2 helpings at supper and took what little leftovers there were for lunch the next day. It was the first time there was not enough to freeze for later. I've finally perfected the smaller measurements and want to share them with you now.
Keep in mind there are as many recipes for gumbo as there are for macaroni and cheese so mine may not be like your aunt Lucy's. I love this recipe though and I hope you will give it a try and let me know how you like it! Also, we serve fonduta as an appetizer when we make gumbo. Doesn't it look delish? You can find the recipe here at Splintered Vision blog: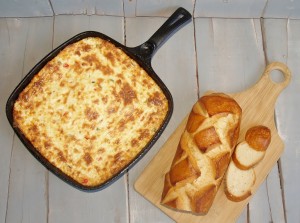 Prejean's Gumbo
Ingredients:
2 ½ Tablespoons butter
2 ½ Tablespoons flour
2 Tablespoons oil
6 oz. andouille sausage, sliced into ¼ inch thick circles
1/3 Cup each diced onion, celery, and bell pepper
4 chicken thighs, skin removed
1 tablespoon paprika
¼ teaspoon black pepper and cayenne pepper
1 Bay leaf
1 ¼ quarts (1 and ½ of those chicken stock boxes if buying it)
1 chicken bouillon cube
1 teaspoon Kitchen Bouquet or Worcestershire sauce
Tabasco and green onion tips for garnish (optional)
Directions:
In a small skillet on medium heat add butter and flour to make a roux. At first it will look like this: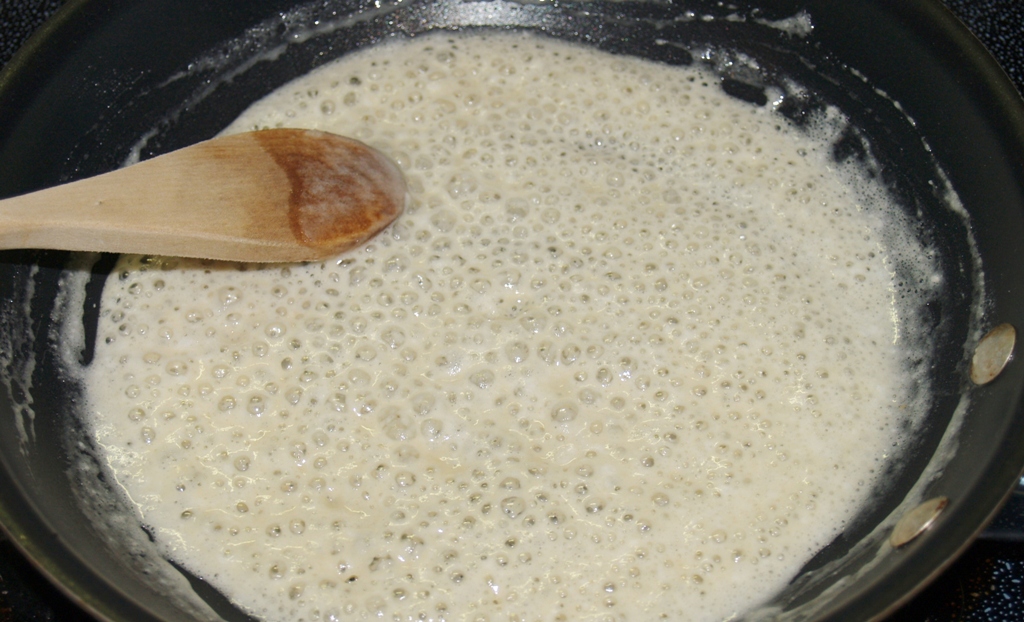 Stirring constantly you will continue to cook it until it looks like this: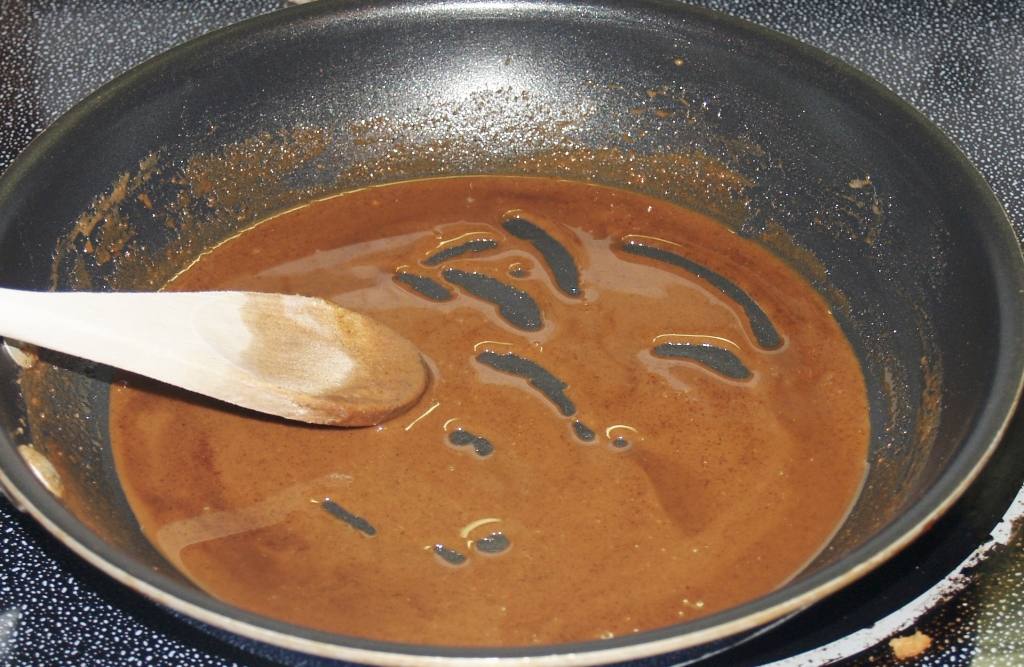 Sometimes it takes 20 minutes and sometimes it takes 45 but just keep stirring and cooking until it has that chocolate brown color, then set aside.
In a large Dutch oven, put in oil and the Mirepoix: onions, celery, and peppers cooking until tender. Dip out with slotted spoon and set aside.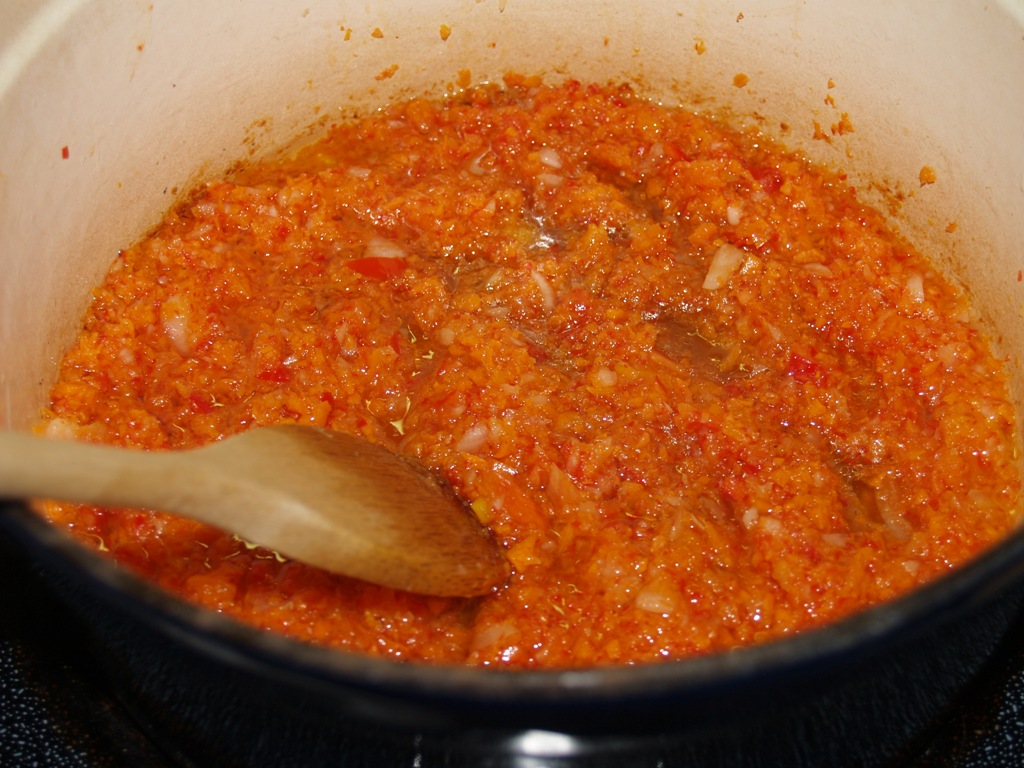 Place chicken and sausage in skillet and brown. If you don't have Andouille sausage – just use skinless beef sausage by Eckrich Farms or another manufacturer.
After meat has browned, dip it out and add in the chicken stock and bouillon cube, deglazing the pan.
Add the paprika and both peppers then the veggies and meat, bringing to a boil.
While boiling, add in the roux. The color of the dish should turn a little more brown than red at this point.
Turn down the heat and simmer for about 30-40 minutes.
Just before serving, add the Kitchen Bouquet or Worcestershire Sauce and chop the green onions to sprinkle on top of the dish with Tabasco as desired.
You will also need to make some rice. Minute rice is fine. We have a rice cooker that Son-In-Law uses easily so we made up the rice.
Mr. Picky Eater prefers the Prejean's way of serving the dish: gumbo in one bowl and rice in another.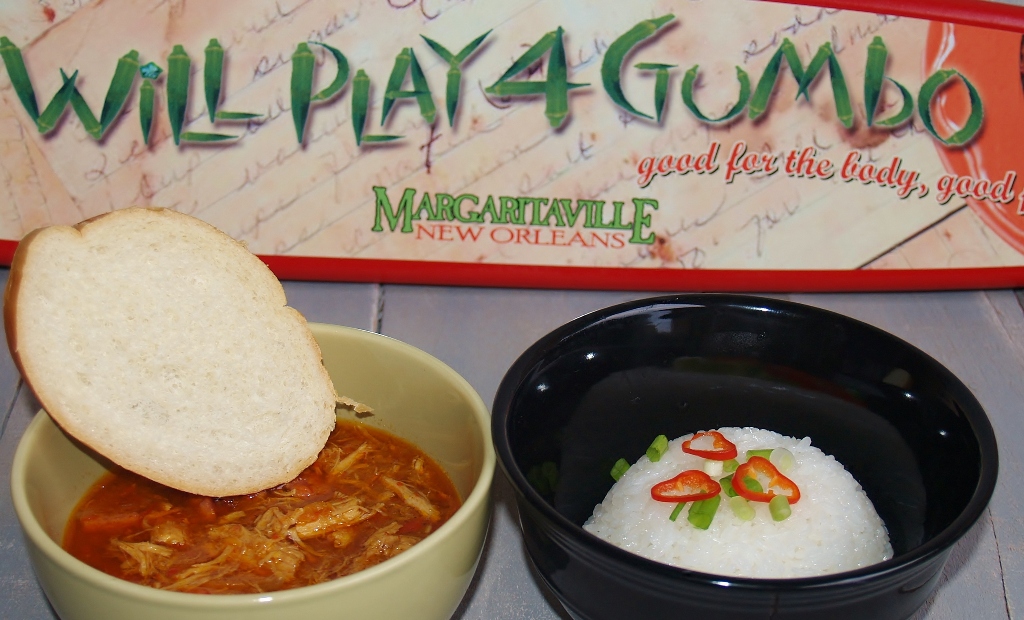 I prefer the traditional way of rice in the middle of a bigger bowl with gumbo ladled over top but either way it is delicious! Make some tonight and let me know what you think!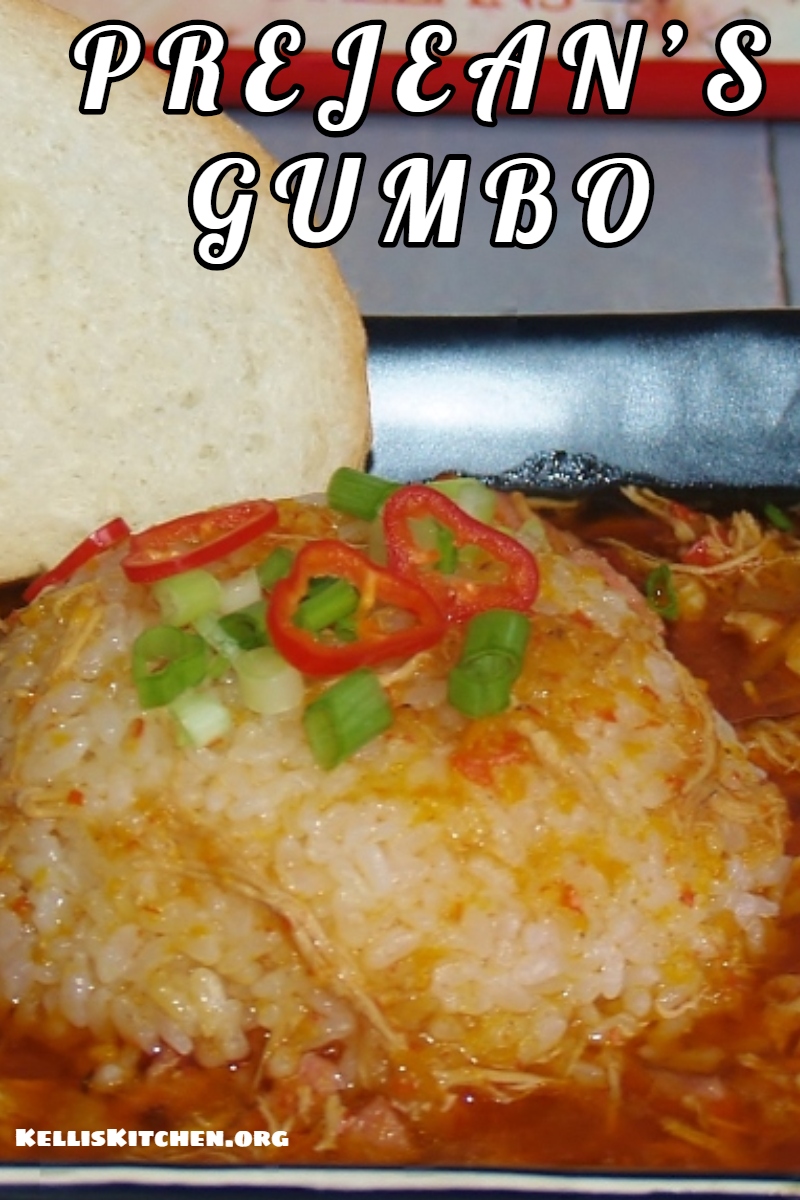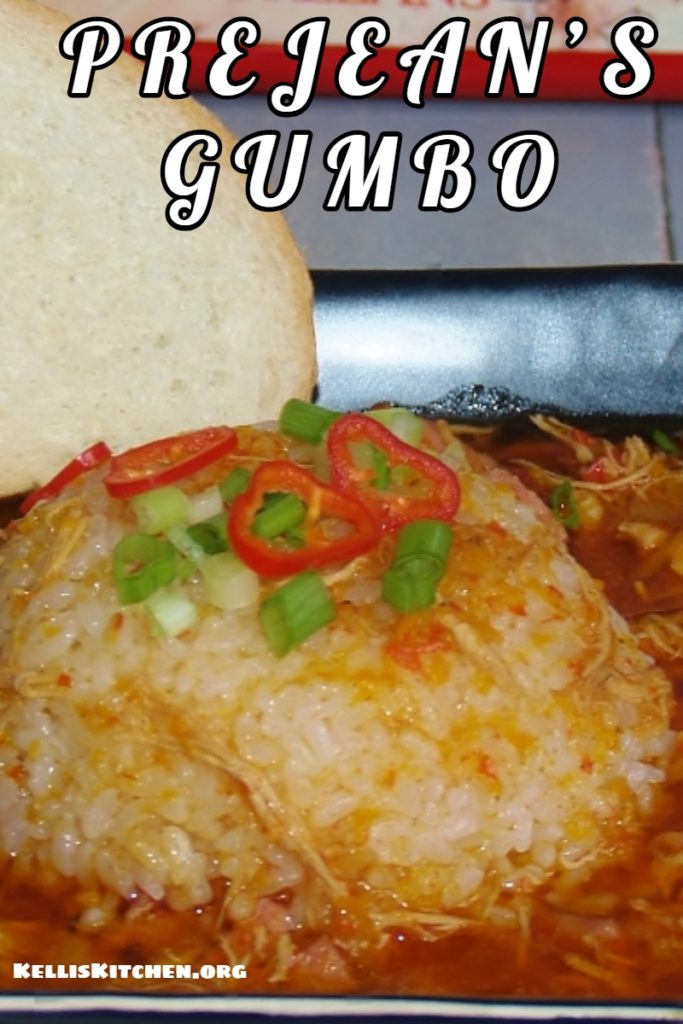 I am over at Weekend Potluck so come on over and check it out! You won't be sorry!