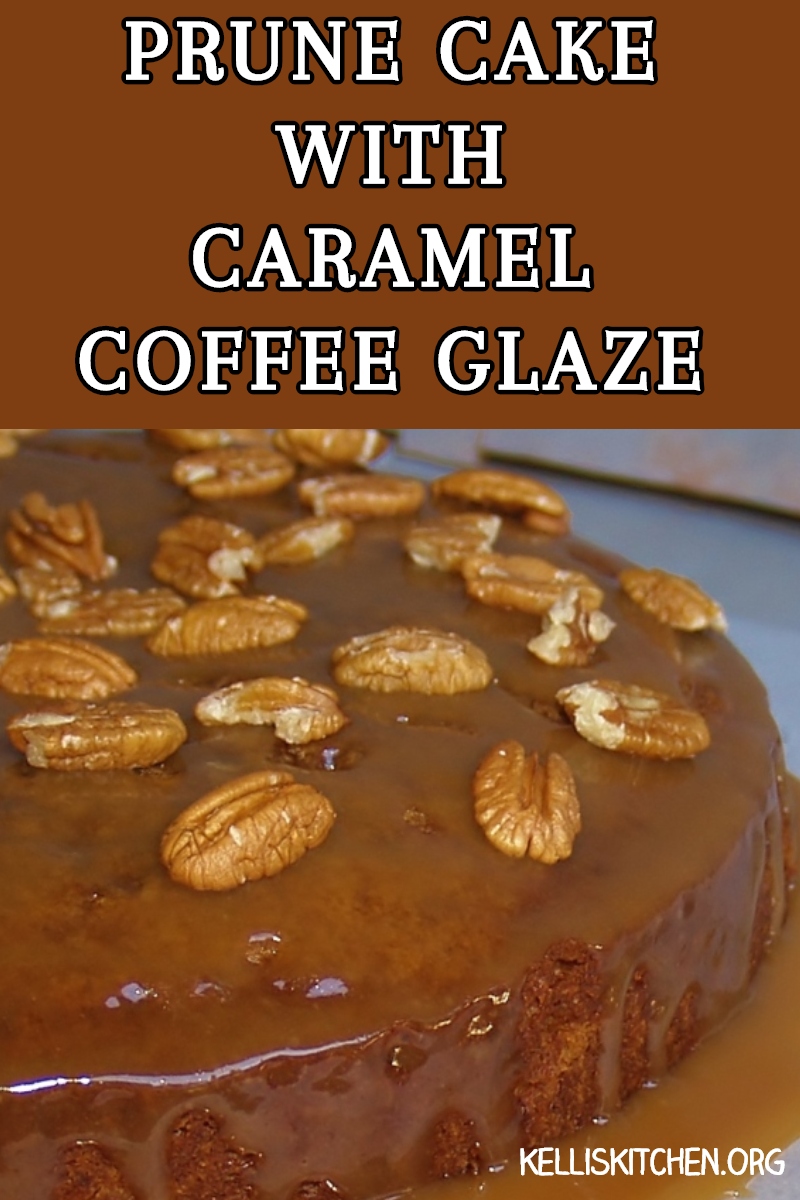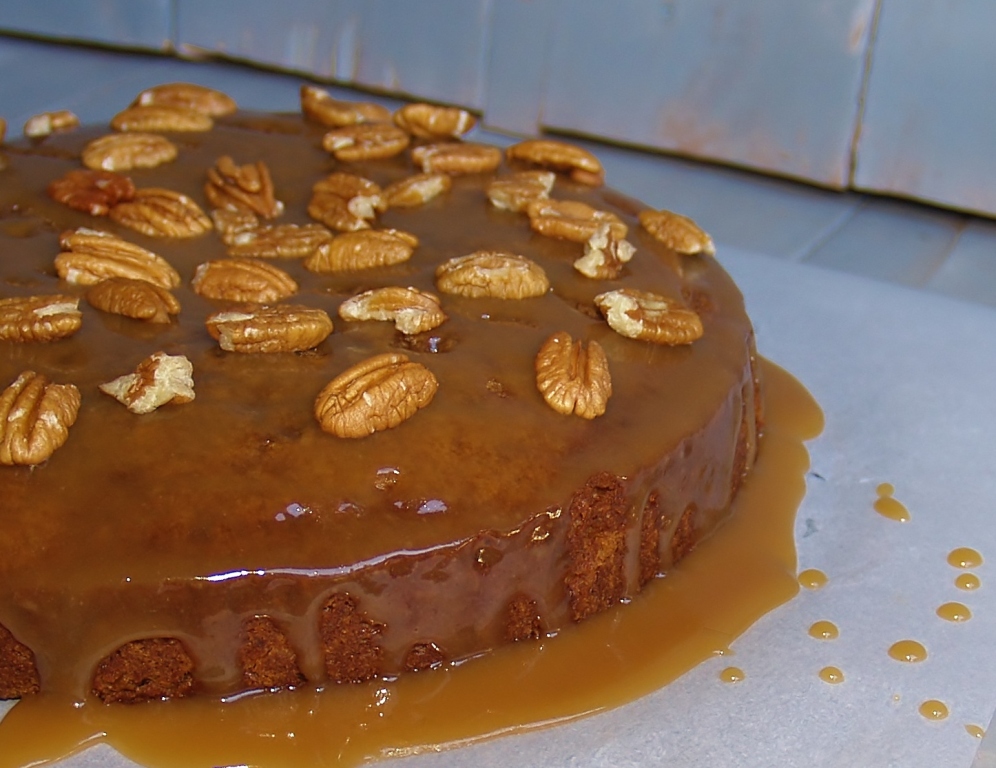 My Aunt Irene made this cake every year during the fall and for holiday gatherings. It was years before I knew it was called prune cake. Good call on my mother's part because there is no way a bite would have crossed my lips otherwise. Prune cake?!?! YUK! Who wants prunes? This cake is so moist and delicious I have been searching for this recipe of my aunt's for years and years. Last week was my birthday, hence my absence from the blog, and the gift from my mom was a bunch of papers and recipe cards she found in a box holding many of the recipes I will be sharing with you over the next few months – all from friends and family members dating all the way back to the 1930's. I was so thrilled to receive them, I spent the entire weekend cooking and baking and photographing the results. I hope you enjoy this as much as I have. Mom and her lady posse loved the trifle at game night which was actually how I fixed a huge mess up, by not following her directions exactly. So you actually get two ways to serve this delectable dessert. Since the cake freezes so well, you can serve one now and one later. This cake tastes like a mild cinnamon red hot. The coffee in the caramel enhances the taste giving it a warming complex flavor. For those who are coffee lover, do not miss out the chance of getting this coffee subscription, you will love all the products that you will received!
Prune Cake with Caramel Coffee Glaze
Ingredients:
½ Cup Butter
1 ½ Cups Sugar
1 Cup Sour Milk (1 cup milk minus 2 Tablespoons + 2 Tablespoons lemon juice = let stand for 10 minutes)
2 Eggs
2 ½ Cups Cake Flour (or, 2 ½ Cups All Purpose flour minus 5 Tablespoons + 5 Tablespoons Cornstarch and sift altogether 5 times – yep, 5 times)
1 Teaspoon each – Cloves, Allspice, Cinnamon, Baking Powder, and Baking Soda
12 ounces cooked Prunes (I used a 12 oz. can of prune pulp I bought in baking section near poppy seed and apricot filling and liked it very much).
Ingredients for Glaze:
½ Cup Unsalted Butter
1 Cup Brown Sugar
2 Tablespoons Milk
2 Tablespoons already made light roast coffee (just take some out of the pot or make some instant coffee)
1 teaspoon Vanilla
Directions:
Pre-heat oven to 350F
Beat butter and sugar together.
Add beaten eggs and prune pulp.
Sift all dry ingredients together.
Add flour mixture and milk to other mixture alternately, beginning and ending with dry.
Grease 2 round cake pans and then put parchment paper in bottom of each and grease again. (Be sure to do that – I didn't and it was important!)
Pour batter evenly into both pans and bake for about 30 minutes or until toothpicks come out clean.
Set pans on wire rack and allow to cool completely – also important.
Flip them out of pans and prepare the glaze.
You can freeze one or both cakes now by wrapping tightly and placing in freezer.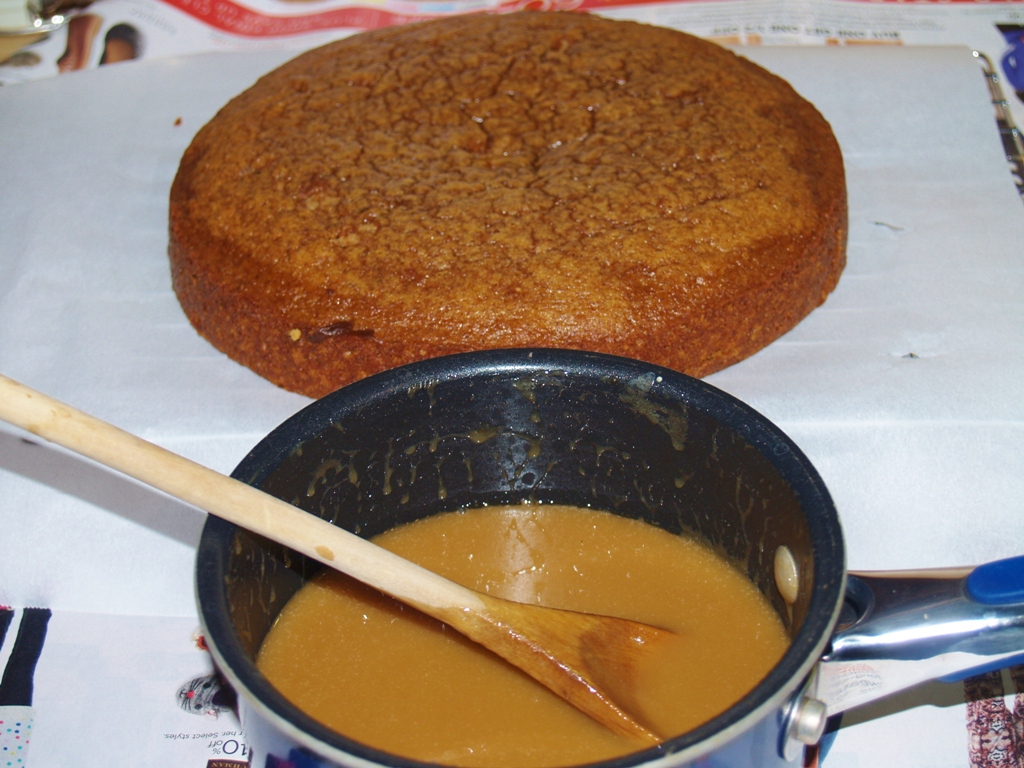 Directions for glaze:
Heat butter and brown sugar mixing until dissolved.
Add milk and tea bag style coffee – bring to a boil and boil for 3 minutes.
Take off burner and add vanilla then drizzle over tops of cake. Pecans are optional but Aunt Irene always did and they were great.
So, if you screw up like I did and try to take the cake out before it was completely cool and didn't add the parchment to the bottom of pan, the cake is so tender and moist it will come out in chunks….perfect for a trifle!
Assembling the trifle:
In an 8×8 pan, put half the cake that has been torn into pieces.
Drizzle some of the glaze over the cake and add some toffee bits. I got Hershey's but you could use a Skor bar, Heath bar, or Butterfinger.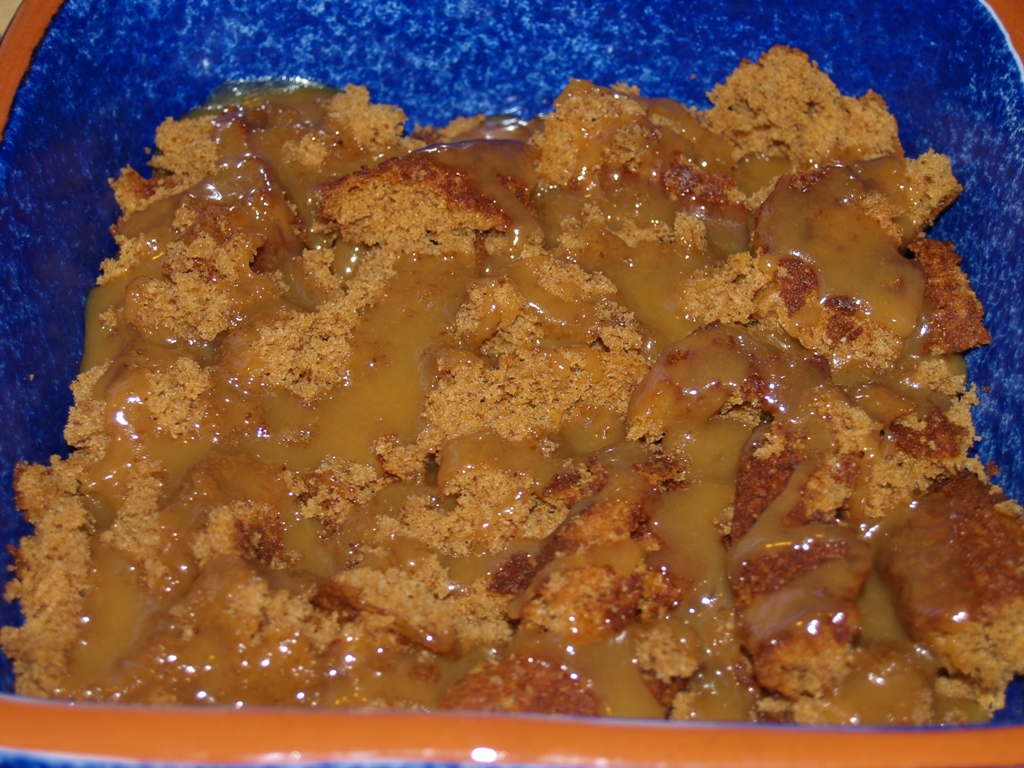 Then add vanilla pudding. You can use instant but I made mine from scratch – recipe to follow.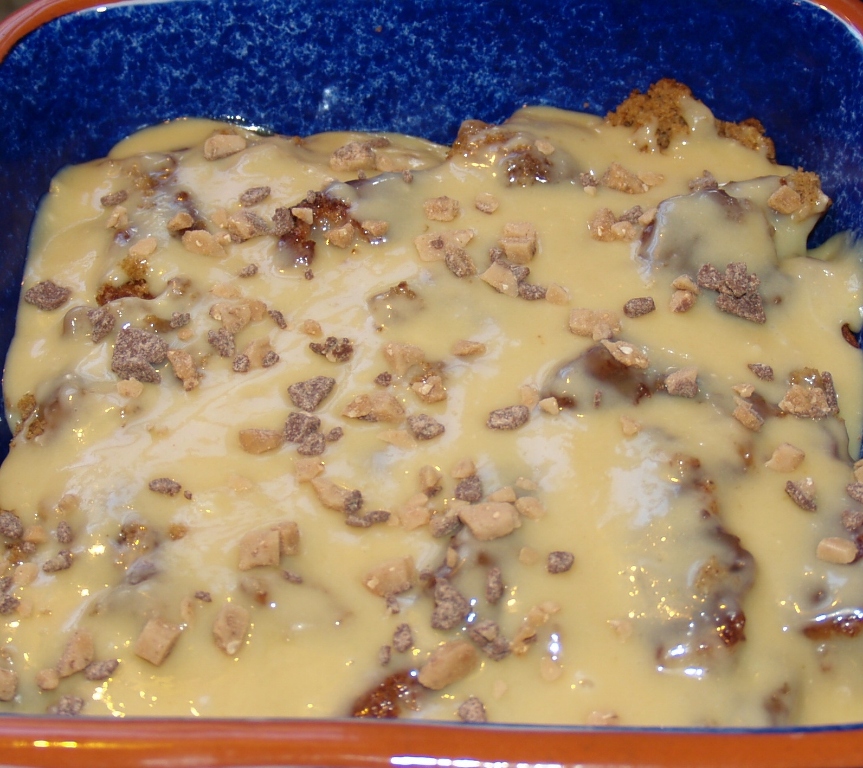 Add more cake, top with non dairy whipped topping.
Sprinkle pecans, toffee bits, and caramel over top.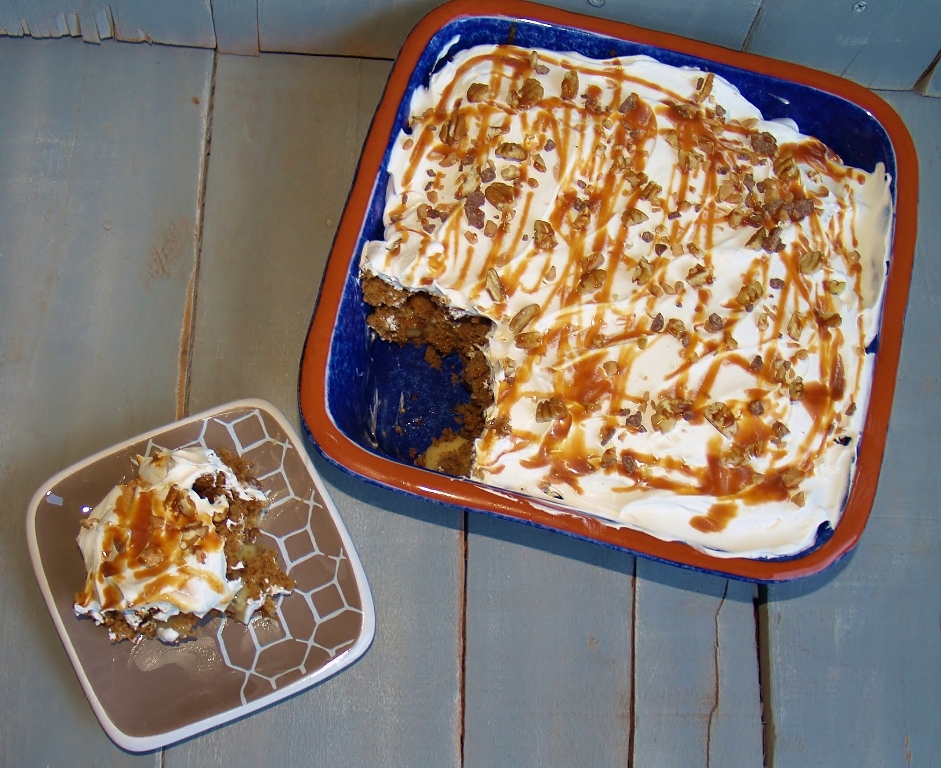 This is the fabulous caramel I used – I actually found some with a hint of coffee in it from Fat Toad Farms which was part of a wonderful box I won from Hamptons Lane!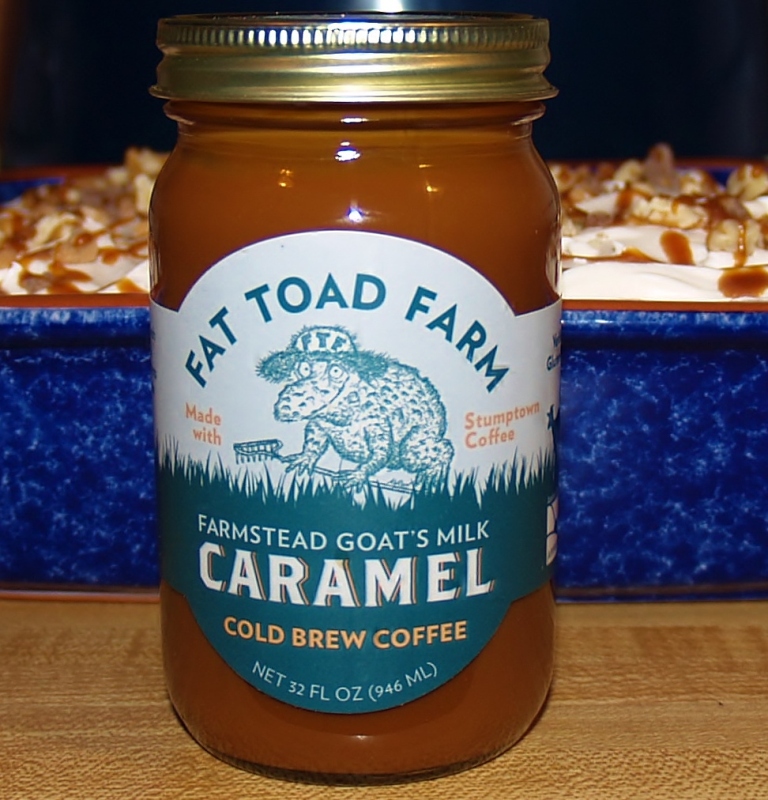 Vanilla Pudding:
Ingredients –
¾ Cup white sugar
2 Tablespoons butter
6 oz. evaporated milk
2 egg yolks
4 Tablespoons flour
1 teaspoon vanilla
Directions –
In a double boiler or saucepan over low heat stir together sugar, butter, milk, and egg yolks.
Whisking constantly, turn up heat and bring to a boil then add flour.
Turn heat down a little and continue stirring until it thickens to a pudding like mixture.
Take off heat and stir in vanilla. BTW, you can easily double with recipe.
Allow to cool. If you can keep spoonfuls out of your mouth, spread that over the first layer of the trifle!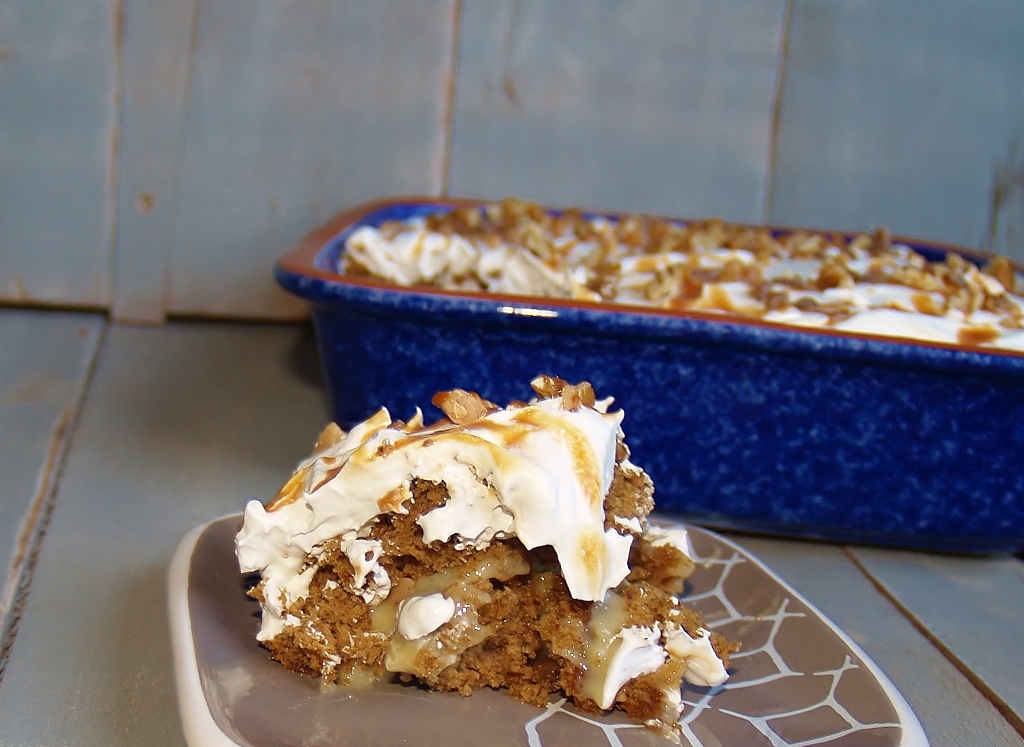 I hope you enjoy this wonderful cake and won't count it out as I would have (and Mr. Picky Eater did) just because it has prunes in it, because you will not be disappointed!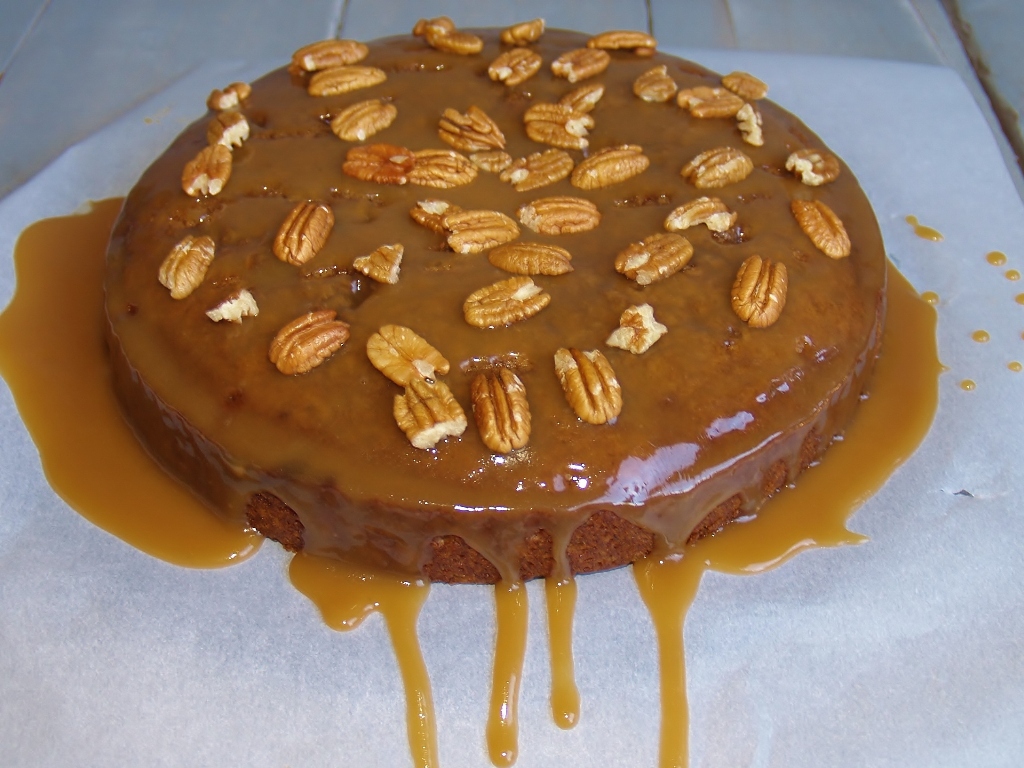 Check out this wonderful box I won from Hamptons Lane – isn't it great?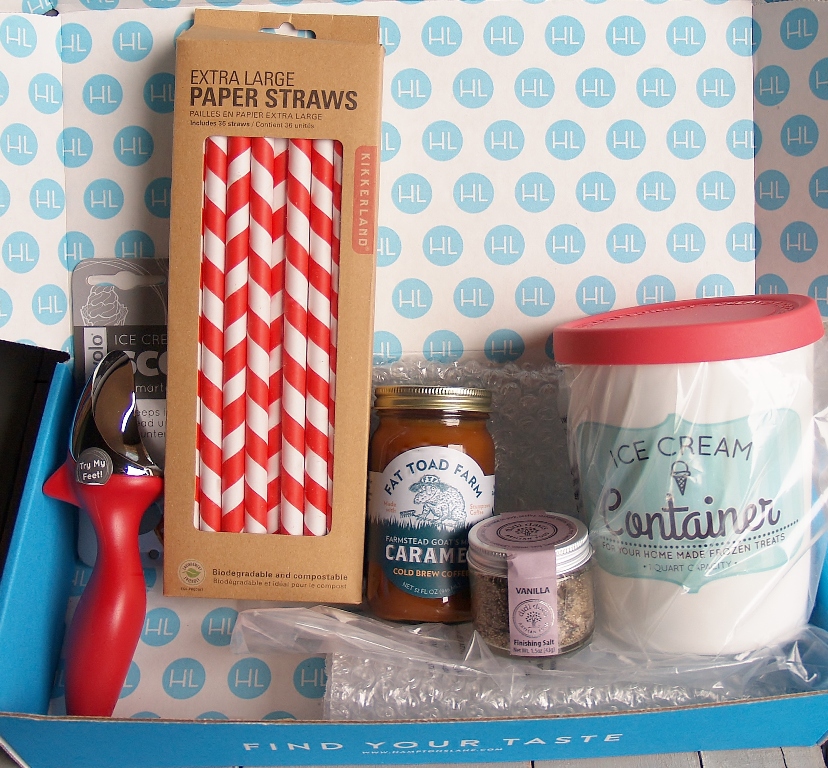 I'm hanging out at the Weekend Potluck this weekend – they have GREAT recipes so why don't you come on over and check it out?