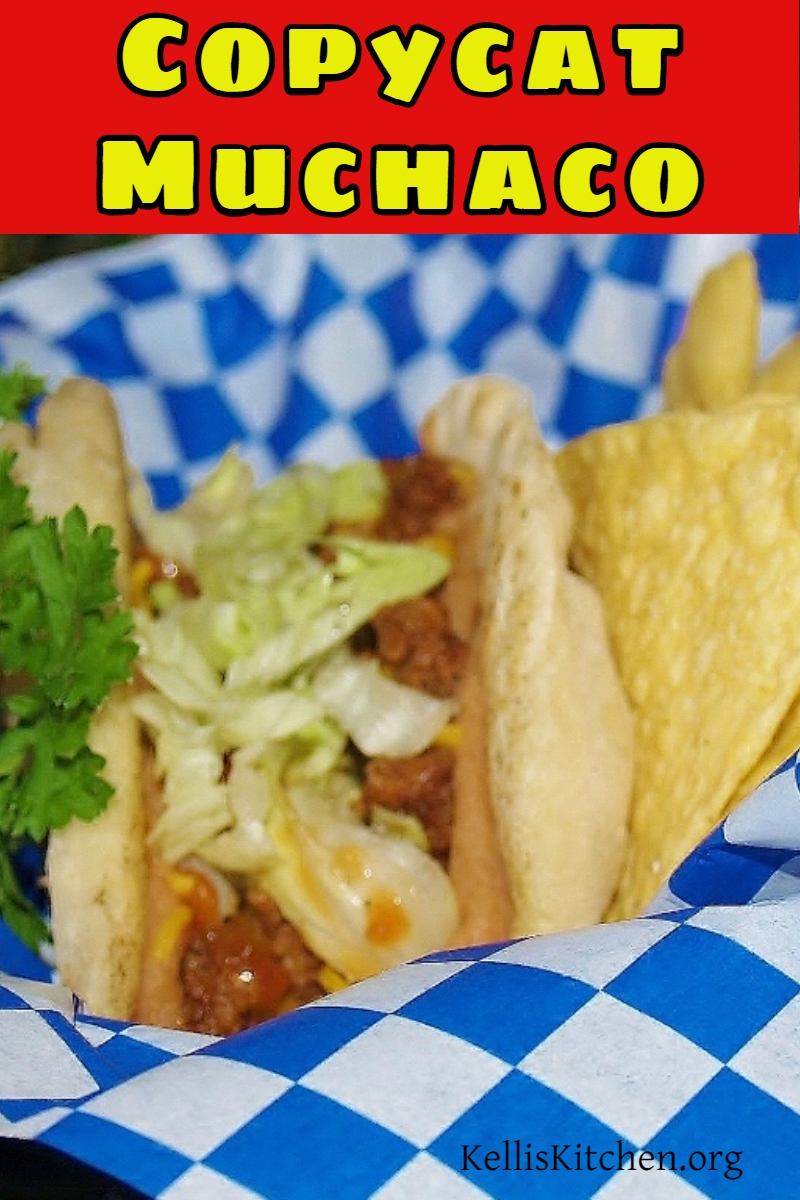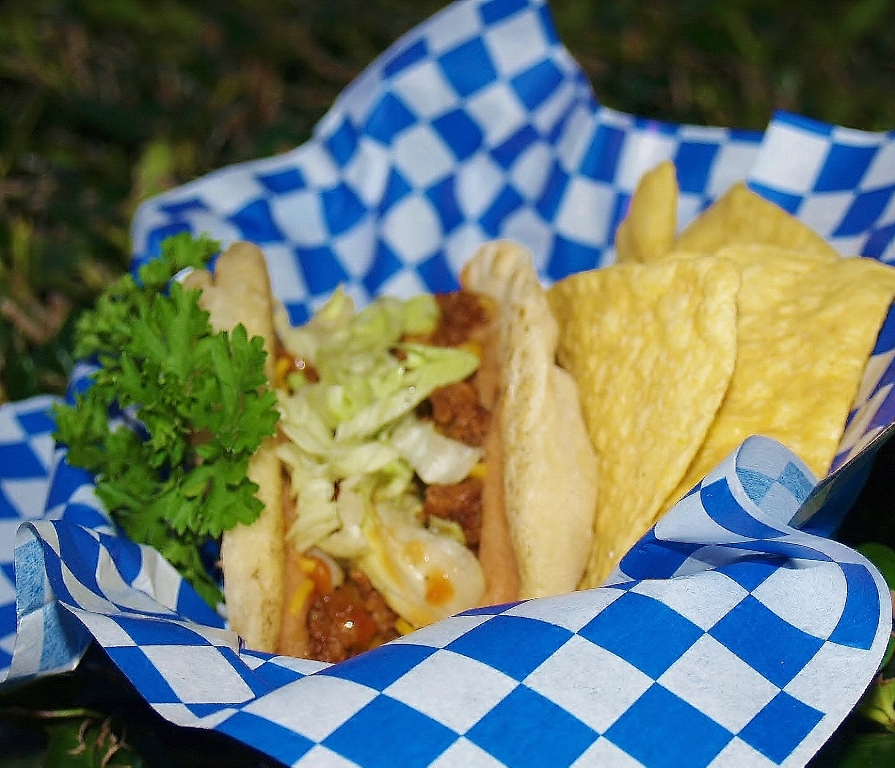 I have a confession to make: I would do just about anything for a Taco Bueno Beef Muchaco – seriously, it can be dangerous sometimes when I want one and we are very far from a store. Those thick soft taco shells all supple and tender holding refried beans, taco meat, cheese, lettuce, and tomatoes – they call my name often. If we get fast food, Mexi Dips and Chips with a Muchaco is always my first choice with Son-In-Law always seconding that. Top Girl decided she liked them and finally Mr. Picky Eater brought up the tail-end telling us they were "pretty good".
Last week, I decided that I could figure out how to make those delectable delights without too much trouble……I would just go to that website where you can get all the restaurant copycat recipes, right? Yep, did that – they just didn't have the recipe. I ran over to my local Bueno and bought one – look HERE for their version. As I picked through it, eating all the way, the inside ingredients were going to be easy enough, just a taco with some refried beans but the shell, now that was going to take some thought. I researched a little and saw where Taco Bueno states the outside of a Muchaco is actually pita bread. Pita bread? Really, because mine has always been dry on the outside and while it has a lovely pocket, I just couldn't wrap my mind around it being the same thing I crave so often.
I went to Allrecipes and finally found a pita recipe I thought would fit the bill: Chef John's Pita but I have recreated it here for you. However, if you want to watch the video, click on the link and it will take you there. You are going to love this because it turned out perfect the very first time, made 10 and everyone loved them!
Copycat Taco Bueno Muchaco
Ingredients:
1 package active dry yeast
1 Cup lukewarm water (90 – 100F)
1 Cup all-purpose flour
1 ½ Tablespoons Olive Oil
Then you will need:
1 ¾ teaspoons salt
1 ¾ Cups flour (up to this amount but I used 1 ½ cups – that was perfect)
Olive oil as needed
Directions:
Put first three ingredients into mixing bowl, whisk around 3-4 times, cover, and place in a warm place for 15 – 20 minutes so the yeast can activate.
Using the dough hook on a stand mixer or beaters on a hand held one, mix slowly while adding the olive oil, salt, and 1 ½ Cups of flour. Mix until the dough is soft and supple and just a little sticky – but if dough is still sticking to the sides, add flour. It will take 5-6 minutes of mixing.
Turn out onto a lightly floured board and form into a ball. Put olive oil into a bowl and swirl around then put ball of dough in flipping once to cover. Cover bowl and set in a warm place for 2 hours.
Again, turn out dough into a lightly floured board, with lightly floured hands, pat out to about a 1 inch thick rectangle then cut into 8 pieces………I cut mine into 10 and it was perfect!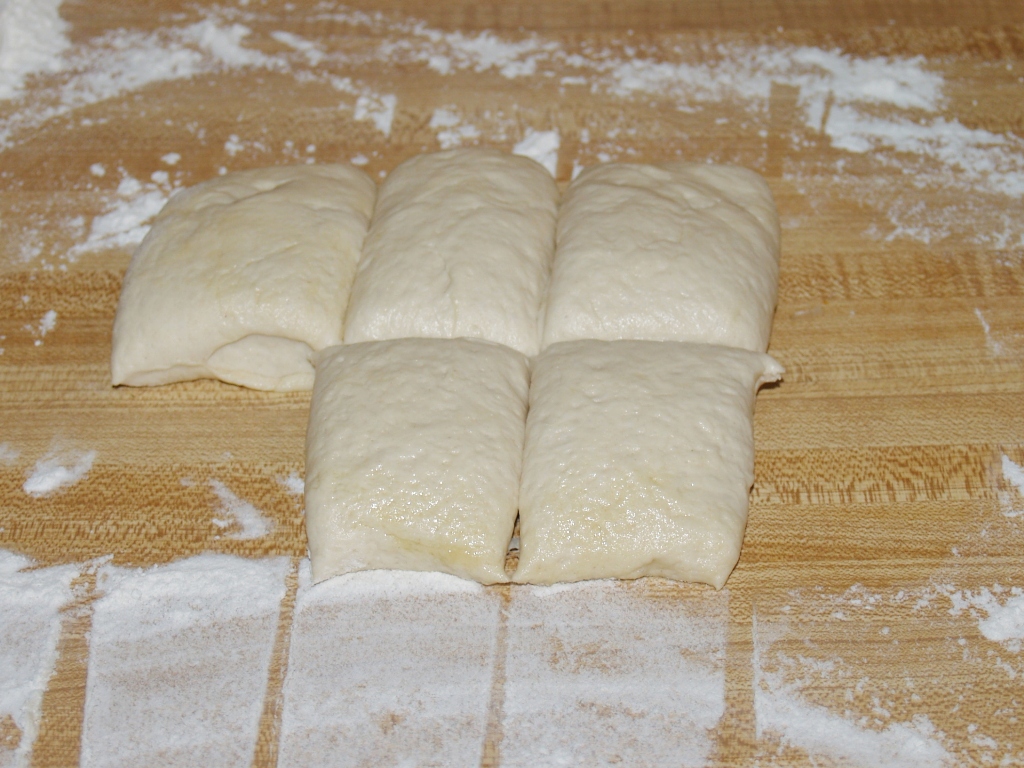 Then roll each piece into a ball and place on parchment paper sitting on a baking sheet and cover with a sprayed piece of plastic wrap. Allow dough to rest for 30 minutes.
Then put an iron skillet (I'm sure you could use any skillet you wanted) on a burner set at Medium. (Chef John says Medium High but lots of the reviews said it would burn – and they were right) with just a bit of olive oil in it. You will need to add bits of the oil after every 2 or 3 pieces.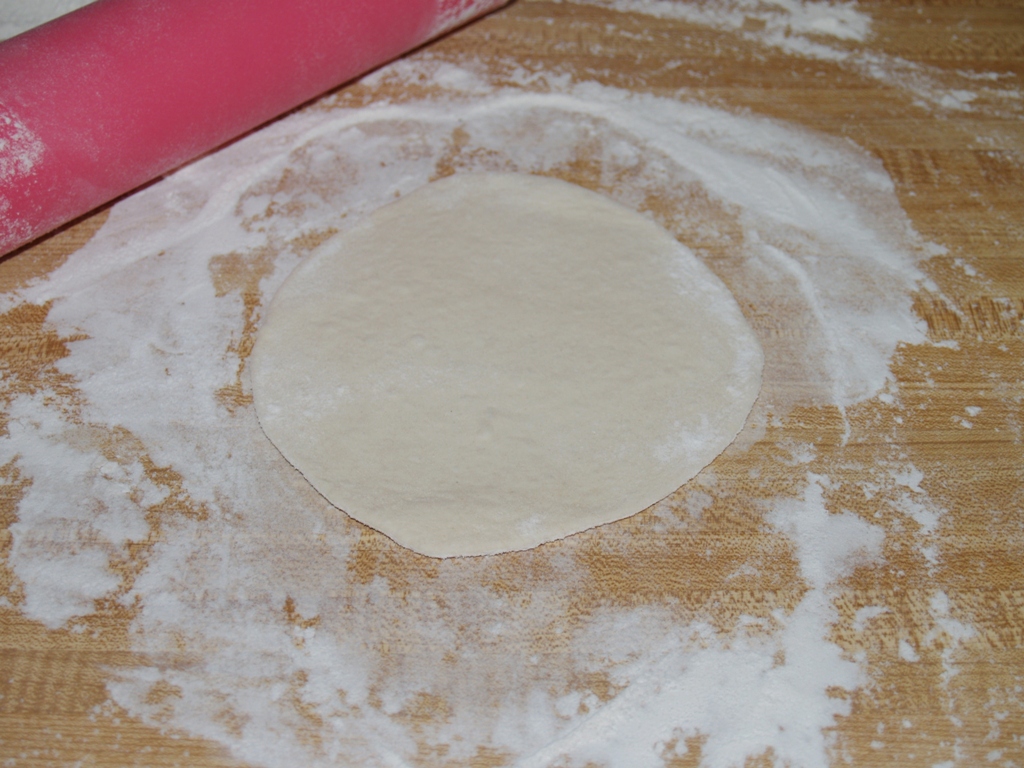 Using a floured rolling pin, roll each ball out until its ¼ inch thick and lay on a platter to rest while you are cooking another by placing in the hot iron skillet. **Be sure to get all the loose flour off or it will smell awful when it is cooking***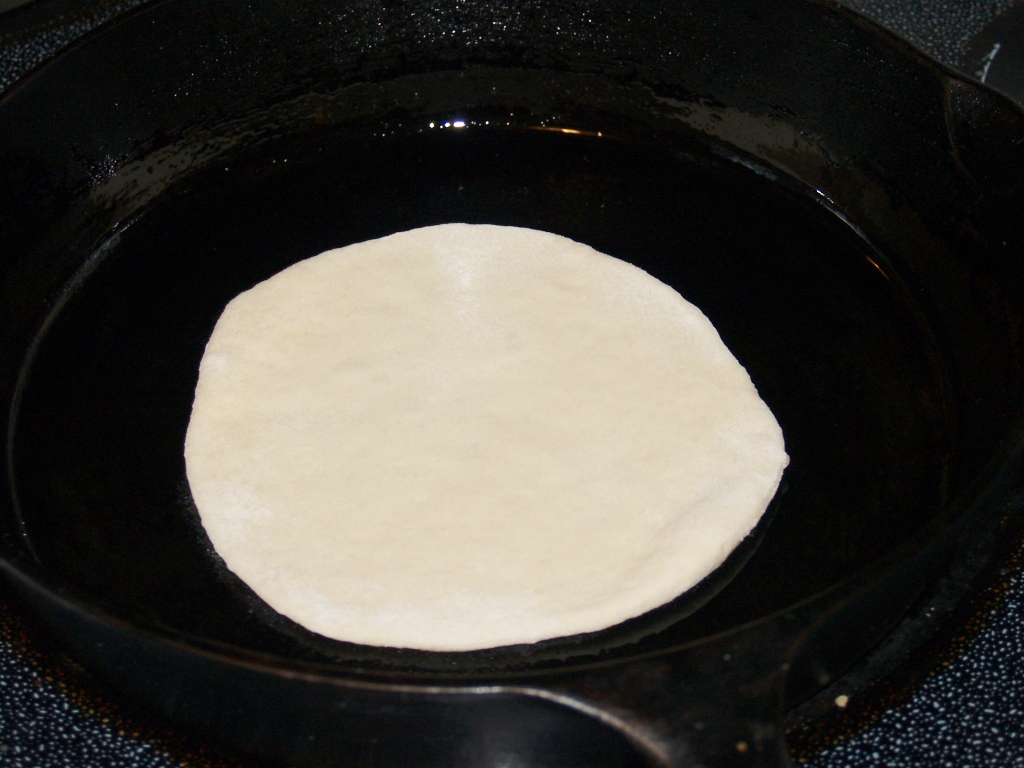 Cook for 2-3 minutes and then flip – it should look like this: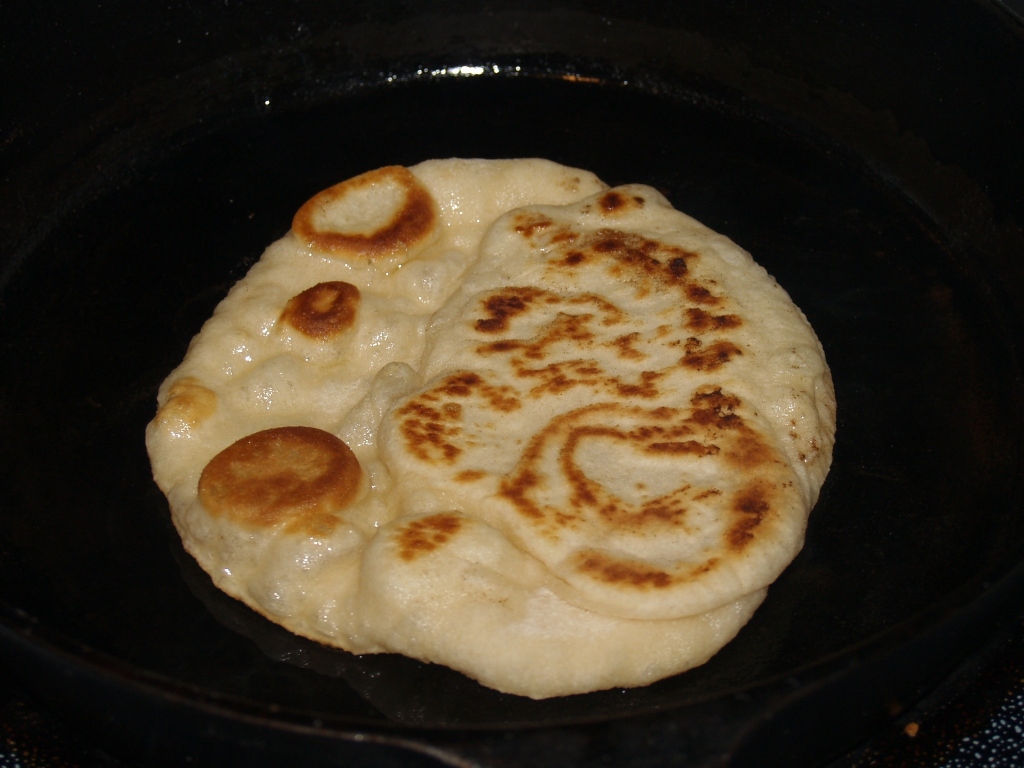 When it's on its second side, it will puff up like this – that's fine. Don't worry, you can press it down or not: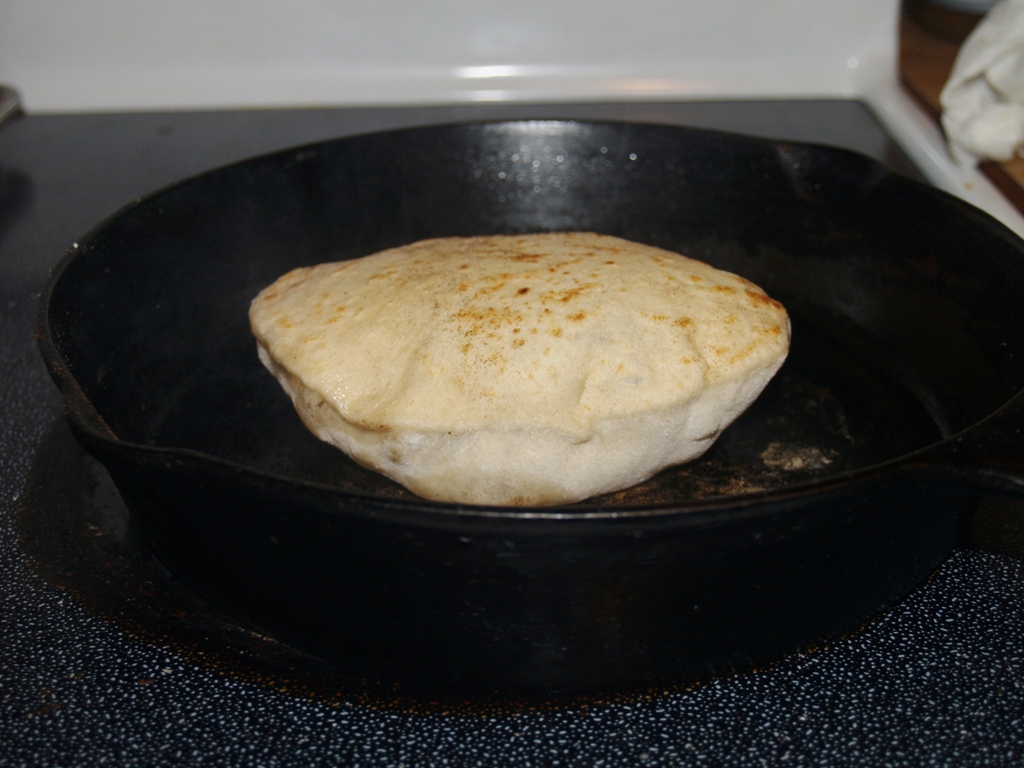 When I took each off and put another on, placed it on a platter covered with paper towels then on top I put a clean tea towel over top with a damp one over that one – they stayed WONDERFUL and beat anything you could ever buy in a grocery store………….EVER! If you want it to be a pita, just cut them in half and coax the insides open and fill.
You will also need:
1 Can refried beans (the secret to make them taste good like your favorite Tex-Mex place is to add about a teaspoonful of bacon grease…….)
1 lb. ground beef cooked with Taco Meat seasoning (I use Old El Paso).
Shredded cheese, lettuce, tomato, onion, and salsa………….some people would add cilantro, but thankfully it's not in Taco Bueno Muchaco and it's not in mine either.
Lay down 1 piece of bread.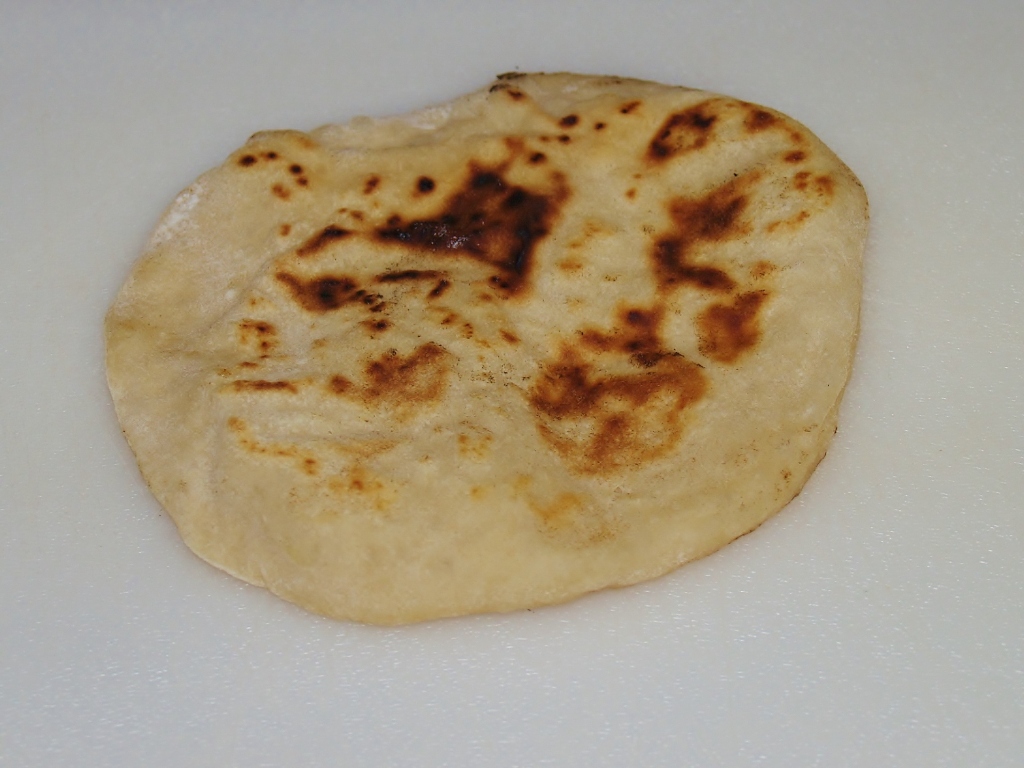 Slather with beans.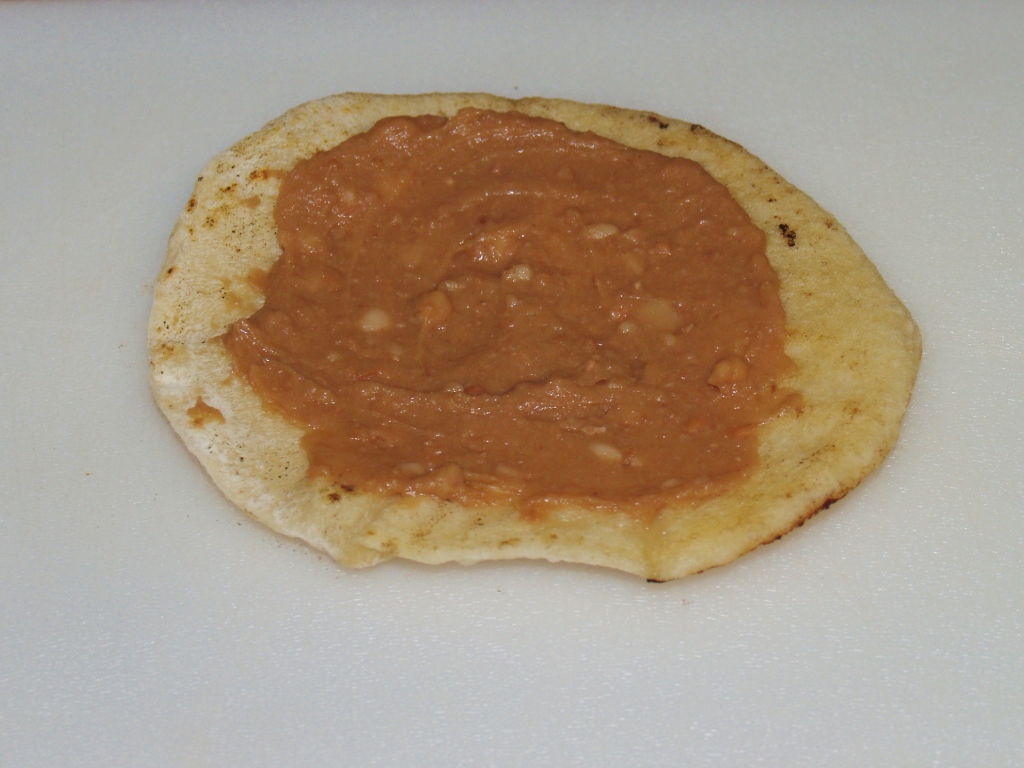 Put meat and cheese on top.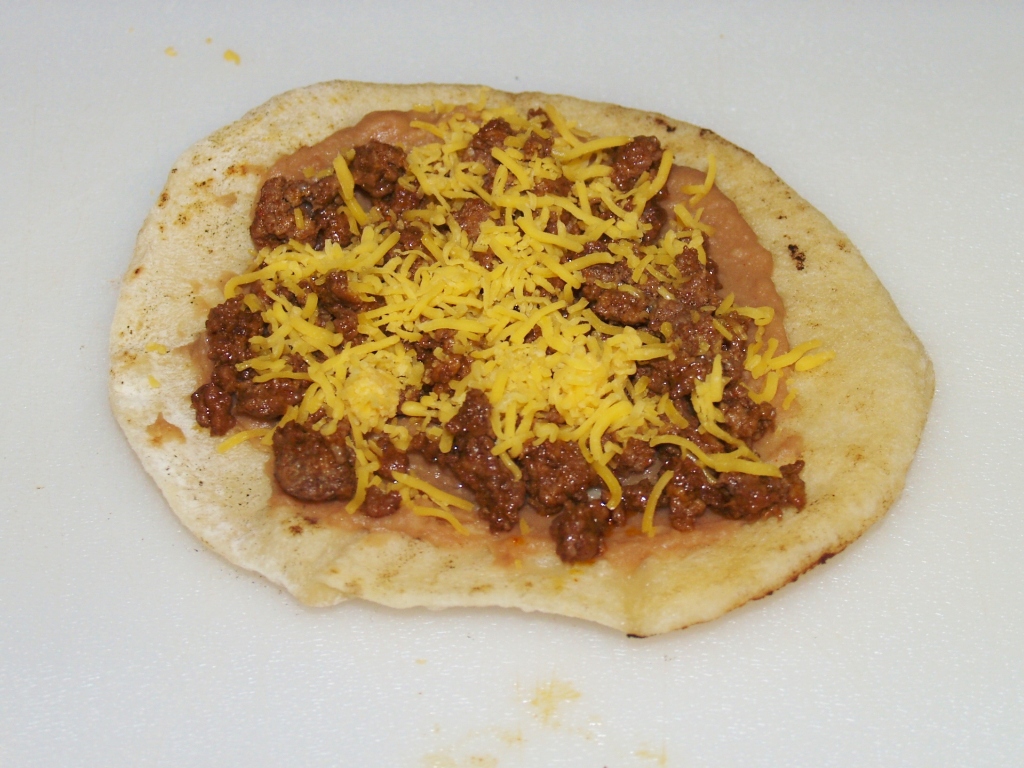 Add lettuce tomatoes and/or salsa. (Speaking of Salsa, I really love Aldi's Salsa – NO cilantro!)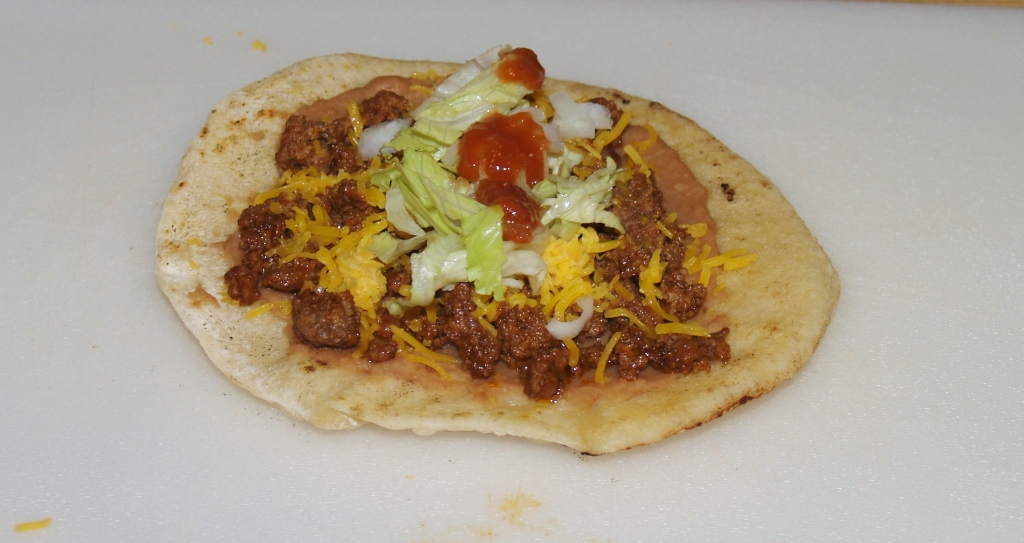 Fold up like a Taco and let the joy of Tex-Mex goodness engulf you!
BTW, no one paid me or gave me free product to use their brand names, I just really like the brands I use so I'm telling you about them like one friend would tell another.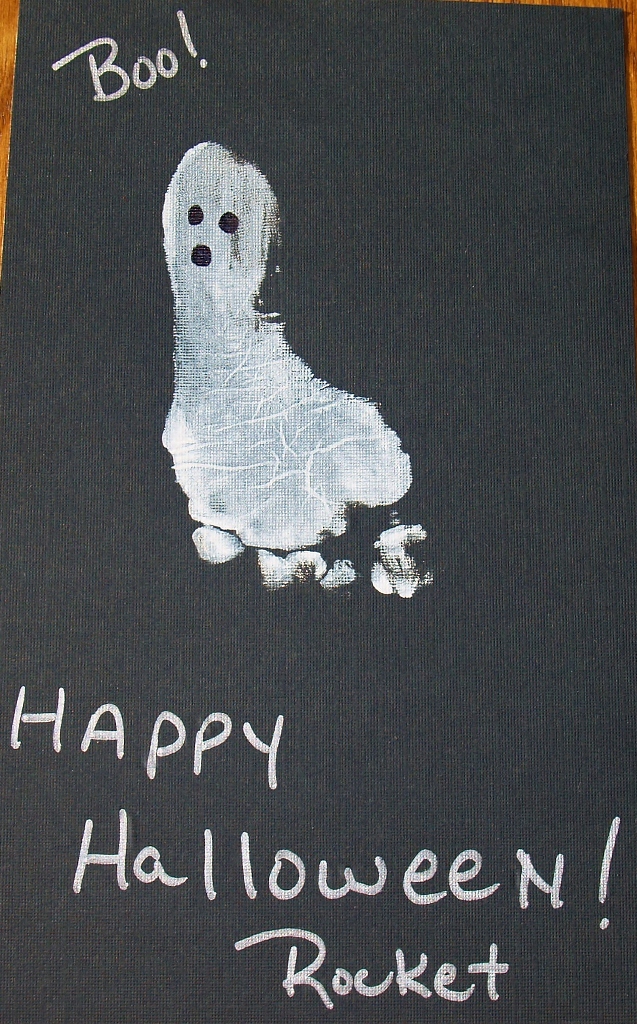 The big Batman Extravaganza for Halloween is coming up on the 31st and 1st – if you remember the theme was Wizard of Oz last year. I will share pictures next Sunday. In the meantime, Here is a Halloween wish from Rocket and me!
I'm linked up over at Weekend Potluck this week – so come on over and check out the great recipes!