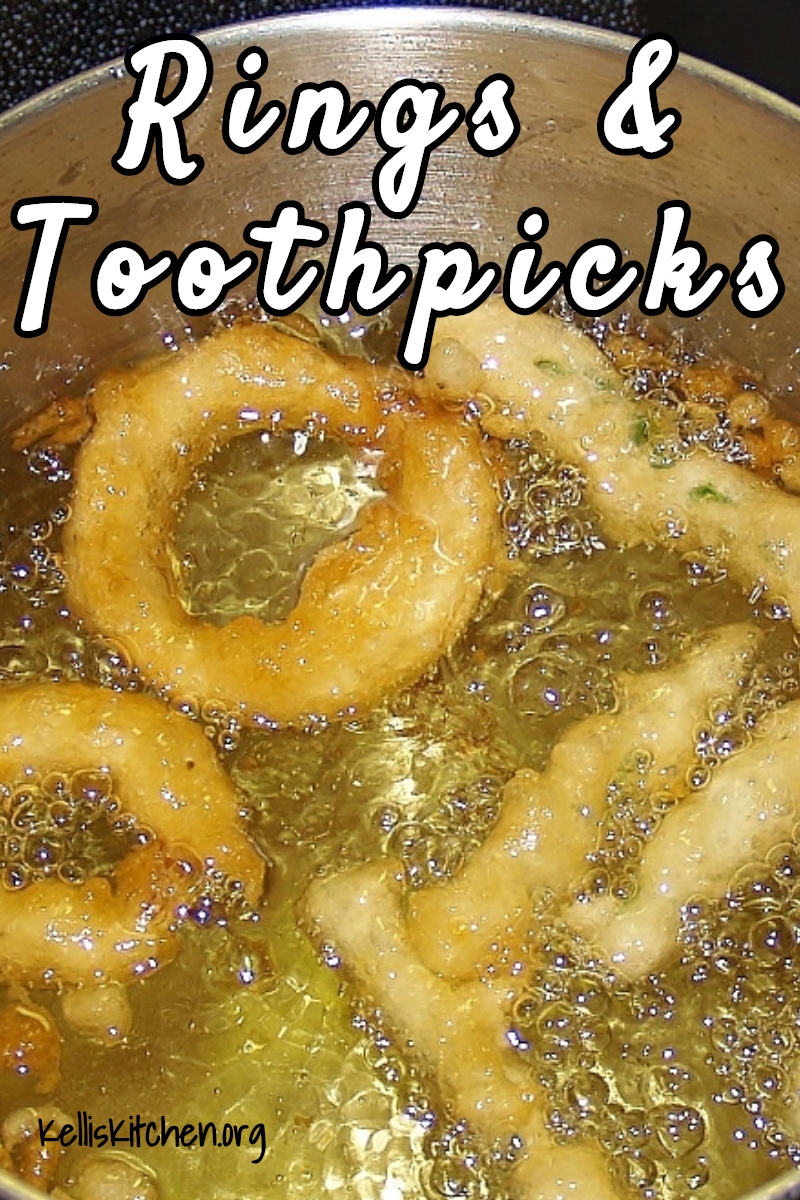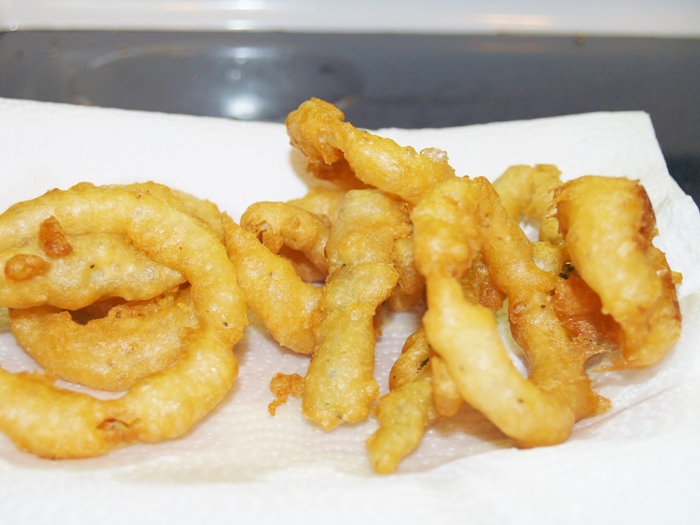 Ever had a Texas Toothpick? They are so good! Often we order them as an appetizer or as our main meal if it is just Top Girl and me. Generally they have something that looks and tastes like tempura batter on it and taste so scrumptious that sometimes we sit eating them until the entire basket is gone – I know……..we are pigs. They are mostly served with Ranch dressing but you can eat them with anything or nothing at all. I kept trying to get a picture of an entire pile of the rings and toothpicks together but Mr. Picky Eater and Son-in-law kept snatching them away from the plate and eating them so it was of no use to get any better picture than I got. Just know they are great! Also, after they finally began eating, I quickly fried up some more and then put them in the fridge. Two days later, I pulled them out and put them on a baking sheet in the oven at 350F for 10 minutes and they were as crisp as the first day I made them – so leftovers were fantastic!
You will need to slice two onions (I used Vidalia onions) about 1" thickness.
10 or 15 Jalapenos should be seeded with the vein taken out as well as slice in small "sticks".
Rings and Toothpicks
You will need:
2 Cups Buttermilk
2 Cups All-Purpose Flour, Divided
1 Cup Beer or Seltzer
2 Eggs beaten
1 teaspoon garlic powder
1 teaspoon salt
½ teaspoon black pepper
1 teaspoon smoked paprika (optional – I put it in and loved it!)
Oil for frying
Directions:
Put the onion rings and jalapeno toothpicks in a Pyrex dish then cover with the 2 cups of buttermilk then cover with plastic wrap and set in fridge for about 2 hours.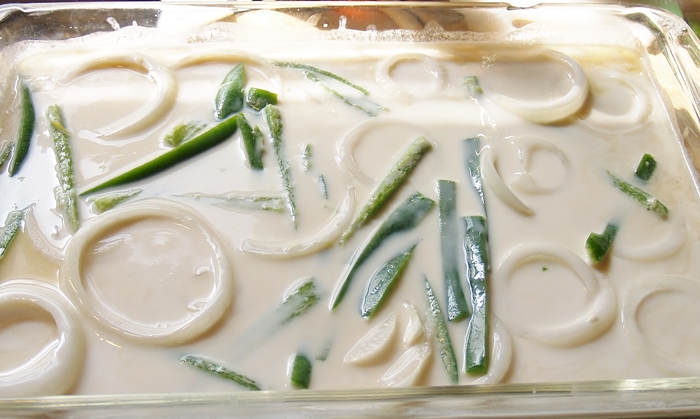 After a few hours in the fridge, take them out and mix up all the ingredients listed above except for 1 Cup flour and the vegetable oil.
Put the 1 Cup flour in a dish.
Put oil in a pot and turn it on medium high heat.
Mix all other ingredients in another dish.

It should be a rather thick batter so take the jalapeno sticks and the onion rings and dredge them through the batter covering all parts.
Remove a few rings and toothpicks from the buttermilk, dredge in the flour and then in the batter.
In a pot of hot oil (350F), drop several rings and or sticks in and let them cook until golden on one side and then flip to cook to golden on the other.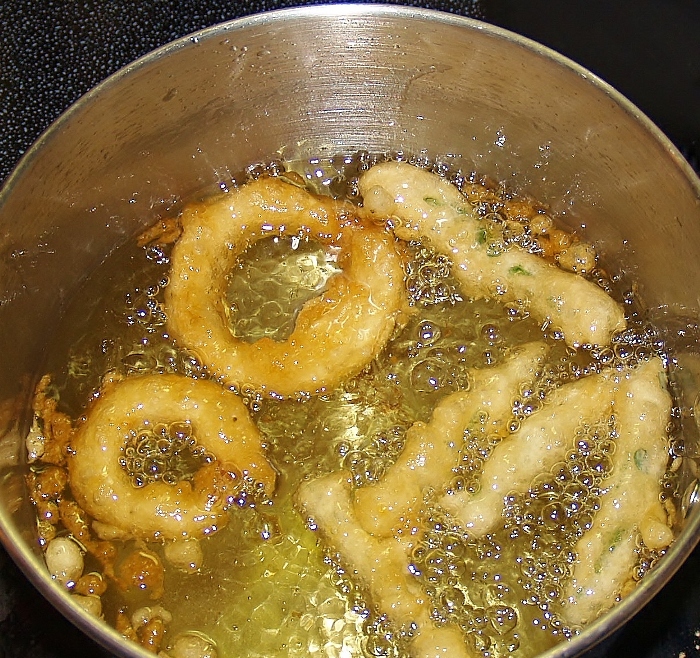 Do not crowd or let them touch because they will stick to each other. They still taste great but they can become very large pieces!
Let them drain on paper towels and then start again until they are all fried.
These are great with steak or with BBQ Pork Chops like this one in the picture (recipe coming) or……. just by themselves.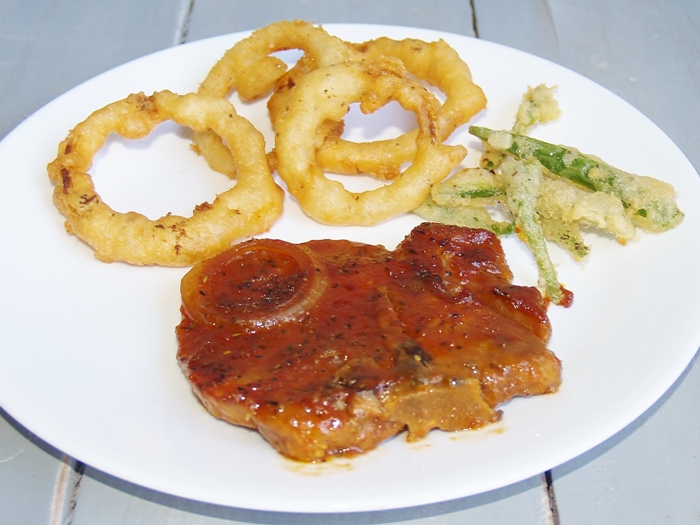 I want some so badly; just talking about them makes my mouth water! Just so you know, the Texas Toothpicks are warm, but not hot because the seeds and veins are gone and that's what makes peppers so hot anyway!