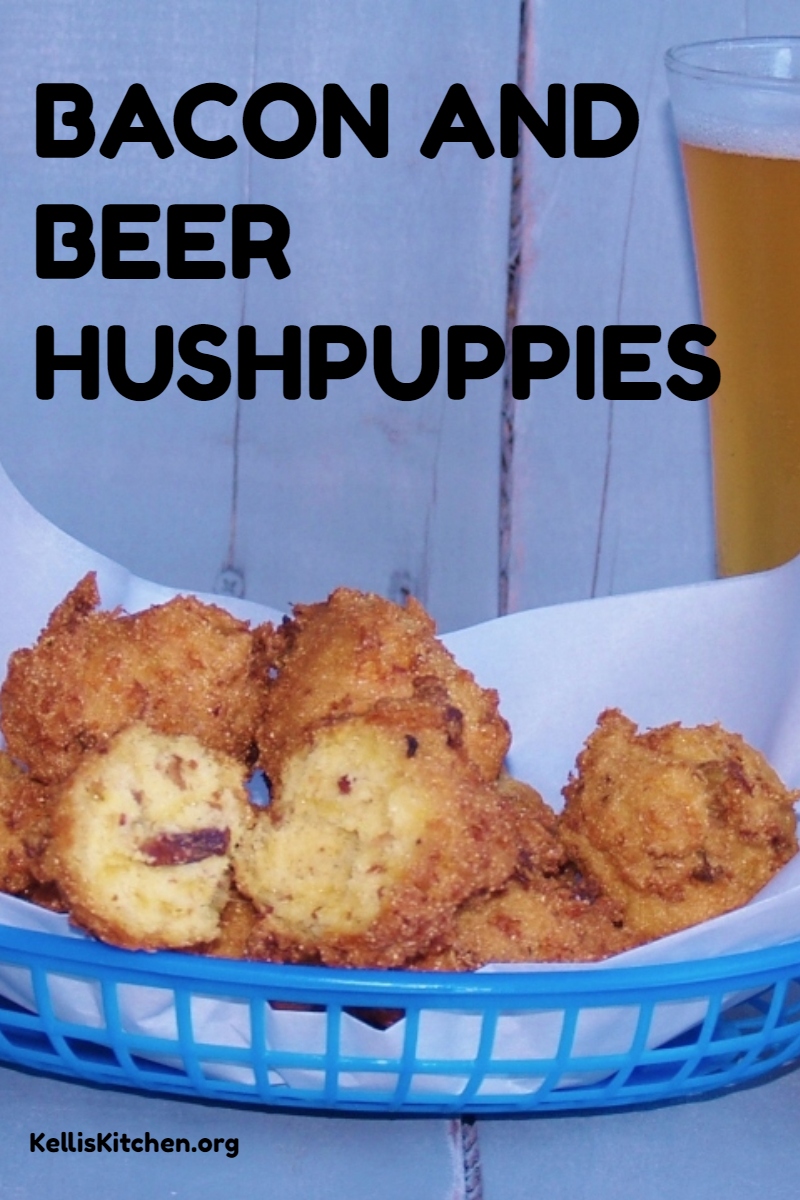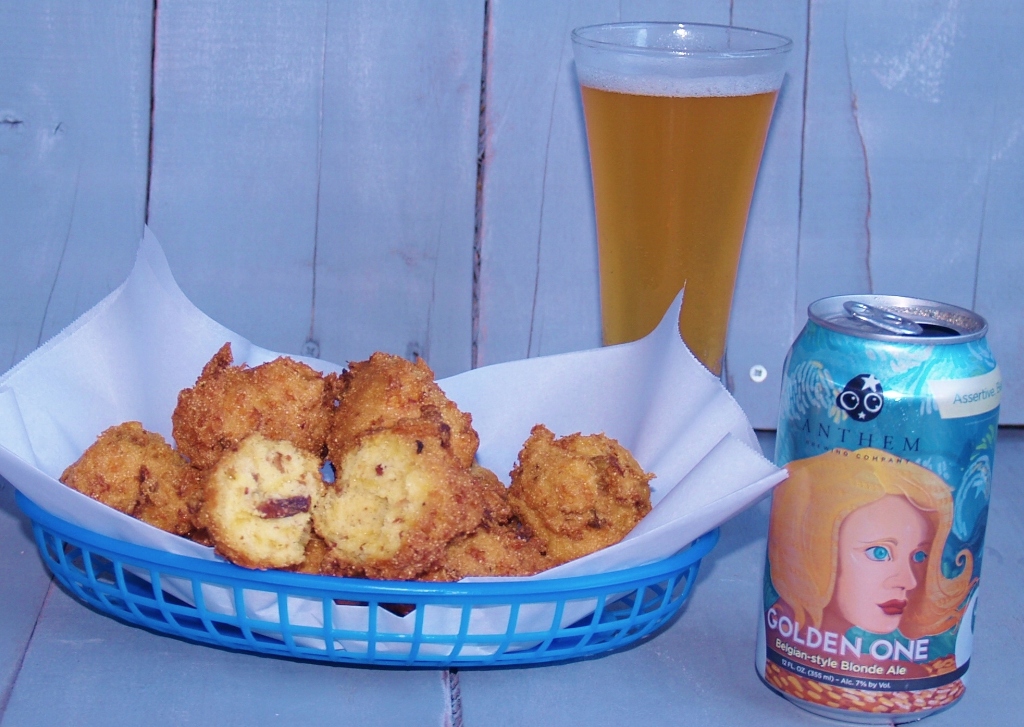 Welcome to Bacon Month hosted by many bloggers and spearheaded by Julie at White Lights on Wednesday! This month, every Tuesday and Thursday I will be posting a recipe featuring bacon and a giveaway. How exciting! This first recipe came to me a couple of weeks ago when my former co-worker and friend Kay sent me a text asking if she could drop by. We had not seen each other for some time and I was excited to see her. She came with a hostess gift of locally handcrafted beer, created by her step-son Matt at the Anthem Brewing Company, LLC.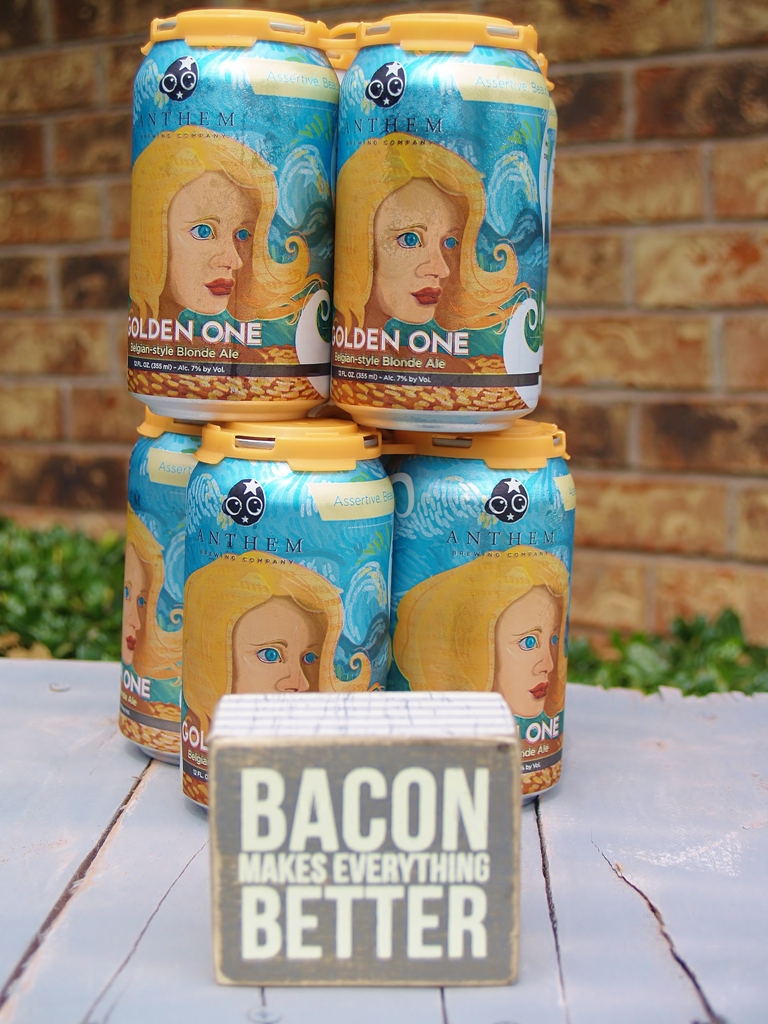 Now, I'm not a beer drinker myself but I love to cook with it. The very next night Lawyer Boy dropped by so it was the perfect opportunity for the guys to try out The Golden One . They really enjoyed the drink, Lawyer Boy commenting particularly about the pineapple notes and the great color. While they were drinking and talking about the taste I was able to envision what I wanted to make with it – hushpuppies! Even my tee-totaling Nana and mother used beer in their pups because it makes them lighter and tenderer. I am from a family that has ties in Florida and those hushpuppies have way more than cornmeal and onions in them – often shrimp. I love how bacon and beer go together so I decided that's what I would make with the addition of cheese and green chiles. I mean, why not? It is currently Hatch Green Chile season and that would give it some zing! Let's get down to business:
Bacon and Beer Hushpuppies
Ingredients:
1 Cup self rising cornmeal (not many people have that so I always just make mine with ¾ Cup yellow cornmeal, 1 teaspoon of baking powder and ½ teaspoon of salt).
½ Cup self rising flour (again, I make mine with all-purpose flour: ½ cup AP flour, ¾ teaspoon baking powder, ½ teaspoon salt).
1 Tablespoon sugar
1 egg, beaten
½ Cup beer (or milk if you are allergic/opposed to using it)
½ Cup shredded cheese
½ Cup bacon cooked crisp and crumbled
2 Hatch Green Chiles, roasted and chopped fairly fine
Vegetable oil for frying
Directions:
In a heavy bottom sauce pan, put 3 inches of oil in and turn the burner on to reach a temp of 375 F.
Mix the first 3 ingredients together then make a little well in the middle.
Beat the egg and add the beer mixing well.
Pour the egg/beer mixture into the well and then fold until just combined.
Mix the bacon, cheese, and green chiles together in a small bowl then gently fold into the cornmeal mixture.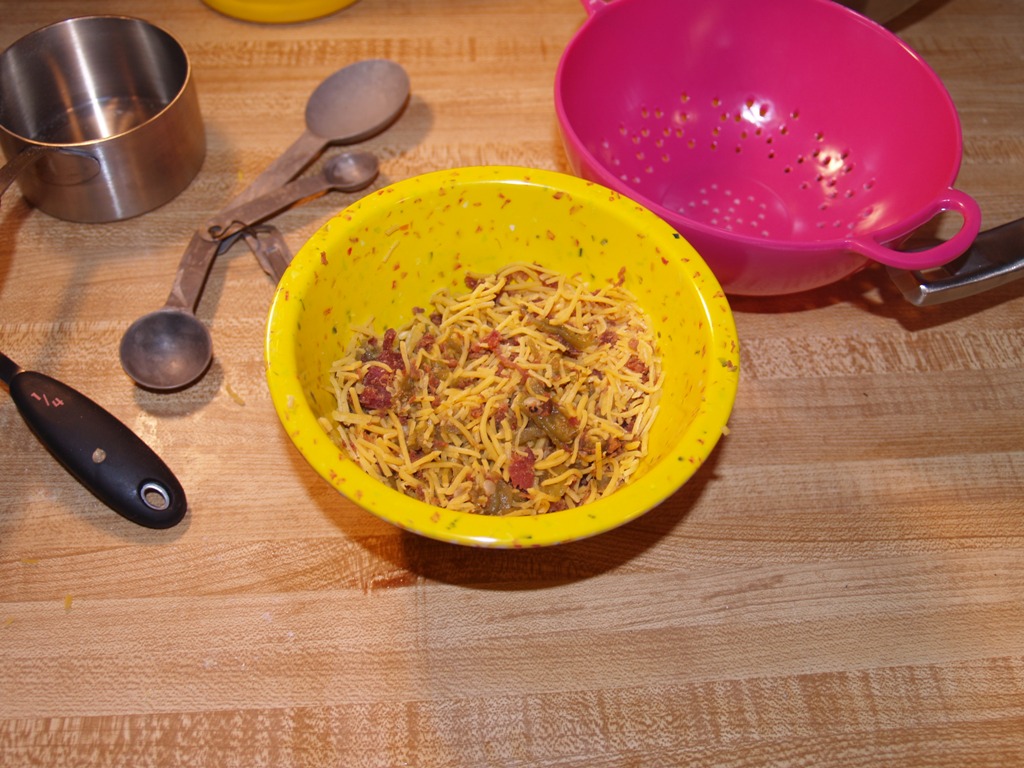 Do not stir more than you have to because you do not want tough pups.
It's going to be a very thick mixture, like this: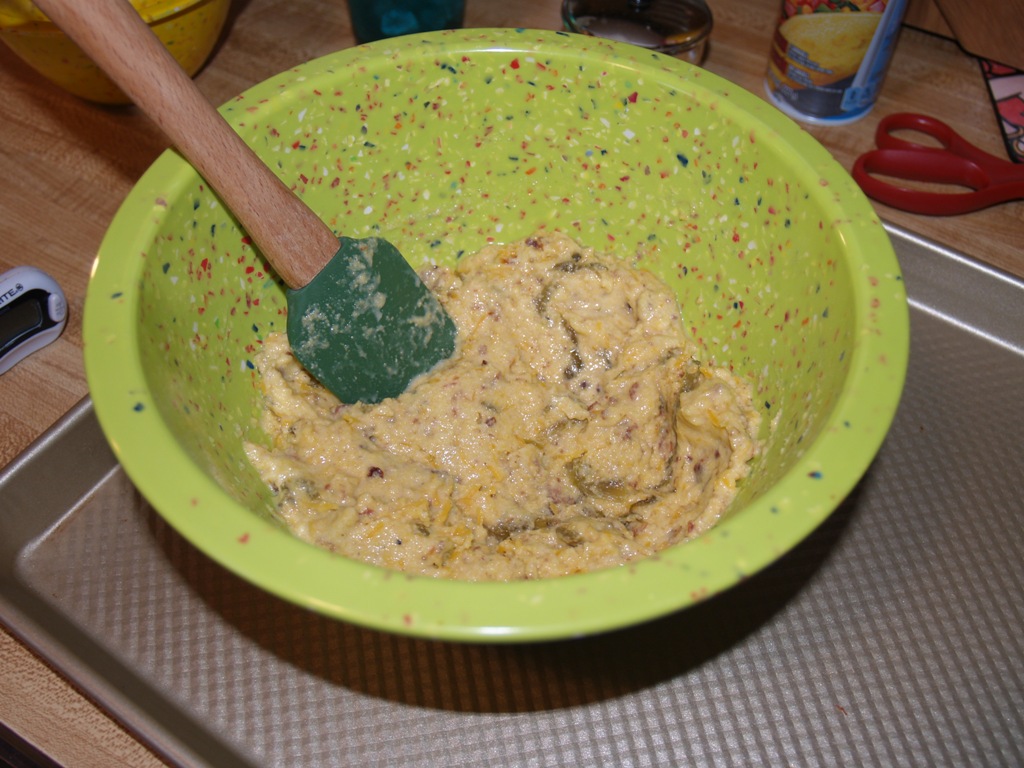 Once the oil reaches temp, us a tablespoon to drop three in at a time like this: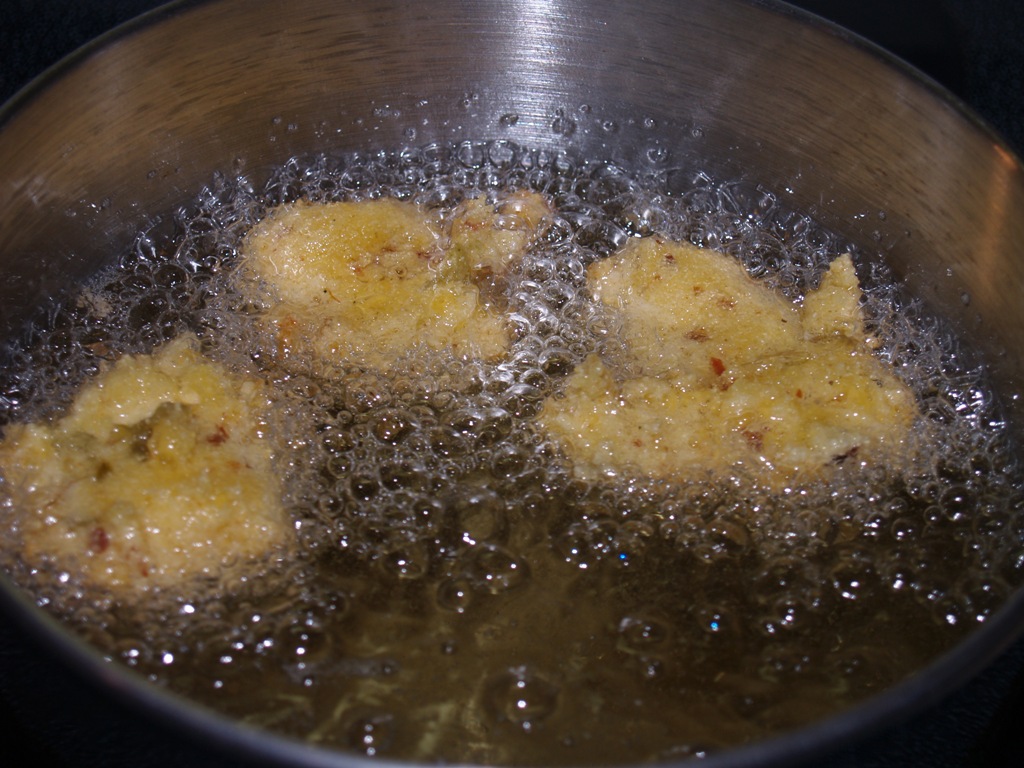 It only takes 2 – 3 minutes on each side so be sure to stay with them and flip as soon as they are brown on bottom.
When done, take out with a slotted spoon and drain on paper towels.
Makes a Baker's Dozen (13) hushpuppies.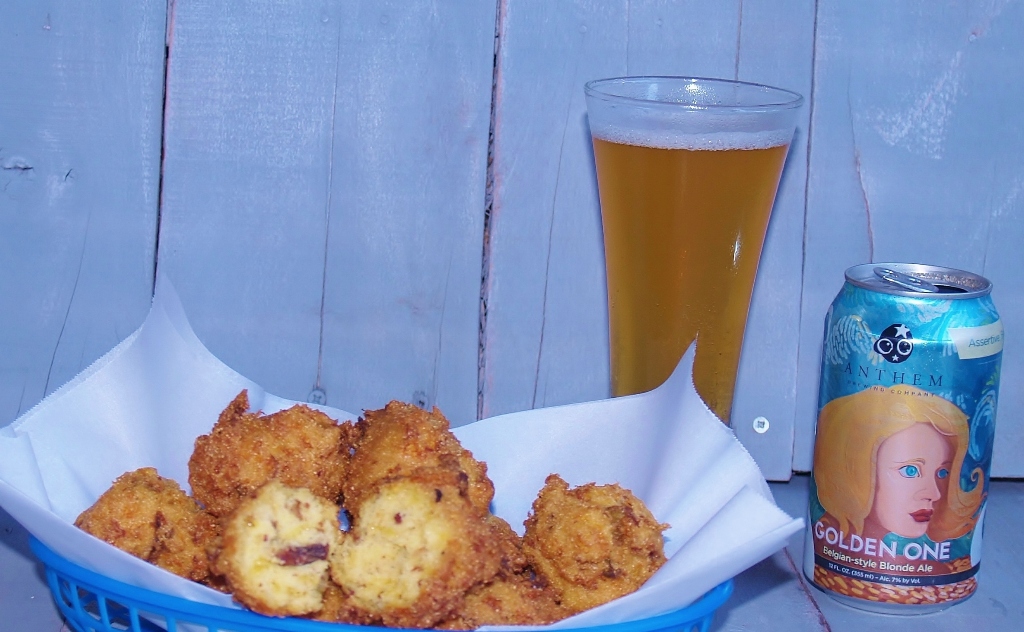 This recipe would be perfect as an appetizer or finger food for tailgating along with beer! This light beer was perfect for the recipe and I want to thank my friend Kay for bringing it to me – for Mr. Picky Eater, but he got to enjoy it TWO ways!