Tuesday was my final day at an agency where I held positions for the last 19+ years. There I learned many things, grew as a person, raised my daughter and met my husband. In fact, neither my husband nor I would be who we are had we not worked there. Well, maybe my husband would have been – that point was driven home to me last night on a trip to our local discount store to pick up some tags for a yard sale we are having Saturday. We were standing in the stationary aisle looking for the tags when I saw a young woman, man, and child at the end of the aisle. She was whispering to the man very excitedly and looking straight at my husband. The family walked straight up to us and the man stuck his hand out to shake my husband's hand. The woman began talking to him while the little girl, about four years old, danced and giggled all around us. The woman said that while he probably did not remember her, she remembered him – it was a few years ago three days before Christmas that he had been in the checkout line behind her in that very store. My husband was looking at them with a big smile on his face but his eyes betrayed him – at least to me – he had NO IDEA who these people were!
She went on to tell us that she was trying to buy formula, diapers and something else when she came up $7.36 short (she was very exact in how much). She was embarrassed and attempting to have them take back the diapers when my husband stepped in giving her a $20 telling her to get what she needed and put some gas in her car with the leftover. The man thanked my husband and told us both that each Christmas since they bought a $20 gift to put under the Salvation Army Angel Tree in honor of what he did………..well, of course I immediately began to sniffle and tear up as did the young woman. I had been a little miffed at the hubs for not doing something exactly the way I wanted but all that melted away when I was reminded of one of the bigger reasons I married him in the first place: his willingness to be generous in a world that has often made those of us who make less money into villains sucking off the fat of the land. He's been gone from the agency for almost two years now and in the blink of an eye we have both probably been forgotten as others take our place, but he is a part of that young family's story now – NEVER to be forgotten and that's a good place to be! I'm just really proud of him at this moment and wanted to share that little story with you.
When we got home I wanted to make a nice treat for him. I went to the pantry to get flour and chocolate chips to make cookies when I saw the white cake mix. Funny Story – when we met he told me he only ate 2 kinds of cakes: White with chocolate icing and chocolate with white icing. That's it – and it had to be the canned icing. I was so proud one weekend when I made him a cake! I didn't cook much back then and it took great effort to do so. When I presented it to him, he cut into it and while he tried to hide the disappointment (we hadn't been dating long) I could tell he wasn't thrilled about having to eat an entire cake he didn't like. So I asked him what was wrong – he said he liked "white" cake. I said I understood that and it's what I had made him. He said I had made him "yellow" cake. Isn't yellow cake – which is not chocolate – a white cake, I asked? I had no idea at that time they actually made cakes that were a white color – I thought you only got those at the bakery when you got married! Yeah, I know, for a smart girl I can do some stupid things.
Anyway, I knew he liked poke cake with chocolate pudding so I thought I would make that – but we had no chocolate pudding mix. Darn! I didn't have any of that bad canned icing either……basically this was not going to work out. Then I saw them sitting together: Lemon Jell-O and Strawberry Crème pudding mix…….This mix is seasonal so if you can get it, stock up now and use all year around!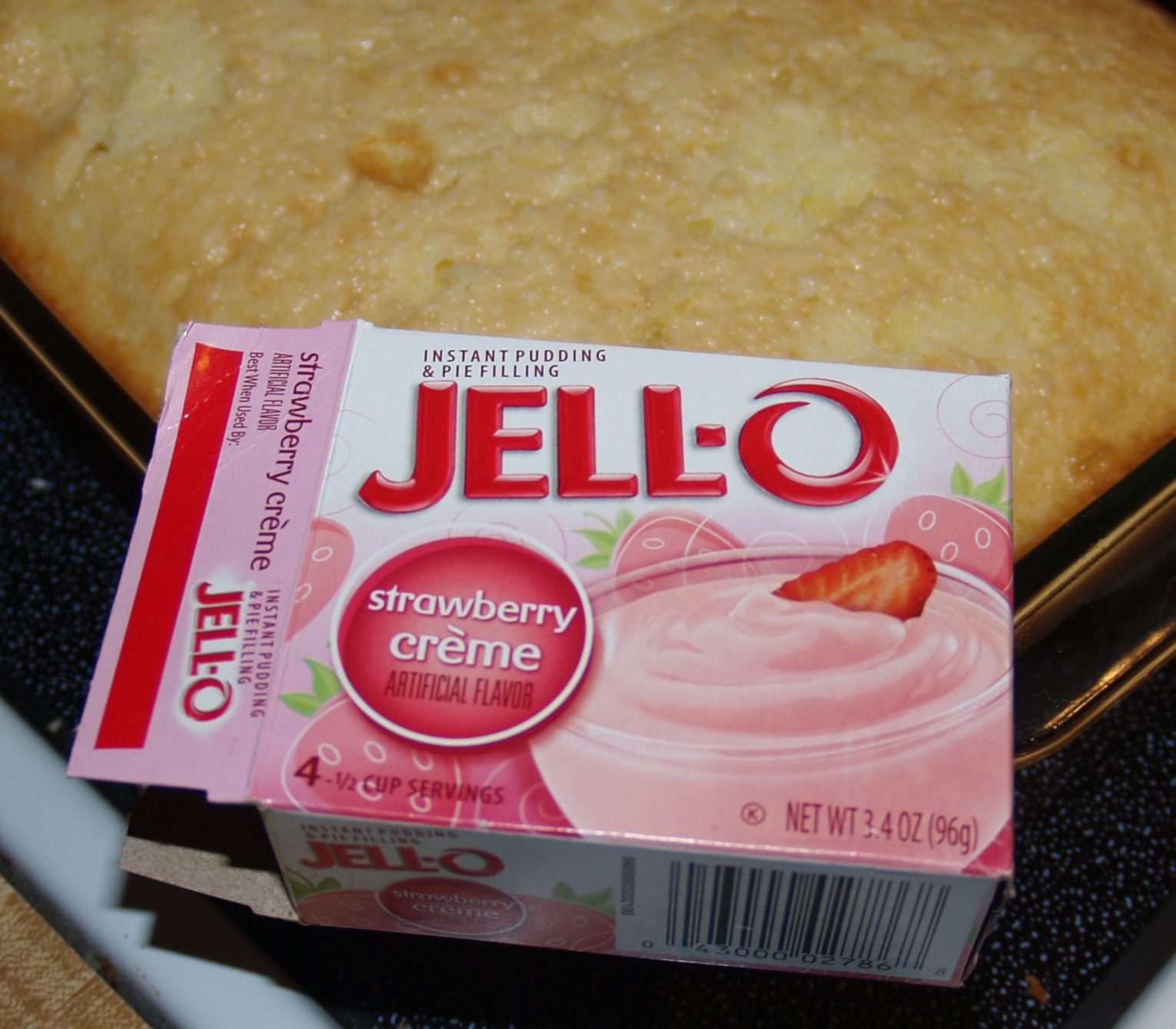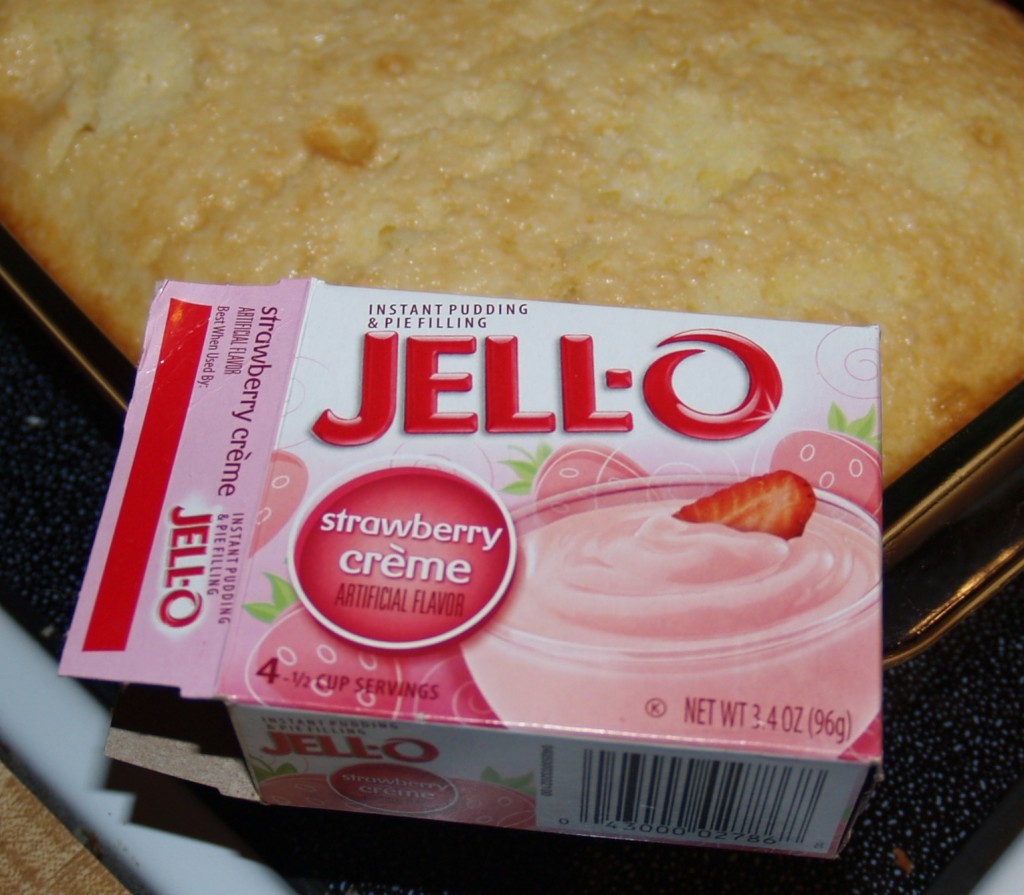 Strawberry Lemon Poke Cake
Ingredients:
White cake mix and items called for to make cake
1 box (4 servings) of Lemon Jell-O
1 cup boiling water
½ cup cold water
1 box (4 servings) of Strawberry Crème instant pudding mix
1/3 cup milk
1 tub Cool Whip
Fresh sliced strawberries (I forgot to put mine on for the picture!)
Directions:
Make the cake according to package directions and allow to cool.
Using a fork (I used a big meat fork), chopsticks or handle of wooden spoon, make holes in cake.
Mix up Jell-O with boiling water stirring until dissolved then add cold water.
Pour Jell-O over cake then cover and refrigerate for about 4 hours.
Take the cake out of fridge.
Mix up the pudding mix with the milk until the pudding powder is nice and dissolved.
Gently fold in the Cool Whip.
Spread over cake.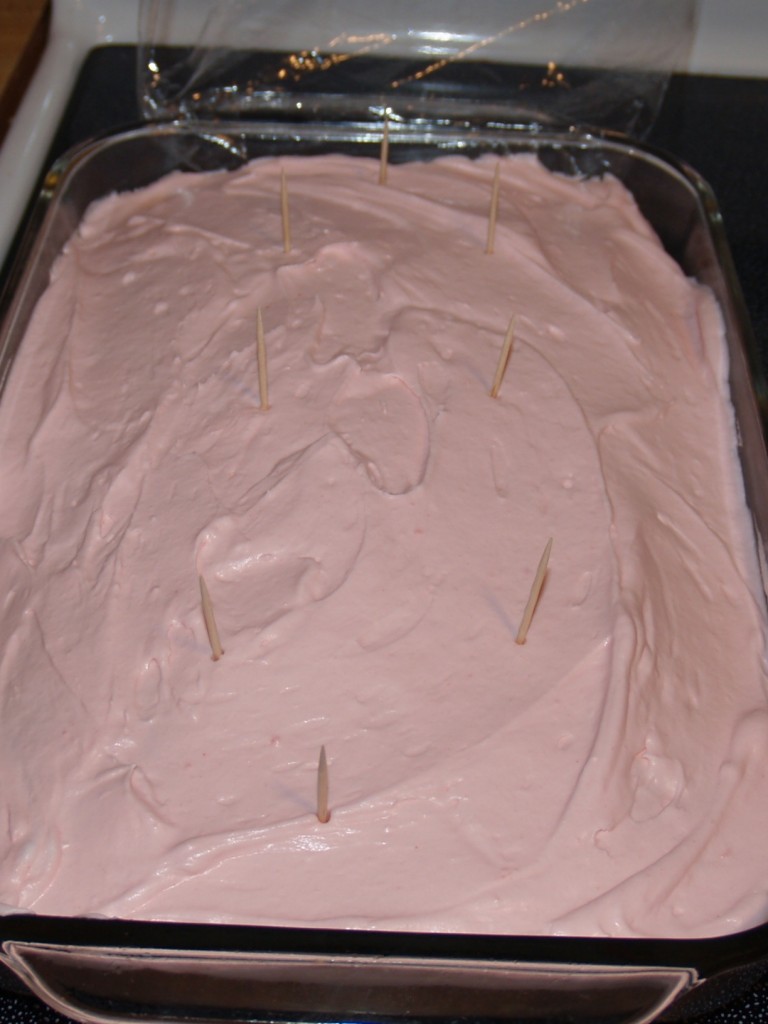 Use toothpicks to hold plastic cover over top of pudding topping, cover with plastic wrap and store in the fridge.
Mr. Picky Eater loved it and asked me to make it again!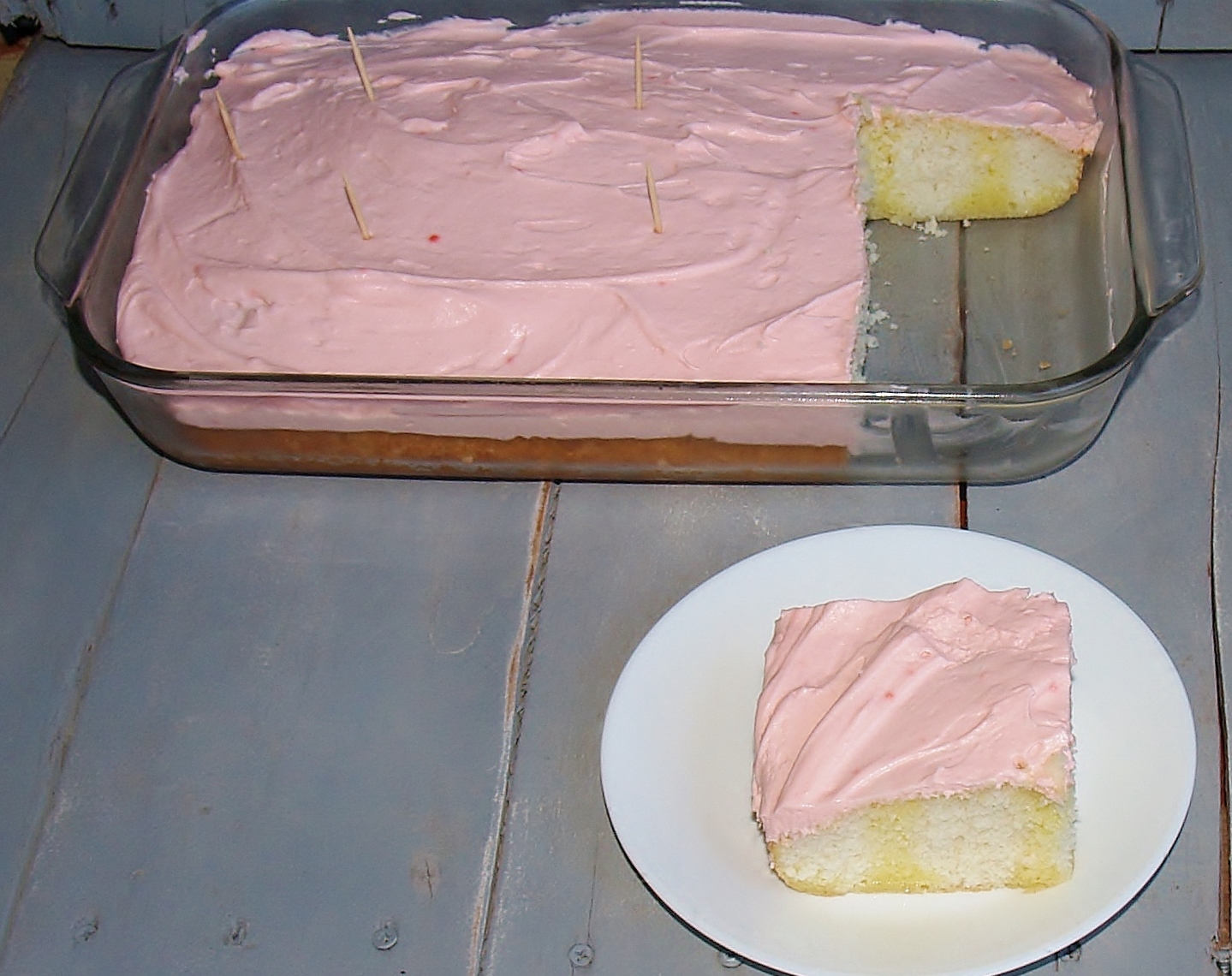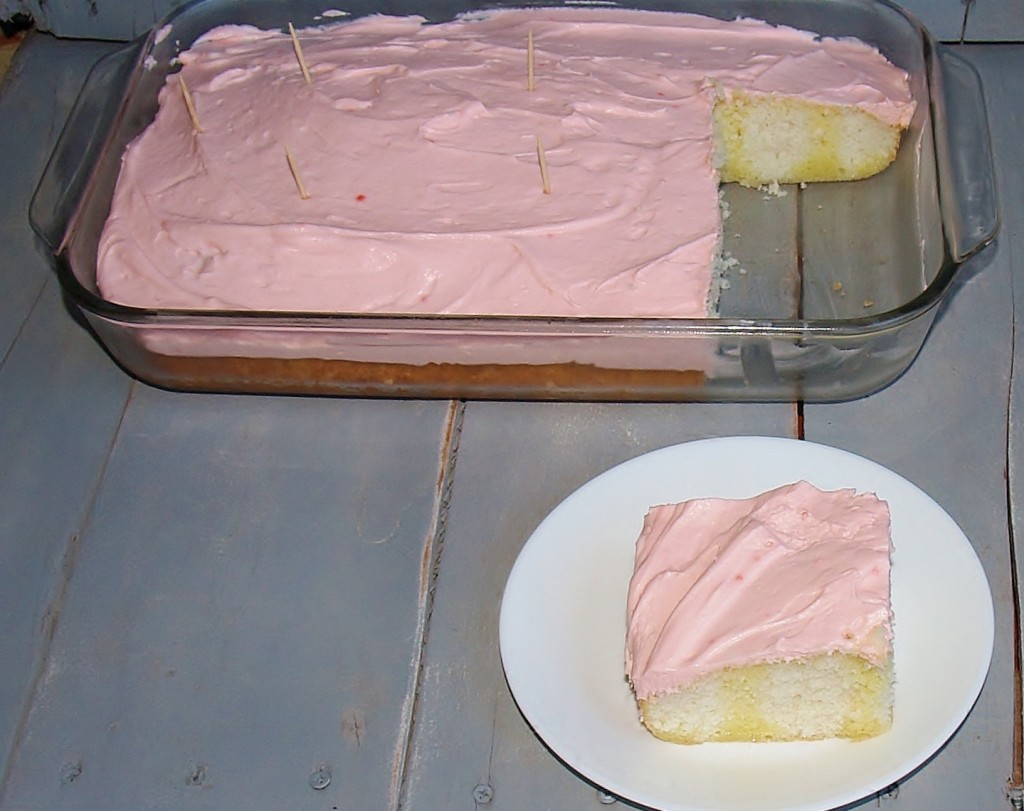 This and many other recipes are at Weekend Potluck this week – come check it out!