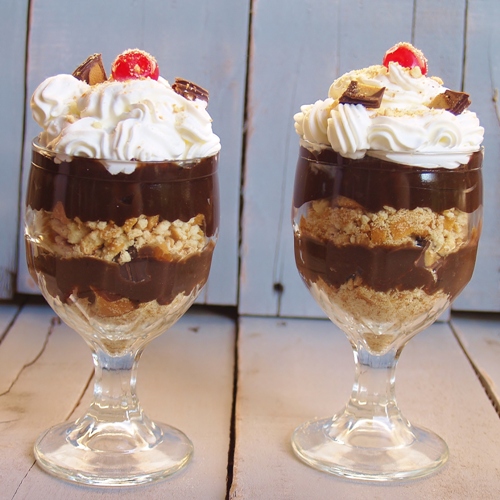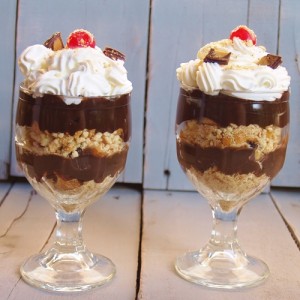 Today marks the beginning of the best day ever – it's Chocolate Peanut Butter Day! Hosted by Carla of Chocolate Moosey and Miriam of Overtime Cook, 31 bloggers are sharing favorite chocolate peanut butter recipes, ranging from cookies and bars to scones and muffins. Follow the hashtag #chocPBday on social media and join us with your favorite chocolate and peanut butter recipes. Looking for recipes all in one place? Follow our Pinterest board. We are teaming up with OXO, King Arthur Flour, and Peanut Butter & Co. to bring you three fabulous prize packs. If you love to bake, you don't want to miss entering. There are some incredible prizes and I want the winners to all be my friends who join me at Kelli's Kitchen! So get out there and enter! Directions are below this recipe.
I had never heard of a recipe for peanut butter pudding but I have always wanted some – when I was a kid there was some kind of mix that made pudding in the bottom and a fudgy peanut butter topping – I wish I could remember the name, there were several kinds – do any of you know what I am talking about? Anyway, when I asked to join in on #chocPBday, I thought it was the perfect time to create chocolate peanut butter pudding…………..and I did it! It took 4 tries but I'm telling you this pudding is life changing. It's also dress-size changing because I could have eaten the entire pot of pudding myself. Putting it in a trifle is the only way to keep from eating it all. I'm serious, you must try it because if you like chocolate and peanut butter together you will want to make this over and over again. I began with my Nana's chocolate pie recipe and tweeked it.
Dark Chocolate Peanut Butter Pudding Trifle
Ingredients:
1 1/2 Cups Sugar
4 Tablespoons of All-Purpose Flour
5 Tablespoons of Dark Chocolate Cocoa Powder
1 Can (12 ounces) Evaporated Milk
4 egg yolks
1 teaspoon vanilla extract
4 Tablespoons unsalted butter or margarine
1 Cup peanut butter
2 Cups of vanilla cookies, crushed
10 miniature chocolate peanut butter candies, roughly chopped
1 Cup Heavy Cream
3 Tablespoons Powdered Sugar
1 teaspoon vanilla
Directions:
In a bowl whisk together the cocoa and flour and set aside.
In a separate bowl mix together milk, eggs, sugar, and vanilla.
Pour the wet mixture into pot or double boiler.
Put pats of butter or dollops of margarine around mixture where it will melt while cooking.
Turn burner on Medium whisking constantly and bring to a boil.
Whisk in the flour and cocoa and continue stirring constantly for about 10 minutes until it thickens.
***Dark chocolate cocoa powder does not thicken up like regular cocoa but that's okay – just wait. ***
Even thought the pudding is not as thick as you would expect pudding to be, you are going to add the cup of peanut butter now and stir until blended.
Take the pot off the stove and cool completely – it will be thick enough now!
If you can keep your hands off of it long enough – make some more chocolate pudding leaving out the peanut butter and substituting regular cocoa powder for the dark chocolate cocoa powder and allow to cool as well.
Now you have 2 batches of pudding: One dark chocolate peanut butter and one regular chocolate pudding.
Put the pudding into Ziploc bags like this: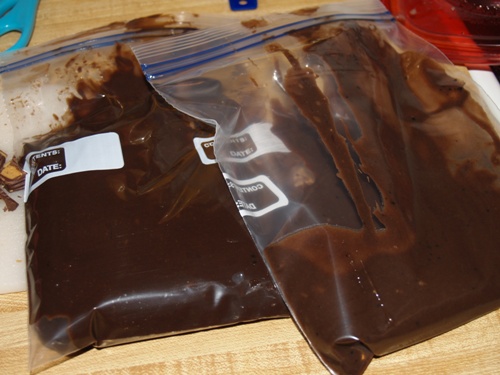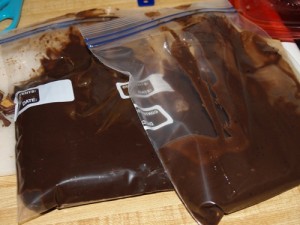 Sprinkle some cookie crumbs in the bottom of the bowl.
Snip off the corner of one of the bags and pipe it into the glass covering the cookie crumbs.
Sprinkle some of the miniature candy pieces ontop of pudding and add more cookie crumbs.
Snip off the corner of the other bag and pipe into the glass.
Using a cold bowl and beaters whip heavy cream until foamy then add in vanilla and powdered sugar.
Beat until right before stiff peaks form. Turn off mixer.
Carefully put whipped cream into another Ziploc bag and using any tip you want, pipe onto top of trifle.
Top with a cherry and some candy if you like – or even nuts!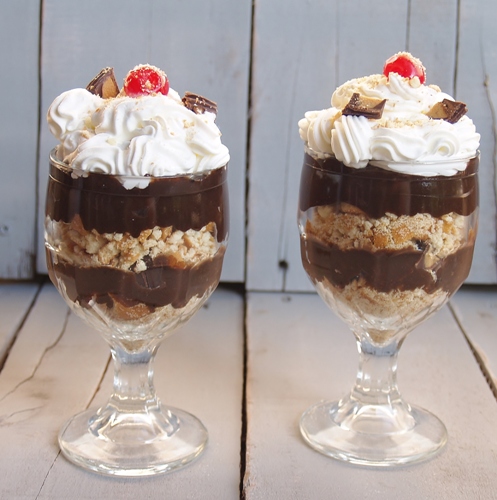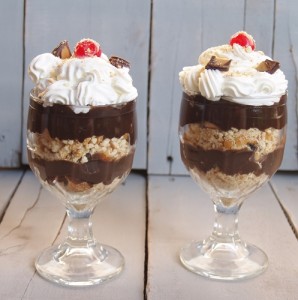 I love this trifle and I could have it every single night for a month!! It is all homemade so I think that means it's GOOD for you!
And now for the giveaway! YIPPEE!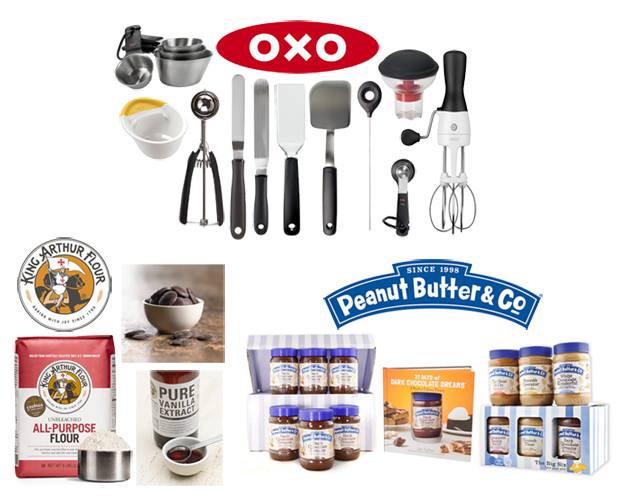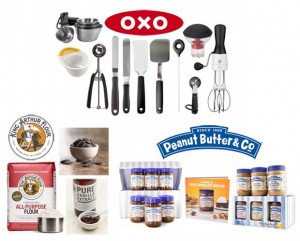 A huge thank you to our sponsors! Be sure to follow them on social media:
OXO: Website | Facebook | Twitter | Pinterest | Instagram | YouTube
King Arthur Flour: Website | Facebook | Twitter | Pinterest | Instagram
Peanut Butter & Co: Website | Facebook | Twitter | Pinterest| Instagram | YouTube
Three lucky winners will win one of the following:
Prize Pack #1: OXO Baking Tool Set: One 3-in-1 Egg Separator, One Bent Icing Knife, One Brownie Spatula, One Cake Tester, One Cookie Spatula, One Cupcake Icing Knife, One Cupcake Corer, One Egg Beater, One Stainless Steel Measuring Cups, One Stainless Steel Measuring Spoons, One Medium Cookie Scoop
Prize Pack #2: King Arthur Flour ingredients: One bag of all-purpose flour, one package of Guittard bittersweet chocolate disks, and one bottle of pure vanilla extract
Prize Pack #3: Peanut Butter and Co. package including: one Dark Chocolate Dreams 6-pack, One Variety 6-pack, and One 31 Days of Dark Chocolate Dreams cookbook
This giveaway is open to US residents only and will be picked from random draw. Giveaway ends Monday March 31 at 11:59 PM. The winners will be notified via email and have 24 hours to respond. If not, the prize is forfeited and another winner will be chosen.
Be sure to go check out everyone's decadent Chocolate and Peanut Butter dishes!!
Peanut Butter Chocolate Mousse Parfait by Hip Foodie Mom
Dark Peanut Butter Chocolate Chip Sandwich Cookies by Mind Over Batter
Chocolate & Peanut Butter Crumb Parfait by Hungry Couple
Chocolate Peanut Butter Pretzel Doughnuts by It's Yummi!
Flourless Peanut Butter Cup Swirl Brownies by Cupcakes & Kale Chips
Buckeye Cheesecake Bars by Chocolate Moosey
Peanut Butter & Chocolate Scones by All Day I Dream About Food
Chocolate Chip Peanut Butter Jam Bars by Poet in the Pantry
Crunchy Chocolate Peanut Butter Balls by Cindy's Recipes and Writings
Chocolate & Peanut Butter Cannolis by Souffle Bombay
4 Layer Chocolate Brownie Cake with Peanut Butter Frosting by Neighborfood
Mini Chocolate Caramel Peanut Butter Cheesecakes by The Spiffy Cookie
Peanut Butter Nanaimo Bars by Crumb: A Food Blog
Chocolate Stuffed Peanut Butter Cookies by Jen's Favorite Cookies
Chocolate Peanut Butter Brownies by In The Kitchen With KP
Peanut Butter & Chocolate Thumbprint Cookies by The Cooking Actress
Chocolate Peanut Butter Trifle by Kelli's Kitchen
Dark Chocolate Peanut Butter Ice Cream by Kelly Bakes
Peanut Butter Chocolate Biscotti by Lauren Kelly Nutrition
Chunky Peanut Butter Stuffed Brownies by Snappy Gourmet
Chocolate Peanut Butter Caramel Bars by That Skinny Chick Can Bake
Peanut Butter Bundt Cake with Chocolate Cream Cheese Filling by Overtime Cook
Chocolate Peanut Butter Cinnamon Rolls by Gotta Get Baked
Peanut Butter Chocolate Chip Quick Bread by Magnolia Days
Peanut Butter Chocolate Chip Ice Cream by Kudos Kitchen By Renee
Peanut Butter and Chocolate Chips Bars by Roxana's Home Baking
Chocolate-Covered Peanut Butter Blondies by What Smell's So Good
Chocolate Peanut Butter Earthquake Cake by I Wash You Dry
Dark Chocolate Peanut Butter Squares by Food Lust People Love
Dark Chocolate Peanut Butter Mousse Cups by The Girl In The Little Red Kitchen
Skinny Chocolate Peanut Butter Krispie Cheesecake Bars by Food Faith Fitness