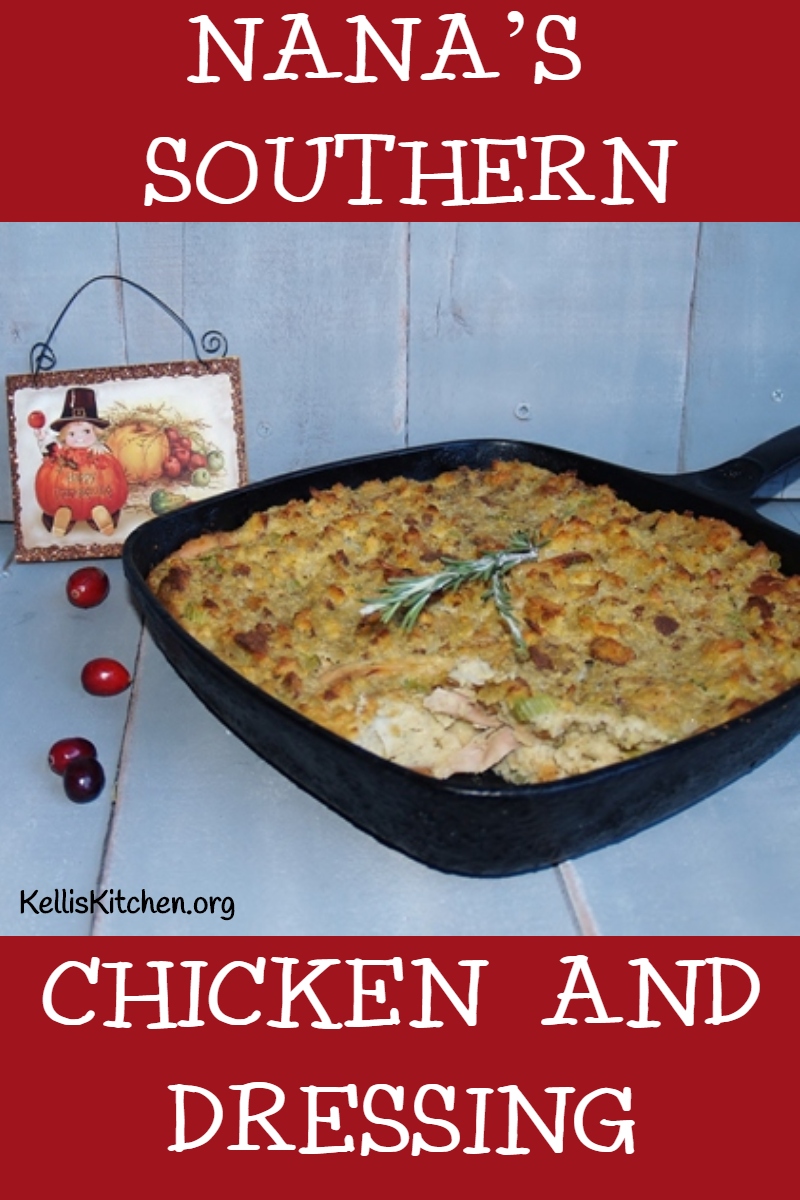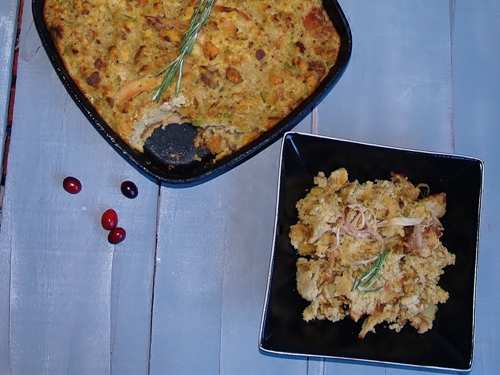 Nana's Southern Chicken and Dressing
"First you boil a chicken". That's exactly what you do – of course you could buy a roasted chicken and use canned chicken stock but it will not taste the same. We have strict family rules about our holiday staple and (don't laugh) here are just a few:
1. While we may have turkey or ham or both, we always ALWAYS have chicken and dressing.
2. Chicken and dressing must be made one week in advance and frozen until the night before when it thaws in the fridge and then is baked the morning of Thanksgiving. It makes a HUGE difference in texture and moistness.
3. Dressing must be baked in an iron skillet – it must be.
4. You must use the "right" cornbread mix – I do not mean the brand, I mean the kind. Don't get the kind with sugar.
5. Dad always had chili powder sprinkled on top of his as I do and Top Girl as well .
6. Top Girl always eats leftover dressing with mayonnaise mixed in and canned cranberry jelly on the side.
7. Too much sage or salt makes it awful so the youngest person in the kitchen test tastes it before freezing.
8. Mr. Picky Eater must have jarred Heinz Roasted Turkey Gravy to go on top of his – not homemade giblet gravy.
I think that's it. Whew! It is a list that has grown over the years but we love our chicken and dressing more than anything during the holidays. Lawyer Boy, Wonder Boy, Son-in-law and now Rocket love it too.
Once I lived in Kansas City where I worked at a hospital that prided itself on having a real live culinary chef on staff. I worked on Thanksgiving Day and ate in the cafeteria like everyone else. I was young and silly enough to think that everyone ate like my family did. When I got that "stuffing" on my plate, I thought it looked odd but when I put it in my mouth I very nearly spit it out in front of God and everyone. It had apples, nuts, and raisins in it…………What the heck was THIS??? Everyone oohhed and aaahhhed over it so I tried to act hip and sophisticated but in the end I longed for my Nana's dressing and vowed never to have another holiday that was without it. So far, I have kept my vow.
This is real live Southern Chicken and Dressing – at least in my family so if you make it, I hope you enjoy it! Before I give you the recipe, a lesson about cornbread mixes.
See this? There are three kinds of mixes Buttermilk Cornbread, Cornbread, and Corn Muffin Mix.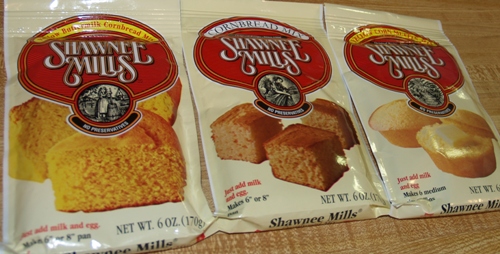 Now, looking on the back you can see Sugars: 0gms in the two on the left but 5gms in the Corn Muffin Mix. DO NOT use corn muffin mix. There is nothing worse than sweet dressing – at least for us.

Ingredients:
7 Cups of cornbread crumble
1 boiled and deboned chicken with meat shredded
4 Cups of white bread crumbled
5 large eggs, beaten
1 teaspoon. black pepper
3 teaspoons ground sage
4 Cups of chicken broth
3 cups of milk
1 medium onion finely chopped
1 Cup celery finely chopped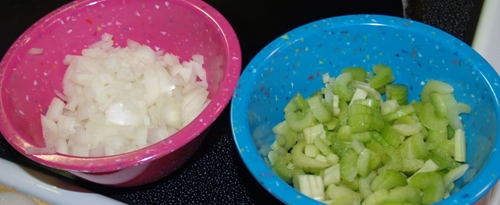 1-2 Tablespoons of oil
Salt to taste
Directions:
First you boil a chicken
While chicken is cooking, set out white bread to dry out a little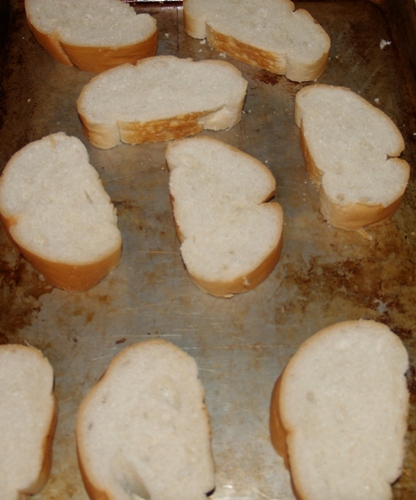 Debone chicken and discard skin as well
Strain chicken stock and set aside
Make cornbread in iron skillet as directed on pan
Let cornbread cool completely and then crumble it and the white bread to equal ingredients above.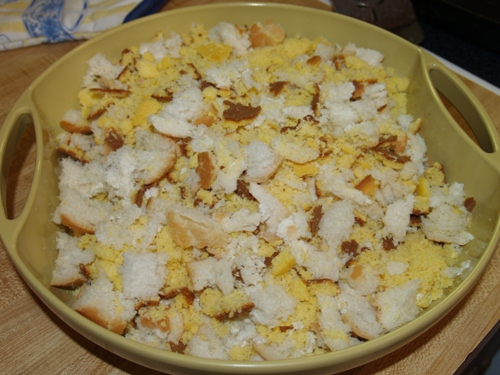 Wipe out the iron skillet with a paper towel and then put oil in followed by the onion and celery. Let it cook until both are soft.
Add the onion and celery to the crumbled breads then all the liquids, sage, pepper and finally the eggs because if they go in last, the liquid will have cooled the celery and onions and it will not scramble them.
It's going to look more like bread soup than dressing but it's supposed to be soupy.
Add the deboned chicken here – as much or as little as you like. Mother does not like any in hers but Mr. Picky Eater likes a whole lot with his.
We have the youngest person in the room taste it because then because their taste buds work best but since it has raw eggs in it – you make your own choice. Make sure it has a subtle flavor of sage and the salt is enhancing not overpowering.
Dip it into the dish or iron skillet.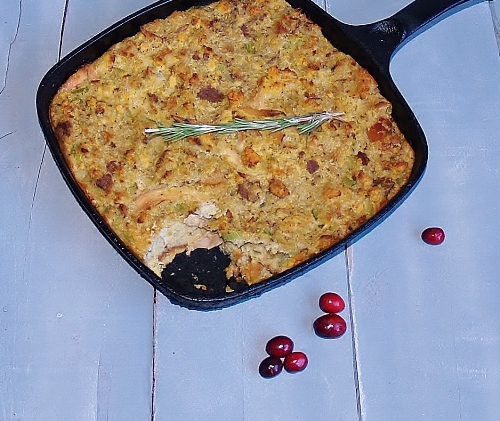 (these next few steps are if you want to do it like our family, if not skip strait to the oven sentence)
Wrap it in heavy duty foil and place in freezer until the night before, then put in fridge to defrost, then the morning of the celebration:
Place in a 350F oven and cook for about 45 minutes to 1 hour. Watch to make sure it does not burn on the bottom because it will not get burned on top before it gets burned on bottom and I do not know why – a clear glass Pyrex dish should help with that.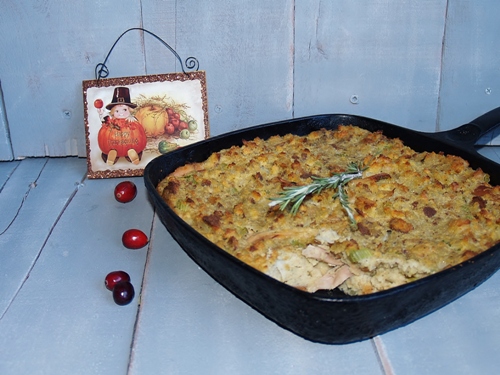 Bring it out and let the eating begin!