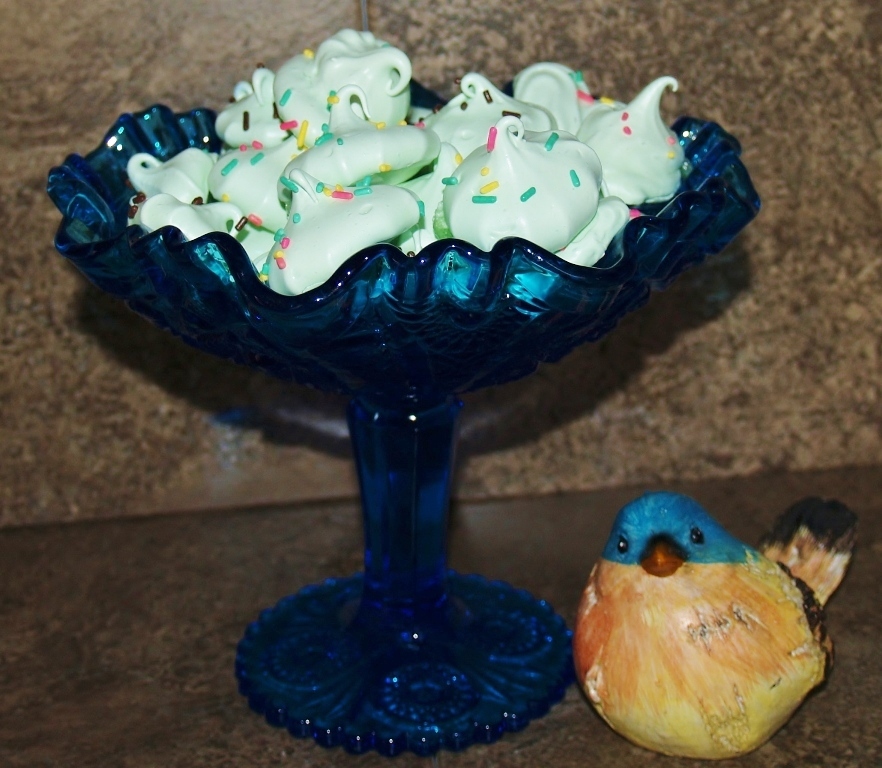 These cookies are the easiest most elegant cookies I have ever made and the good news is you can make them any flavor and/or color that you want! Just 3 ingredients make them and while the time in the oven is long, it is completely worth it. I am participating with a group of bloggers in a #cookieofthemonth round-up and this month's flavor is mint. I hope you will check out the great recipes I have links to at the bottom of the post. Don't forget my Southern Cookbook Giveaway going until March 13th and if you have a moment, check out my new website called Yum Goggle.
How is everyone doing in this cold and snowy time? We are covered with snow and ice here so I am looking forward to spring in about 19 days. We are all cooped up in the house this weekend and to show you how it is out here – here is a picture Mr. Picky Eater took some pictures of Rocket – he had great fun but was very cold when he got back into the house.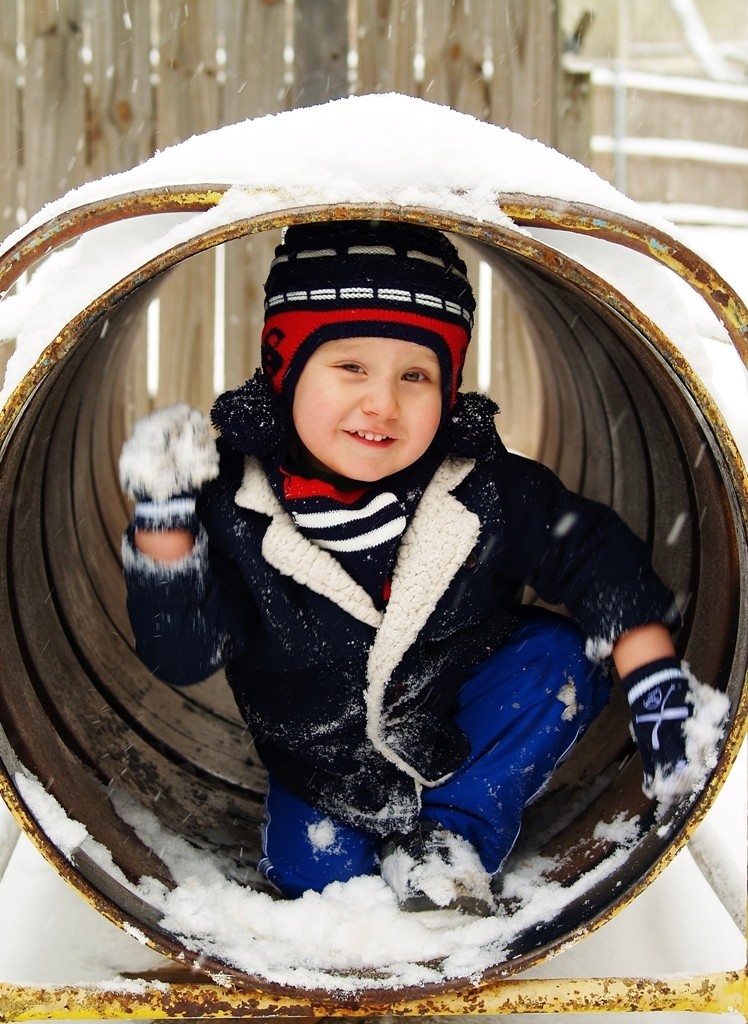 Let's make some cookies.
Ingredients:
4 egg white, room temperature
2 1/2 Cups powdered sugar
1/2 teaspoon cream of tartar
1/2 teaspoon peppermint flavoring (optional)
1 drops green food coloring (optional)
Sprinkles (optional)
Directions:
Beat egg whites with hand mixer or stand mixer until they form soft peaks.
Add in Cream of Tartar.
Begin adding sugar a little at a time until all has been added
If adding flavor and color, add now
Beat until stiff peaks are formed – the entire process takes about 10 minutes.
Turn off the mixer and gently spoon into a piping bag using a star tip.
I used my lovely Oodle Tip Piping bag.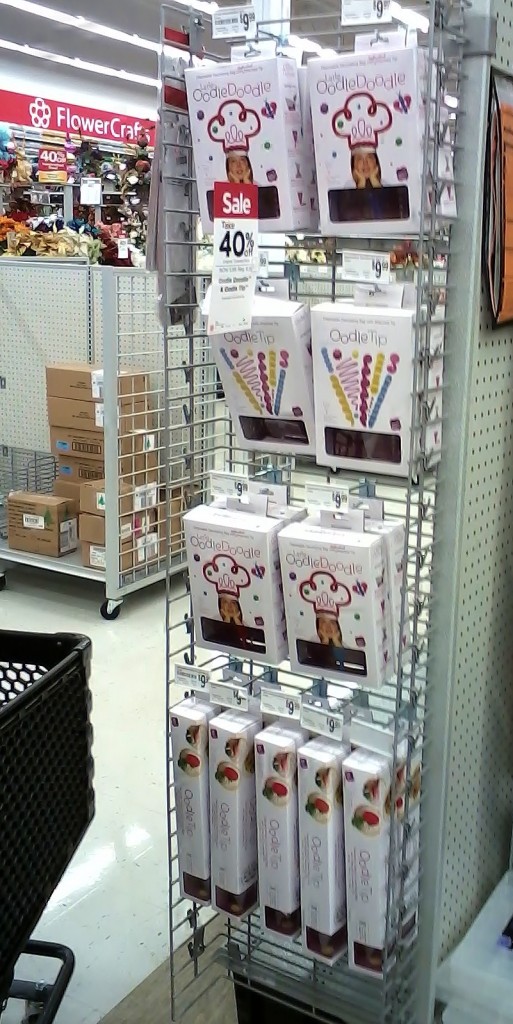 Using parchment paper on baking sheets, pipe stars (or dollops) onto the sheets.
Sprinkles go over top if using.
Place in a pre-heated oven set to 200F or 93C.
Bake for about 2 hours or until the cookies are set then allow to dry completely before storing in an air tight container.
That's it, you are done – so enjoy some of those wonderful melt-in-your-mouth pieces of joy!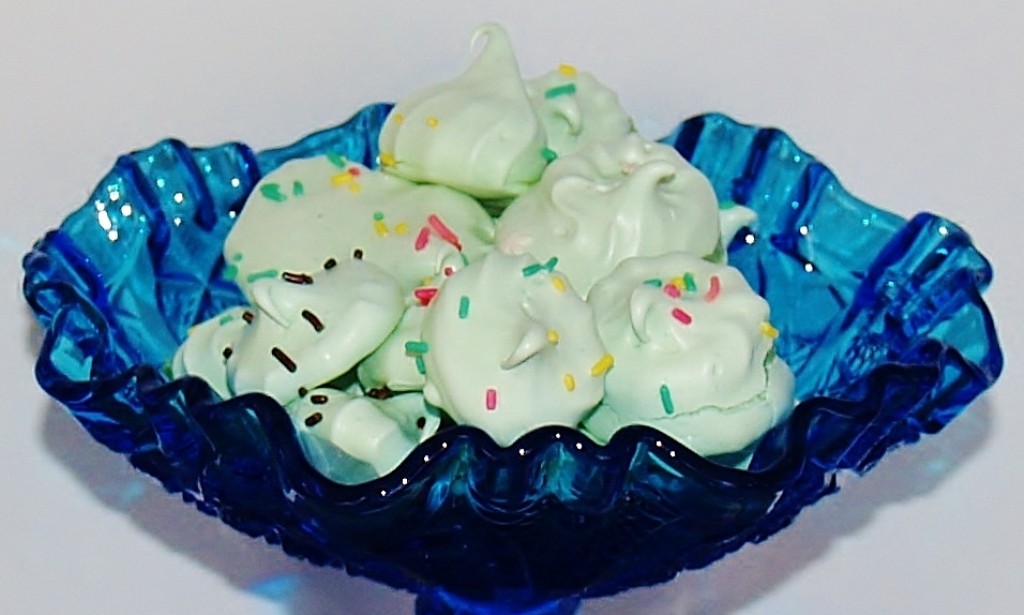 Now, please check out all the other Mint Cookie recipes below!
Jen's Favorite Cookies Mint Crinkles
Break of Bake Chocolate Mint Whoopie Pies
Crumb: A Food Blog White Chocolate Grasshopper Cookies
Tastes of Lizzie T Peppermint Patty Stuffed Chocolate Cookies
Posed Perfection Mint Milanos
365 Days of Baking Mint Chocolate Crinkle Cookies