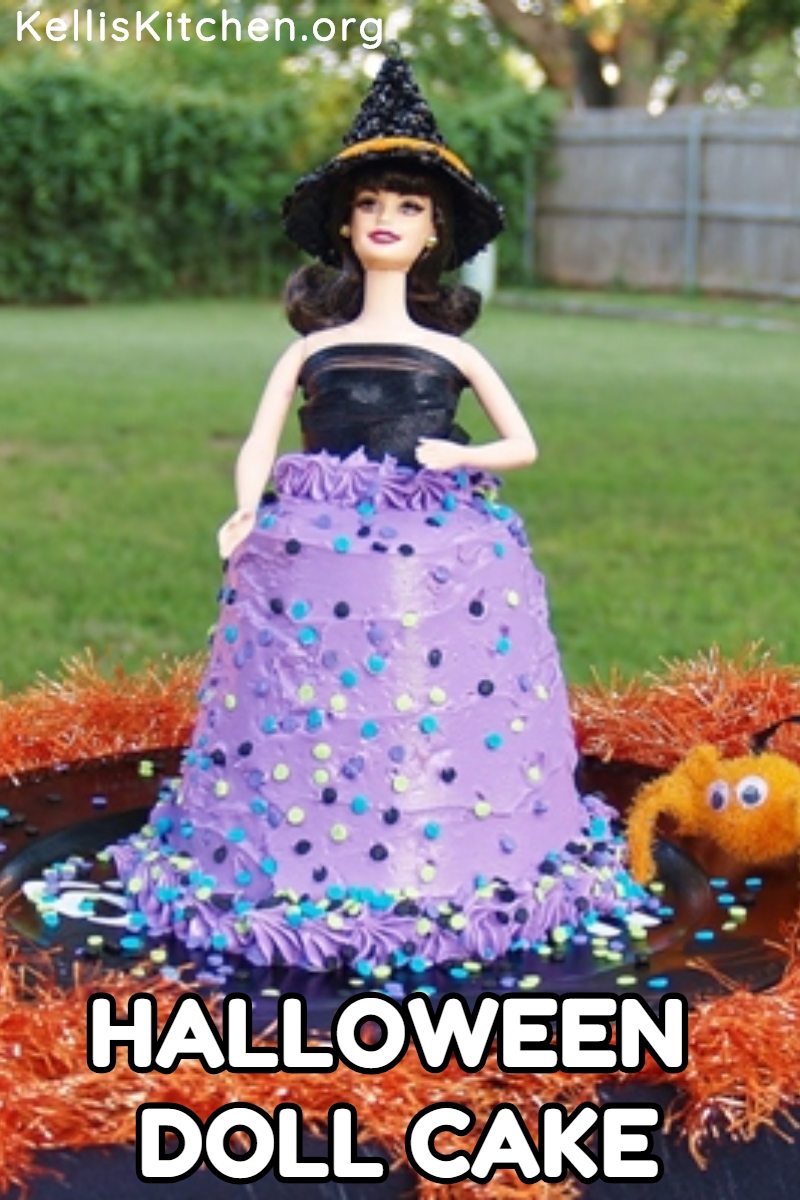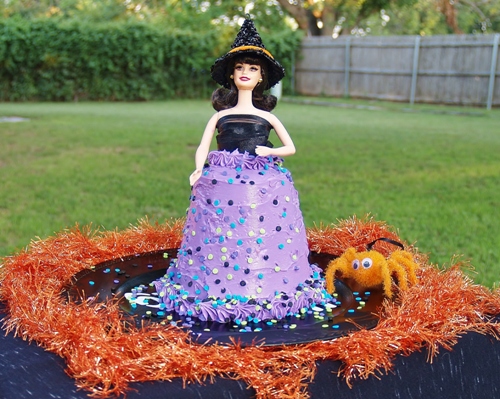 Boy has it been a wild few days but I worked this cake in so if you wanted, you could too and get it done before Halloween. When I was 6-years-old my parents gave me a Barbie cake and even though I was not a big Barbie doll player, I loved that cake and always wanted to get one for Top Girl is was a big Barbie fan. When I checked out how to do it years ago, it required a special (and costly) pan, special cake mix and frosting so it wasn't to be.
As most of you know, Mr. Picky Eater is ferociously private and does not want to be talked about at all on the blog or on Face Book so I will be vague about some things out of respect. On Wednesday, when I got home from work there may or may not have been many people in my front yard and MPE may or may not have been having a health issue related to overheat. I had to stay home on Thursday and it may or may not have been to take care of MPE and an overheating issue.
Because I was home, I decided to shop at the store up in the day when I might have been picking up some meds. While there I found what I thought was a really great NEW Pillsbury Orangesicle cake mix (like my jam recipe) and some great Pillsbury Funfetti purple icing. I thought those would make great Halloween doll colors so I bought them. Friday afternoon, Top Girl stopped by to check on us and to discuss her new job – yep, remember when I talked about her interview? She is now officially an IT geek! We both work for state government in different divisions. I worked my way up to my current position in the first ten years of service – Top Girl has now achieved the same position (although in a different field) in just seven! We are so proud of her and now we will work in the same building!
Anyway, she fixed a few things on my computer and as she left we stood on the porch and talked about how it looked like it might rain. Off she drove. Less than five minute later she was calling. The management company sent roofer to their duplex that day without telling them. Roofers had torn off the roof on a good part of their home and it was currently pouring down rain at and in their home – at least that's what son-in-law said when he called her. Never one to get overly excited about anything she told me if there was anything to tell me, she would call after she got home and looked things over. Another call came in minutes saying that rain was pouring in the garage, nursery, and several other rooms as there was nothing but sky between the ceiling and the sky…..no tarps had been laid on the holes in the roof.
MPE, who may or may not have still been sick, and I grabbed the camera and left for the kid's place. It was a mess. Water poured in through the light fixture in the nursery. The closet and carpet squished they were so wet. We took pictures while the owner of the roofing business came through and took his own pictures. The management company sent out carpet people right away and things were settling down………..and then I got another call. Top Girl left to get Rocket from his grandmother's and a woman came to their home telling son-in-law she was there to "assess the damage" so he let her in. She went through the entire house going through the kid's personal items and taking pictures. As she was leaving SIL asked her what insurance company she was from and she said she was actually an attorney representing the construction company.
Oh…………….things went downhill from there. Top Girl is her mother's daughter and a flurry of phone calls ensued ending with a Bar complaint and a complaint to the Insurance fraud board being filed tomorrow. Was it over? Nope. Rocket cannot breathe in the house now. Kids are moving out as we speak – into the house with us until they can find a place to buy. There is no talk from Management Company about breaking a lease or forfeiting anything because it does not appear said roofing company has insurance. Moving will continue today and hopefully be completed sometime this week. MPE is pushing through. I made a cake!
Saturday morning, I got up early and watched a quick Youtube video about making a doll cake. Hmmm…. Guess that metal bowl I thought I would bake in is not the right choice. Calls for a 5 Cup Pyrex measuring cup – I have a 4 Cup so I will make do. Look closely at the picture………..do you see anything WRONG with what I am trying to use?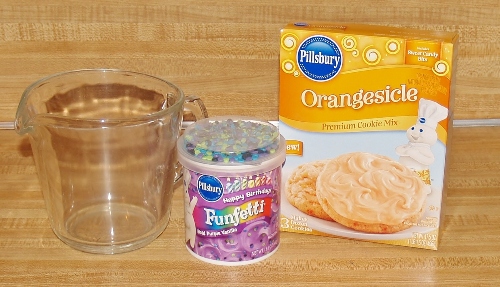 Did you catch it? The box is NEW Pillsbury Orangesicle COOKIE mix, not cake mix! I was so distracted when I found it that I got excited over a Dreamsicle cake not bothering to notice it wasn't cake mix at all! I knew you could make cookies from cake mix but can you make cake from cookie mix? Yes…………yes you can and I'm going to show you how. Not only is it easy the cake comes out moist and tastes very good, excellent even! I am unsure if I will ever make Orangesicle cookies but I WILL make orangesicle cake again, MPE even liked it and you know him – he doesn't like much at all!
Ingredients:
1 box Pillsbury Orangesicle Cookie Mix
1 Stick unsalted butter, melted
1 Cup milk
3 eggs
Non-stick spray
1 Can Pillsbury Funfetti purple icing
Orange food coloring (optional)
Yep – that's all you need!
Equipment:
4 or 5 cup Pyrex measuring cup (or you can get a fancy doll cake pan for big $$$)
Top half of a pretty Barbie-like doll (or you can buy a doll pick specifically for these cakes )
Black ribbon to wrap around doll's top parts.
Small black witches' hat – I got mine at Michael's for $1.99.
Plastic "Star" icing tip from discount store, 99 cents.
Muffin tin for leftover batter.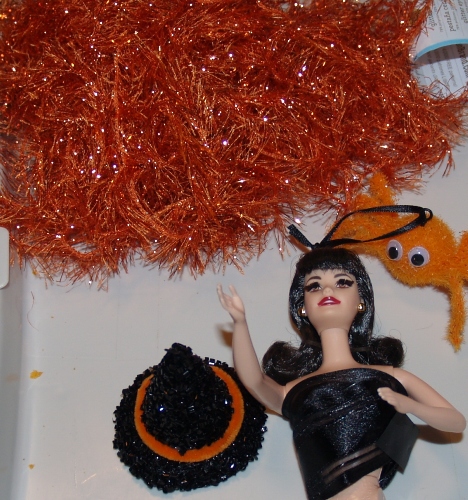 Easy Pillsbury Funfetti Halloween Doll Cake
Directions:
Using a mixer, blend the cookie mix, butter, milk and eggs.
If you want a really "Halloweenie" colored cake, add your food coloring here.
Spray the measuring cup with non-stick spray and pour the cake batter into the pan but just to the "Cup line". Don't pour it higher like I did or you will get overflow!
Using a knife or chopstick get all the air pockets out of cake.
Pour leftover cake batter into muffin tins.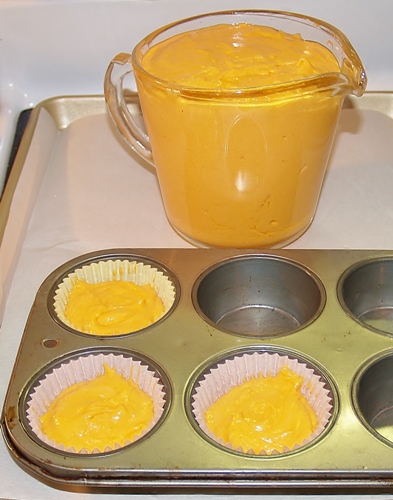 Place cup and tins on large cookie sheet and place in pre-heated oven at 350 F set timer for 20 minutes.
After twenty minutes, take out the cupcakes if a toothpick comes out clean and reset timer for 40 minutes.
It took 1 hour for the cake to back (and it overflowed because I filled it too much) but look – it's perfectly done!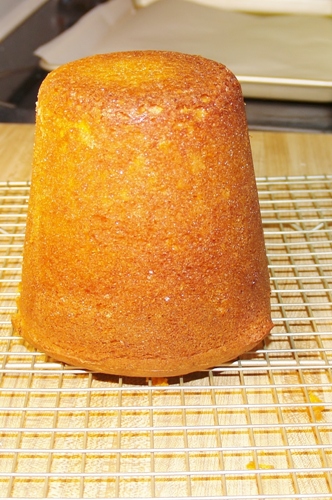 Take the cup out and let it cool for about 10 minutes and then flip over onto wire rack and allow to cool completely.
Break out the icing and smooth it all over the cake leaving as few lines as possible.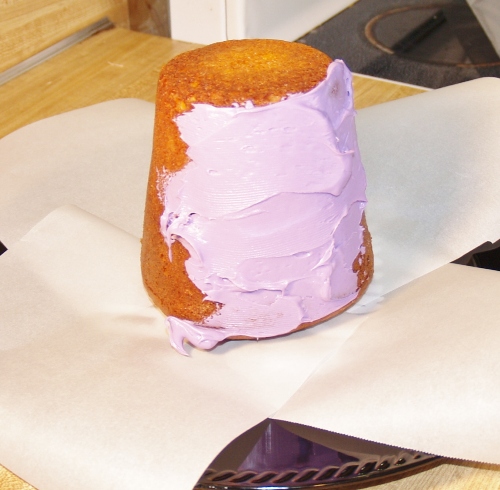 Put some icing in a plastic bag, quart or sandwich size, cut off a corner and put that icing tip on there. Then dot around the bottom of cake so it looks like a ruffle.
Up at the top, cut a very small square and put the hips of doll inside. It will sit just fine – doll must have legs removed of course. Or, just put one of those doll picks in the top.
Using the bag and tip, ice little stars around the waist of the doll to hide any imperfections there and make it look like a ruffle.
Throw on the Funfetti from the icing – and then take tweezers and place on nicely – that's what took the longest for me!
Place in the fridge for about 30 minutes before serving.
When you take it out of the refrigerator, put the witches' hat on her head and serve!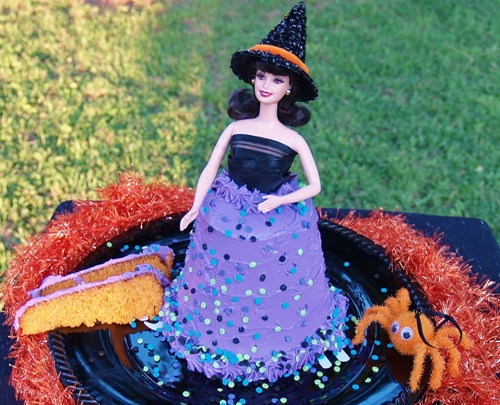 I kept track and this cake cost me less than $10 and took 2 hours start to finish so it is within reach for anyone who wants to have a cake for their daughter or a Halloween cake for a party.
As for how the cake came out from the cookie mix? Mr. Picky Eater gave it 2 thumbs up! It is moist and delicious. We also liked the small slices – you can have cake and eat it too, so to speak.
I hope you enjoy this and if so inclined, will give it a try then let me know how you liked it!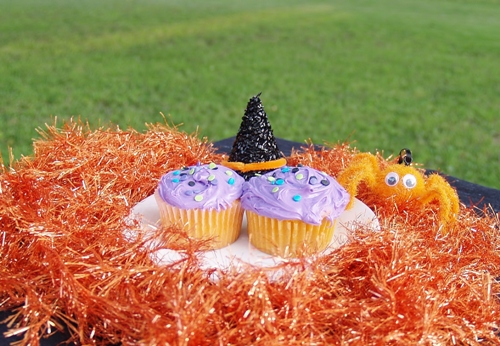 Leftover decorated cupcakes. Pillsbury Rocks!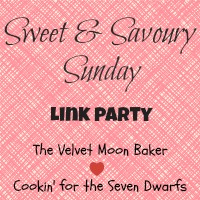 I'm partying at Marvelous Mondays! http://www.thisgalcooks.com/2013/08/25/link-party-marvelous-mondays-61/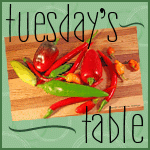 My first time to party here this week! http://www.kathewithane.com/2013/08/youre-gonna-love-it-week-69.html
I'm partying here this week! http://sparklesandastove.com/things-pretty-linky-party-23-features/
This weekend I am partying here! http://www.thecountrycook.net/2013/09/weekend-potluck-84.html#more