Sometimes I make mistakes and then I try to improvise. Sometimes it works and sometimes it does not work and this time? Oh – it MORE than worked, it rocked! This morning I roasted Hatch Green Chiles and had in mind to make sort of Tex-Mex French Bread Bierock. Whatever – it is fantastic and I want to share it with you. I'm going to use it tailgating and for all our fall parties and I won't even have to have an entire day to put it together. BTW, the mistake I made was spending all morning making dough, putting together the Bierocks and then burning them beyond recognition! They looked like big burning moon rocks. Seriously. I got a phone call and completely forgot about them until I saw smoke floating through the house. I cried. The process of learning to make bread/dough has been very painful and I'm on edge the entire way through it. I was not going to make any more and I had no idea what to do because I still had some filling but nothing to put it in to make for supper. Until I looked inside the refrigerator and saw a can of Pillsbury Crusty French Loaf and I had hope! When it came out so incredibly well I realized that I could make these great little hand-held meals on a whim instead of setting aside an entire afternoon prior to a game or party and that made me very happy. I think you will like it too! The second thing you should know is that the traditional filling in a Bierock or Runza if you are from Nebraska would never make it past Mr. Picky Eater. Cabbage is one of the filling ingredients and he gags if I even cook it in the house so I haven't in almost a decade. This is part steamed burritos part enchilada filling. You will love 'em!
Tex-Mex French Bread Bierock
Ingredients:
1 Can Pillsbury Crusty French Loaf

½ pound ground pork (or chicken, beef, turkey, no meat at all)
2 small sweet peppers – I used orange and yellow
1 small onion
3 cloves garlic
1 ½ Cups shredded Mexican Blend cheese
1 Cup Green Chile sauce
2 Medium Potatoes cubed
1 teaspoon cumin, smoked paprika, salt
½ teaspoon pepper
Directions:
Break up and brown ground meat adding cumin, paprika, salt and pepper.
Chop sweet peppers, onion, garlic – add to meat for last 5 minutes cooking.
Drain and set aside.
Peel and cube potatoes sautéing until crispy on outside and tender on inside drain and set aside.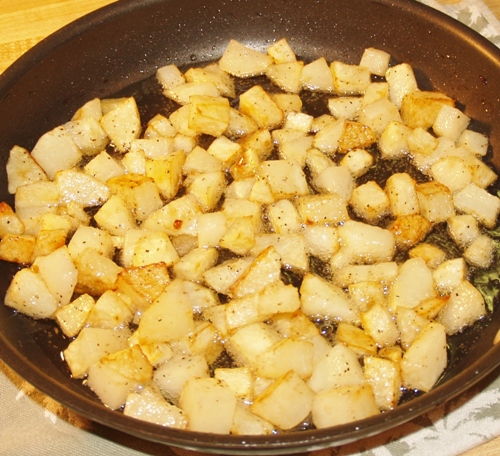 Pop open a can of Pillsbury Crusty French Loaf and slice into five evenly measured amounts.

Set one of the segments on end and smash it down with the palm of your hand and press and stretch it out a bit.
Put a little shredded cheese on dough.
Add some meat (if using), potatoes and press it down a bit.
Put a teaspoon of green chile sauce on top then a little more cheese.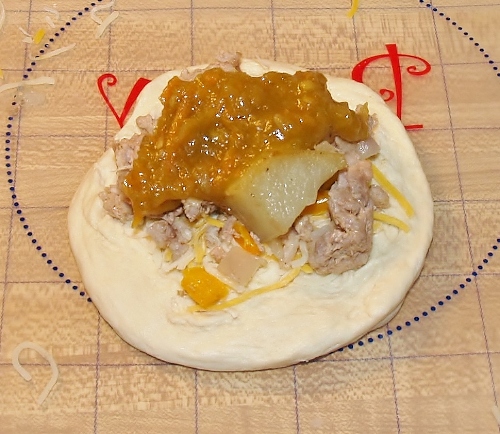 Then begin pulling the edges toward the top center and pinch it together into a little purse.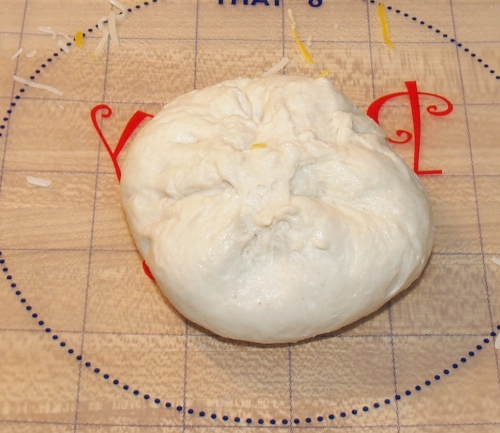 Place them seam side down on parchment paper.
Repeat four more times.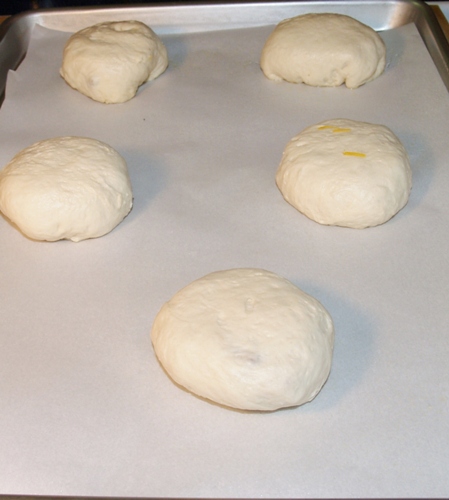 Place in a pre-heated oven @ 350F for 30 minutes.
If you like, as soon as they come out brush with melted butter like I did but you don't have to.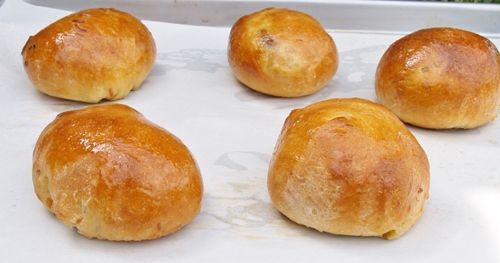 And they are finished. No "leaking" all over the place. Crusty on the outside tender on the inside – not thick and doughy, just right. Everyone can do this and it is so worth it. I'm pretty sure these will freeze beautifully and we will know soon because I made two batches since I had two cans and I put the leftovers in the freezer. Sooooooo good!