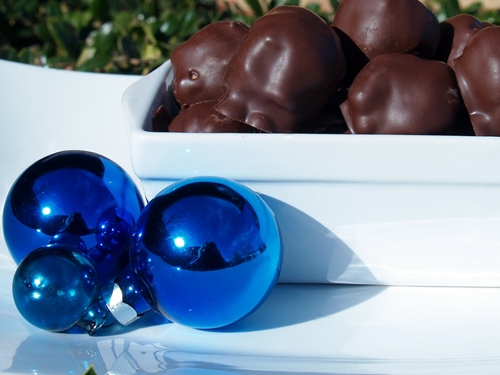 First thing this morning, I made the Mint Chocolate Gooey Butter Cake. It looks a little flat but it is so delicious!
Ingredients
1 box dark chocolate fudge cake mix
1/2 cup (1 stick) butter, melted
2 eggs
1 teaspoon vanilla extract
Topping:
1 regular sized bag fun sized York Peppermint Patties, unwrapped and each cut in half
1 (8 oz) block cream cheese, softened
2 eggs
1 teaspoon vanilla extract
1 teaspoon mint extract
4 cups powdered sugar
Instructions
Preheat oven to 350.
In a large bowl, mix cake mix, melted butter, eggs and vanilla together with a large wooden spoon. Spread, using your hands to pat it down, in the bottom of a 9×13 inch pan.
Place peppermint patty halves on the crust, about 1/2 inch to 1 inch apart.
Beat cream cheese, eggs, vanilla, and mint extract. Add powdered sugar slowly and beat until smooth. Pour over crust/peppermint patties.
Bake for 40 -45 minutes, until center is soft but not runny, and edges are puffed and firm. Cool and cut into squares.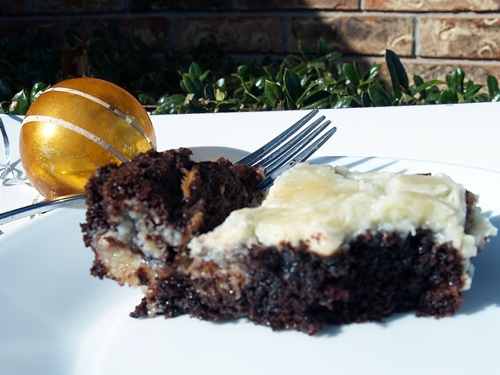 I moved on to Peanut Butter Balls – YUM!!
Ingredients:
1 cup Peanut Butter
1/4 cup butter softened
2 cups Rice Krispies
1 cup Powdered sugar
1 pkg. (14oz.) chocolate candy coating or 1 pkg. semi-sweet chocolate chips and ¼ cup solid Crisco
Directions:
In a large bowl, combine peanut butter and butter.
Add Rice Krispies and sugar, mix until evenly combined.
Portion cereal mixture, using a rounded measuring teaspoon.
Wet your hands.
Roll into balls and put loosely covered into the freezer for at least an hour.
On top of a double boiler, melt the chocolate and Crisco or the candy coating.
Dip each peanut butter ball in coating, roll around and set to dry on waxed paper.
Refrigerate until firm.
Finally, I made bourbon balls. Here's the recipe and you are going to love it!
Ingredients:
1 cup pecans, chopped
1/4 cup bourbon plus 2 Tbs.
1 lb. box of powdered sugar
1/2 cup butter, softened to room temperature
1 tsp. vanilla
1 12 oz. pkg. semi-sweet chocolate chips
¼ Cup solid Crisco
Directions:
Soak the nuts in 1/4 cup good bourbon overnight.
Mix together butter and sugar with an electric mixer, add vanilla until creamy.
Add the pecans with bourbon and add 2 Tbs. additional bourbon.
Place in the refrigerator to chill for several hours.
Roll into teaspoon size balls.
Place on wax paper and cover loosely.
Place the rolled bourbon balls in the freezer to freeze.
Melt chocolate with Crisco in a double boiler and blend until smooth.
Dip the balls while still frozen in the warm chocolate and place on wax paper or nonstick aluminum foil works really well.
Work fast and keeping the balls in the freezer – taking them out 3 at a time to dip
Keep the melted chocolate over the burner and turn it on low to keep the chocolate melted.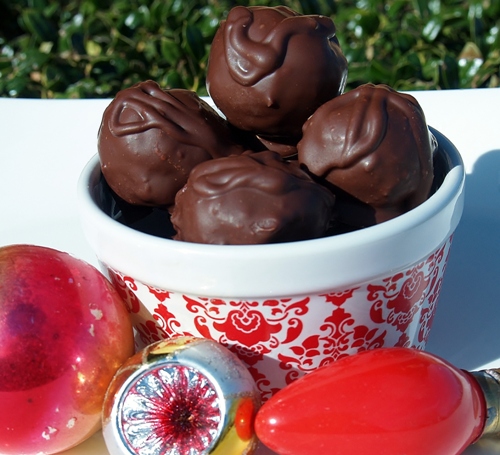 I hope you enjoy and also have a very merry Christmas. Family time starts tomorrow morning and will come in shifts until late Christmas Eve. Then, Christmas Day is reserved for my husband and I only – but I'll be back after that with a few New Year's Eve recipes. Take care!!