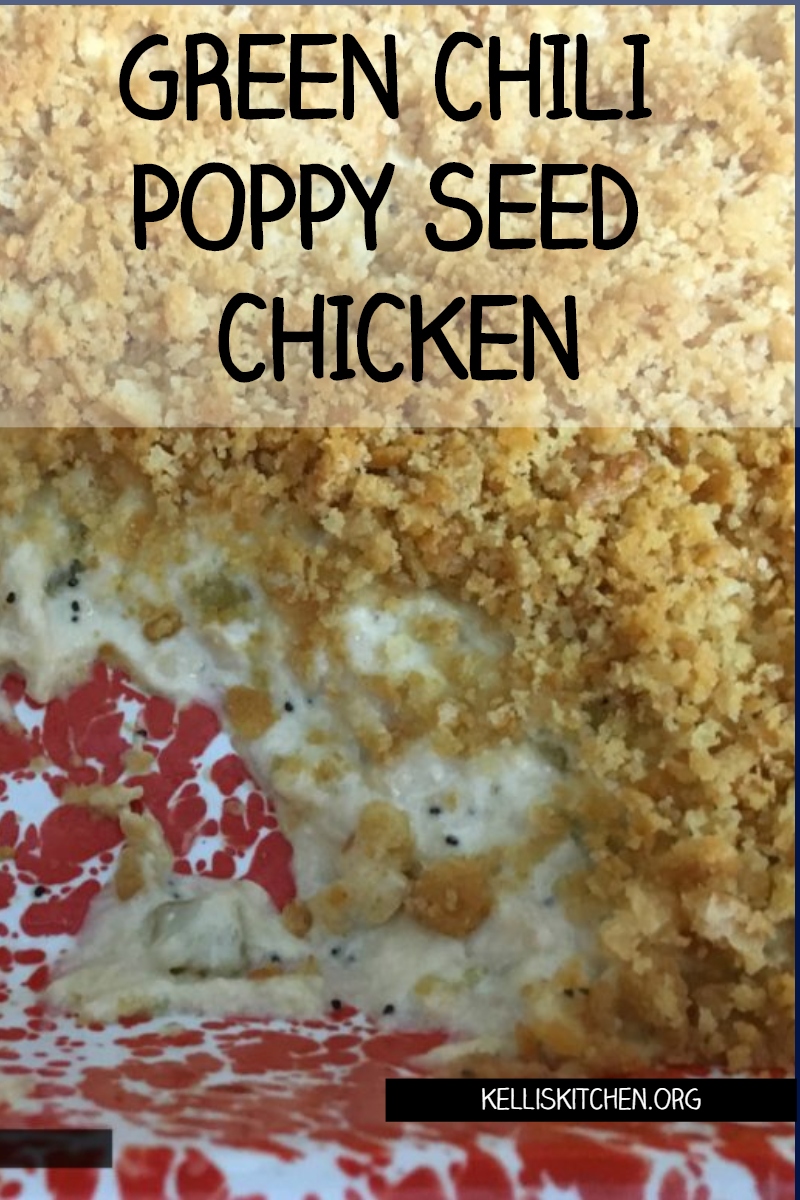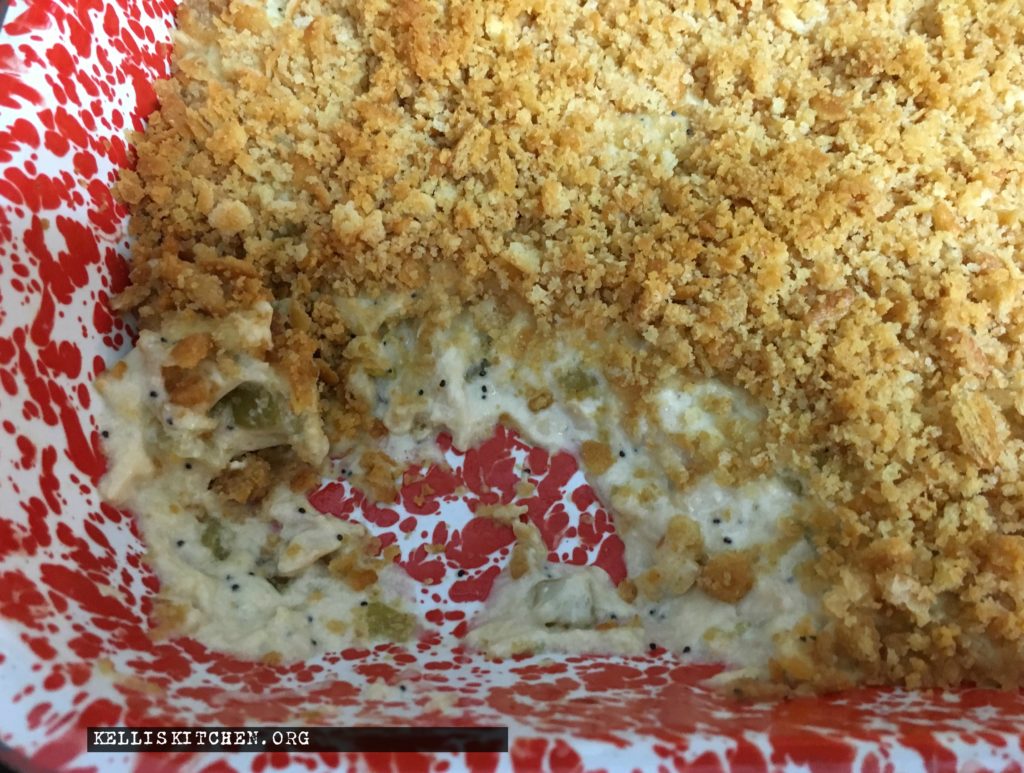 The first time I had poppy seed chicken was in college. One of my girlfriends made it for one our cheesy movie parties. To me this was a totally new way to serve chicken. I'd never had a casserole like it. My friend game me the recipe and I've made it a few times since graduating. The original recipe called for a cornflake topping. I'm not a big fan or cornflakes but I do love a good, crunchy Ritz cracker topping. This time when I made it, I wanted to spice it up a little, so I added green chilies and it was a big hit with my family.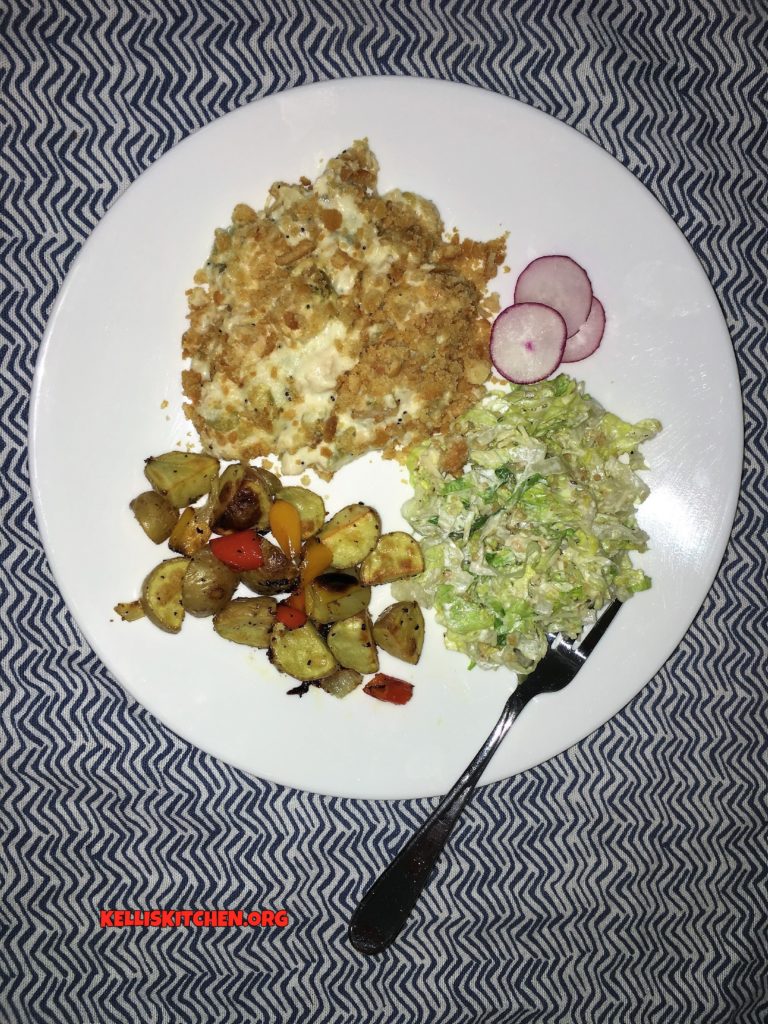 I used all common pantry and refrigerator items, at least common for our house. If you don't have canned chicken, you can always use rotisserie chicken or any other leftover chicken. I served it with a bagged chopped Caesar salad and some roasted potatoes with onions and bell peppers.
Green Chili Poppy Seed Chicken
Prep Time: 5 minutes
Cook Time: 25 minutes
Total Time: 30 minutes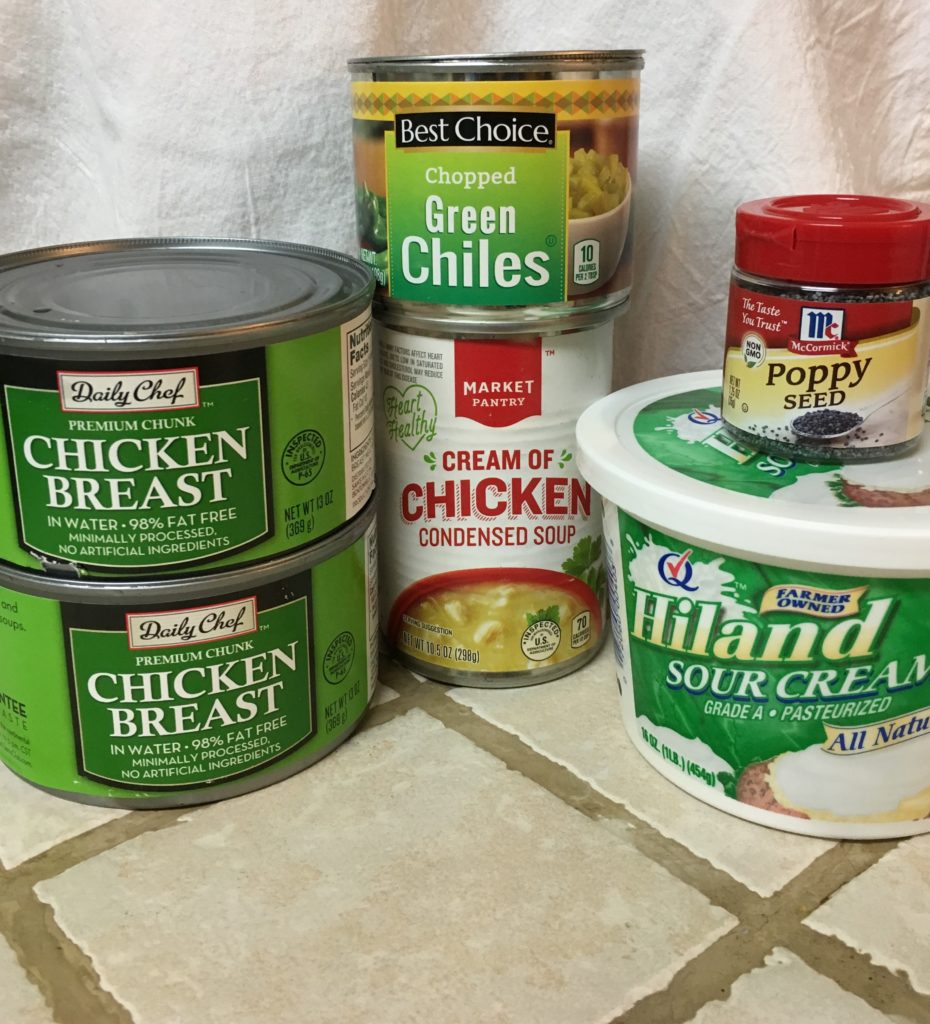 Ingredients
2 Cans of fully cooked chicken (more if you like). You can also use rotisserie chicken.
3/4 cup sour cream
1 can of Cream of Chicken Soup
1 can of green chilies
1 cup of shredded cheese
2 tbsp of mayonnaise
1 tbsp Poppy Seeds
1 sleeve Ritz Crackers (crushed)
1/4 cup melted butter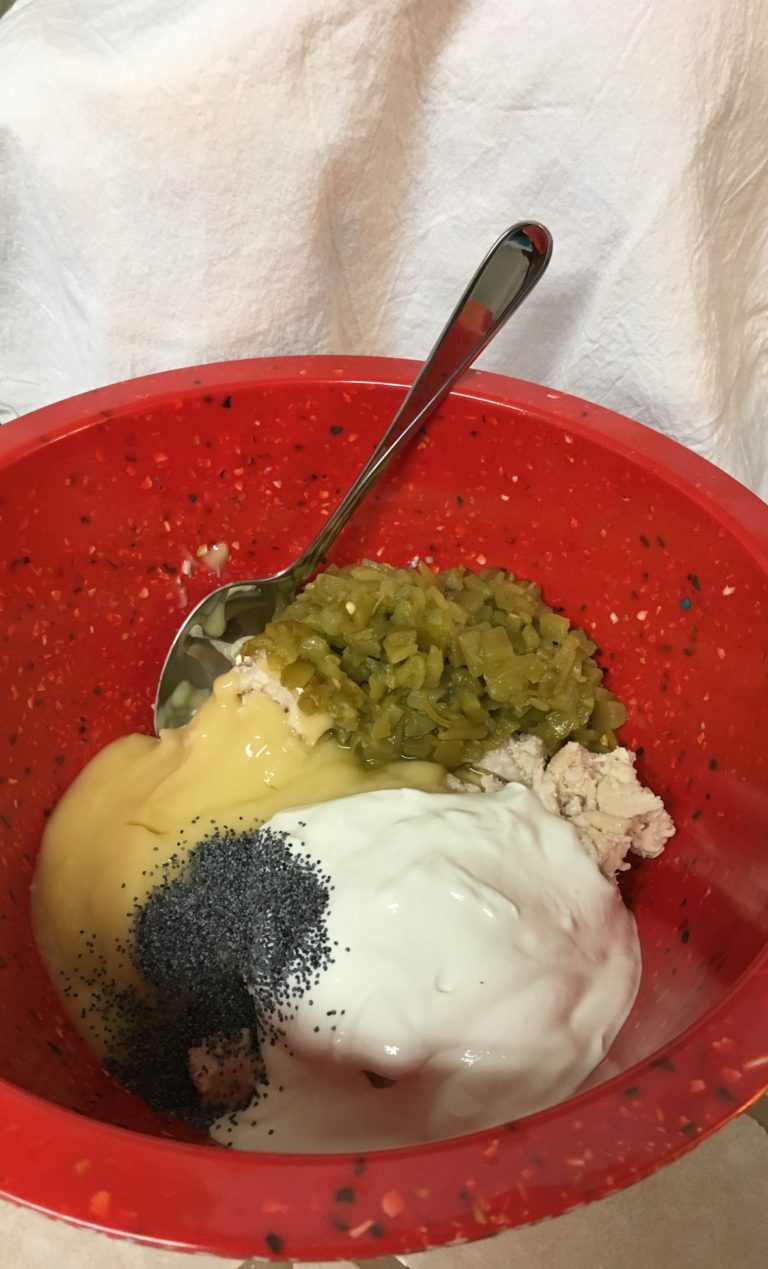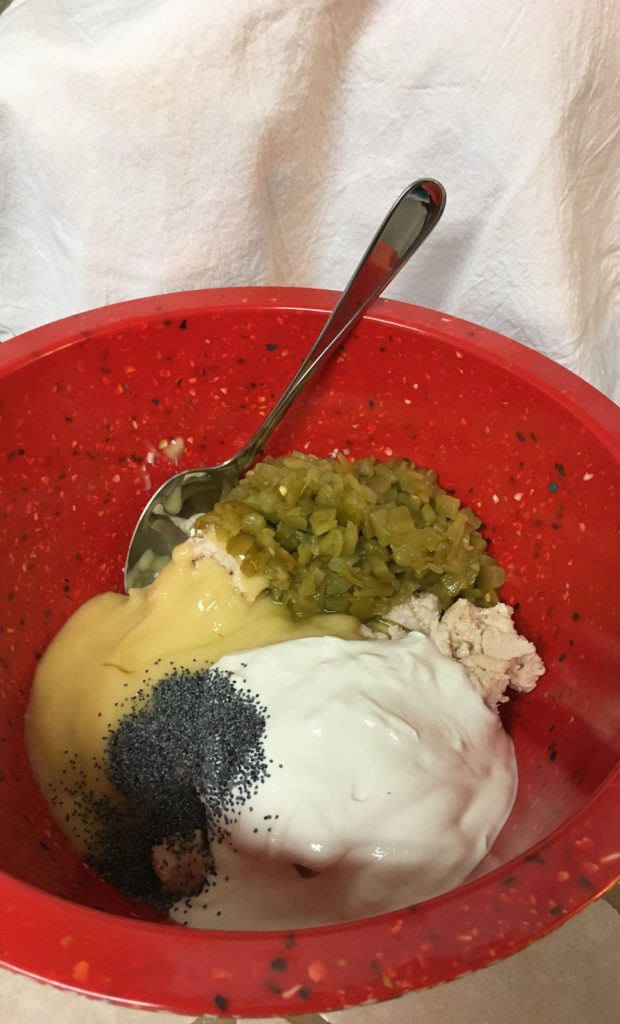 Instructions
Preheat oven to 350*F
Spray an 9×13 or slightly smaller casserole dish with non-stick cooking spray. Set aside.
Shred chicken in a medium bowl.
Add sour cream, cream of chicken soup, green chilies, mayonnaise, cheese and poppy seeds to the chicken. Mix well.
Spread chicken mixture into prepared casserole dish.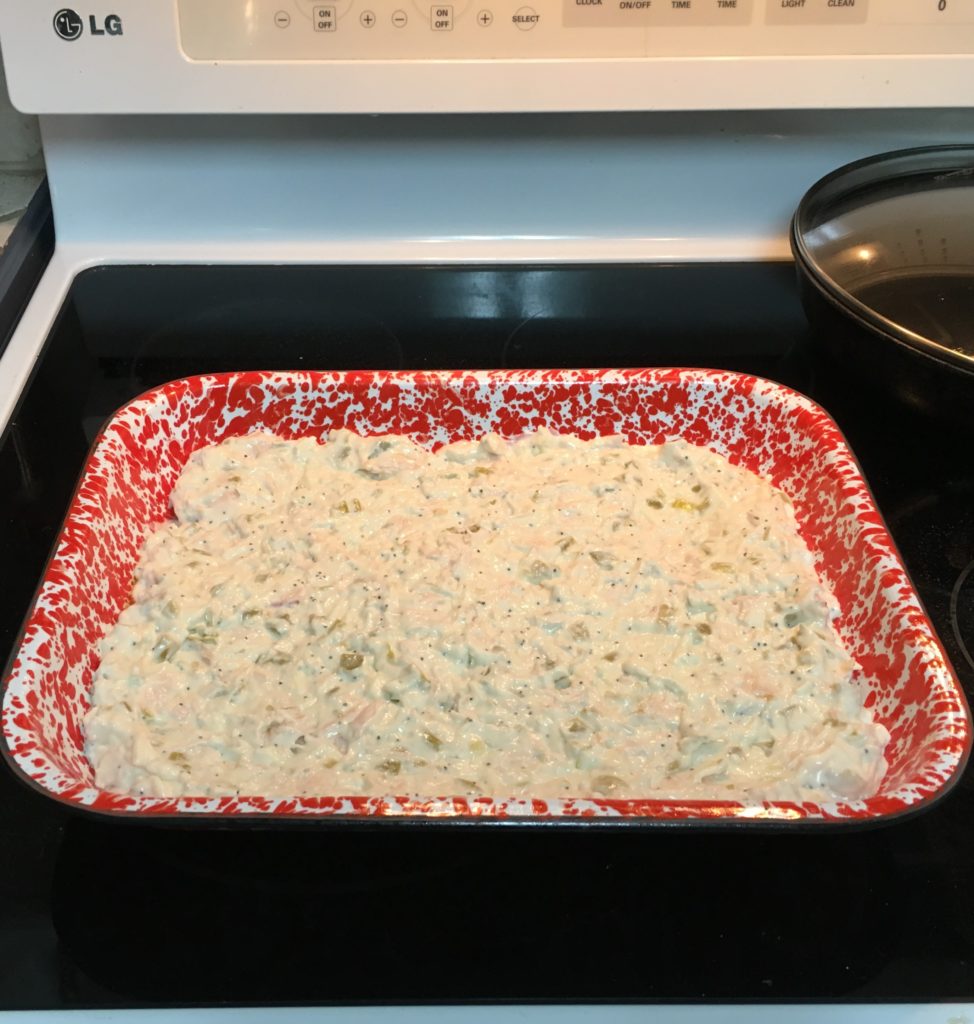 6. In a small bowl combined crushed Ritz crackers and melted butter. Mix well.
7. Spread cracker mixture over chicken mixture.
8. Cook in oven for 25 minutes until top is golden and mixture is starting to bubble.
Bon Appetit