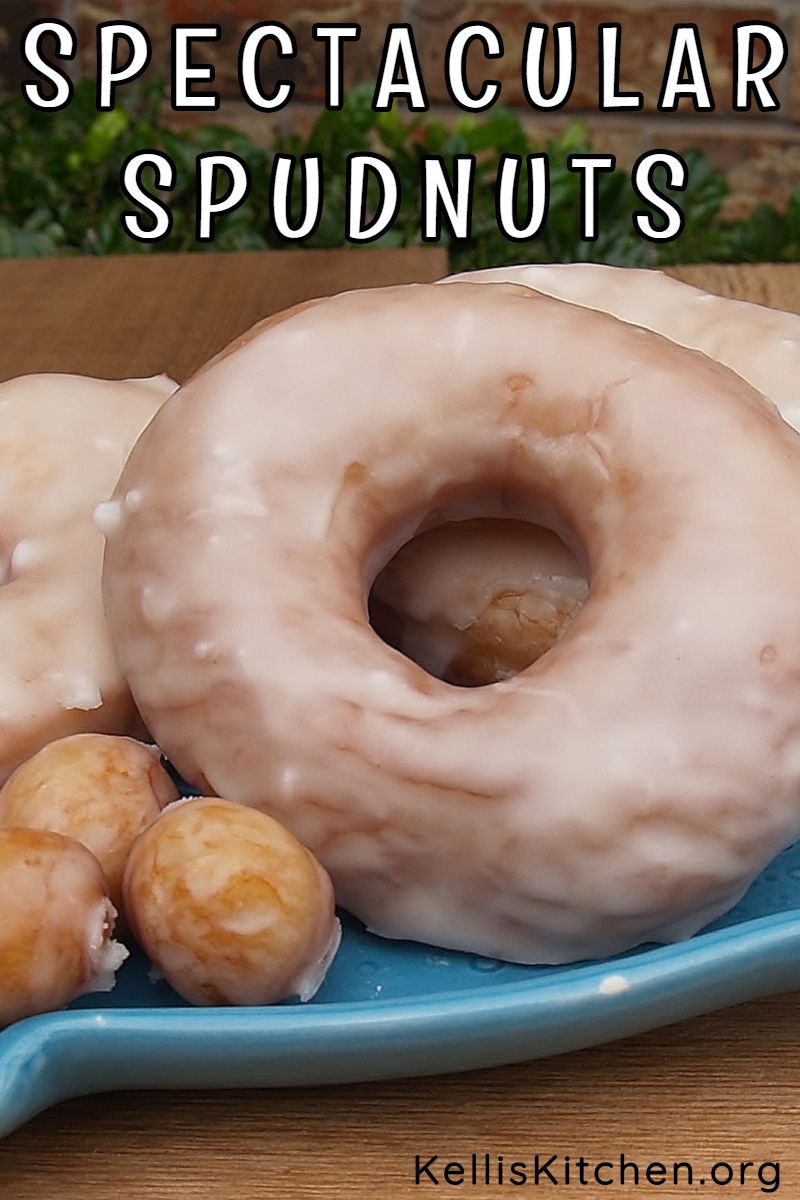 In the summer of 2007, Lawyer Boy got to do an internship in Louisiana for the summer between his junior and senior year of college. When we were visiting, he brought some doughnuts to our hotel room. I thought they were doughnuts – but they were actually spudnuts! Spudnuts are crispy on the outside and light and fluffy on the inside. They are shaped like doughnuts but made with either potatoes or potato flour. I searched and searched the internet for a recipe and all of them had real mashed potatoes in them. I'm not chef but the ones I had were far to light and fluffy to have heavy potatoes and the consistency just wasn't representative of something that had bits in it. Then one day, I found a recipe that was approved by Deb Andersen who was the daughter of one of the Pelton brothers, the inventors of Spudnuts. I decided that the daughter of the inventor would know something about the recipe and this recipe used part potato flour and at the end of the makin' of the spudnuts I realized that this indeed was the spudnuts I had in Louisiana – score!
First I had to find potato flour. Now an easy thing to do and it took me some time to do it. Finally, two weeks ago I found it and then I promptly forgot about them. Then, earlier in the week a new friend Jen from reminded me of them. Another plus was that I had today off work – so plenty of time to make a whole bunch of these!
The Spectacular Spudnut!
Ingredients:
• 1 cup warm milk
• 3 tablespoons butter
• 1/4 cup granulated sugar
• 1 teaspoon salt
• 4 1/2 tsp Instant Yeast
• 1 Large Egg at room temperature
• 2 cups sifted All-Purpose Flour
• 1/2 cup of bread Flour
• 1/2 cup of Potato Flour
• Oil – I used canola.
Method:
1. Heat a 1/4 cup of your milk in microwave for 20 seconds
2. Place yeast in a small bowl with one tablespoon of sugar. Place in warm milk and stir. Let it rest
for five minutes.
3. Set up your mixer with dough hook and add 3 tablespoons of sugar, butter and salt and mix until just
combined.
4. Add one large egg and mix ( do not over mix)
5. Add rest of milk (3/4cup warm)
6. Add the flours a little at a time and then the yeast mixture.
7. Mix until it is a smooth dough – it is SO important NOT TO OVER WORK THE DOUGH!!!
8. It must resemble a smooth dough texture like bread dough.
9. Place smooth dough into an oiled bowl and cover with a damp kitchen towel and let rise in a
warm spot for 1 to 1 1/2 hours.
10. Place dough on well-floured surface (sprinkle some flour lightly)
11. Roll out with rolling pin to approximately 1/2 inch – let rest for a good five minutes.
12. Use doughnut cutter or the rim of a glass to cut out. Then cover with a dry kitchen towel and let rise for five minutes
13. Get your deep fryer cooker ready – heat to a maximum of 350 F
14. Add Spudnut dough a couple at a time and cook each side until golden brown.
15. Remove to drain on paper towels. Glaze while warm or you can sprinkle with powdered sugar.
The regular glaze.
1 lb. powdered sugar
½ Cup boiling water
2 Tbsp. butter
2 teas. Vanilla
Whisk until smooth.
And some chocolate now:
1 ½ Cups Powdered Sugar
4 Tbl. Cocoa Powder
3 Tbl. Milk that's a starting amount. It took me 4 Tablespoons.
2 tsp. vanilla extract
Whisk together sugar and cocoa. Add water and vanilla and continue whisking until smooth. Can add a little more milk if needed.
Enjoy!