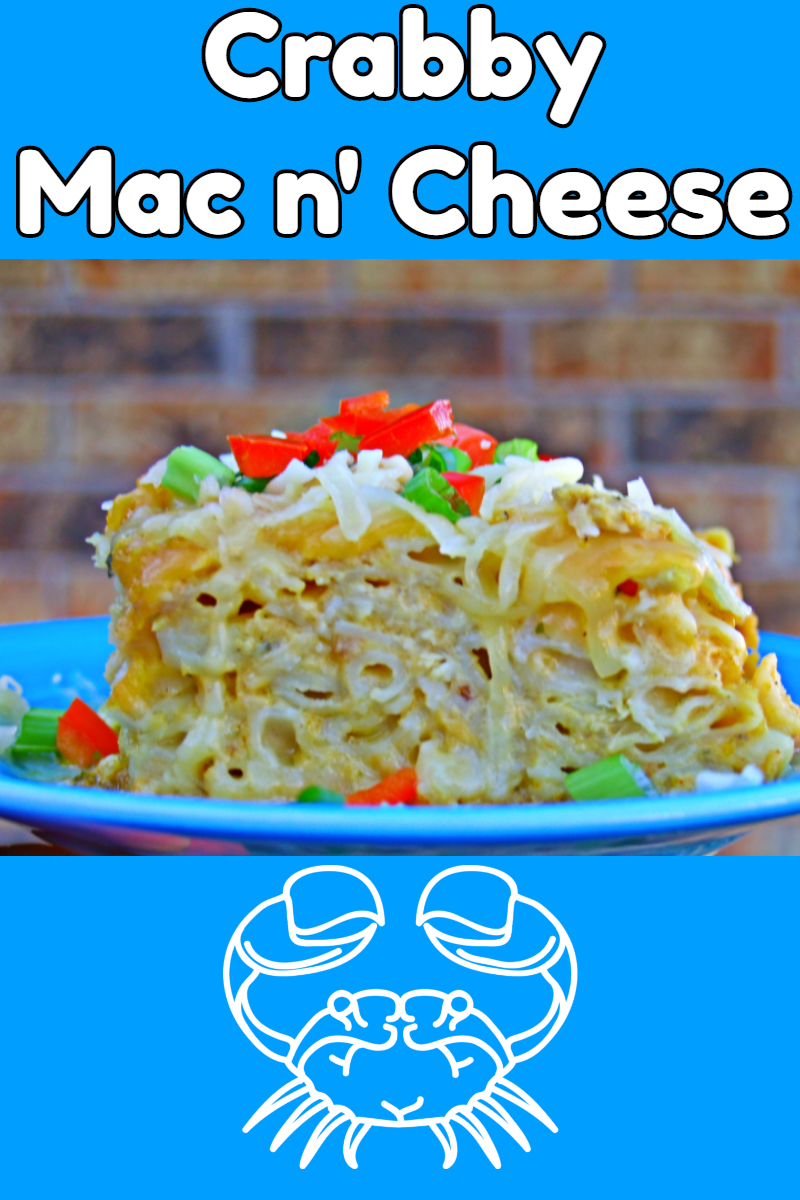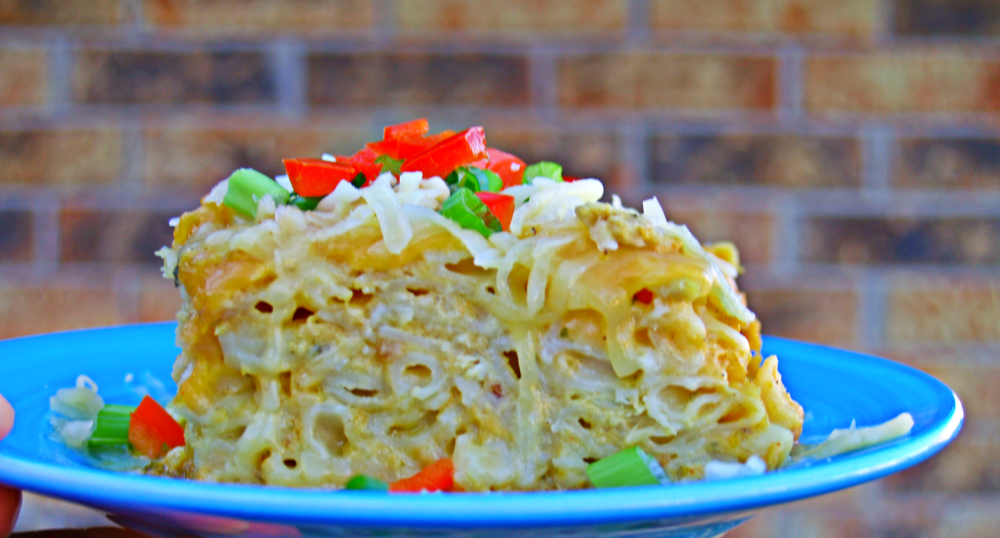 This Mac and Cheese with Crab recipe is one of the most decadent dishes I have ever made and I want you to have it so you may also make it this week for a potluck or the holiday. I've never put anything in my macaroni and cheese besides cheese so this was a big step but I had some fresh crab leftover from another recipe and did not want it to go to waste.
It has also been a long time since I have had a giveaway and I think its time, don't you? Mine are often not high dollar items because I generally buy them myself as a thank you for sticking with me all these years. I saw these two items, picked them up for myself and a set for one of you! Directions on how to win will be below. First, the recipe.
Mac and Cheese with Crab
(Crabby Mac n' Cheese)
1 (16 ounce) package elbow macaroni
¼ Cup Butter
½ Cup Sour Cream
1 egg, beaten
2 Tablespoons Cream Cheese, Softened
4 Cups Grated (not shredded) White Vermont Cheese
4 Cups Grated (not shredded) Monterey Jack Cheese
1 pound of fresh or frozen Crab Meat
2 Tablespoons Butter, Softened
1 Large Onion Thinly Sliced
4 Cloves Garlic, finely minced
¼ teaspoon brown sugar
¼ teaspoon fresh parsley, chopped
¼ Cup Panko Bread Crumbs
2 Tablespoons Butter
5 Tablespoons Flour
3 Cups Milk
½ teaspoon ground mustard
½ teaspoon paprika
¼ teaspoon salt
½ teaspoon pepper
2 Tablespoons Hot Sauce
Directions
Bring a large pot of lightly salted water to a boil, add macaroni and cook for 8 minutes. Drain noodles and transfer to a large bowl with 1/4 cup of butter and toss to coat. Whisk together the sour cream, egg, and cream cheese; add to the pasta and mix well. Stir in 3 cups of grated Jack and 3 cups of grated Cheddar cheese, reserving the remaining 2 cups of cheese for the topping.
Place the crab in a strainer and then on paper towels to dry.
Preheat an oven to 375F.
Stir 2 tablespoons butter, the onion, and garlic into the pan and cook and stir for 2 minutes. Reduce the heat to medium-low, and add the brown sugar. Cook, stirring occasionally, for 10 to 15 minutes until the onions are very soft and golden brown. Mix parsley, and panko breadcrumbs into the onions, transfer mixture to a small bowl and set aside.
Return the skillet to the heat and melt remaining 2 tablespoons butter over medium-low heat. Whisk in the flour, and stir until the mixture becomes paste-like and light golden brown, about 5 minutes. Gradually whisk the milk into the flour mixture and bring to a simmer over medium heat. Cook and stir until the mixture is smooth and thickened. Stir in the ground mustard, paprika, salt, pepper, and hot sauce. Remove sauce from heat and let cool for five minutes.
Mix Crab into macaroni mixture.
Pour the sauce over the macaroni mixture, stirring well. Transfer to a greased 9×13 inch pan and sprinkle with the remaining 2 cups of Cheddar cheese. Top cheese with the onion breadcrumb mixture.
Bake in preheated oven until bubbling, hot and golden brown on top, about 45 minutes.
It makes enough for a small army.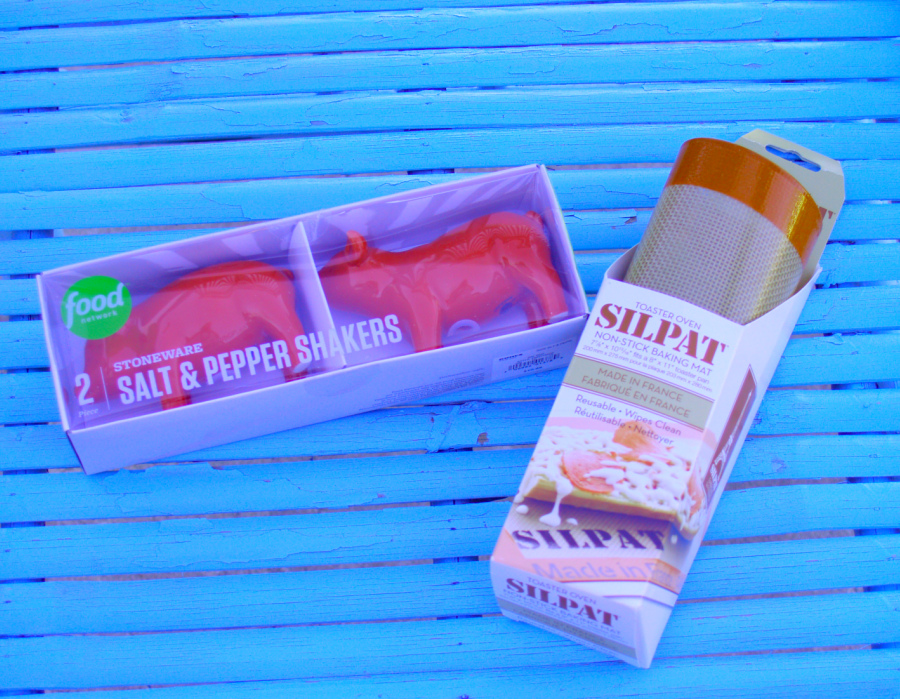 Now let's talk about the giveaway: Below, comment on this post (Mandatory first entry) for a chance to win these lovely set of red pig salt and pepper shakers as well as the toaster oven sized silpat sheet – perfect of baking a grilled cheese on or just a few cookies. Good luck!