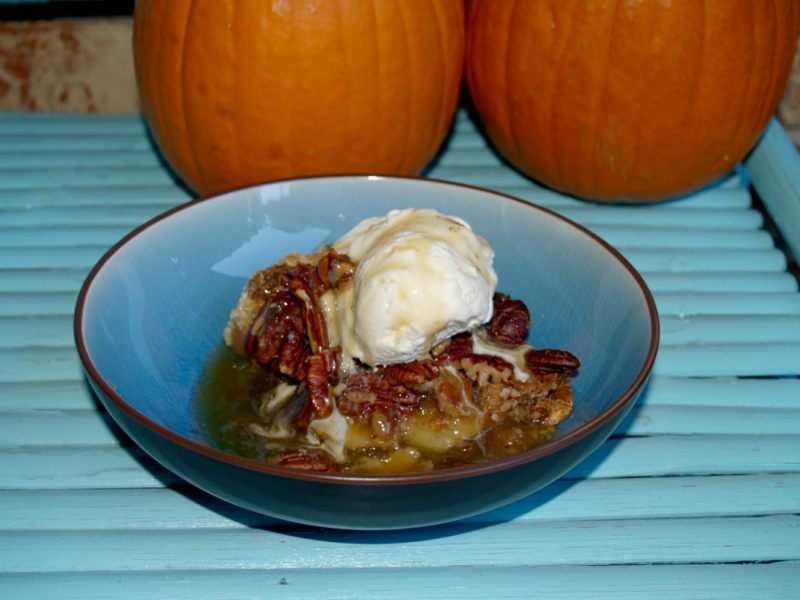 ****The First half of this post is sponsored by Walmart, Cracker Barrel and @incommworldwide for the @SaveMoneyGiveBetter2017 Campaign.  My opinions are my own.  Thank you The Women Bloggers****
I have this fantastic recipe for a pecan cobbler that I will share below but first, let me tell you how I solved my gift giving dilemma for my mom.  Each year I start fretting about what to get her – you know how that is and I am sure there is at least one person in your life you too have a hard time shopping for.  Mom has everything she needs.  She lives in a small apartment that needs no more dust catchers.  When Walmart and Cracker Barrel through @incommworldwide asked me to help them spread the word about the joy and convenience of gift cards, I knew I had a winning combination for my mother!  While I am giving her gift cards, I am really giving her a lovely memorable time with her friends.   I mean, why wouldn't I want to #SaveMoneyGiveBetter2017?  Of course, I do!  The convenience of running into Walmart for some groceries and a few toiletries while grabbing a few gift cards is undeniably fabulous!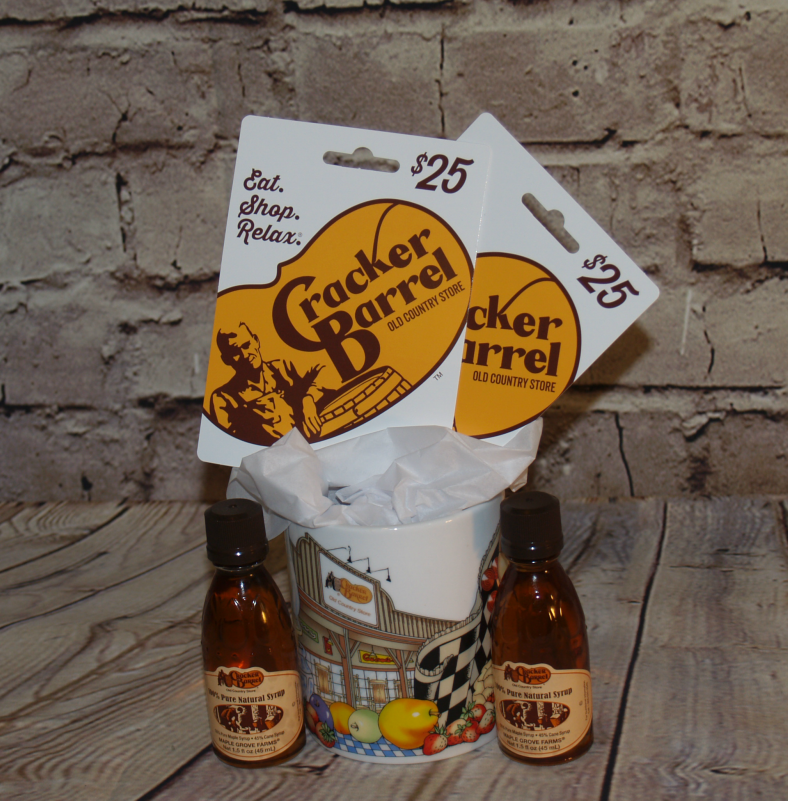 Mom has a group of friends that play games several nights a week and go out to dinner several times per month.  They generally go one of two places and one of those is Cracker Barrel.  They all love eating there because you can get breakfast at any time and they serve good home cooked meals.  Mom's favorite are the chicken livers with mashed potatoes and gravy.  While the prices are moderate, I thought it would be delightful if, the evening they go after Christmas, mom were to pay for their entire meal as her gift to them.  I think this is going to go over very well with all of them and mom gets to pay for it all which will make her very happy.
Walmart really is your one stop shop for gift cards.  Look at this photo and tell me there's not something on there that you, your family and/or your friends would not like?  There's Google Play and iTunes along with several restaurants and even some plain ol' visa cards that you could use anywhere.  Wherever I went, there was more than one gift card "center".  There was generally one near each entrance to make it even quicker to run in and run out.  Then, I have also found them near the backs of our Walmart stores.  We have four here in our town and you know I went to all of them just to see what they had to offer.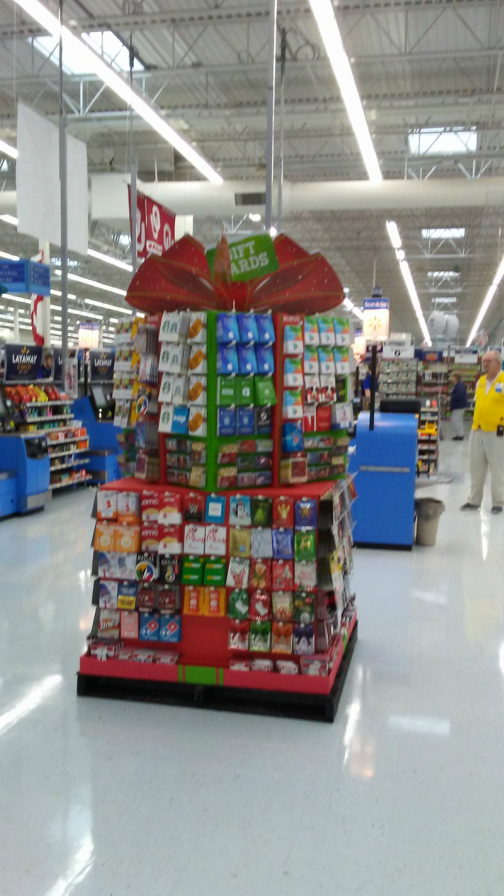 Now that mom's gift, as well as our service workers like post woman and newspaper carrier, are all out of the way with some incredibly great gift cards from Walmart, I can give you the best recipe I have made in more than a year.  Maybe two.  I'm dead serious about this!
For my birthday, my daughter took me to a buffet at a casino here in town because I had a buy one get one free voucher specifically because it was my birthday.  We had heard the buffet was only so-so.  We were pleasantly surprised that it was pretty good – and then we went to the dessert section.  I, a lover of nuts, grabbed a bowl of something I had never seen before.   It looked like someone messed up a pecan pie and dumped it into one  of those chaffing dishes.  But it smelled so good that  I put a spoonful in a bowl and then had a single spoonful of vanilla ice cream on top.  It got all melty and ooey-gooey delicious with the ice cream running down the sides of the pie crust, nuts and runny sweet ambrosia puddling in the bottom of the bowl.  It smelled so inviting that my daughter, hater of all things nutty, got herself a bowl with ice cream.  After enjoying this lusciously decadent dish – we each enjoyed another!
Then I went on a search to make one for the family.  I found several recipes but they all used cake mix.  No, seemed like a waste of pecans and cake mix to me.  I mean, it was okay but not mind blowingly sensational –  and that's what I wanted.  My friend from high school, Melissa had a recipe using pie crusts and it was workable but then we went back to the buffet and I asked to speak to the chef – who gave me priceless tips.  So, it is a combo of the recipe, the tips and my own ideas that I am passing on to you!  This custard is not as firm as regular pecan pie but serving it warm would make both  custards runny anyway.
Pecan Cobbler
3 refrigerated pie crusts
2-1/2 cups light corn syrup
2-1/2 cups packed brown sugar
1/2 cup melted butter
4 tsp. vanilla
6 eggs, lightly beaten
2 cups chopped pecans
2 cups pecan halves
1 egg beaten with a splash of water to put over top crust
Vanilla Ice Cream for topping
Instructions
Heat oven to 425º F.
Spray a 13″ x 9″ glass baking dish with nonstick spray.
Remove two pie crusts from package and roll out to fit the baking dish. Trim edges.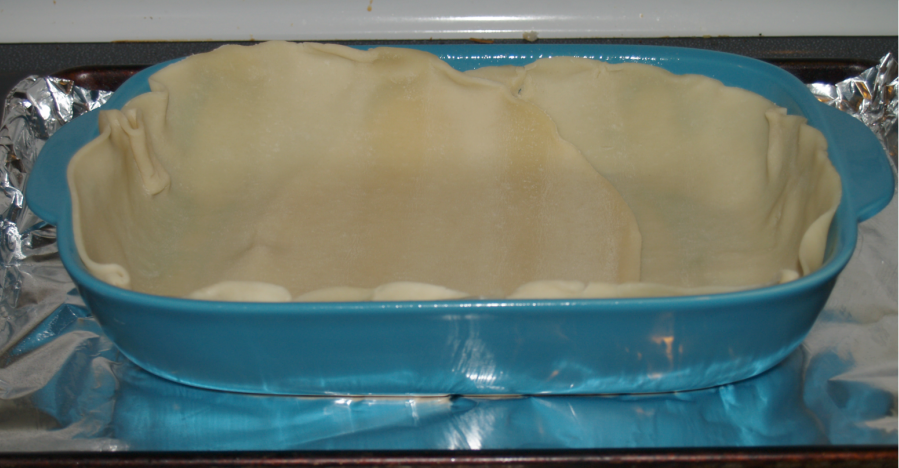 Blind Bake for 15 minutes at 425F.
In a large bowl, combine corn syrup, brown sugar, butter, vanilla and eggs.
Mix until well combined.
Stir in chopped pecans.
Spoon half of filling into crust.
Remove the third crust from the package, and roll out to fit baking dish.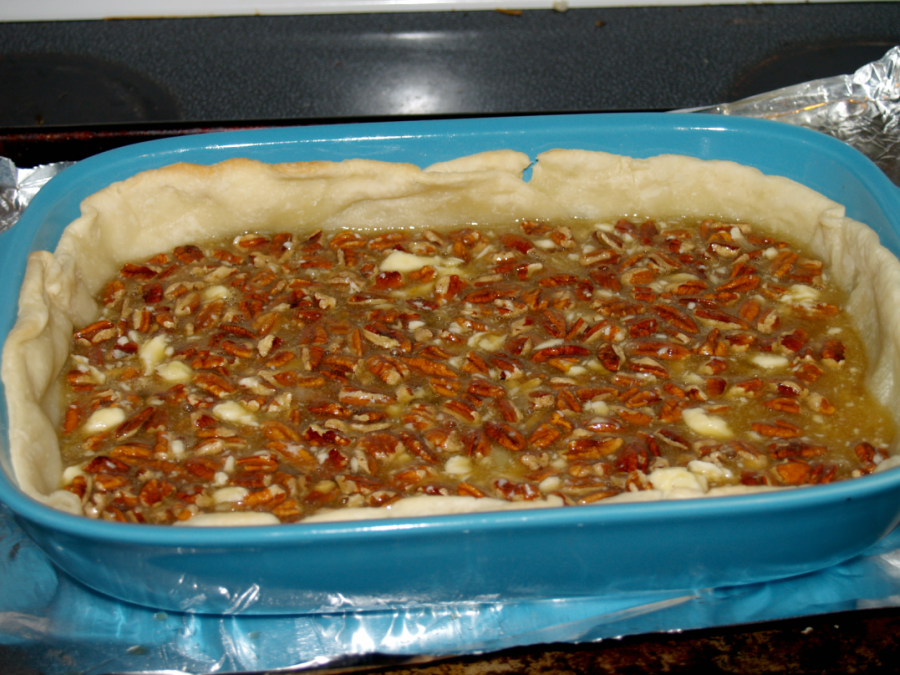 Brush egg and water mixture into crust so it will brown and firm up.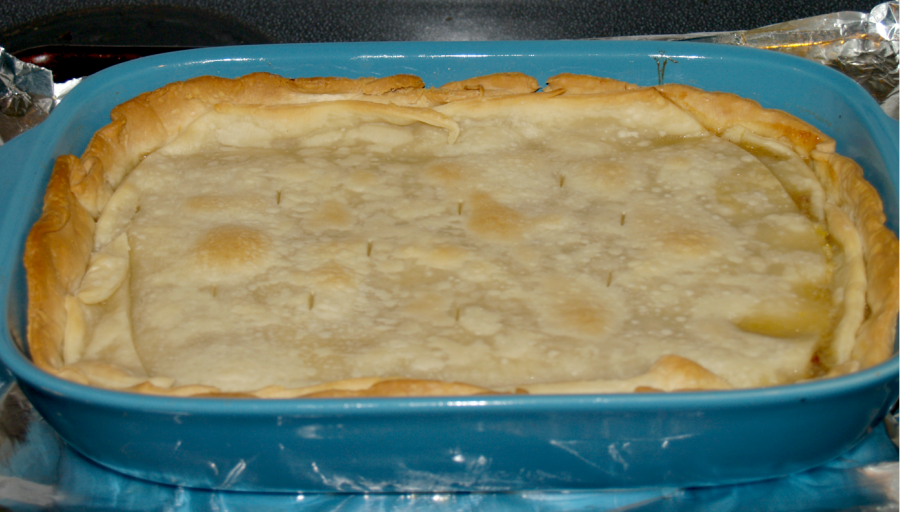 Bake 14-16 minutes or until browned.
Remove from oven.
Reduce oven temp. to 350º.
carefully spoon remaining pecan filling over crust.
Arrange the pecan halves over the top and bake 30 minutes.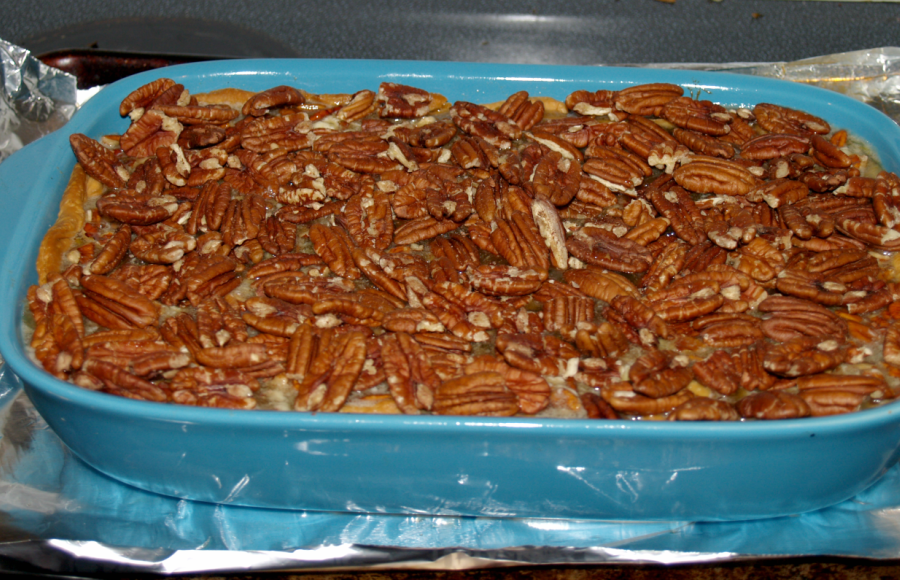 Let cool for 15 minutes.
Serve with vanilla ice cream.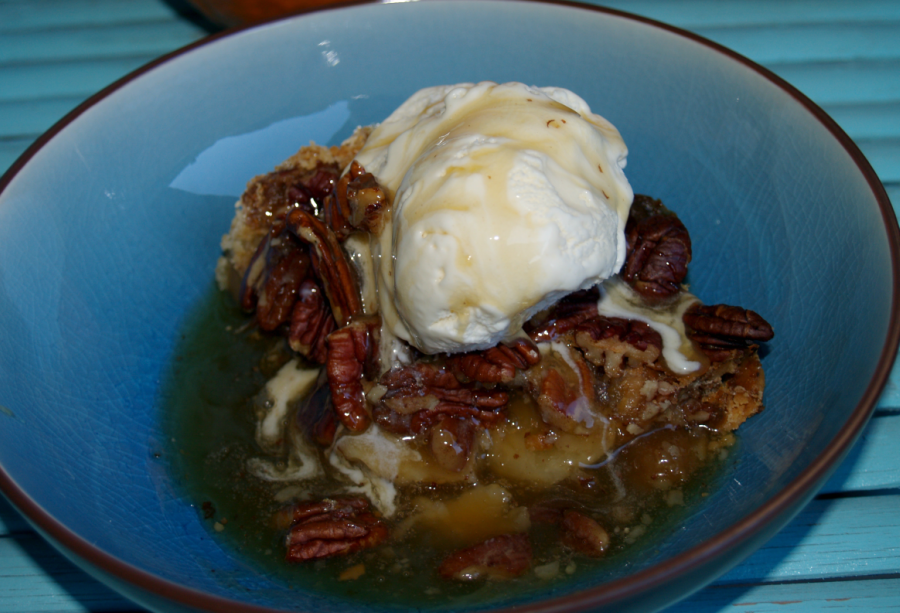 If you are not the perfect pie maker (like me) this, more rustic, version will serve a crowd and be delicious the first bite and the last bite.  Perfect for all your holiday potlucks!