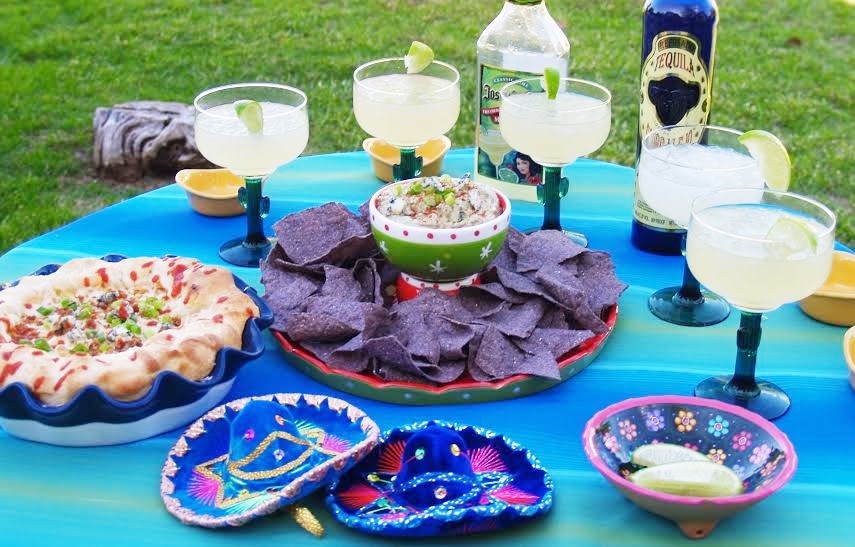 ***This is sponsored content for which I was compensated. The opinions are mine and as told to me by those attending the party ****
We celebrate Cinco de Mayo every year because It is Lawyer Boy's birthday. This year, his 29th, was celebrated early because he and Minnie Mouse (his wife) will be attending her brother's graduation from Medical School – from MY alma mater – on his birthday. When I was contacted by both The Cheeses of Europe and The Hacienda Corralejo to work with them I was thrilled to say yes because Lawyer boy loves margaritas and Blue Cheese – the chosen cheese for promotion.
We had the party outside in the beautiful evening weather. I developed one recipe on my own, used on of theirs and Mr. Picky Eater made many many margaritas for us all to enjoy. First the blue cheese:
From the caves of Combalou in southern France, Roquefort, arguably the world's greatest blue, has had its name and methods protected since 1411! Roquefort's heavenly flavor is reminiscent of the cavern air where the cheese ripens and the mold naturally grows, transmogrifying the Lacaune ewe's milk it's made of.
This variety is round, deep, and perfectly balanced: big, creamy chunks of the paste dissolve on the palate like sharp, soothing milky lozenges. Sweet and fudgy, its linger is peppery and sometimes quite spicy.
First I made Blue Cheese Guacamole.
Ingredients:
1 Cup crumbled Roquefort (Blue Cheese)
¼ Cup Sour Cream
2 Ripe Avocados, peeled and mashed
2 Tablespoons finely chopped scallions
¼ Cup jarred pickled sliced jalapenos
¼ teaspoon Paprika
Blue Corn Chips
Directions:
Mix crumbled blue cheese, mashed avocados and sour cream.
Roughly chop and add in the scallions and jalapenos.
Mix well and put in dish, dust with paprika and surround with chips.
(Recipe Courtesy of Nigella Lawson – 2007 Nigella Express)
Then I made this recipe up – Blue Cheese Pull A Part Bread – I went with the boldness of the blue cheese and added in even more bold tastes!
Blue Cheese Pull A Part Bread
Ingredients:
9 Frozen Rolls, thawed for 1 hour
1 Cup crumbled blue cheese, plus more for garnish
1 eight oz. block of cream cheese, softened
½ Cup Sour Cream
1 Cup Green Stuffed Olives, finely chopped
1 Bunch (6 stalks) of green onions, finely chopped, more for garnish
1/3 Cup roughly chopped Prosciutto, plus more for garnish
1 Cup shredded Pepper Jack Cheese, more for garnish
4 Tablespoons Sriracha, plus more for garnish
Directions:
Spray a 9-inch pie plate with non-stick spray and put the 9 frozen rolls around the perimeter of the pan and allow to thaw for 1 hour then cut into quarters and put back into the outside perimeter and allow to rise another hour.
By this time the quartered pieces will have risen and moved almost to the middle of the pan.
Mix the blue cheese, cream cheese, pepper jack, sour cream, olives, green onions, prosciutto, and Sriracha with a hand mixer until smooth.
Spread into pie pan beginning in the middle, gingerly lift up the bread pieces and stuff under as well until all is in the pan.
Tent foil over top and place in preheated 350F oven for 20 minutes then take foil off and cook for another 10 minutes or until bread is golden brown.
Take out and sprinkle with reserved items like this:
Serve in small bowls – this dish is very rich and very bold. You'll need a nice classic margarita to balance it out on the palate. I loved it – Mr. Picky Eater ate a little but Lawyer boy? He ate it ALL!! He loves bold strong tastes and this did not disappoint! The cheese was wonderful and so creamy – I have never worked with such a wonderfully fancy cheese before. I felt kind of like an important chef!
So – here are some incredible facts about Corralejo Tequila:
Hacienda Corralejo, founded in 1755, was the first estate in Mexico to produce tequila as a commercial venture.
Hacienda Corralejo is located in Guanajuato the region of Mexico. Here the dark volcanic earth, rich in nutrients, is the perfect place for growing the famous Weber Blue Agave.
Corralejo is produced from the finest hand-harvested agave plants that are slowly steam cooked in traditional stone clay ovens for over 27 hours.
Corralejo is the only distillery to use the Charentais method of distillation. This method is responsible for capturing the aroma and flavors so distinctive to Corralejo.
Each bottle of Corralejo is double-distilled in copper stills imported from Spain.
The range of Corralejo tequilas includes Silver, Reposado and Añejo. In addition to the core range, Corralejo offers Triple Distilled Reposado, 99,000 Horas Añejo, and Añejo Gran Reserve.
Tequila Corralejo is known for its tall colorful bottles. At Corralejo we believe those with pride stand tall.
Corralejo Reposado is aged four months in barrels made from three types of wood including French, American, and Mexican oak.
Isn't that interesting?
So, we made Lawyer Boy's favorite:
Classic Margaritas on the rocks, no salt – very easy to do, letting the tequila shine through.
1 part Corralejo Reposado
2 parts Margarita mix
Lime
Stir the tequila and mix then pour into glasses with a small amount of ice. Man, this tequila is smooth – we drank it all. Isn't the bottle beautiful? I'm telling you, we will be looking for more of this in our local liquor store and you should too!
I wish you and everyone a great Cinco de Mayo – especially the Cheese of Europe and Corralejo Tequila who made Lawyer Boy's Party a great one!
Drink and enjoy!