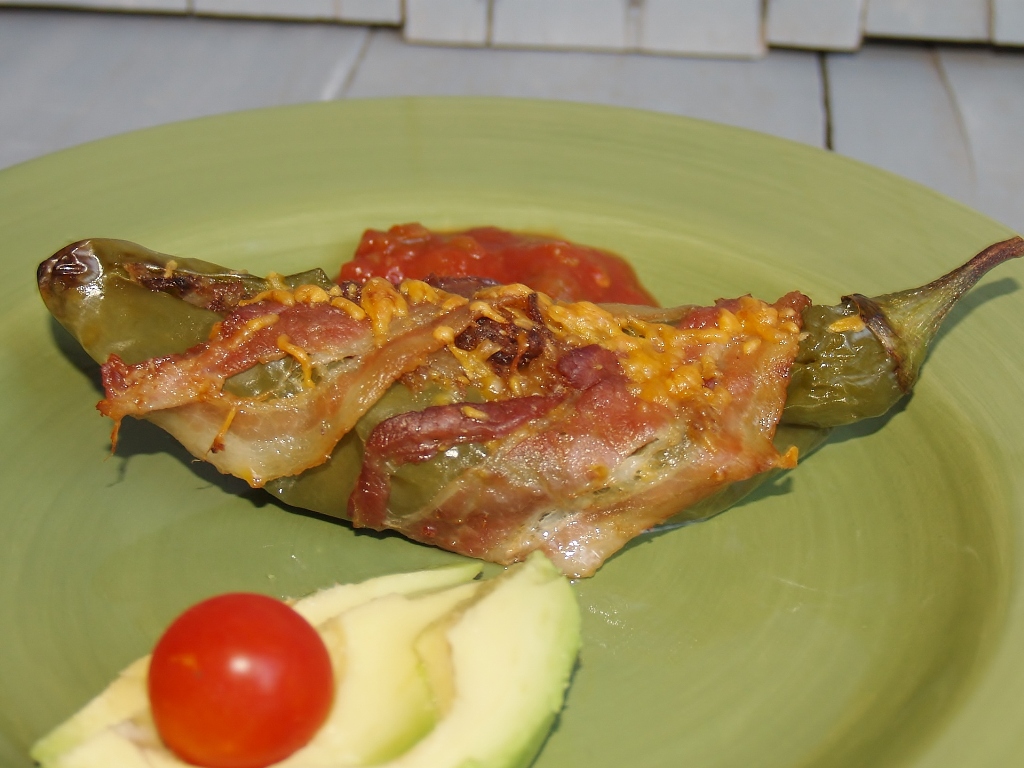 August is Bacon month and it is also when Hatch Green Chiles are harvested! These are two of my favorite things to eat and together – whew, it's a good night of eating at our house when that happens! I developed this recipe especially for my son-in-law who has many of the same likes and dislikes that I do. We will get to the recipe in just a moment but first, I want to tell you all about the way I am celebrating Bacon Month.
I am participating with 20 bloggers in a month long tribute to Bacon with weekly giveaways sponsored by my new friend Julie at White Lights on Wednesday! Below the recipe will be the Rafflecopter widget for you to enter and then, below that are all the recipes (with pictures!) the bloggers are contributing. I am posting recipes on Tuesdays and Thursdays but recipes will be added nearly every day because with 20 bloggers posting twice per week, it takes more than 2 days a week to get it all in – right?
Let's get on with the recipe because it is great if I do say so myself!
Bacon Wrapped Hatch Green Chiles
Ingredients:
4 Hatch Green Chile (you can also use Anaheim peppers or others that you want)
1 pound of thinly cut bacon
3 small potatoes
1 small onion
1 Cup shredded cheese of your choice
Toothpicks
Directions:
First the great news: Even though we had just purchased another case of roasted Hatch Green Chiles that day, the 2 cases we still had – which if I don't make green chile sauce and can it right away, I freeze whole – 4 chiles left. I took out those 4 chiles and thawed them. But you can use fresh too.
Peel, chop and sauté the three potatoes and onion in a small amount of vegetable oil.
Drain on paper towels and cool.
Pre-heat oven to 350F.
Using all but two slices of the bacon, fry crisp and crumble.
Mix the crumbled bacon, potatoes, onion, and the cheese altogether.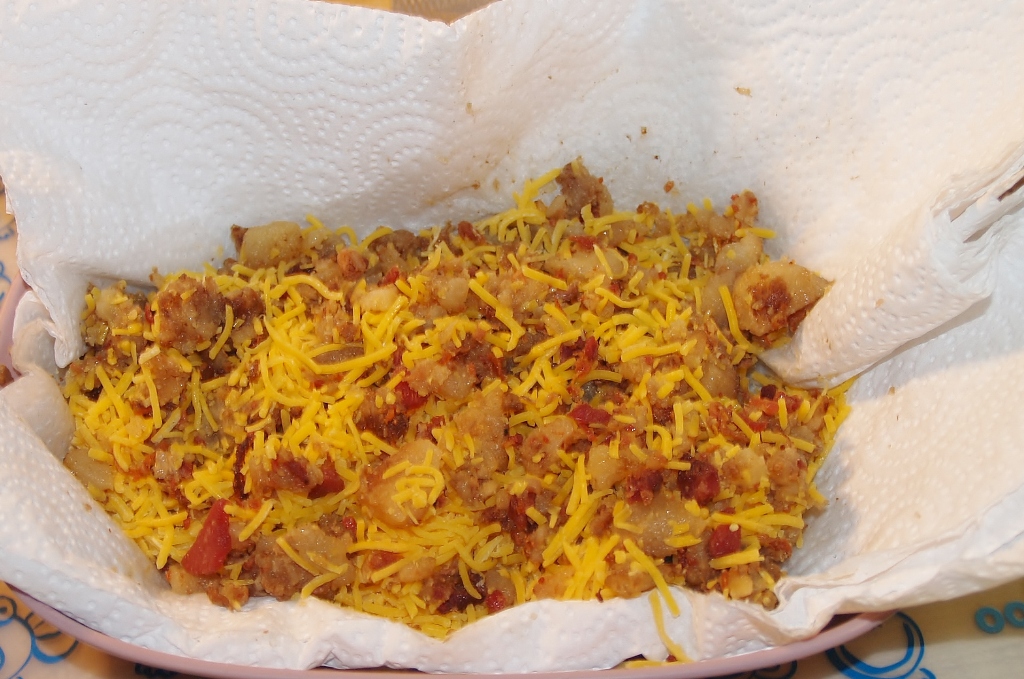 Cut each pepper like this – you can take out the veins and seeds if you like.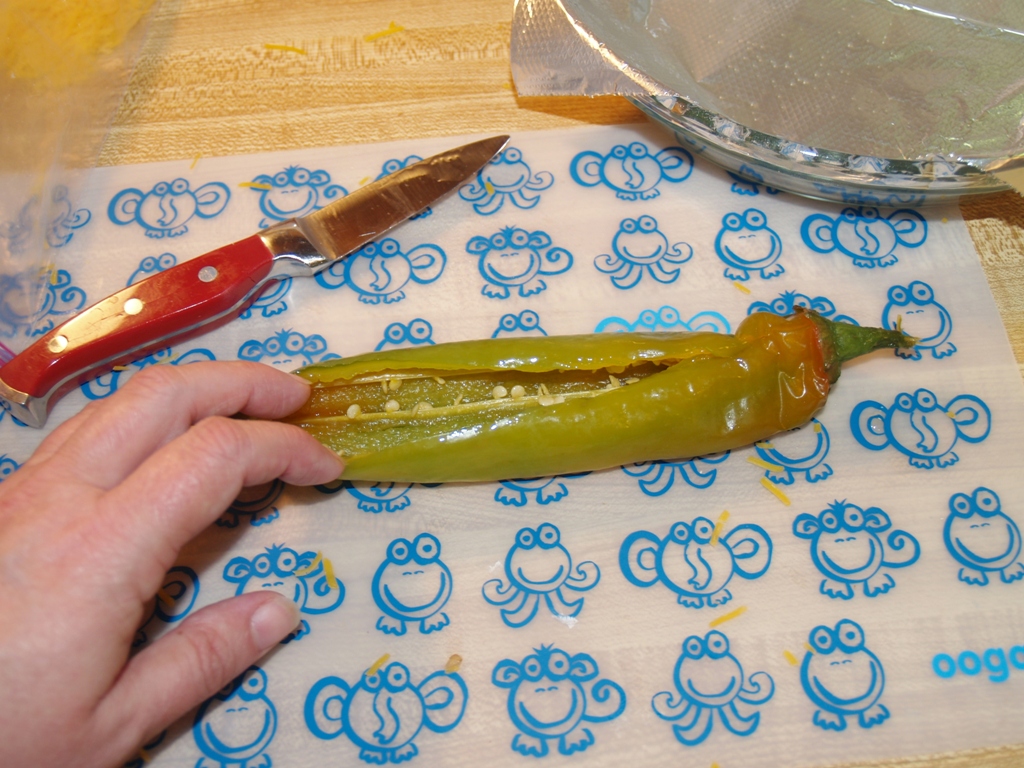 Stuff the bacon potato mixture into the pepper.
Slice the 2 remaining pieces of bacon in half wrapping each piece around peppers securing with the toothpicks like this: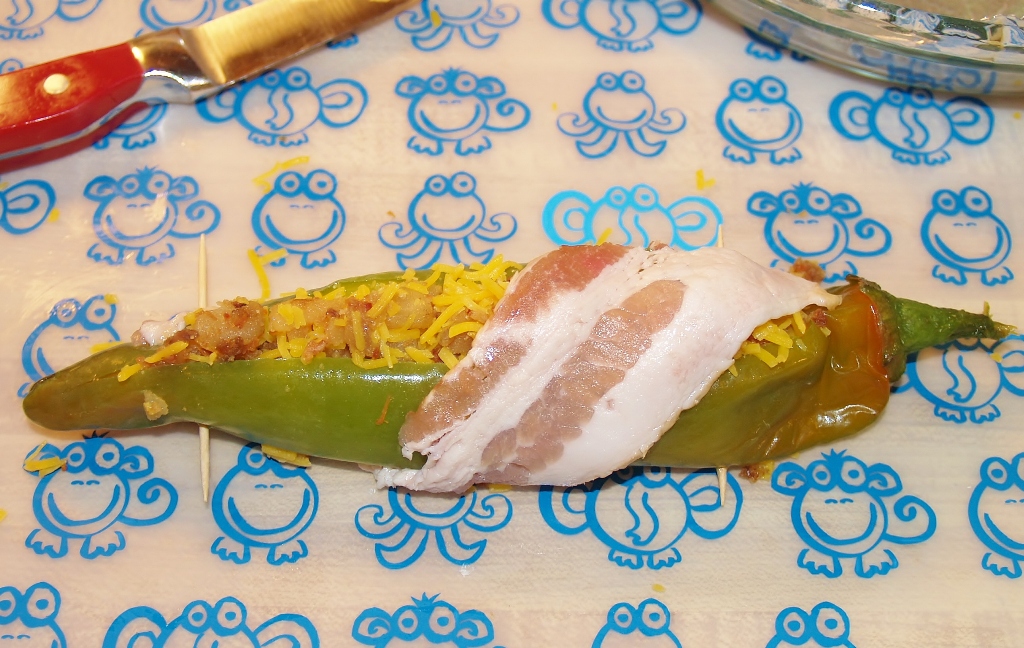 When all the peppers are prepared and in the dish,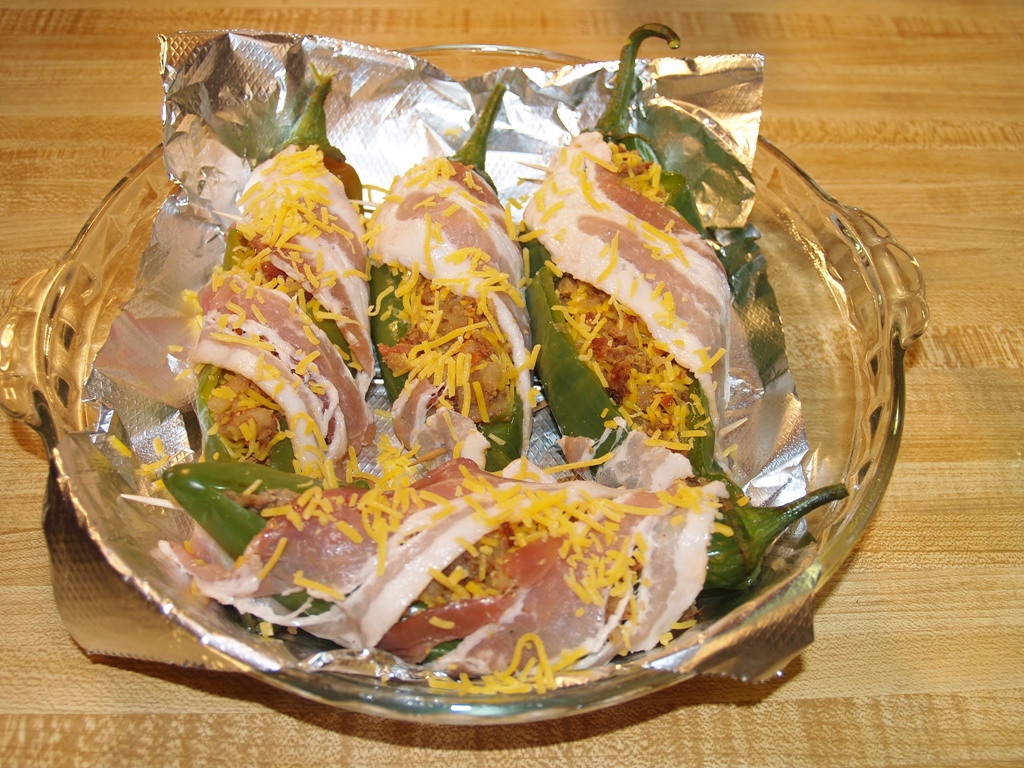 Place in the oven and bake, uncovered for about 1 hour.
Take out of the oven and serve. We had ours with fresh salsa, avocado, and garden tomatoes.
I think these are so good! If you do not like spicy foods, then get mild peppers but the potato stuffing really minimizes the heat of the pepper.