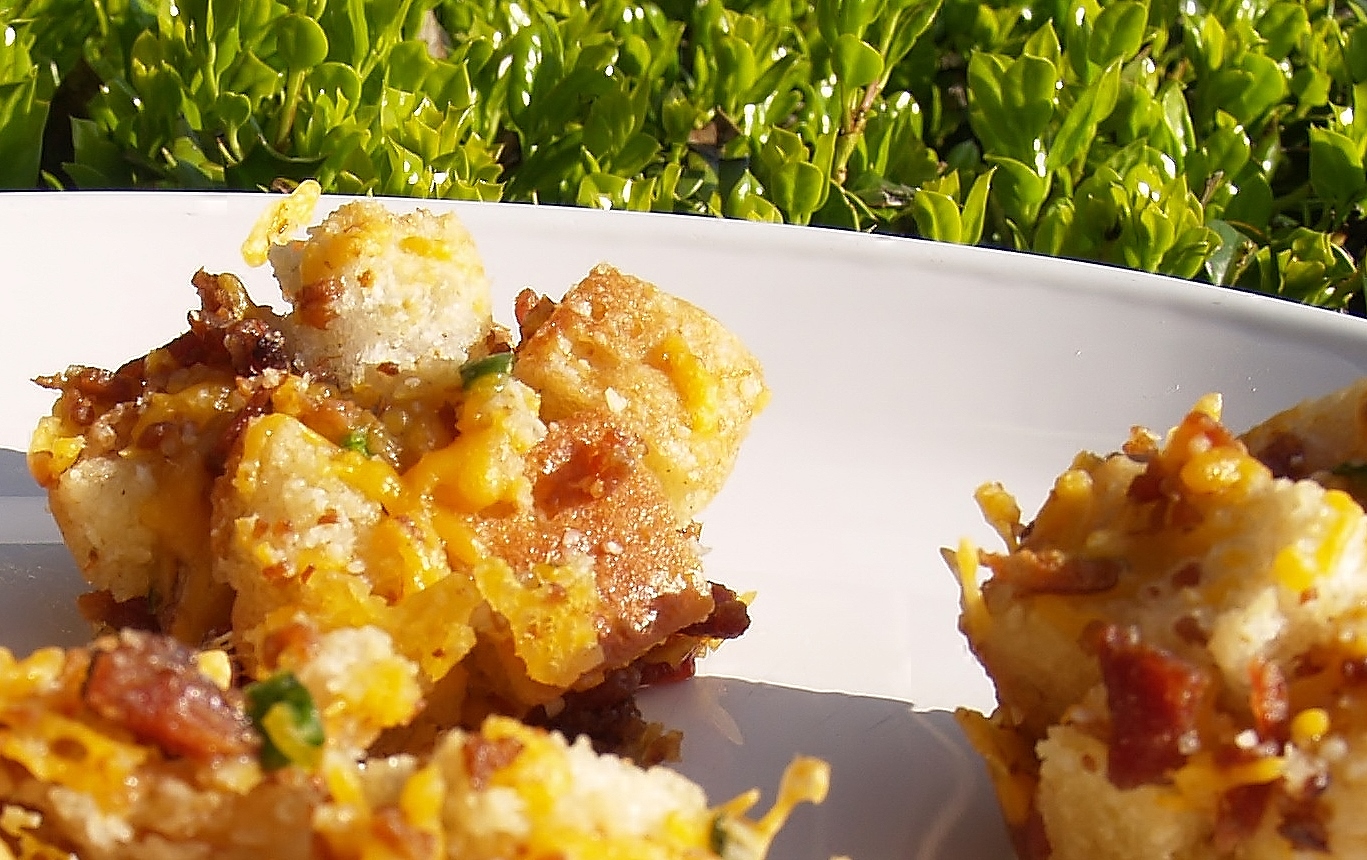 I saw some Bread Pudding Cupcakes on the Imperial Sugar Website and it gave me the inspiration for today's recipe. We will get to that in just a moment.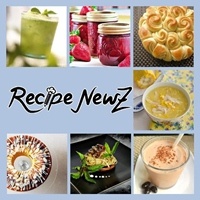 (Click on picture)
But first an interview with Elana from RecipeNewZ – I was so happy that the administrator of my favorite food site agreed to answer a few questions, giving me the opportunity to tell you one of the things I do after I post a recipe here, giving you a chance to do it too whether you are a reader or a blogger – please go check this site out and if you are a blogger, I hope you will share my post so others can hear about this great lady and her food site.
Elana, Thank you for sitting down and doing this interview with me. It is my first time to interview and your first time to be interviewed, so we will hold each other's hand virtually, getting through this together!
1. When did you open RecipeNewZ?
On May 7, 2012. We will need a Birthday cake soon :-).
Yes we do, Elana!
2. What was your vision for this creative adventure?
RecipeNewZ was meant to help people discover new recipes. It brings together home cooks and food bloggers: the bloggers share photos of their latest dishes, and RecipeNewZ publishes these photos in a gallery for easy browsing and search. So, if you love cooking and like first seeing the dish that you will be making, RecipeNewZ is a great resource with thousands of amazing recipes from hundreds of great food blogs. And if you are a food blogger, RecipeNewZ is a place where you can easily share your creations to bring new fans to your blog.
3. How has your vision changed over the time you've spent growing RecipeNewZ?
The main vision is still the same, helping share and find recipes. But we are paying close attention to wishes and needs of our community, and based on these, over this year we have introduced several new features such as improved recipe search, public favorites that can be shared with friends, a section where our contributors advertise their giveaways, new submission interface, etc.
4. What is the most viewed recipe/link?
Oven Baked Meatball Sandwiches by Brandie from Home Cooking Memories has been the most popular recipe so far. It has been viewed well over 100,000 times!
If you want to see which other recipes have had huge success, take a look at our All Time Popular section.
5. As you know, there are many bloggers and/or businesses who steal other's pictures and recipes and I have read that some food sites do not seem to do enough to prevent the theft on their site, yet RecipeNewZ seems to be able to "do it right". How do you do it?
What you are describing is a very unfortunate recent trend: many people don't realize how hard food bloggers work on each post, and use photographs and recipes of others without proper linking and attribution, diverting visitors from the authors' sites.
RecipeNewZ never "takes" anyone's recipe: all the posts published on RecipeNewZ are submitted by their original authors, so there is no question of unauthorized use of someone's materials. Also, we do not publish full recipes. The photos on RecipeNewZ link to the full recipes on their authors' blogs. This way we are trying to promote our talented contributors, drive traffic to their sites and give credit where it is due.
6. Your Pinterest board is VERY popular (full disclosure, I am a pinner for that board) how long has it been up and please tell us the process from the moment I pin something to when an interested follower gets to the originator's blog?
The RecipeNewZ Community board on Pinterest is a place where our community members pin some of their favorite posts from RecipeNewZ.
When you see there a recipe that you like and click on the photo, you first get to the RecipeNewZ page dedicated to that recipe, with some basic information, such as description and cooking time. One more click on the photo takes you directly to the full recipe on the author's blog. So the distance from our Pinterest board to the recipe is only 2 clicks.
We opened this board at the end of 2012 as an experiment, and originally invited a handful of contributors. Soon more people saw this board and requested to join. If you are a RecipeNewZ contributor and want to be part of that board, you are welcome to contact us via the contact form on the site.
7. Do you have some way of determining if a post that is submitted to RecipeNewZ has not been stolen? Do you visit new submitter's blogs?
Determining whether a post is legitimate can be a very sensitive and complicated process and there is no one simple answer for all cases. Introducing multiple verification and review steps for every submitted post could help prevent abuse, but that would also make it harder for the good guys to share their recipes. We choose to simplify as much as possible the front end user experience of registering and sharing, but it involves quite a lot of work for us on the back end. We have some automated tools in place to raise red flags, but we do try to visit new websites that join RecipeNewZ, sometimes monitor specific posts, and we also heavily rely on our community to report problems.
8. What is your favorite part of administrating RecipeNewZ?
I love food, I love to cook, so seeing all the new delicious recipes posted on RecipeNewZ is a lot of fun; I find new ideas and inspiration every day. And my most favorite part is when I actually get a chance to make one of these recipes! But there are many other things that bring a lot of happiness: having new wonderful blogs that I have never seen before join us, or alternatively seeing a blogger whose blog I have been following for years start sharing on RecipeNewZ, or hearing that our community members enjoy the site.
9. If I were a blogger and accidentally ran across your site, what advice would you give me if you were sitting next to me? What would you tell someone like me, who isn't a professional writer or photographer but enthusiastic about blogging and submitting to your site but very nervous about it?
There is nothing to be nervous about when sharing your recipes on RecipeNewZ. We do not reject recipes, we do not criticize anyone's work, we believe that one does not have to be a star chef or food blogger to make delicious food. If you browse the popular posts section on RecipeNewZ you will see both small and large blogs, both professional and amateur photos, and various recipe difficulty levels. It's proof that every recipe has its target audience and deserves a chance to succeed. And this is what RecipeNewZ is all about: giving each recipe a chance to shine.
10. If I were not a blogger but someone who is interested in trying new recipes etc…what advice would you give me about your site?
Come every day and browse our gallery for new ideas. We have over a thousand food blogger contributors and hundreds of recipes added all the time to fit every diet, budget and experience level. You are guaranteed to find something that you will like! And when you do, simply click on the photo to go to the blog with the recipe. I have discovered so many amazing recipes on RecipeNewZ: indulgent, healthy, traditional, innovative, simple and sophisticated, you name it!
When you are looking for specific ideas, you can search tens of thousands of recipes in our database by keywords, categories, prep time, etc. You can also save posts that you want to keep track of as your favorites, and you can share your public favorites with your friends, if you are planning a meal together.
And if you like winning free cookbooks, kitchen appliances or supplies, gift cards and sometimes even cash, check out our giveaways section.
11. Is there anything else you would like to tell my readers?
I would like to remind people once again, how hard food bloggers work on creating all these delicious recipes, writing detailed instructions, taking photos, etc. So I would like to ask everyone to help support food bloggers: when you visit a blog and like a recipe, leave a comment, share the link. If you make the dish, return to the blog and tell the author about it – it means a lot to food bloggers to know that their work is being appreciated and valued. And spread the word about RecipeNewZ and similar communities to your foodie friends to help promote all the wonderful food bloggers who share their delicious creations for you to enjoy.
Last but not least, I would like to thank you, Kelli, for inviting me for this interview! It's an honor to be hosted on your wonderful blog!

And now for the recipe: I don't know exactly what to call them. At first I called them Cheesy, Bacon, Ranch muffins then Mr. Picky Eater decided to call them Drug Muffins because you have to eat them all right away and then spend time searching for more. Call them what you like, they ARE great and work well as a side dish or appetizer and you can make the appetizers either regular sized or mini depending on what works for you. We are eating these next Sunday. It is Lawyer Boy's birthday and with it being also Cinco de Mayo I went with spicy for these but you don't have to. One of our children has a other-people-should-never-touch-food-you-want-me-to-eat rule and that is why this recipe is so handy to make. I was having a bit of trouble deciding what to serve all the boys while I finish making our lunch next week but I'm sure this will fit the bill perfectly!
Cheesy, Bacon, Ranch muffins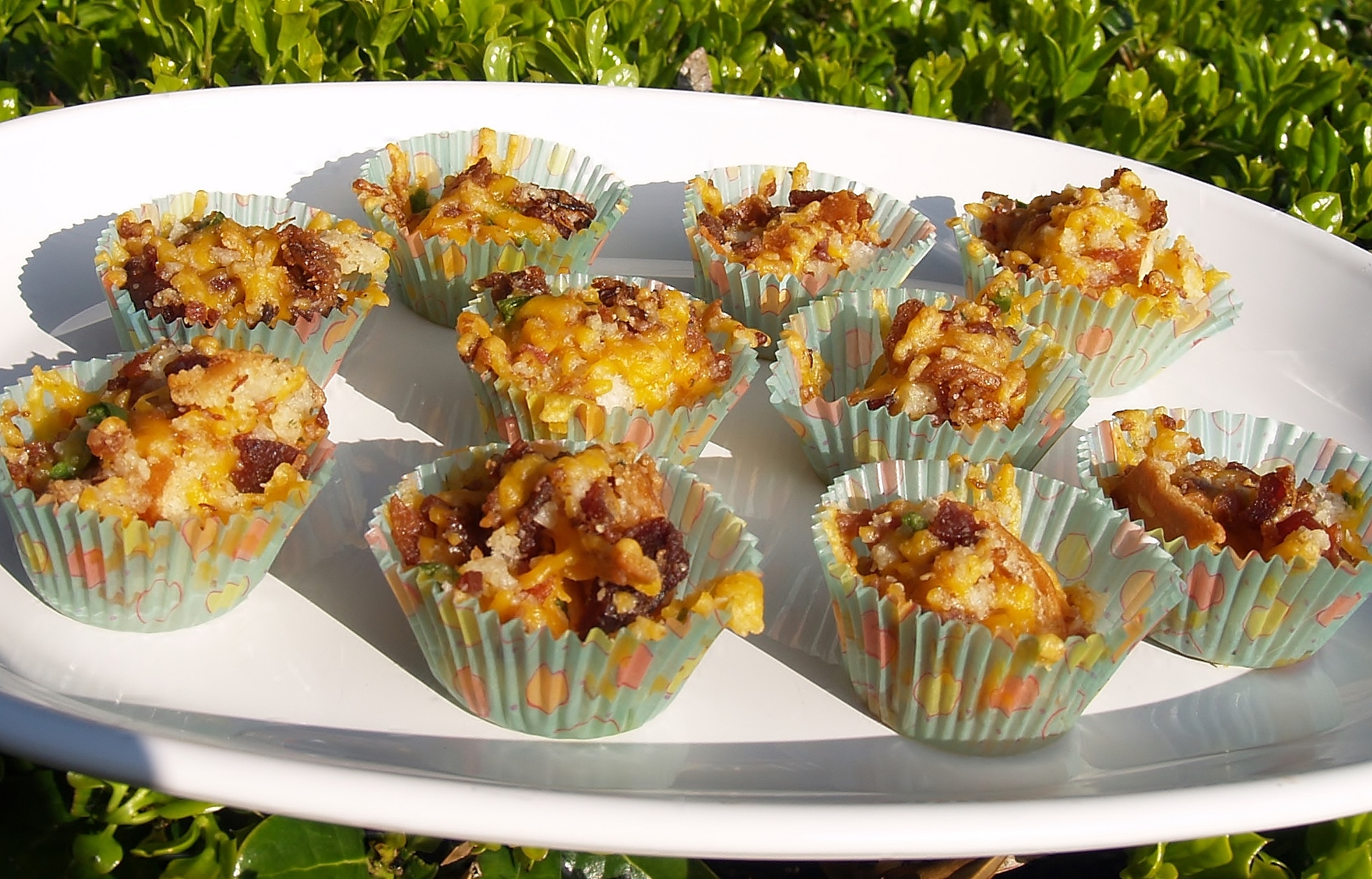 I decided to make a version of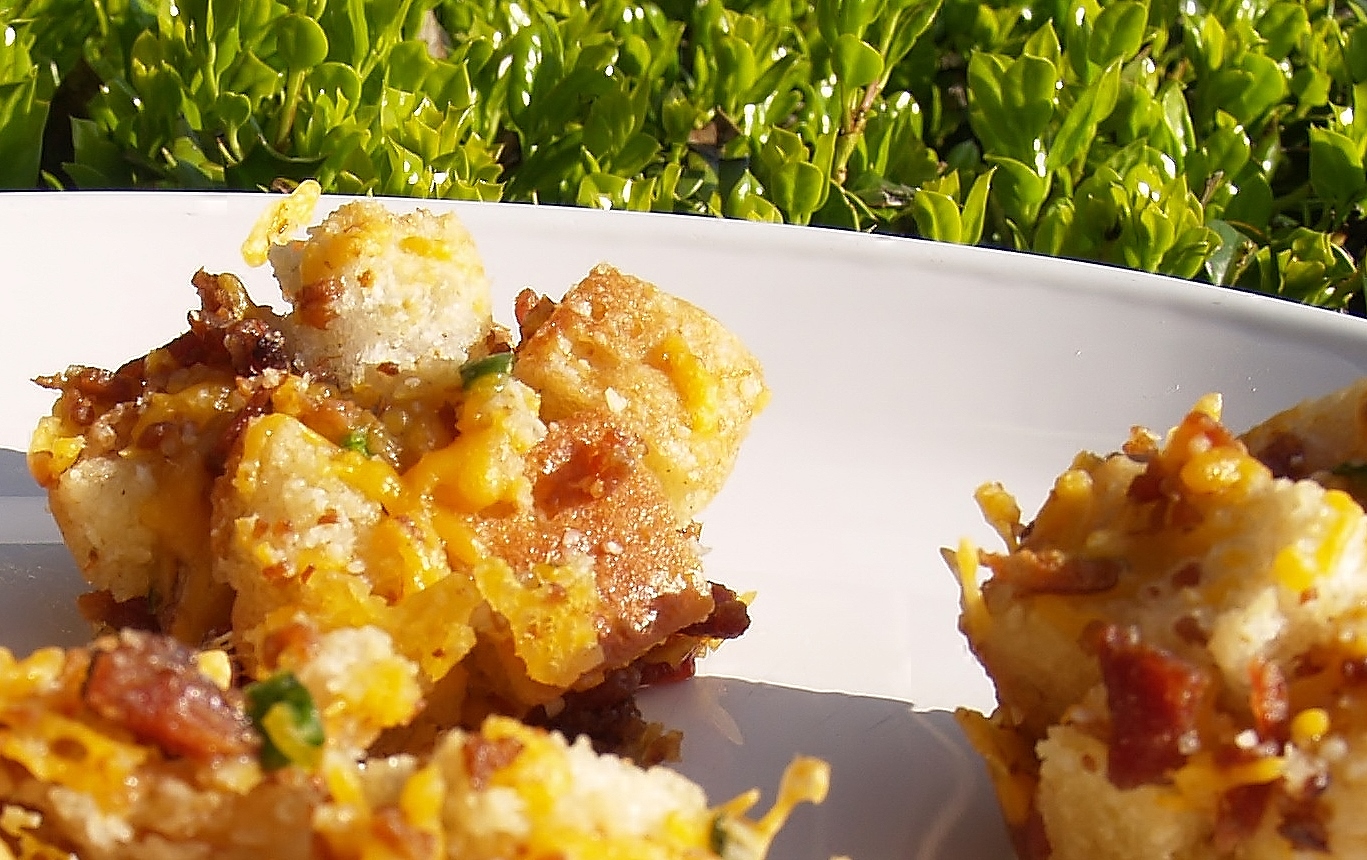 The Country Cook's Cheesy Bacon Ranch Bread. YEAH! Now that's a recipe I can love. Since everyone, including Rocket, loves that stuff, I can make everyone their very own. Top Girl won't get huffy if other people are touching her food, Rocket can have his very own "piece of bread" that he can pick at and slobber on for hours, and I can exercise portion control! I'm telling you, once you start eating this stuff, you cannot stop! The other plus is that if I make the bread chunks smaller and use a mini-muffin pan, these would be great individual appetizers too. Lucky for me this is easy as pie to make.
Ingredients:
3 Cups cubed French bread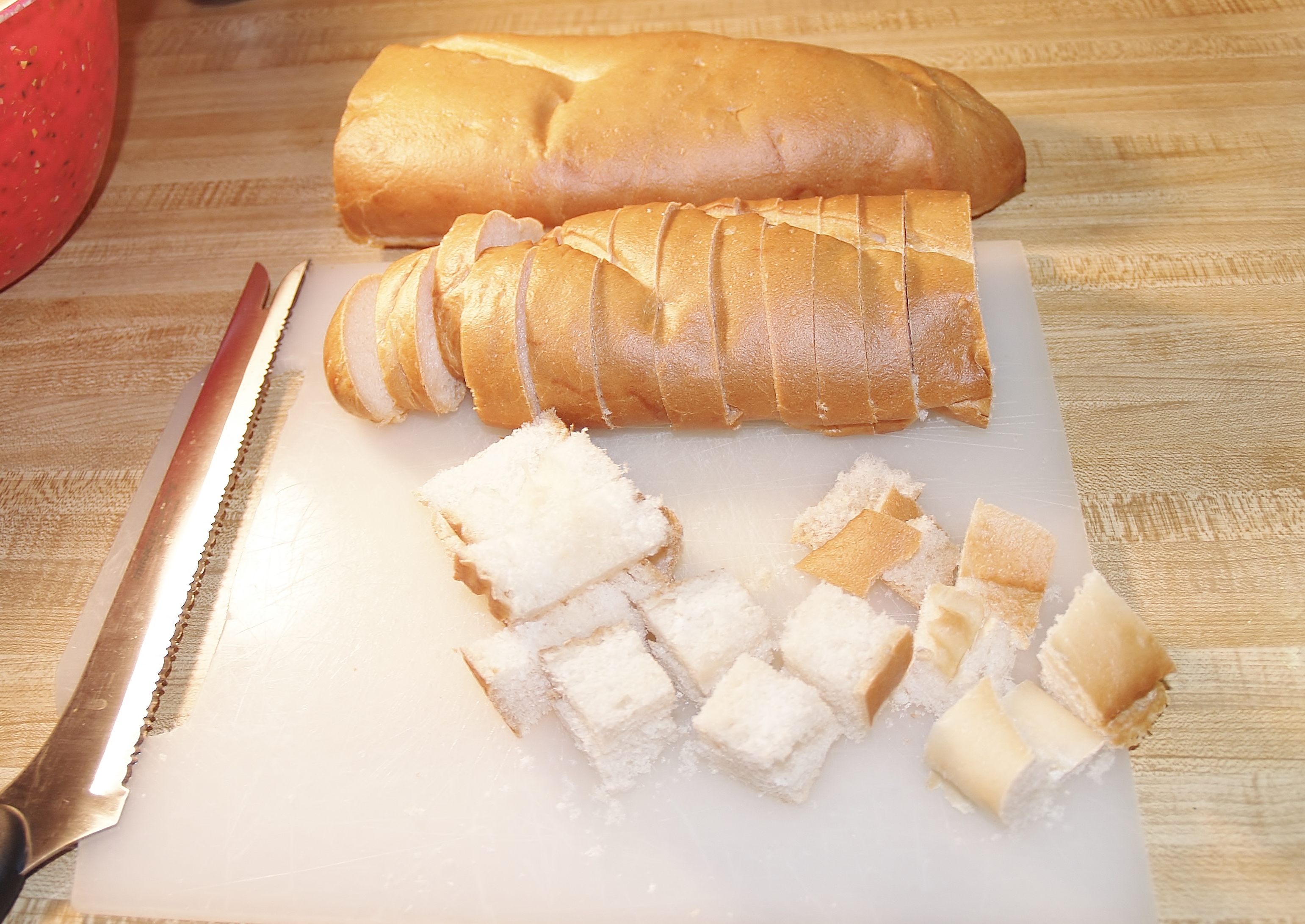 2 cups shredded cheese (whatever kind your want)
1 cup Butter
2 Tablespoons dry Ranch dressing powder
½ Cup Parmesan cheese
1 Cup cooked and chopped bacon
1 finely diced, seeded and deveined jalapeno pepper (Optional)
Muffin/Cupcake liners
Muffin/Cupcake pans
Directions:
Pre-heat oven to 350 F
Put liners in pans
Mix up the melted butter and ranch dressing, then pour over bread cubes and mix very well.
In a separate bowl, mix up the bacon, diced jalapeno and Parmesan cheese.
Mix it all together.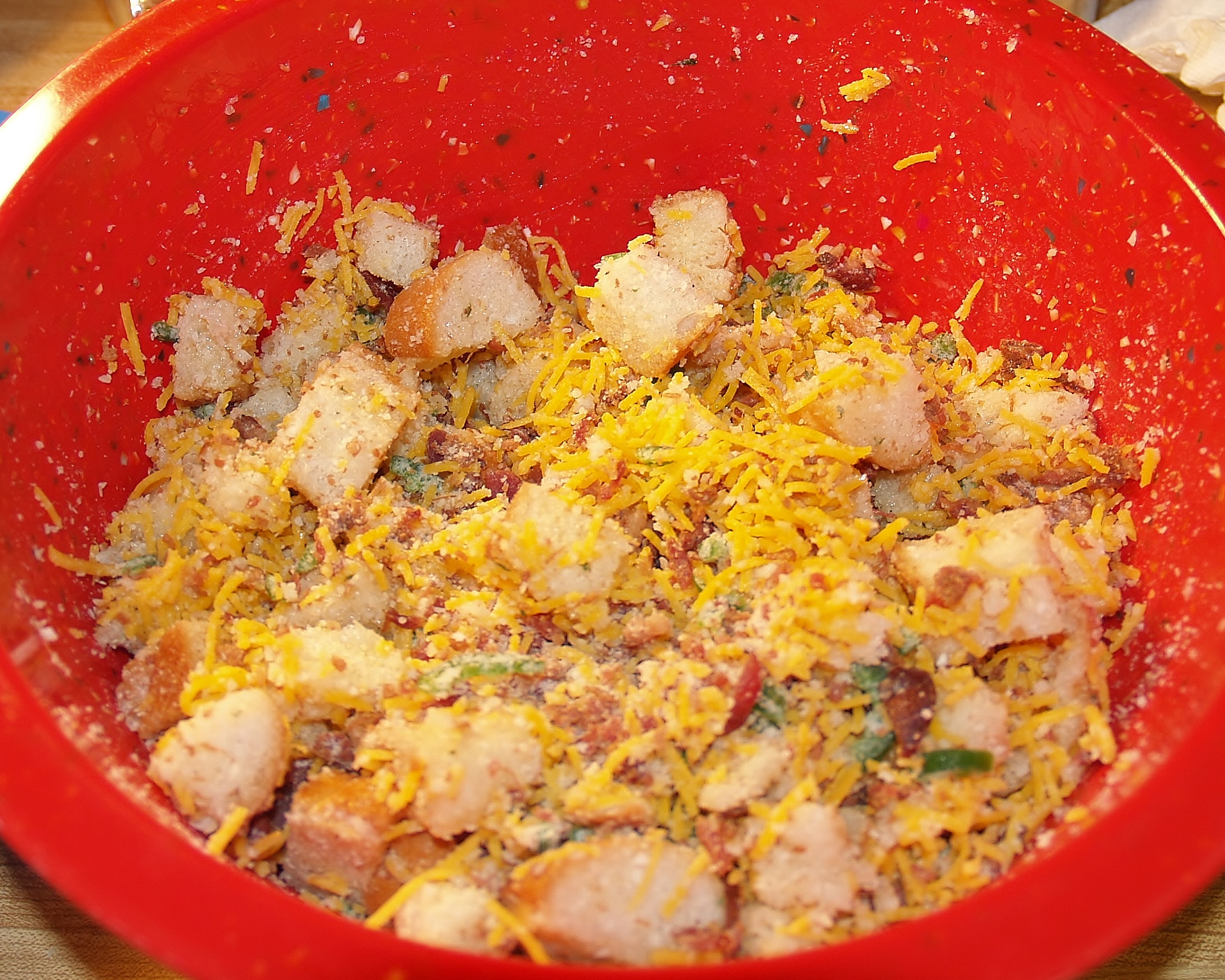 You can fill mini muffin tins with liners, add one cube of bread and the toppings for appetizers: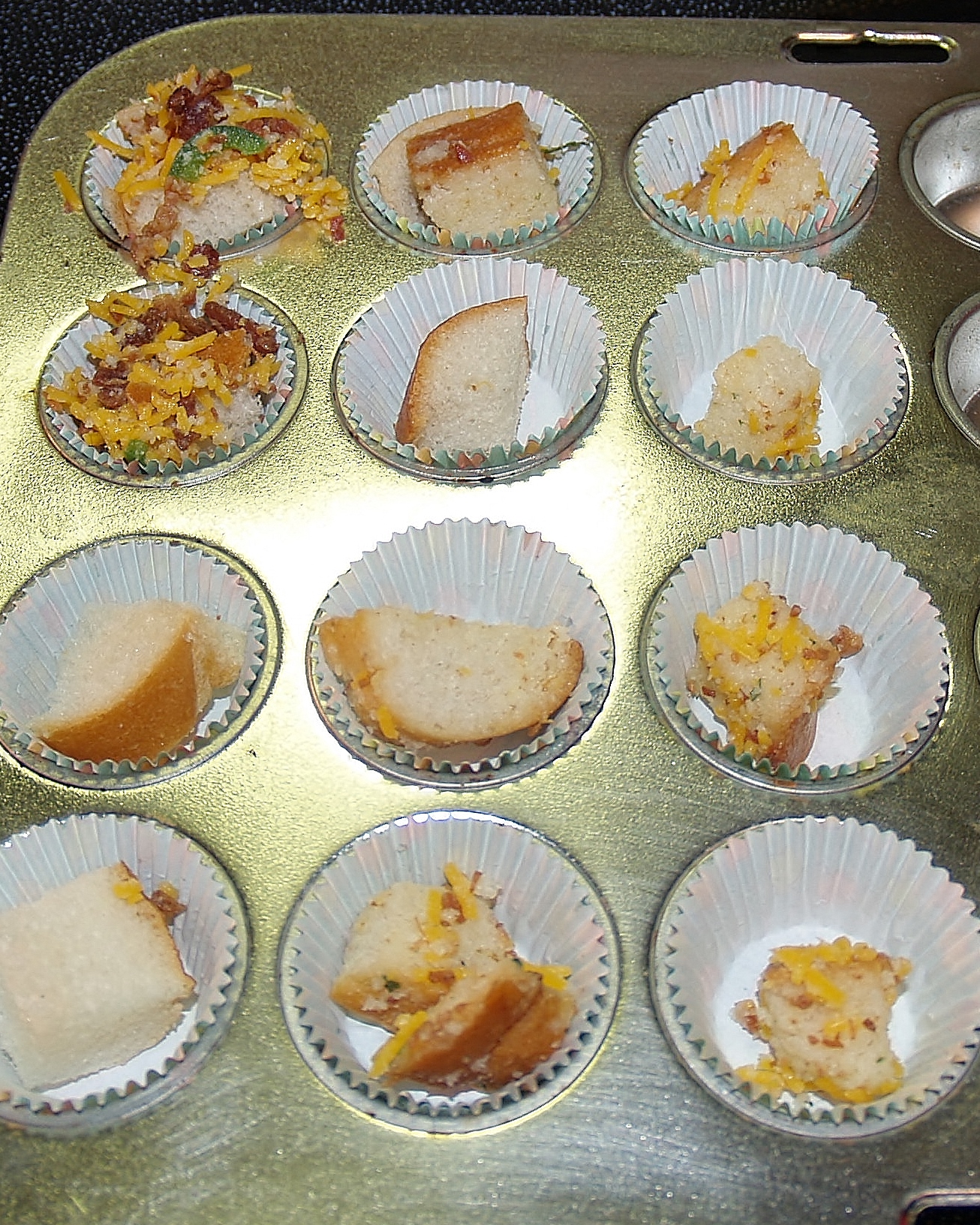 using your hands or a scoop fill the liners (or just spray muffin pans with non-stick spray and put them right in)
Bake for about 15 minutes and you are done!
Look at all that ooey gooey yumminess – it's finger-lickin'-good! They are crispier than if you heat up the bread intact but I like it that way too and so does everyone else. And now for the winner of the brownie pan giveaway. The lucky winner has 24 hours – Monday 5:00 PM CDT – to send me an email on Facebook with address information or I will pick another winner.
****The Foodie Stuntman is the winner******
Congratulations!
Finally, the next giveaway: Real Le Creuset! Yep, it's the real thing, purchased with my very own money – no one gave it to me free or at a discount. It only came in red and decided after talking to some of my blogger friends that it was okay to risk it because after all, it IS Le Creuset!
Here is the link to the actual set . As you can see, I paid $85. I would show you the receipt but then my daughter would see her birthday present because it is listed right beside it! If you would like to win this prize, please post a comment below telling me if you have any Le Creuset and whether you do or don't what would you LOVE to have and in what color! I would love it if you told me what you think of the recipe as well. Good Luck! ***Oops! I forgot to tell you that the giveaway ends and will be drawn Sunday afternoon May 5 @ 3:00 PM CDT****