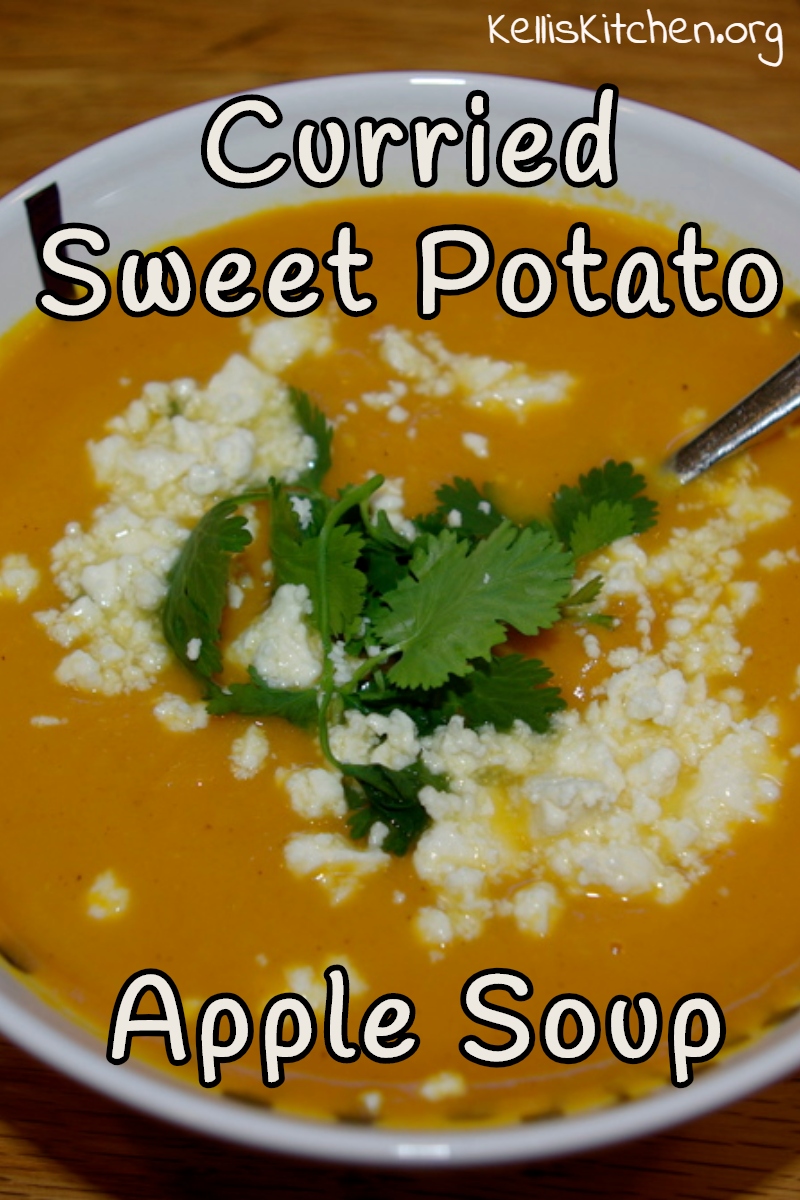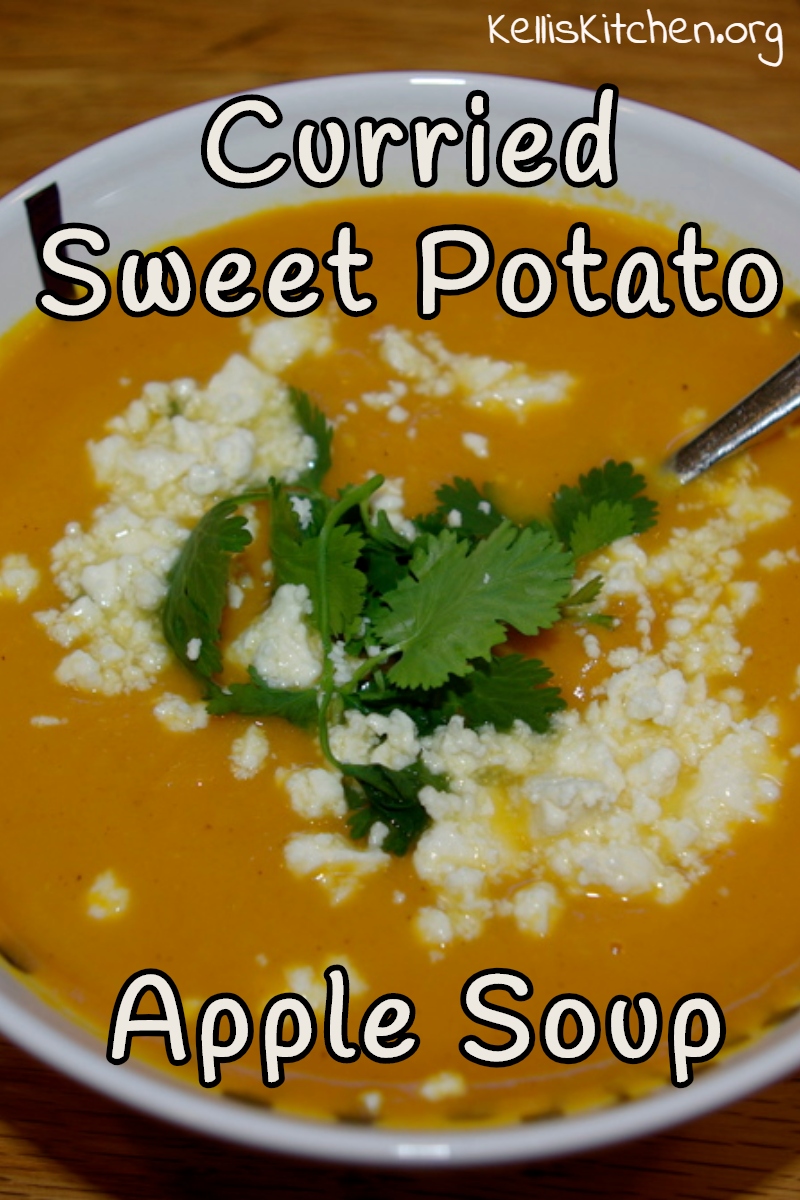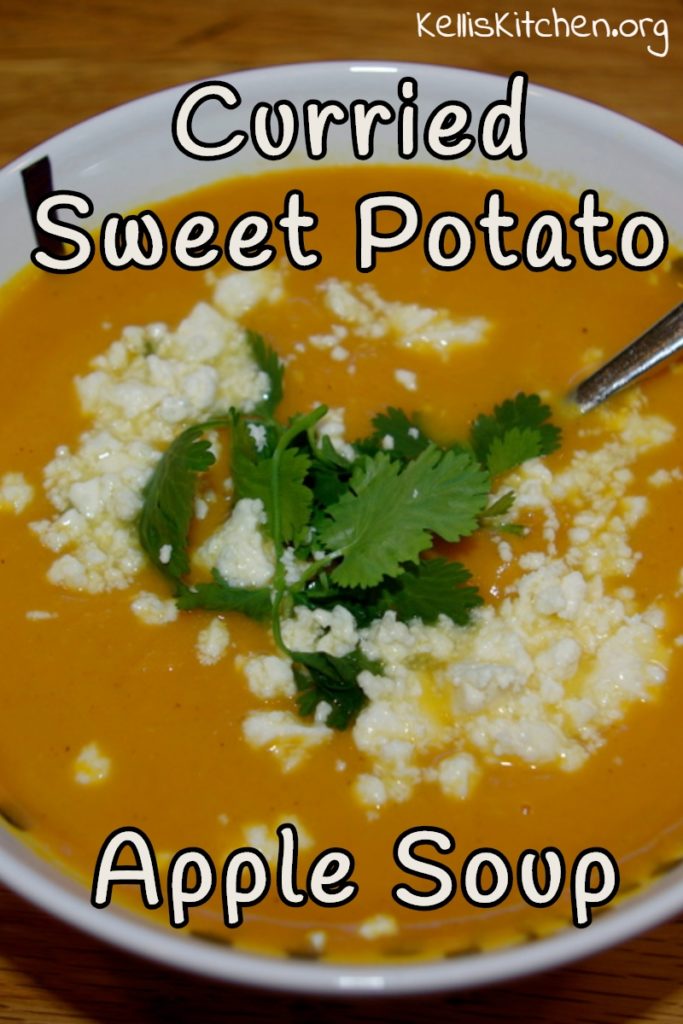 Dear friends:
I'm still slugging away at this diet! It's been 14 days today and I have lost a great amount of weight but I will be glad when tomorrow comes and I can add some more calories into my meals! I've been reading all your blogs and I've got a list of tasty things to try! I also have a post or two to write. Meanwhile, Noelle @
http://noelleodesigns.com/
very kindly agreed to guest post for me while I cannot bear to be around food without trying to climb into it! 🙂 That has honestly subsided at this point but I was able to stay on the straight and narrow for 14 days, just like the physician ordered. Noelle is a true renaissance woman, sincerely! She is a blogger, a mom, and an incredibly talented artist. Please go over to her site and look around – I KNOW you will find something wonderful that you love and will want to follow her, too.
This recipe looks so warm and comforting right now. It was cold, rainy, and drizzling all day Friday. As soon as I finish writing this post, I am off to the store to buy the potatoes, both sweet and white, that I will need to make this…….Mmmmmmmmmmm………….I can taste it now, can't you? Read on and I'll see you all on Sunday!
Love to all, Kalamity Kelli
Curried Sweet Potato-Apple Soup
With a bagful of sweet potatoes on hand, and soup in season, I did some searching around for a delicious way to prepare them. I'm not the biggest fan of the sweet potato- but I've been working hard over the years and I'm slowly learning to like them. A bite full every holiday season has turned into a small spoonful (and growing) on the plate over the years. Still, I wanted to find a recipe that would make me love the crazy little tubers- I think I found
the
one…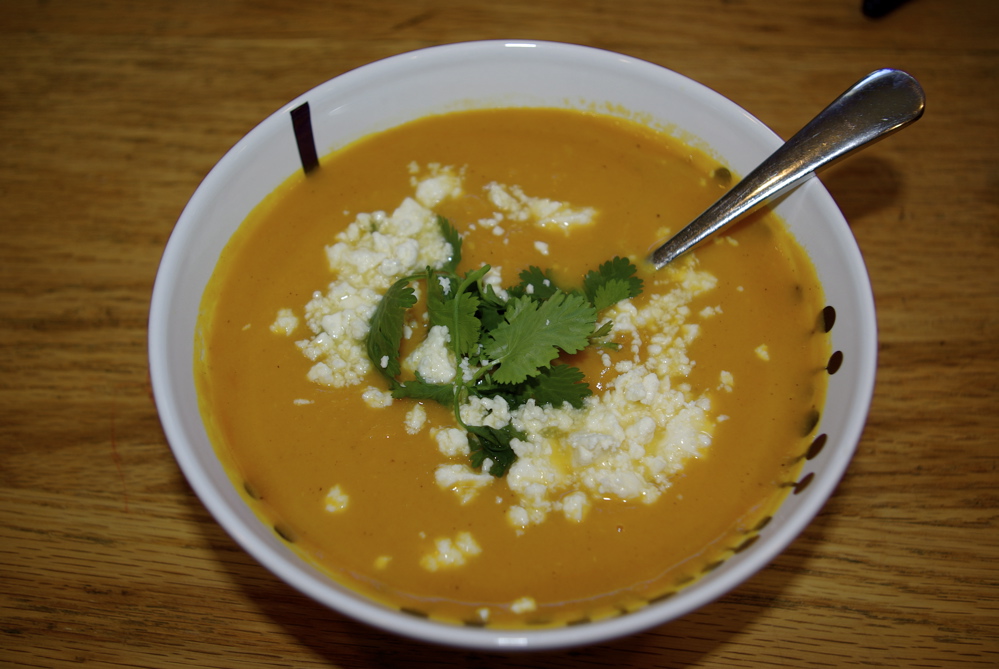 This is my personal variation of a Food Network recipe I found. There are many variations of sweet potato soup out there with parsnips, (which I like even less than sweet potatoes, especially the smell of them cooking) potatoes and whatnot. I finally settled on this recipe because of the curry and apples. It sounded good and ended up tasting even better.
Curried Sweet Potato-Apple Soup
Ingredients:
3 medium sweet potatoes
3 tablespoons unsalted butter
1 small onion, chopped
2 cloves garlic, smashed
1/2-inch piece ginger, peeled and grated
1/4 teaspoon freshly grated nutmeg, plus more for garnish
1 1/2 teaspoons curry powder
Kosher salt and freshly ground pepper
2 cups chicken broth
1 1/4 cups chunky applesauce
1 granny smith apple, peeled and diced
1 tablespoon extra virgin olive oil
1 tablespoon apple cider vinegar
1/4 cup feta cheese
1 to 2 tablespoons chopped fresh cilantro
Directions:
Melt 2 tablespoons butter in a large pot over medium heat. Add the onion and garlic and cook until soft, about 5 minutes. Stir in the ginger, nutmeg, 1 1/4 teaspoons curry powder, and salt and pepper to taste and cook until toasted, 1 more minute.
Add the diced sweet potatoes and apples, chicken broth and 2 cups of water to the pot, cover and bring to a boil over medium- high heat. Reduce the heat to medium low and stir in the applesauce. Simmer, covered, until the sweet potatoes and apples are soft, about 20 minutes. Puree the soup in a blender until smooth.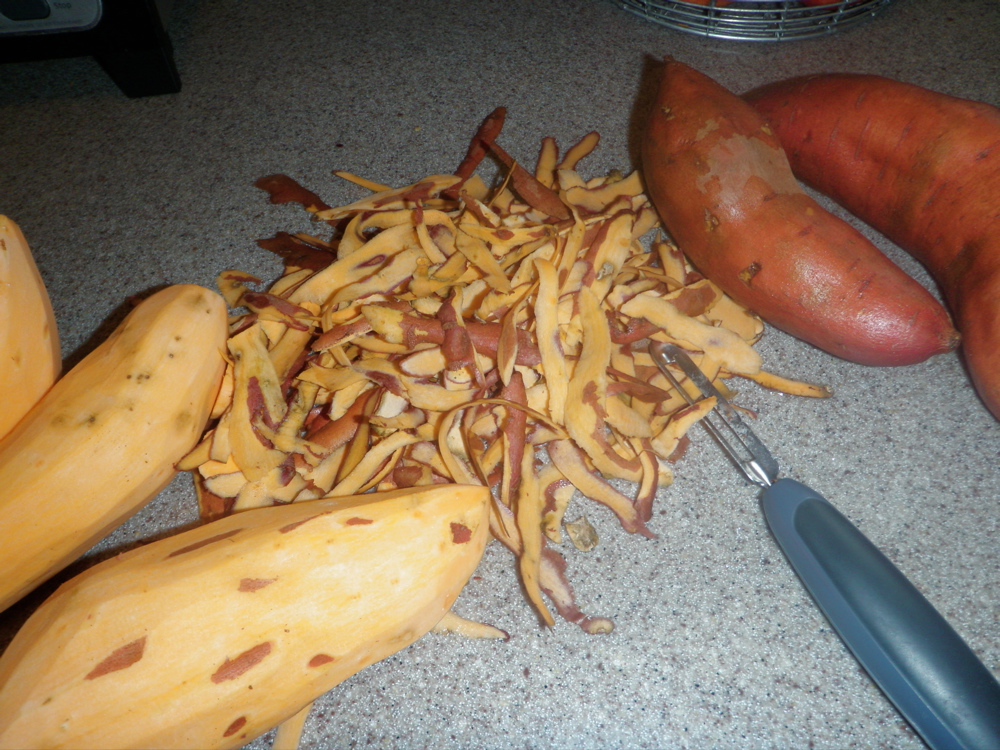 Peeling the sweet potatoes.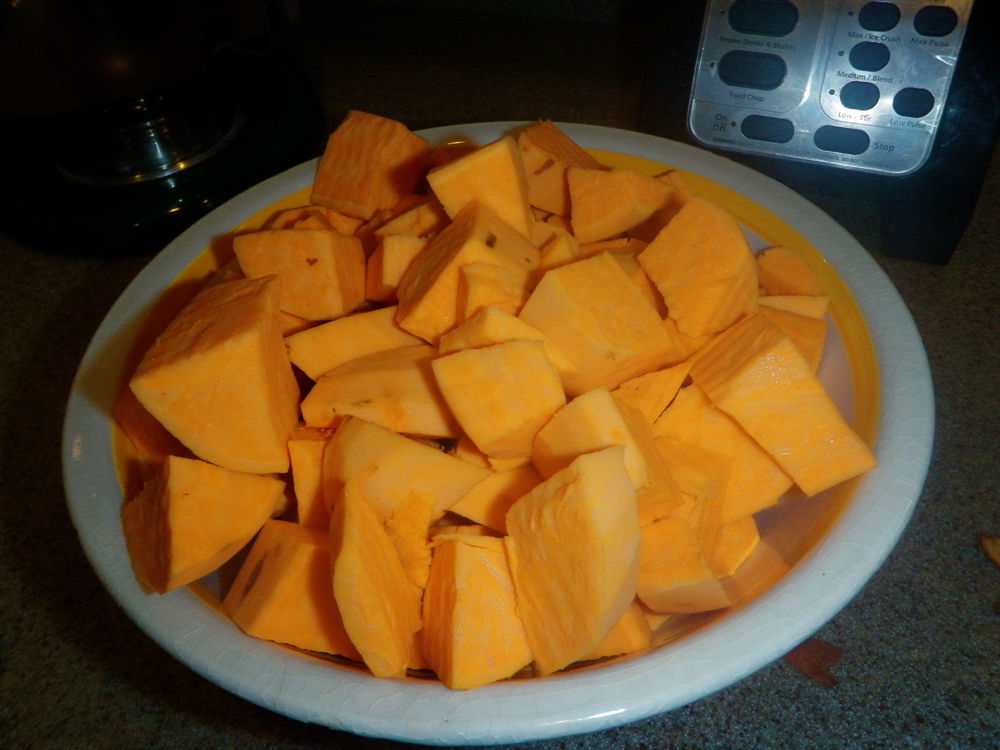 Sweet potatoes, chopped into chunky squares.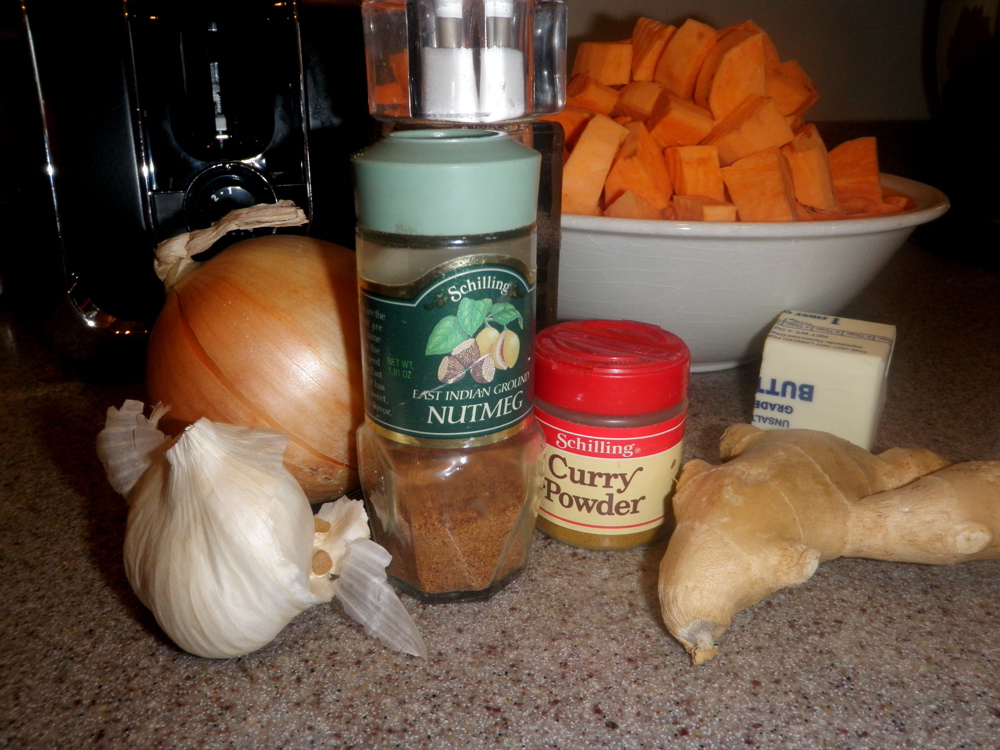 Garlic, onion, ginger root, nutmeg, curry, unsalted butter and sweet potatoes all ready to go.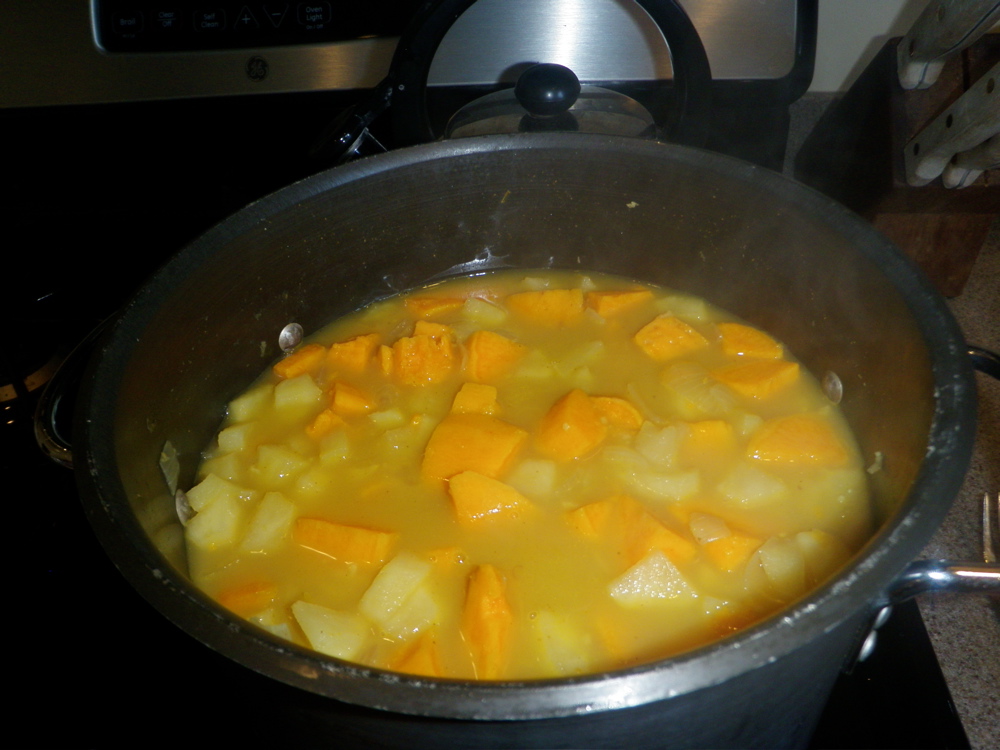 Apples and sweet potatoes, all cooked (with all the other ingredients) and ready for blending.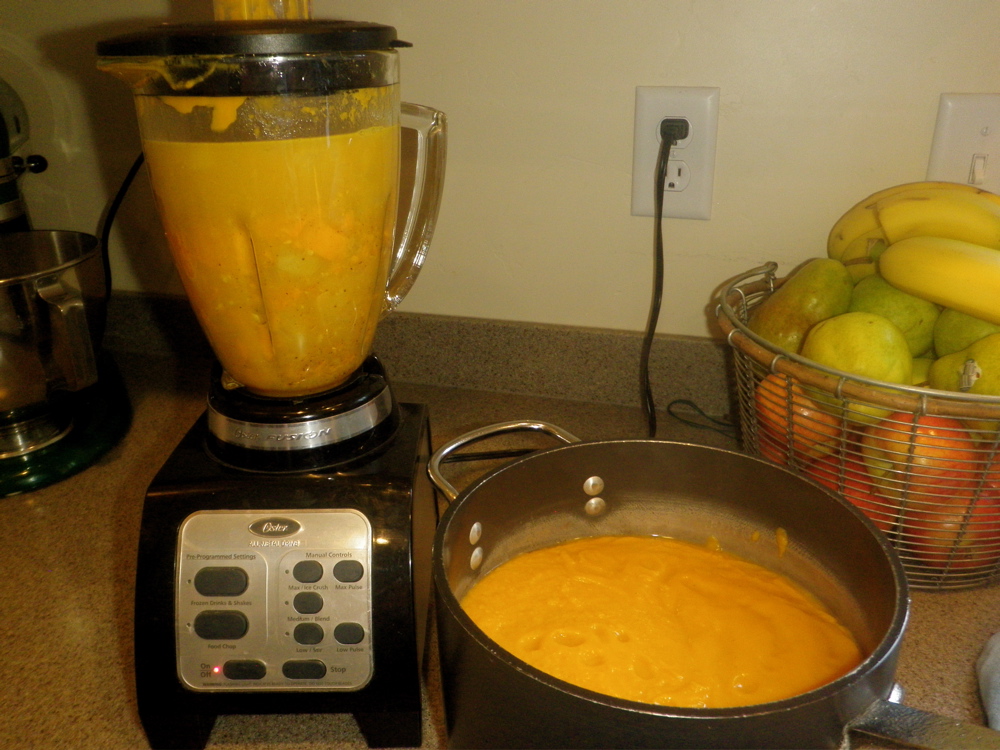 Always a bit of a messy job, but well worth the results. I love a creamy, delicious soup.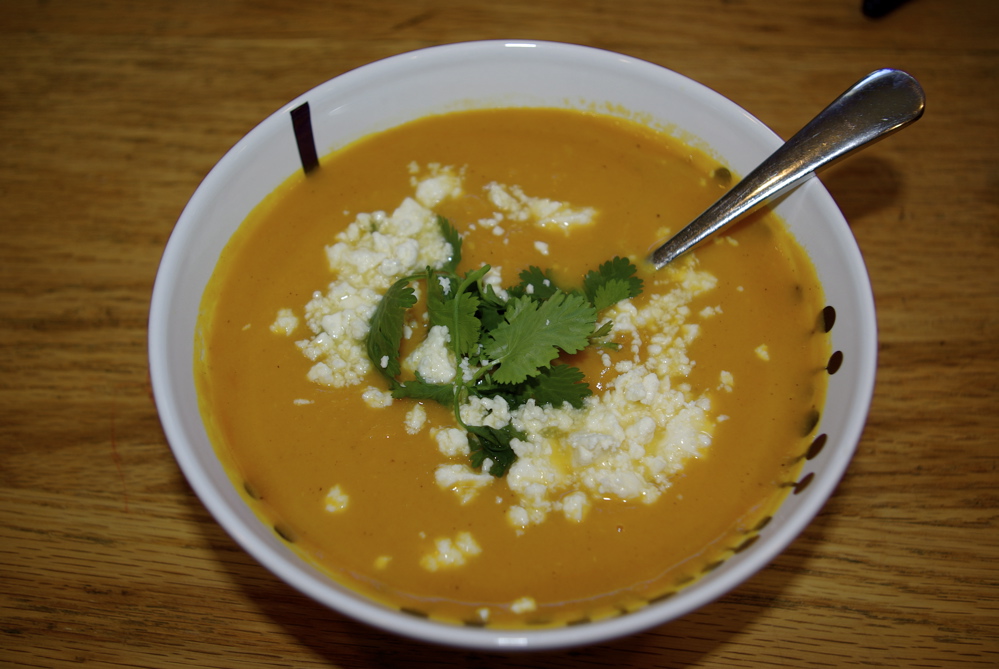 On a whim, I threw in some feta cheese with the cilantro to garnish the soup. It ended up being one of my favorite flavors as it melted into the tasty soup. The apples and applesauce added a bit of sweet but the curry really gives it the delicious flavor. It tasted very similar to a butternut squash soup- which I think is a great thing. I will definitely be making this soup again and very soon too.