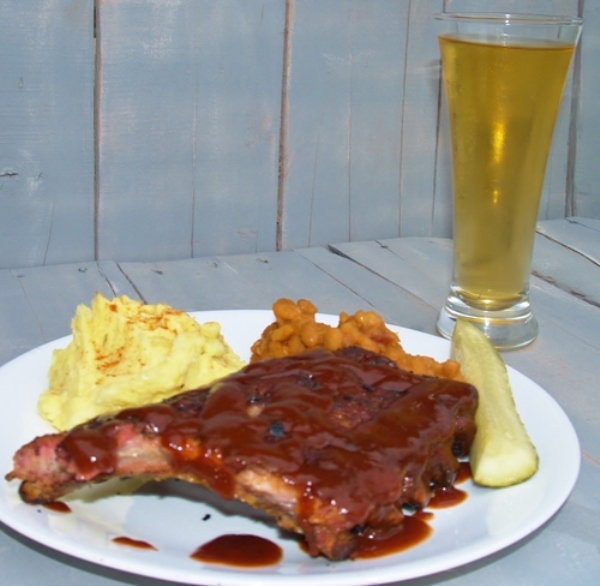 This shop is part of a social shopper marketing insight campaign with Weave Made Media® and Farmland/Smithfield, but all my opinions are my own. #weavemade #ReadySetRibs http://my-disclosur.es/RgFrEH
MemorialDay is the official start of summer in the United States however, as a child I remember it being called Decoration Day. We always went up to our farm, 100 miles away, where my dad's parents were buried so we could place flowers on their graves. The part I remember most about that was fashioning roses into large arrangements with twine then laying them on the grave and standing there – for what seemed like forever – in silence. It was usually hot and the smell of roses, lilacs, and jasmine would rise up, engulfing me in a swirl of told-to-me memories and pictures come to life of my grandfather dressed like a Bandolero sitting on a horse in front of his pharmacy in Nuevo Mexico while my grandmother, a Danish Mail Order Bride, stood by in a Victorian dress with flowing blonde hair and piercing blue eyes. I also remember the year these grandparents were married was the same year that my Nana was born!
Then, we would make the drive down to my Nana and Jim-Pa's by noon to take them to the cemetery in their own hometown another 75 miles away. That cemetery had loads of people placing homemade flower arrangements while visiting, greeting old friends, and shedding a few tears about those who had gone on the past year. Nana always prepared a big paper sack full of picnic food along with a big red and white checked blanket that we spread out under the tree near the graves of my great-grandparents' three generations back along with relatives who died in several wars and a few babies. We had fried chicken and ribs, potato salad, baked beans, bread, and a big plateful of whatever had been ripe that morning in the garden………..always strawberries for dessert!
I know it may sound strange to those who have never experienced Decoration Day in the South but it was as normal to me as brushing my teeth. A cemetery is where much of your history lies and one of the most peaceful places left in the world. This morning while you are reading this, Mr. Picky Eater and I will be putting flowers on his mother's, grandparent's and great-grandparent's graves so we can be back in time to grill ribs in the afternoon. That all takes a bit of planning but I get it done each year by shopping the day before and then rising before everyone else to marinade the ribs. I have a new marinade this year and I cannot wait to share it with you!
Yesterday I ran over to Walmart to grab some baby back ribs. I was so happy to learn that Farmland Foods has ribs – we have eaten their bacon and ham for several years. It is good quality meat and I was not disappointed with the ribs! I bought these three packages.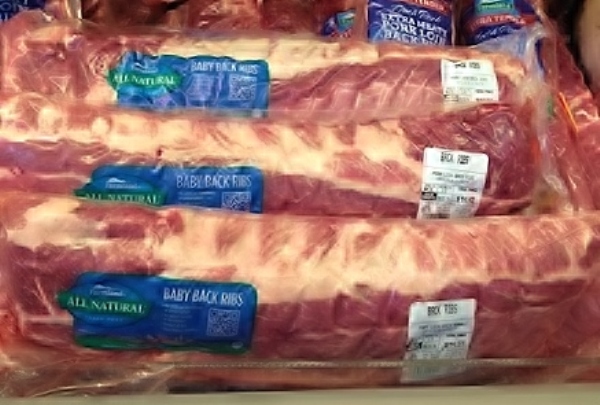 After I got the ribs home, I went over to ReadySetRibs to see what the two Pit masters had to say about preparing Farmland ribs. Their names are Tuffy and Moe (Don't you just love those names?) Tuffy Stone is the Pit Master for Baby Back Ribs and Moe Cason is the Subject Matter Expert on St. Louis Ribs. I took Tuffy's advice several times (listed in this post) and found several really great recipes on the site. Go on over and check it out, you will love it!
I even got a $1 off coupon at Coupons.com for each package that I bought and you can get them too! Just click on Coupons.com above and it will take you right to it although you DO have to click on "more coupons" twice to get down to it – it's there! (**while supplies last)
So I rinsed off the ribs as soon as I opened each package, then I laid them on wax paper and pulled off the "silver skin". I always have horrible trouble pulling that stuff off and I never do it very well but amazingly – with these ribs – I grabbed that skin on the small end and was able to pull it up in one piece easily………..THREE TIMES. I will buy those ribs every single time just for that reason alone (although there are many more).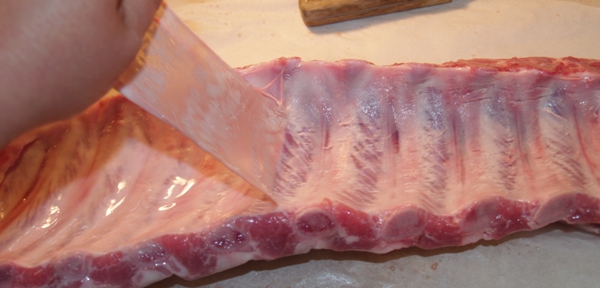 When you pull this skin off, it makes the ribs so much tenderer!
Then I salt and peppers each side placing them in a long Pyrex dish and while I put dry rub on two of the racks, one of them got my newly made up mango pineapple marinade.
Ingredients:
1 fresh pineapple peeled and quartered
2 fresh mangoes peeled pitted and cut into chunks
1 Tablespoon olive oil
2 teaspoons freshly grated ginger
¼ Cup brown sugar
3 cloves garlic, chopped
1 teaspoon sea salt
1 large jalapeno seeded and chopped
Directions:
Put all ingredients in blender and puree.
Pour ½ of the marinade over the ribs like this: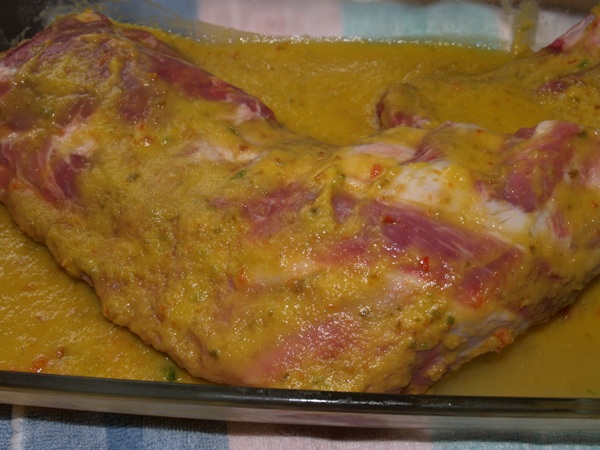 To the other marinade add:
1 Tablespoon yellow mustard
1 Tablespoon Soy Sauce
Then, place in a small saucepan and cook on low heat until reduced by ½. It will turn dark brown. Set in the fridge until just before the ribs are done and then heat up again.
Let the ribs marinade in the fridge for at least 2 hours – 10 hours would be great! Take them out of the fridge and allow coming to room temp for about 30 minutes. Before you put the ribs with the mango pineapple marinade, wipe off some of it because the marinade has high sugar content and could easily burn.
We cooked our ribs on our son-in-law's propane grill. We set the grill on 300 F putting the ribs in indirect heat for about 1 ½ hours, bone-side down first. We used these wood chips, soaked in water to "smoke" the ribs.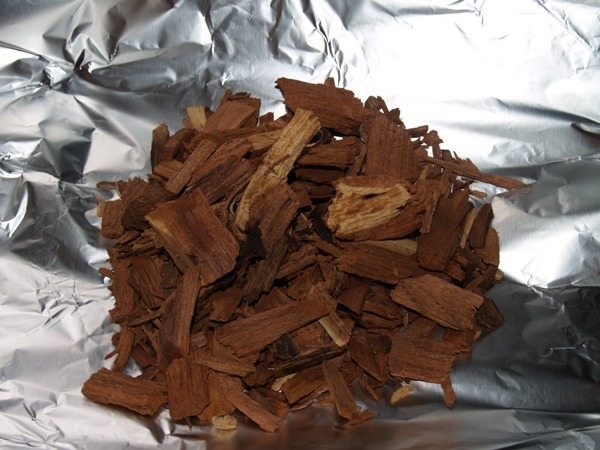 If you cook them in the oven, pre-heat the oven to 325F and bake covered with foil for 2 hours then 30 minutes uncovered.
Either way, allow them to rest about 20 minutes loosely covered with foil and then pour on the BBQ sauce. Notice how the yellow marinade turns dark brown when it cooks? It mellows the flavors into a subtle sweet spiciness you could eat with a spoon!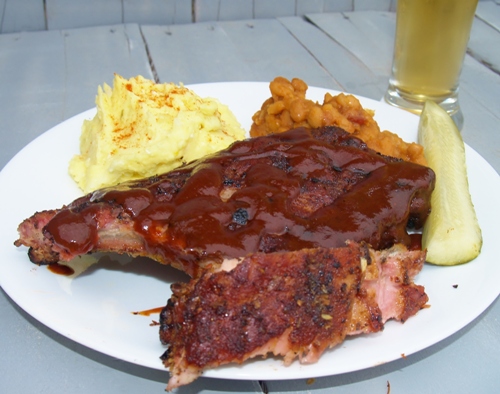 Just look at those ribs! YUM! I have served them with Aunt Irene's Old-Fashioned Potato Salad and my own Baked Beans recipe. I hope you enjoy your Memorial Day if you are an American and if not – enjoy your Monday! Do YOU grill ribs during the summer?
I'm partying today at Weekend Potluck!