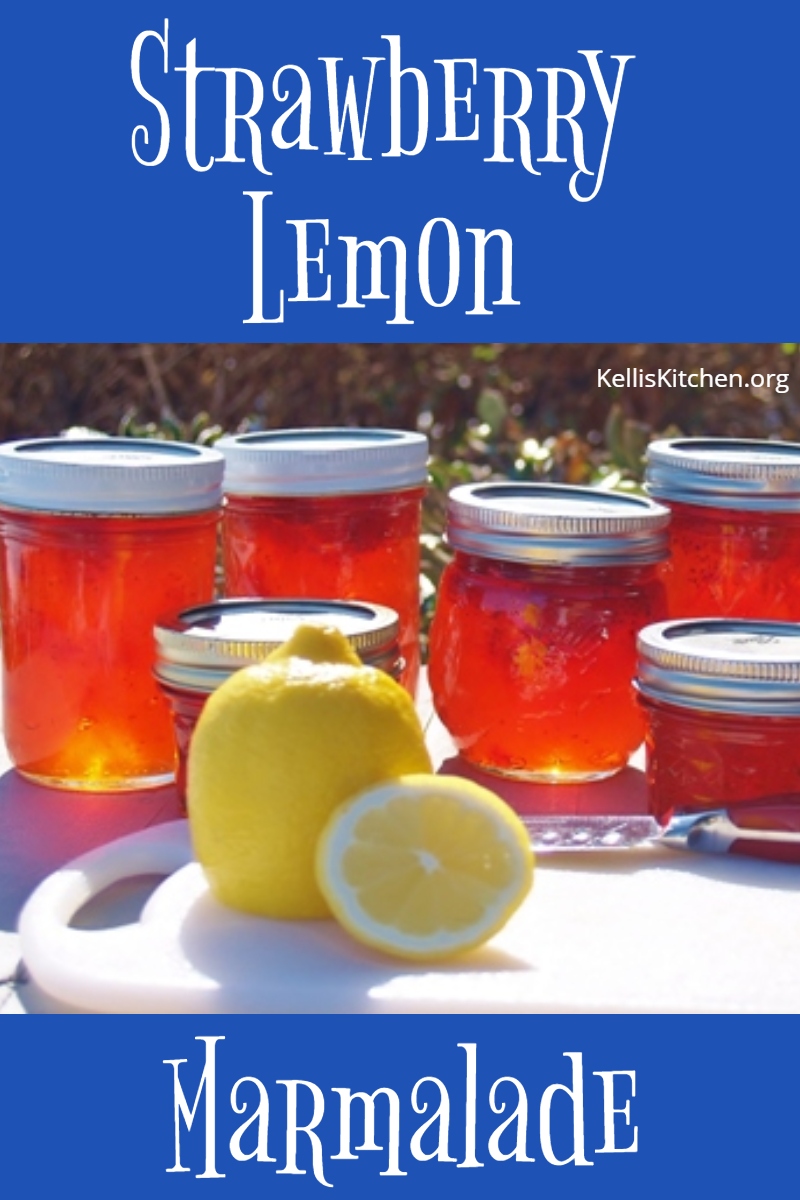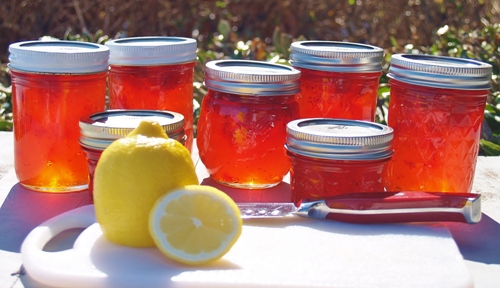 Strawberry Lemon Marmalade is one of my favorite spreads. It is not too tart and not too sweet. It qualifies as marmalade is the zest that is in it. Let me warn you now, it is labor intensive but oh so worth it! I would say it tastes a bit like Sweet Tart candy. I'm so happy to have this for another year. Mr. Picky Eater helped me make it and was floored by the "little" amount it made! 🙂
Strawberry Lemon Marmalade
Ingredients:
4 medium Meyer lemons
3 Cups mashed or slices strawberries
5 1/2 Cups sugar
1 box pectin (omit if using the no pectin method)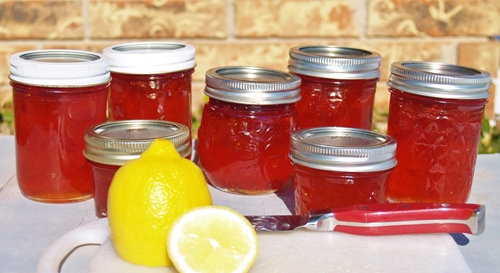 Directions:
1. Zest 2 lemons being careful not to let any pith (white stuff) get in.
2. Peel all 4 lemons then cut and peel membrane off segments putting pulp into pot.
3. Fish out any seeds.
4. Add 3 cups mashed or sliced strawberries.
5. Add 1 box pectin and 1 pat butter or margarine (if using no pectin method omit). *
6. While stirring continually, bring to a hard boil and keep there for 30 seconds.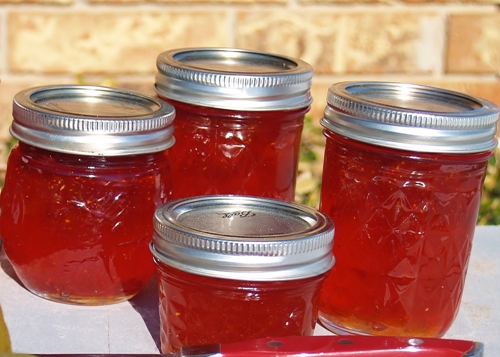 7. Add sugar.
8. Continue stirring, getting out lumps, and bring to a hard boil again, allowing to boil for 1 full minute. If it begins to splatter, put an oven mitt on, but continue to stir. Don't skimp on the minute.
9. Remove from heat and ladle into approximately ten (10) ½ pint jars.
10. Please flats and screw tops on finger tight.
11. Lift into boiling water bath and process 10 minutes.
12. Remove to a draft-free area to cool for 24 hours.
*if using the no pectin method, using a candy thermometer, stir and cook marmalade until it reaches a temp of 220 degree Fahrenheit or 104 degrees Celsius and allow to stay at that temp for 1 full minute.
***Note – It may take up to 2 weeks for marmalade to set so don't worry if it isn't perfect right away.
I hope you enjoy this recipe I do. I will do my best to put the recipe on Thursday, but my daughter just called and we think "it's time"!!! Our lives are about to change forever – and in a good way!