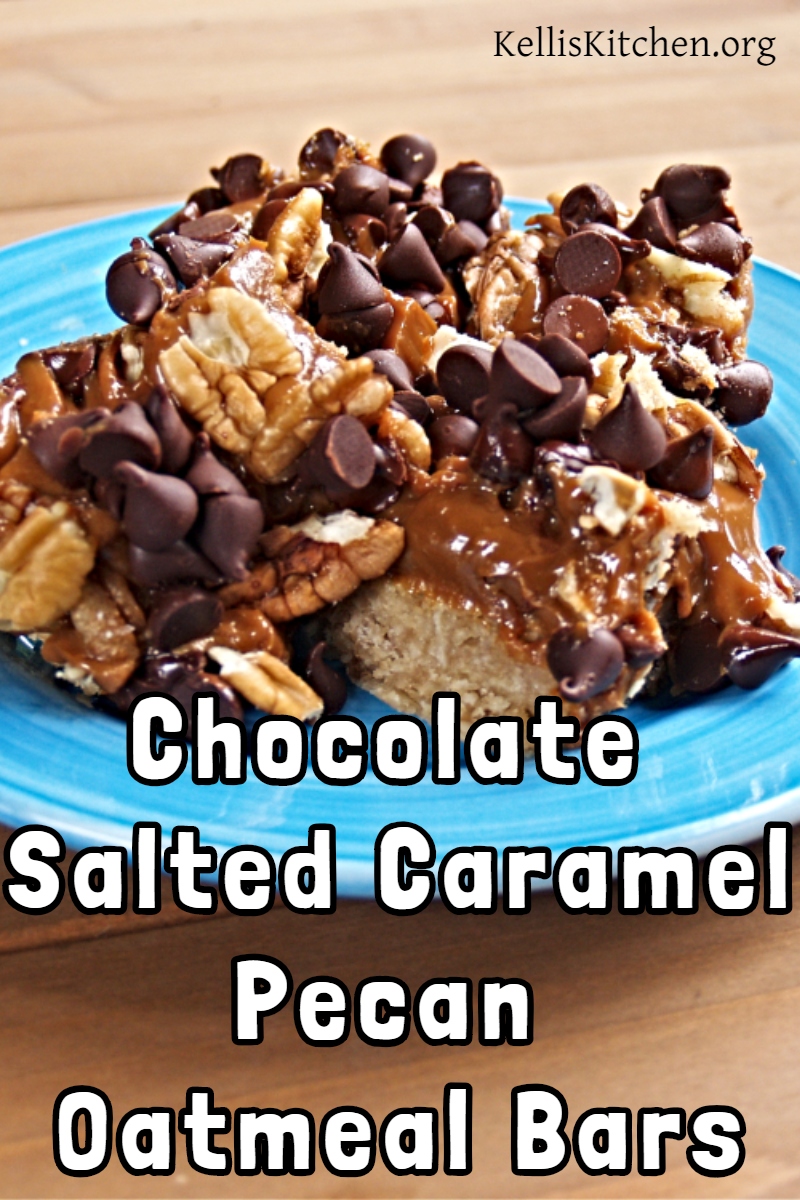 Good Sunday Morning! Can you guess why I have made these Ooey-Gooey decadent Chocolate Salted Caramel Pecan Oatmeal Bars along with other #Bakingbloggers this month? Here's Why: Today is the last day of summer vacation for my grandson and me. Usually I eat a simple Mornings Made Easy: Steel-Cut Oats. Tomorrow morning he begins school again and I am still his learning coach so busy days are ahead for us! Somewhere in between the Math, Science, Social Studies, Language Arts, Technology, Art, Tae Kwon Do and Cub Scout Meetings there will be hungry tummies and these bars – in very small pieces – will satisfy even the most hangry 1st grader!
I will admit, they are rather rich and sweet, but in small slices taste just like what Heaven must taste like!
Let's get on with the recipe — then, at the end check out all the other #Bakingbloggers who have put together some very tasty bars and brownie recipes. Check them out — they are outstanding!
Ingredients:
1 1/2 Cups All Purpose Flours
1 1/2 Cups Rolled Oats (or pulse old-fashioned oats 4 times)
1 Cup of packed Brown Sugar
1 teaspoon Baking Powder
1/4 teaspoon Salt
1 3/4 Sticks Butter (14 Tablespoons)
2 Can (13.5 ounces each) Dulce De Leche (Nestle' La Lechera is one brand)
1 Cup Chopped Pecans (or other nut that you like)
1 Tablespoon Kosher Salt
1 12 ounce bag of Chocolate Chips (I like using mini chips)
Directions:
Set the oven to 350F, choose a 9 x 9 pan spraying it with non stick spray and add foil or parchment to the bottom.
Mix up the flour, oats, sugar, salt and baking powder then cut in the butter until it is all crumbly.
Pat the "dough" into the bottom of the 9 x 9 pan.
Place in the oven and bake for about 35 minutes or until golden brown.
Make Sure it doesn't burn though — pull out and let cool for 15 minutes.
Open up the cans of Le Lachera. Using a spatula spoon all into microwave safe bowl.
Microwave for about 1 minute or until it is pourable. Mix with spatula and pour over the oatmeal base.
Spread evenly over top with an off set spatula then sprinkle the Kosher salt all over top of that.
Sprinkle the chopped pecans over top and finally the chocolate chips.
Put back into the oven for about 3-4 minutes, pull out and place some parchment paper on top of bars.
Press down lightly so the pecans and chips sink into the caramel.
Cover with foil or plastic wrap and place in fridge for about 4 hours then slice into small pieces.
Store in an air tight container.
These are a bit messy as you can see but we put our squares on a plate and put in the microwave for about 30 seconds and eat them warm…………they are delicious! Enjoy! Now check out the other #bakingbloggers below!