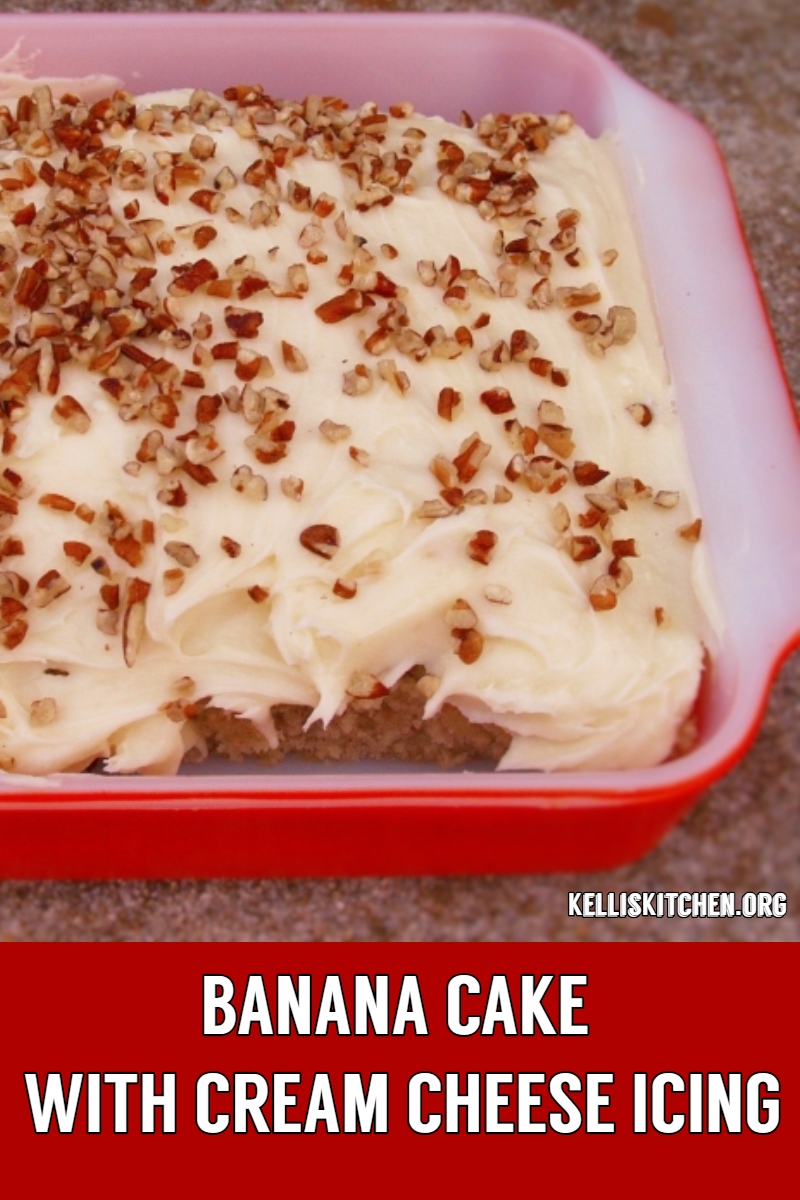 I am bringing you a fantastically scrumptious homemade banana cake with butter and cream cheese icing. At least I hope that's what you will read! The ragweed has finally gotten to me leaving my left eye swollen and red which means, no contacts only glasses — which I haven't had upgraded in far too many years so my vision is minimal. If our TV wasn't the size of my first car, I would not be able to see it either. I'm so happy to be bringing you this recipe – mostly because I made three this week so it looks like my epic summer fail-every-Recipe-I-make fiasco is over. Yay!
****this is NOT a sponsored post – no one paid me to tell you about OKFR magazine or its contents.
Another great place to get wonderful Southern Recipes is Fave Southern Recipes – lots of my recipes are linked over there. They send a great newsletter once a week or day or something and I always find something I like! ******
This recipe came to me yesterday about noon. My mother gets her hair "done" every Saturday, only changing from Friday when she could no longer driver herself last year. Prior to that – every Friday afternoon from 1956 (she told me) until 2015 – mother sat in the beautician's chair – getting it "done". Yesterday my daughter and I picked her up after leaving her about an hour and a half earlier – here was our conversation:
Mother: "Kelli, I have some bananas at the apartment for you".
Me: "Gee, thanks mother, I know Mr. Picky Eater and I will love them"!
Mother: "Ummmm….you know that magazine I read? Oklahoma Farm and Ranch? It's really my neighbor Don's but since we had a farm and livestock – I always enjoy reading it."
Me: "Nope, don't know that magazine."
Mother: "Well, I was reading it yesterday – there's a cute little girl in there named Lacey Newlin – and she had a tasty recipe for banana cake".
Me: "Hmmm…………..do you want me to make you a cake, mom?"
Mother: "YES! I was worried you wouldn't get the hint"
We dropped her off and I picked up the magazine, and I recommend you check out their website. It has wonderful farm and ranch stories and Lacey Newlin has a new recipe each month – this one just isn't posted yet, but I'm sure it will be soon.
I read the recipe three times and there was an ingredient missing. So, I posted on their FaceBook page and they answered within 5 minutes!! The process after taking out of the oven was also a little odd but I trudged on spending the afternoon making the cake with my grandson – it was easy and – me oh my – it tastes incredible although we eat it differently than shown above but my mother is going to love that cake in the photo! Find the original recipe online here: Banana Cake Recipe – and here's mine: Let's go………….
Banana Cake with Cream Cheese Icing
Ingredients:
1 ½ Cups ripe bananas, mashed – I ran mine through the food processor quick and they worked great!
2 teaspoons lemon juice
3 Cups Flour
1 ½ teaspoons of Salt
1 ½ teaspoons of Baking Soda
¾ Cup Unsalted Butter, Softened — just soft, not melted
2 1/8 Cups White Sugar
3 large eggs
1 teaspoon vanilla
1 ½ Cups Buttermilk – I used that powdered buttermilk mix you can get in the baking aisle and it worked great. You can also make buttermilk from plain milk and vinegar if you have that. I didn't have a drop of any kind of milk in the house so it was water and powdered buttermilk powdered.
Directions:
Preheat the oven to 275F
Grease and flour a 9 x 13 pan – I used a 10 x 14 metal pan and it worked great.
In a large bowl beat the butter and sugar until light and fluffy.
Add in one egg at a time mixing well between each and then mix in the vanilla.
In another bowl, mix together the flour, salt and baking soda then set aside.
Starting and ending with the flour mixture, alternately add the flour and buttermilk until it's all mixed in.
Pour the batter into the prepared pan then pop into the oven for at least 1 hour. Check to make sure a toothpick comes out clean and then you know it's done! Mine took exactly 1 hour.
Now comes the odd part: Take the cake out of the oven and stick it directly into the freezer for 45 minutes to an hour…………….no kidding. It's supposed to keep the cake moist. I did it for an hour and since we all loved the results – I would say it works! Meanwhile, start making the icing.
Ingredients:
½ (1 stick) of softened butter ——– I cannot express enough how much European Butter, such as, Kerry Butter, makes a huge difference!
8 oz. Cream, Cheese Softened
1 teaspoon Vanilla
3 ½ Cups Powdered Sugar
½ Cup chopped pecans (optional – my addition)
Directions:
Cream together the butter and cream cheese.
Beat in the vanilla.
Turn mixer to low and add the powdered sugar.
Mix on low until it is all mixed up and then beat on medium high until it is creamy.
Spread over top of completely cooled cake.
I sprinkled pecans over the top.
Here's what I did: I took the cake out of the freezer then cut it in half. Half for mom and half for us.
I put the icing on her cake and left ours plain – as below. Now picture a piece cut and a big ol' slather of peanut butter on top….. yum! You could also make a water/powdered sugar glaze.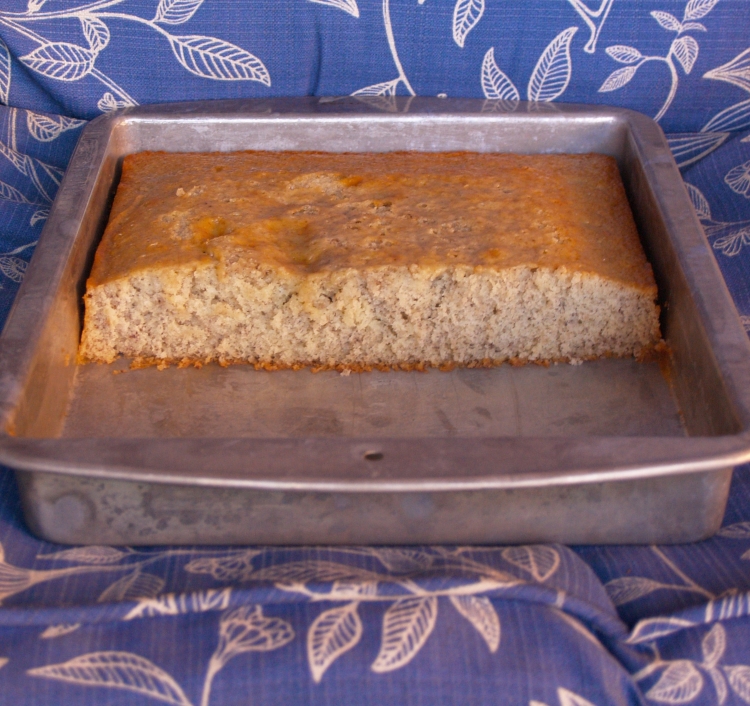 We either ate it plain or we (okay, I) spread peanut butter over the top and ate it that way. It was fantastic! I hope you make this and enjoy it as much as we did!