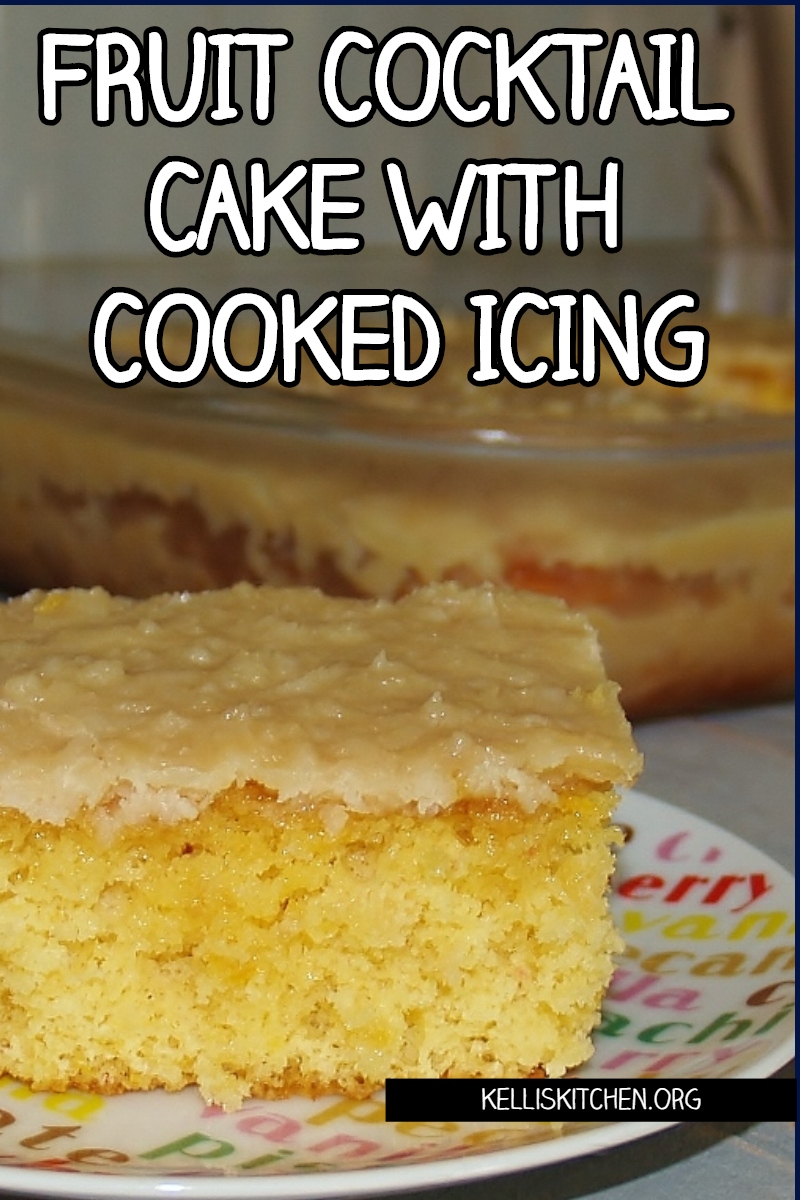 How is everyone doing? It is flooding here in Oklahoma again however the weatherman said the rain is done and the heat is on – meaning it's about to get as hot as one would expect in this state during this time of year, and that's really hot! I've been making jam and jelly like nobody's business lately; strawberry, apricot and plumcot to name a few. The other day mom called and asked for a cake for her game night at the senior apartments where she lives. Wouldn't you know it – she calls on a day when I have absolutely used every grain of sugar in the house.
I began looking for a recipes book – Chi Chi's recipe book – that I've had since the early 90's and in my search I found a plastic bag, just like you get your newspaper in when it's raining outside, that had a bunch of little pamphlets and recipe booklets from my Nana's house. I began looking at those and forgot all about the cake I needed to make until I came upon the Fruit Cocktail Cake cut out of the newspaper decades ago. Since it used a cake mix I knew it was just what I wanted being without sugar and all. I made the cake and took it over finding out later that evening that it was a huge hit among the game players who generally remembered making this kind of cake in the 60's. That's when I was glad I had taken photos because I knew I would share it with you. I had to make adjustments because cake mixes and cans of fruit cocktail were a lot bigger in the 60's than they are now.
Fruit Cocktail Cake with Cooked Icing
Ingredients:
1 —- 18 oz. Yellow Cake Mix
1 —–15 oz. Fruit Cocktail, with juice – processed through the blender or food processor quickly
2 1/3 Cups of shredded sweetened coconut, divided (if your family does not care for coconut, you may want to leave the coconut out of the cake and substitute 1 1/3 Cups chopped pecans in the icing)
3 Eggs
½ Cup Brown Sugar, packed firmly
½ Cup White Sugar
½ Cup evaporated milk
½ Cup butter
Directions:
Preheat the oven to 325F and grease a 9×13 square pan
Put dry cake mix, blended fruit cocktail with juice, 1 cup coconut and 3 eggs into mixing bowl and blend with hand mixer for about 2 minutes.
Spread cake batter into pan then sprinkle brown sugar over top of cake batter.
Bake for about 45 minutes or until a toothpick inserted into the middle comes out clean.
As soon as you take the cake out of the oven put butter, evaporated milk and white sugar into a small saucepan over medium high heat, heating until it boils and then allow to boil for a full 2 minutes.
Take pan off burner and stir in the rest of the coconut then spoon over the hot cake.
Once the cake cools, cover and place in the fridge.
It's moist and slices so easily you will love it and keep coming back for more! By the way, it's very sweet so you don't need a big piece. I think it would also look very pretty baked in a bundt pan with the cooked icing poured over top.
I am over at Weekend Potluck so please come on over and check out all the fun! Just click the link!