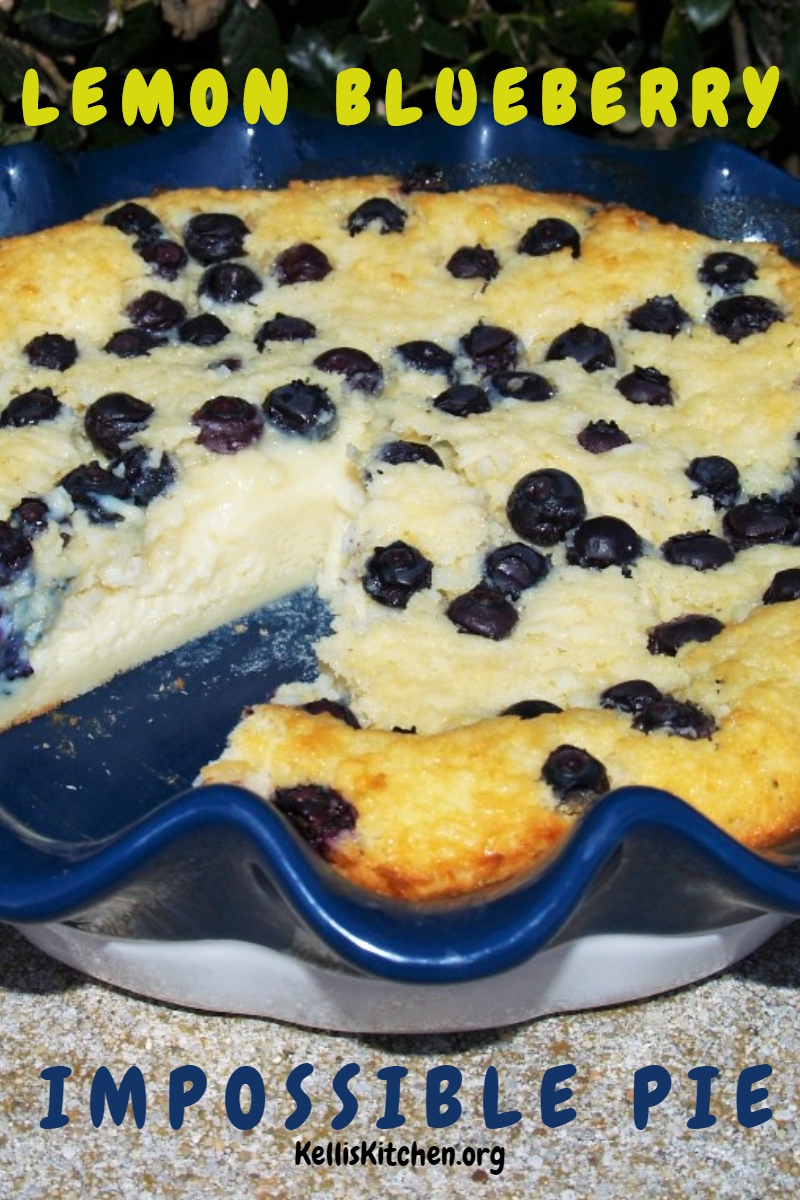 It has been a while hasn't it? Sorry, life got in the way but this Lemon Blueberry Impossible Pie will MORE than make up for it, I promise!
How many of you like a good pie but either can't or don't have the time to make a pie crust? Most times, when I want to make a pie I do not have time to make a crust. The other day, I was reading one of my favorite blogs, Food Lust People Love, and Stacy had a recipe for Impossible Pie (click the link for the original) that made its own crust – so you know I was down with that! I actually made the pie the day I read the recipe — with a little help from my little Rocket.
I wanted to make mine different and since my daughter had purchased some fresh blueberries and since we all love the flavor combo of lemon and blueberry, I decided to make our Impossible Pie with those. It was delicious and fresh tasting during the middle of this cold and very long winter. I know you will like it too, especially since it is so easy!
Lemon Blueberry Impossible Pie
Ingredients:
4 Eggs
2 Cups of Milk
½ Cup Sugar
½ Cup Flour
1 teaspoon Baking Powder
¼ Cup Butter, softened
½ teaspoon salt
1 teaspoon Princess Emulsion – you can get it at Michael's or Hobby Lobby with the Vanilla Flavoring
2 Cups Coconut
1 ½ Cups fresh Blueberries
Zest of 1 Lemon plus ¼ Cup Juice of Lemon
Directions:
Preheat the oven to 350F and butter up a Deep Dish Pie Pan
Put ( in this order) the eggs, milk, sugar, flour, and baking powder, and butter, salt and princess emulsion in a blender and mix it up really well.
Next, put in the coconut, zest and lemon juice and mix lightly in the blender.
Pour the contents of the blender into the pie dish then sprinkle the blueberries all over the top.
Put the pie into the oven and bake for about 40 minutes or until it is golden brown around the edges like the photo of this one. It jiggles a little in the middle when you pull it out but after several hours of cooling it firms up just like a pie.
Take the pie out of the oven and then let it cool for a few hours – put it in the fridge for a couple of hours.
I think you could change up the pie in many ways by adding fruit that you enjoy or leaving out the lemon – or you could make it the original way that Stacy did! Next time I make it, I'm going to put some drained Pineapple in – that would make it nice and tropical!