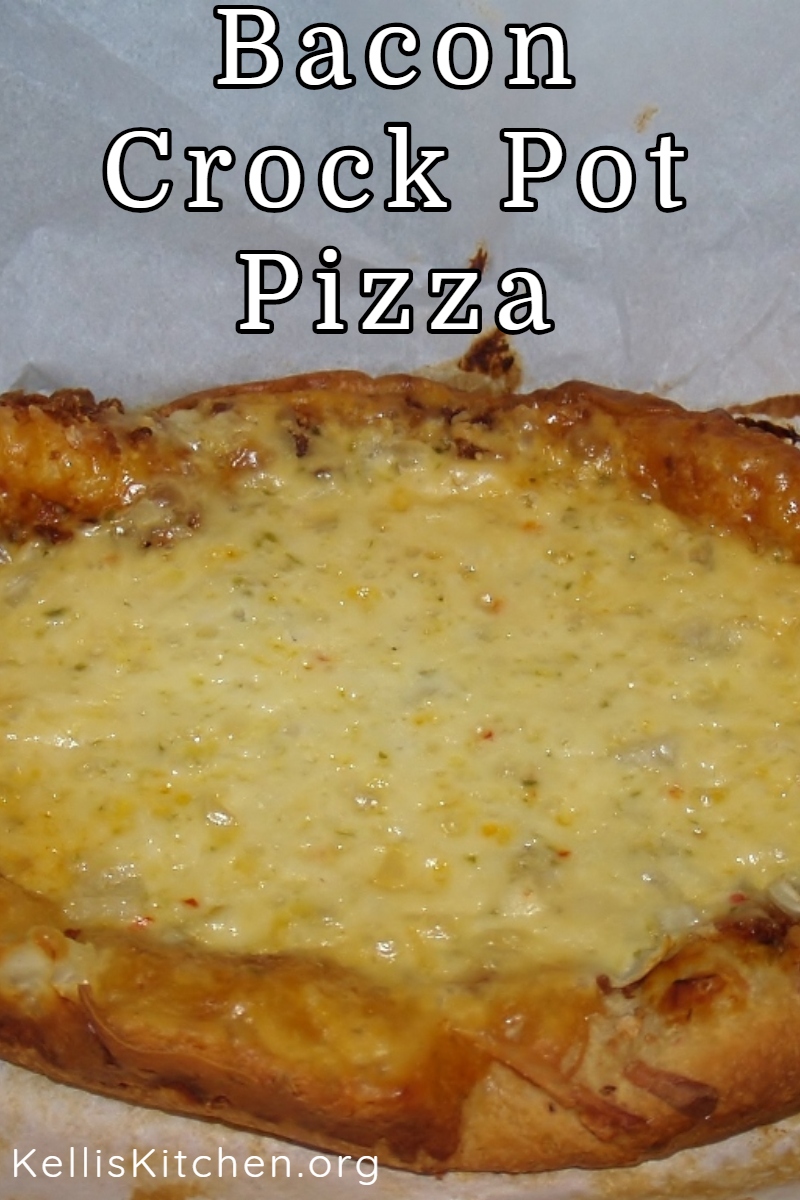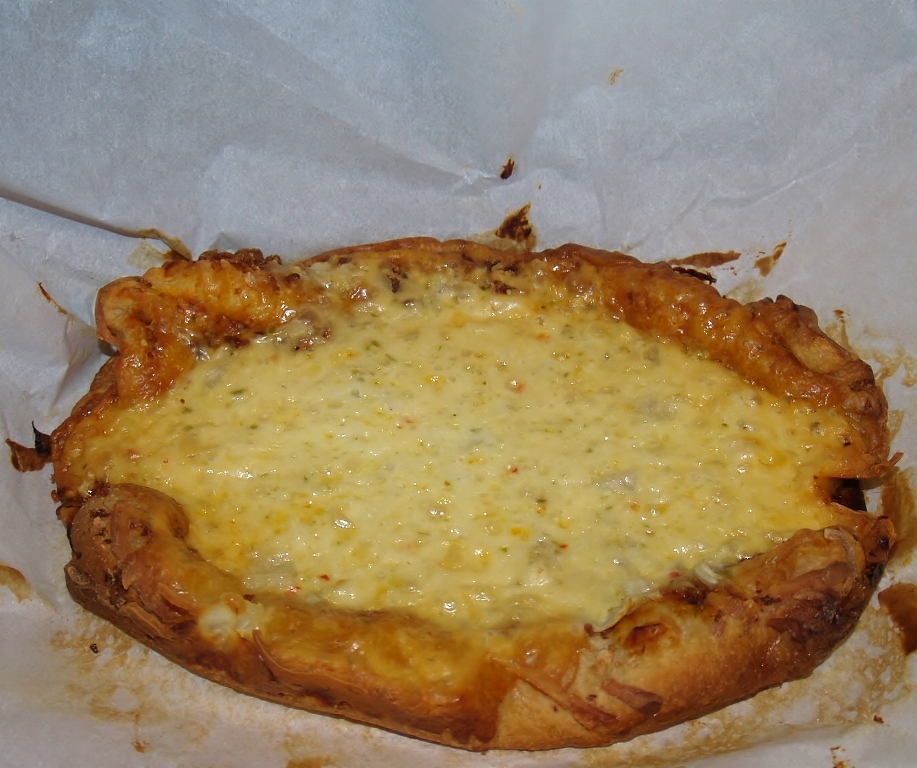 That's right; you can make real pizza in your slow cooker! It is very easy and you will not believe how good it is, tasting exactly like pizza you make in the oven. Exactly. First, you should know that this was not my idea at all. Yesterday, a Face Book friend of mine shared a post from Luke at 37 Cooks that read: Slow Cooker Pull Apart Pizza. It looks delicious, made with cut up biscuits and you can find the recipe HERE. I, of course, began thinking about my Crock Pot Hot Rolls which is one of my most viewed and most pinned posts. I thought about using rolls and then I decided to go all in and make a real pizza my own way.
Think about how many ways this is applicable.
At 3:00PM you put the pizza on, go pick up the kids from school to take to soccer practice. Get home at 5:00PM and pizza is done!
You are preparing a holiday meal but the kids need to eat supper the night before – throw this in the crock pot and keep stuffing that bird because Pizza will be hot and ready in 2 hours.
Or it's Saturday and you have a soccer game then lunch before the kids have to get to a church activity at 3:00PM. Before the soccer game, put the pizza in the crock pot and it's done (no take out) by the time you get home.
This is the best one: your mom loves pizza so you stop at the store before going to her house to pick her up and run errands with her. Put the ingredients in the slow cooker and when you get her home and she's too tired to move and you are exhausted from herding her around – she has a nice homemade pizza to eat for dinner that night. These are all great ways this Crock Pot Pizza may be used so try it just once and you'll be hooked like we are now!
Crock Pot Pizza
Ingredients:
1 Pillsbury Thin Crust Pizza Dough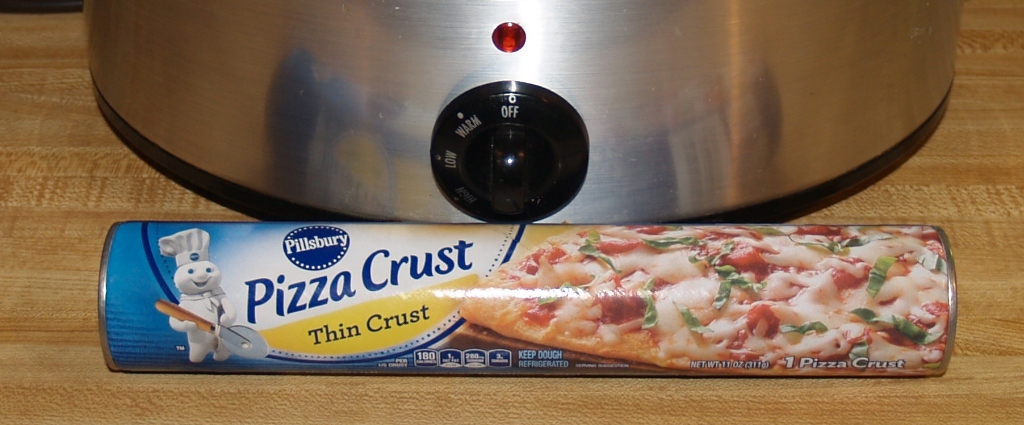 Pizza Sauce
Olive Oil
2 Cups shredded cheese (your choice but I used Pepper Jack on one and Mozzarella on the other)
Toppings of your choice. I used cooked and crumbled bacon as well as chopped onion on one of the pizzas and 1 can of mushrooms on the other.
Parchment Paper
Directions:
Put the parchment paper inside the crock pot.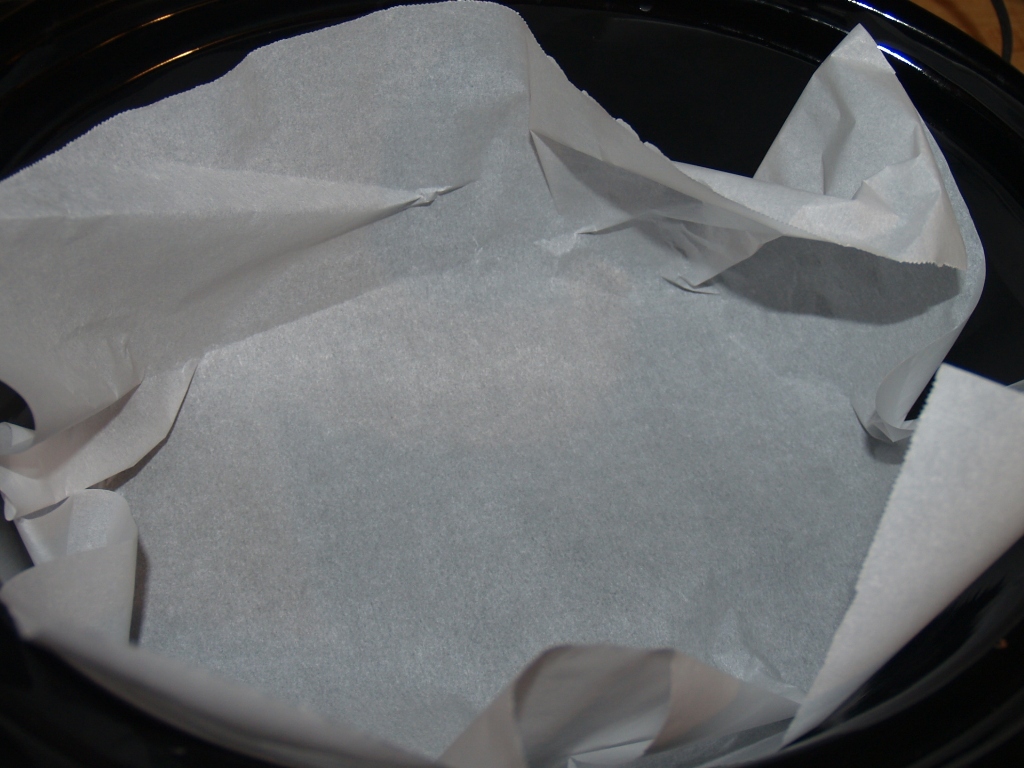 Using a paper towel, spread olive oil around the parchment in order to cover bottom and partially up the sides.
Pop open the Pillsbury Pizza Crust. Depending on how big your crock pot is, you can either use the entire thing in one or cut it in half putting one in each crock pot. I have two and that made it nice in order to have 2 different pizzas. However, if you just have one crock pot and the dough looks WAY too big – no problem, I have figured it out! Just put shredded pizza around edges and roll the edges toward the middle until the dough is the right size to fit into your crock pot. It will be like having a stuffed crust pizza then.
After dough is in the crock pot, cover it with as much pizza sauce as you want.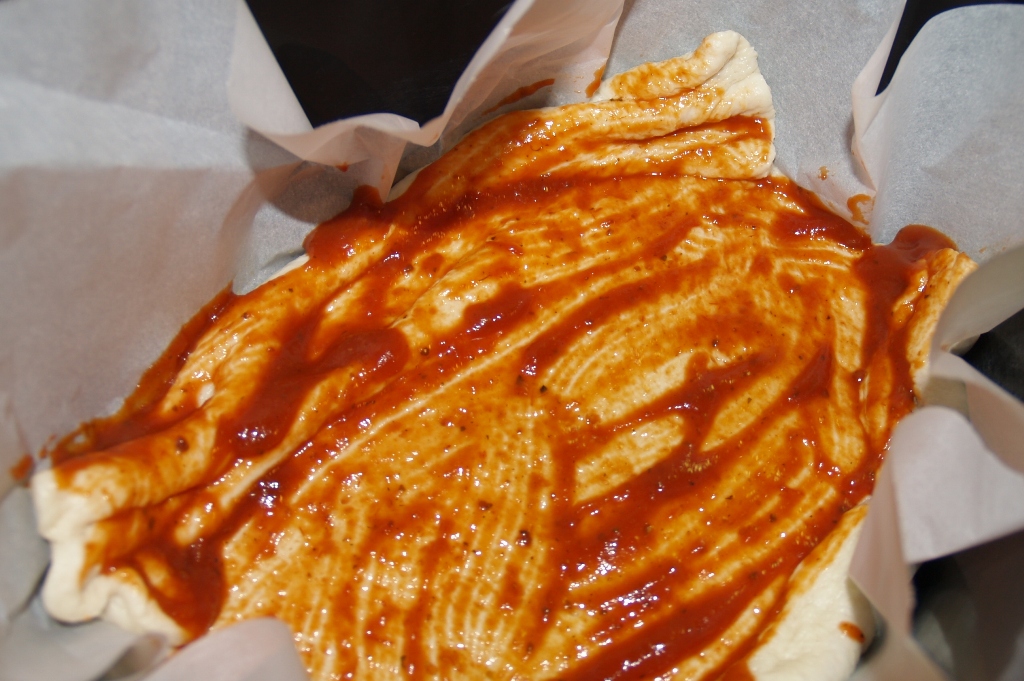 Add your toppings and then the rest of the cheese.
Put the lid on and pull the corners of the parchment paper out like this: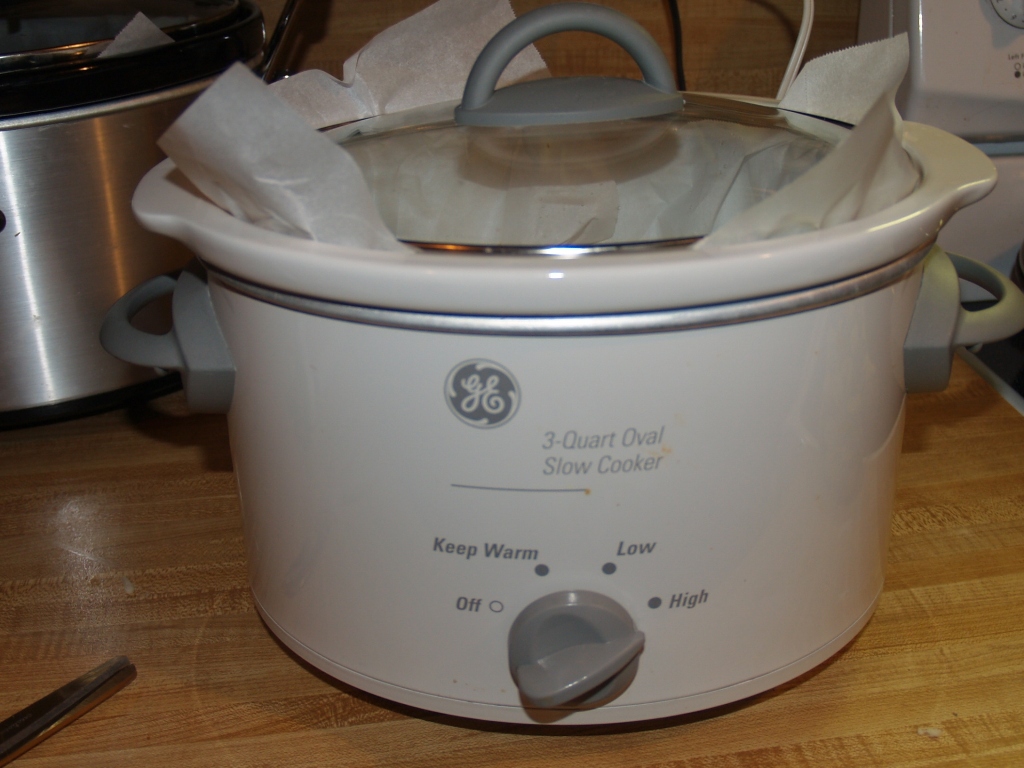 That will "straighten" out the bunched up parts of parchment/pizza inside.
Set the crock pot on high and set the timer for two hours.
After two hours, turn to warm and take the lid off. Set the timer for 20 minutes.
When the buzzer sounds, pull the pizza out by the parchment paper…….that makes it incredibly easy!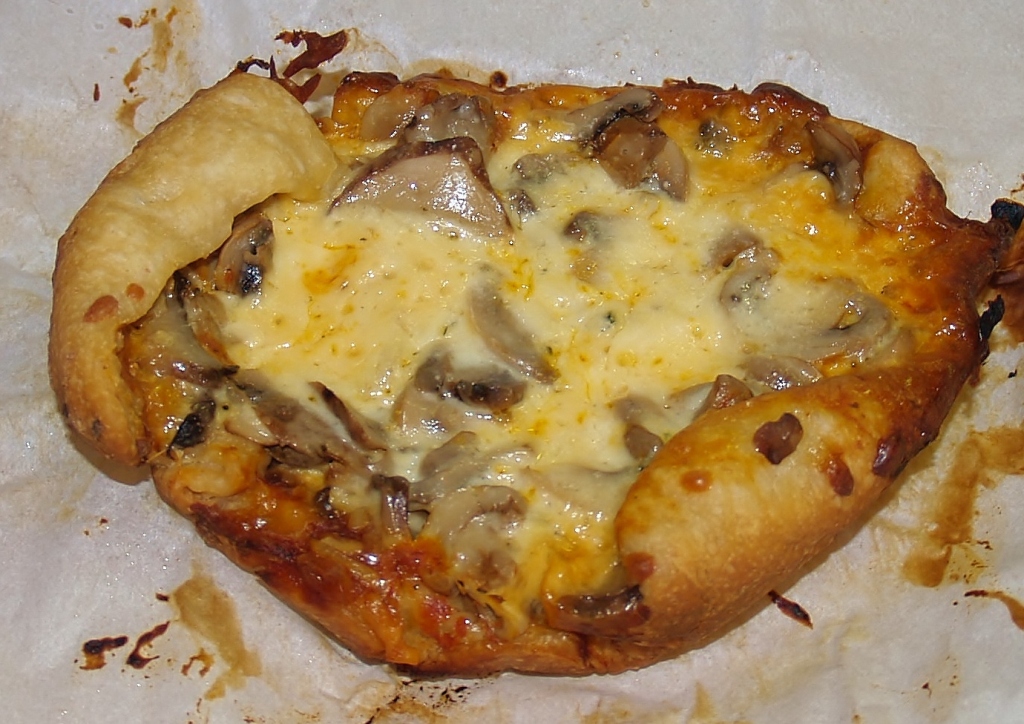 Slice the pizza and eat away!
See the bottom of the pizza? It's a lovely brown and is not soggy by any means.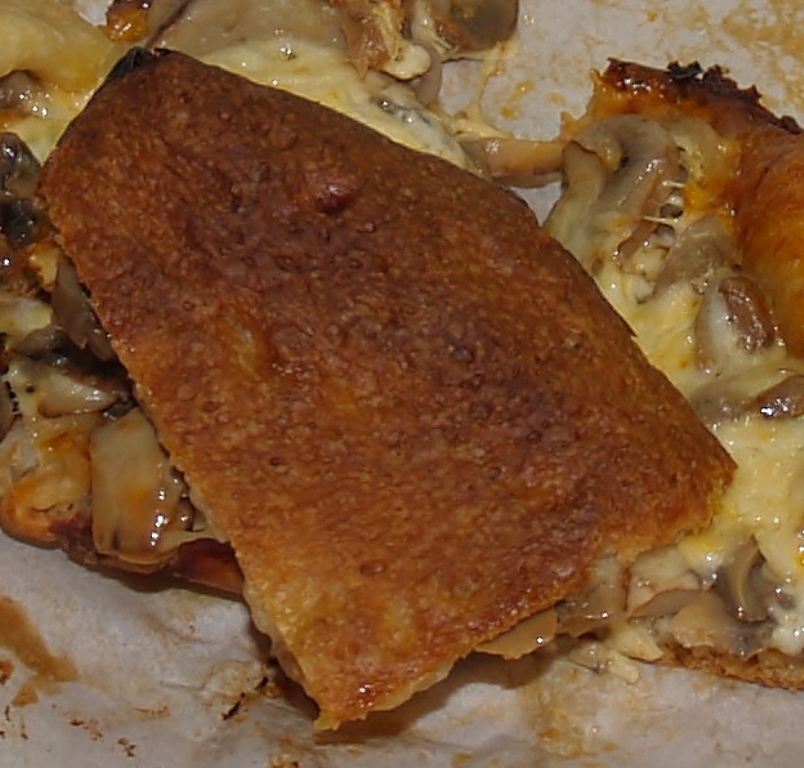 It cuts easily and is not tough in fact, I was worried that Mr. Picky Eater would not care for it but he loved the bacon and onion pizza……….mushrooms do not cross his lips of course. It is a GREAT way to make pizza and I want to thank Luke at 37 Cooks for having such a great idea for me to start out with!
I'm over at Weekend Potluck this weekend – come over and see what all there is!