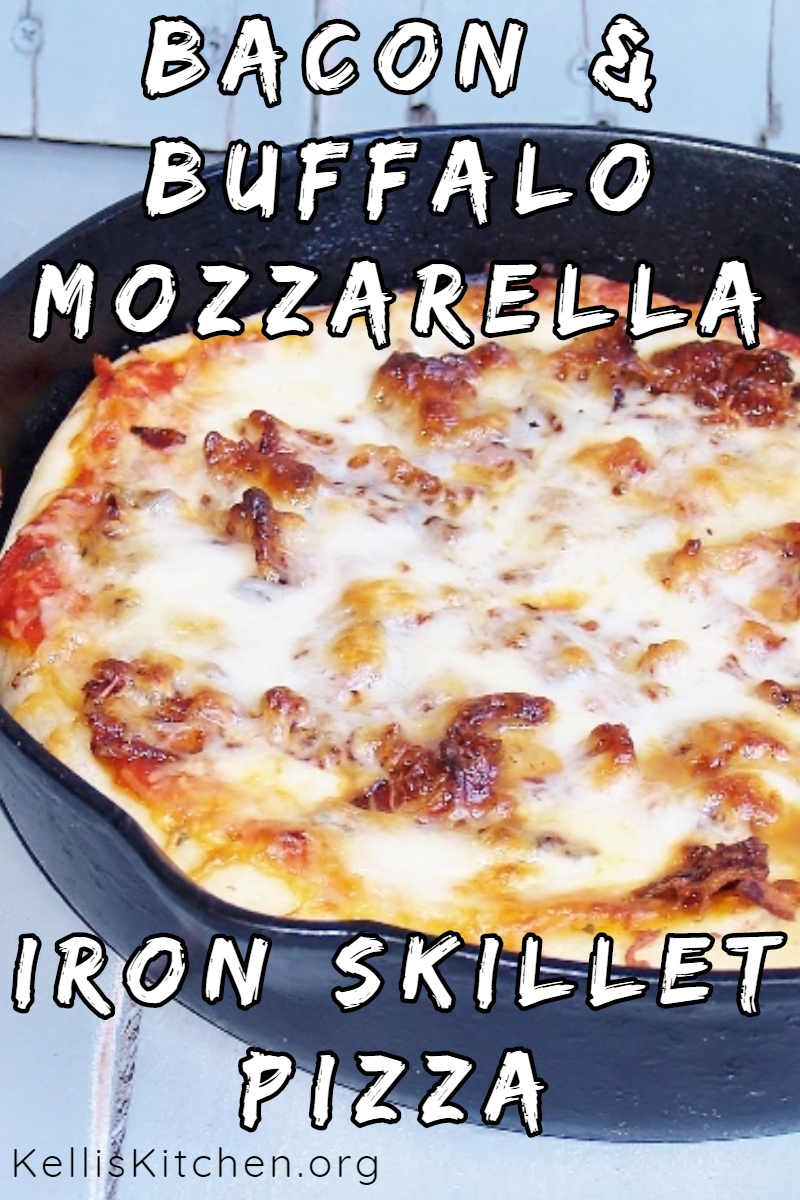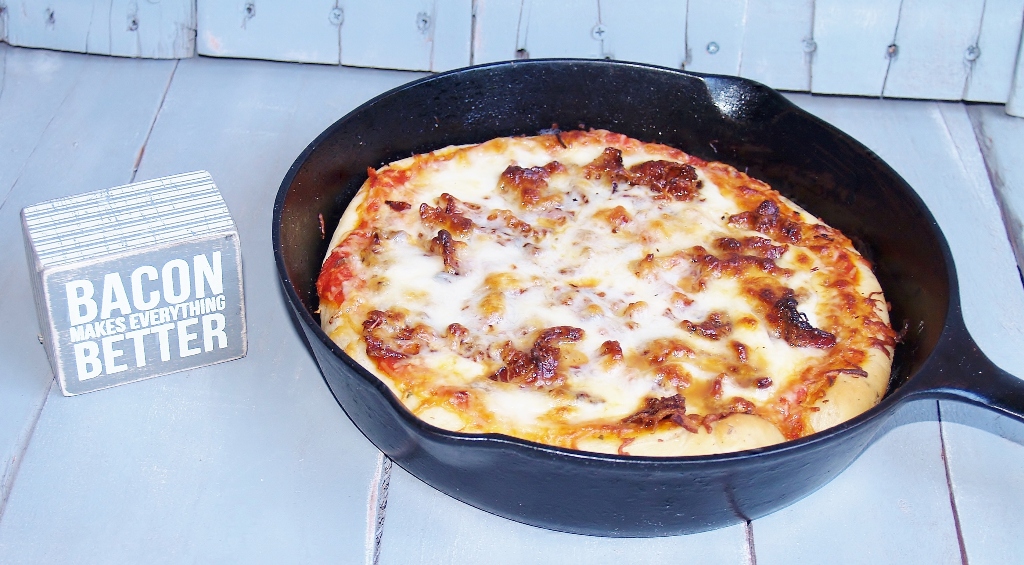 Welcome to week two of #baconmonth! Have you been enjoying it so far? They have named the winner of last week's giveaway and if you go back to my week one bacon posts, you will see who won. For those of you who missed it, White Lights on Wednesday blog is sponsoring a full on Bacon Month with 20 participating bloggers. Each week we have a new giveaway and a whole bunch of new bacon recipes! Mine is a huge hit – I made it up Saturday afternoon and it was to be for my final post for bacon month but it was so popular here, I thought I would go ahead and post it now – you are actually getting three recipes in this post. Dough, pizza sauce, and then the pizza! Let's start with the dough.
Bacon & Buffalo Mozzarella Pizza
First the dough –
Ingredients:
2 ½ Teaspoons Active Dry Yeast
½ teaspoon brown sugar
1 ½ Cups 110F water (45C)
1 teaspoon salt
2 Tablespoons Olive Oil
3 ½ Cups Flour, Divided
(Optional Herbs)
1 teaspoon each of Oregano, Parsley, and Thyme, Garlic powder – I used all 4.
Directions:
Put the yeast, sugar, and water into a bowl and allow to bloom for 10 minutes.
Stir in the salt and olive oil then 2 ½ Cups of the flour. (it will be sticky)
Turn dough out onto a well floured board or counter.
Knead and add the last cup of flour until the dough is no longer sticky.
Roll into a big ball like this: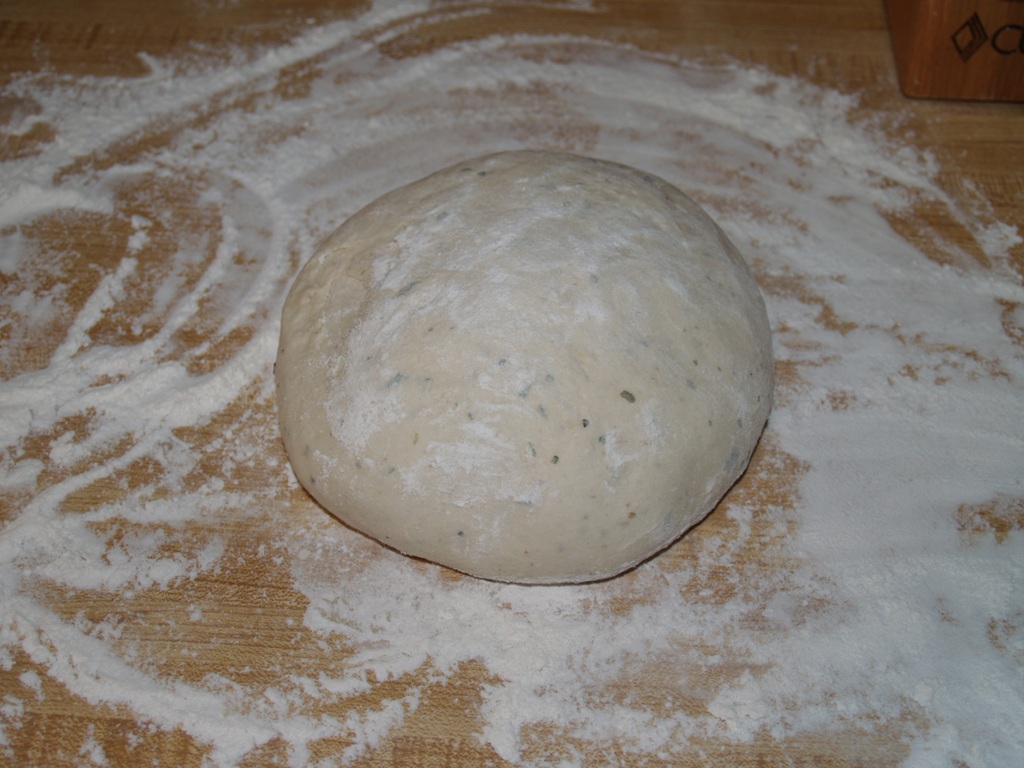 Put that ball into an oiled glass bowl, cover with plastic wrap and a damp cloth.
Allow dough to rise to double in size – about one hour.
***Here's what I do: turn the oven on to 170F and when it reaches temp, turn the oven off then set the glass bowl with the dough in it***
Turn the doubled dough ball out onto a floured surface then punch it down.
Roll it out to whatever size you want – this will make 2 thick crust pizzas or one thinner crust.
Put the dough in the pan and in a pre-heated 375F oven, put the dough in to pre-bake for 15 minutes.
While the dough is rising during the first hour, make the sauce, which is also very easy!
Ingredients:
1 six oz. can of tomato paste
1 eight oz. can of tomato sauce
¼ teaspoon each – dried oregano, dried parsley, minced fresh garlic
½ teaspoon white sugar
2 Tablespoons parmesan cheese (green top stuff)
Directions:
In a small saucepan, heat it up and allow it to reduce by about a third then set off the stove and allow to cool.
Now for the Pizza.
Directions:

1 pizza dough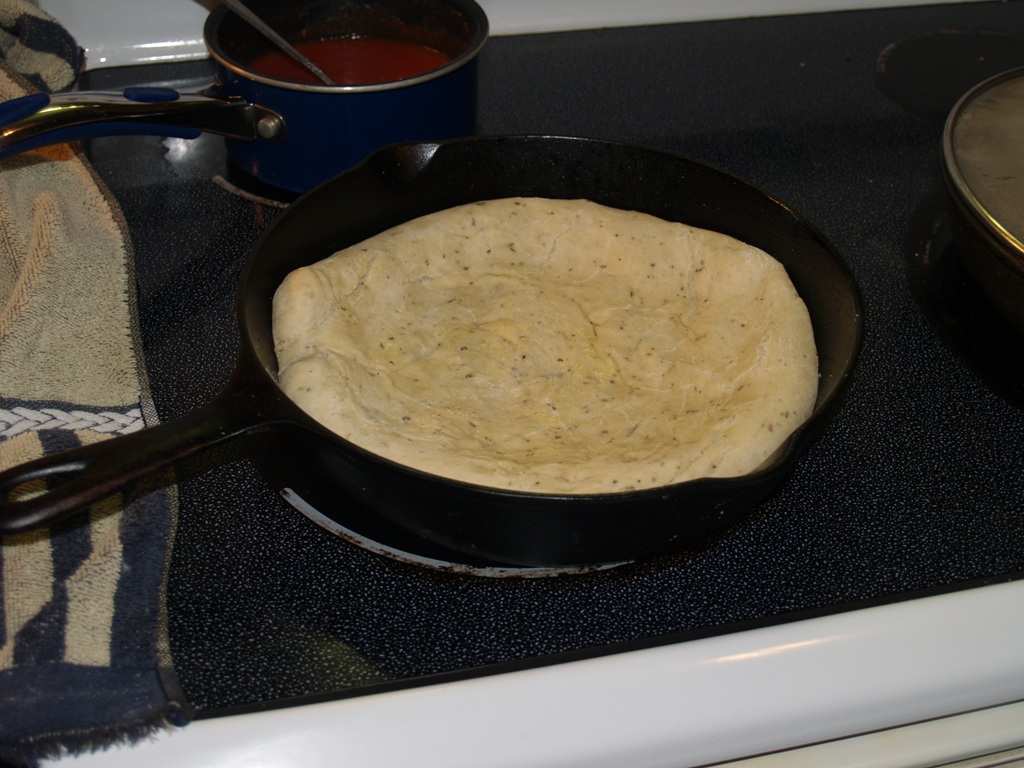 Pizza sauce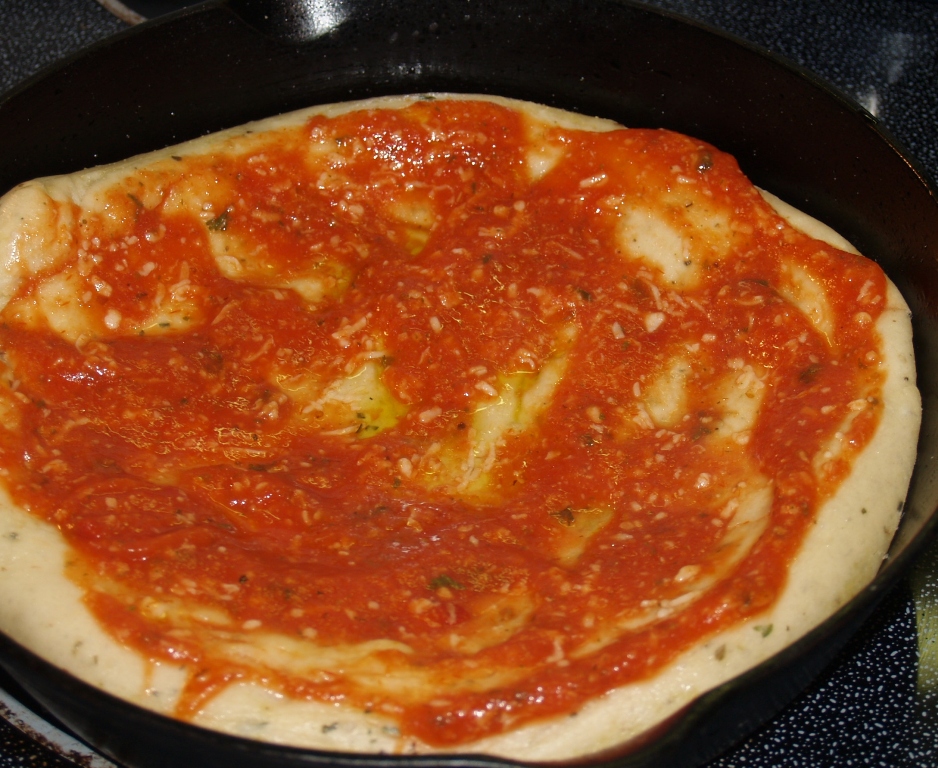 1 package of pre-sliced mozzarella like this: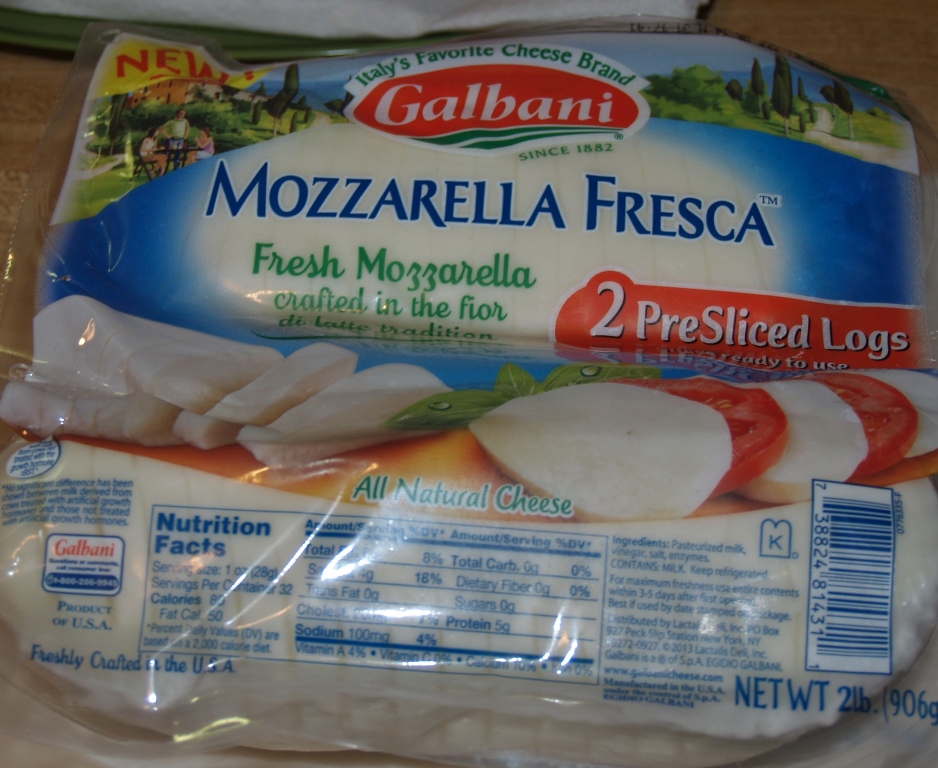 1 lb. bacon, fried crisp and chopped up into small pieces.
1 package of shredded Italian cheese.
Put the sauce on the dough, then the mozzarella on the sauce – and we don't skimp on the cheese as you can see!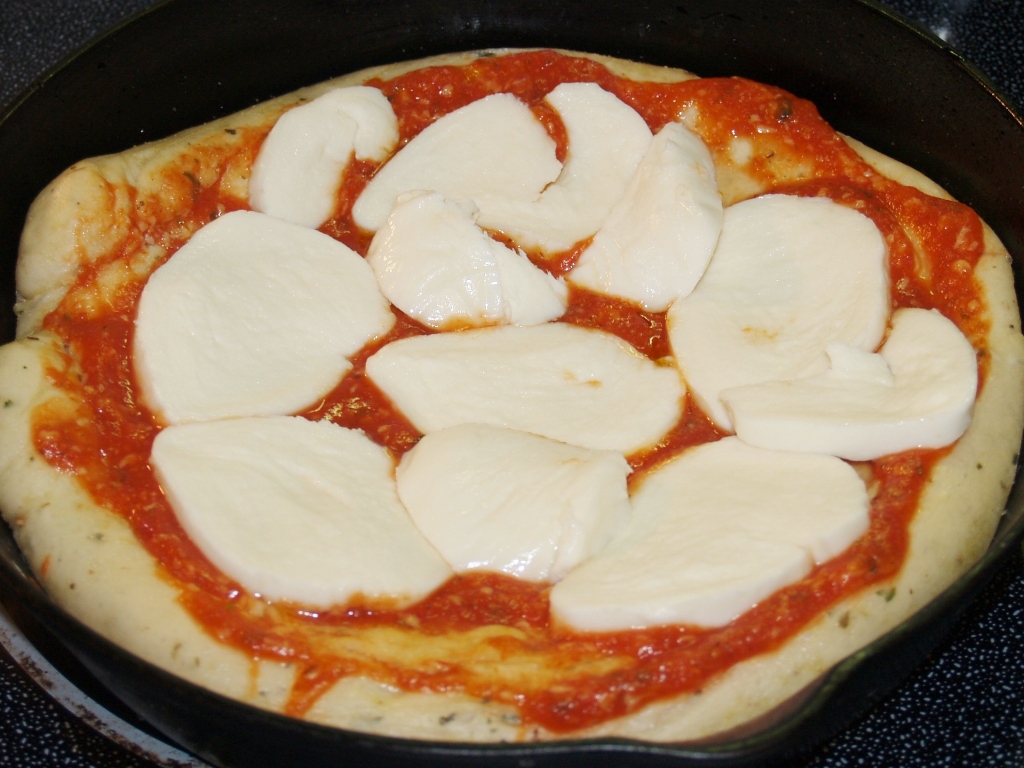 Sprinkle around the bacon.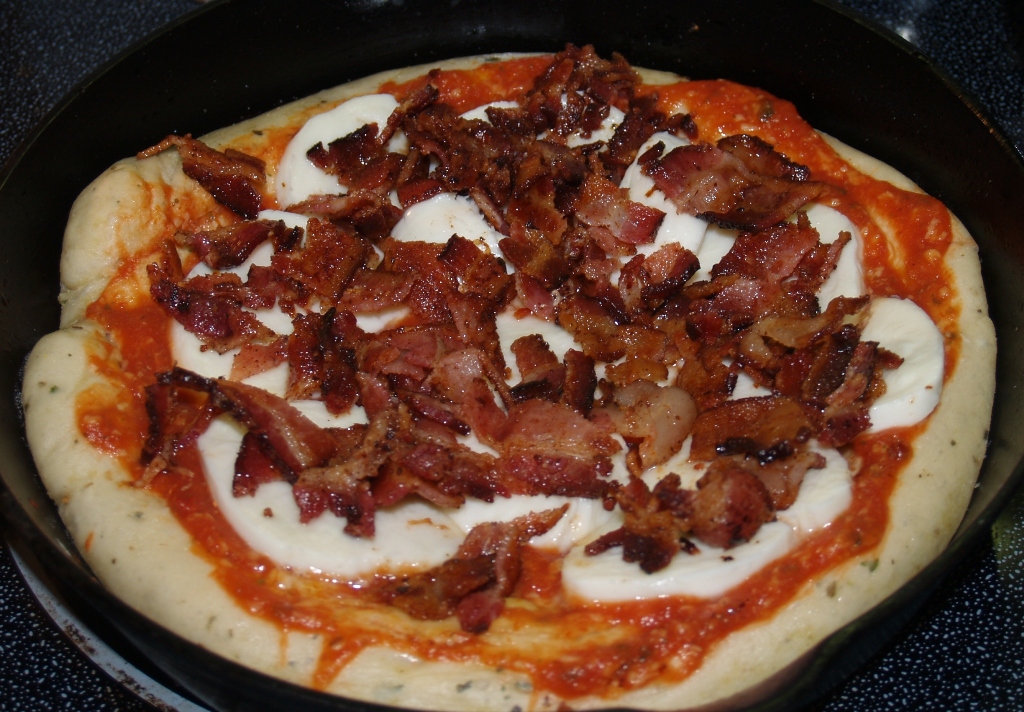 Put even MORE cheese on top of that!
Brush the edges with olive oil.
Put in the oven (I love mine in an iron skillet) at 425F for about 15 minutes.
You will think you have died and gone to bacon heaven I tell ya!