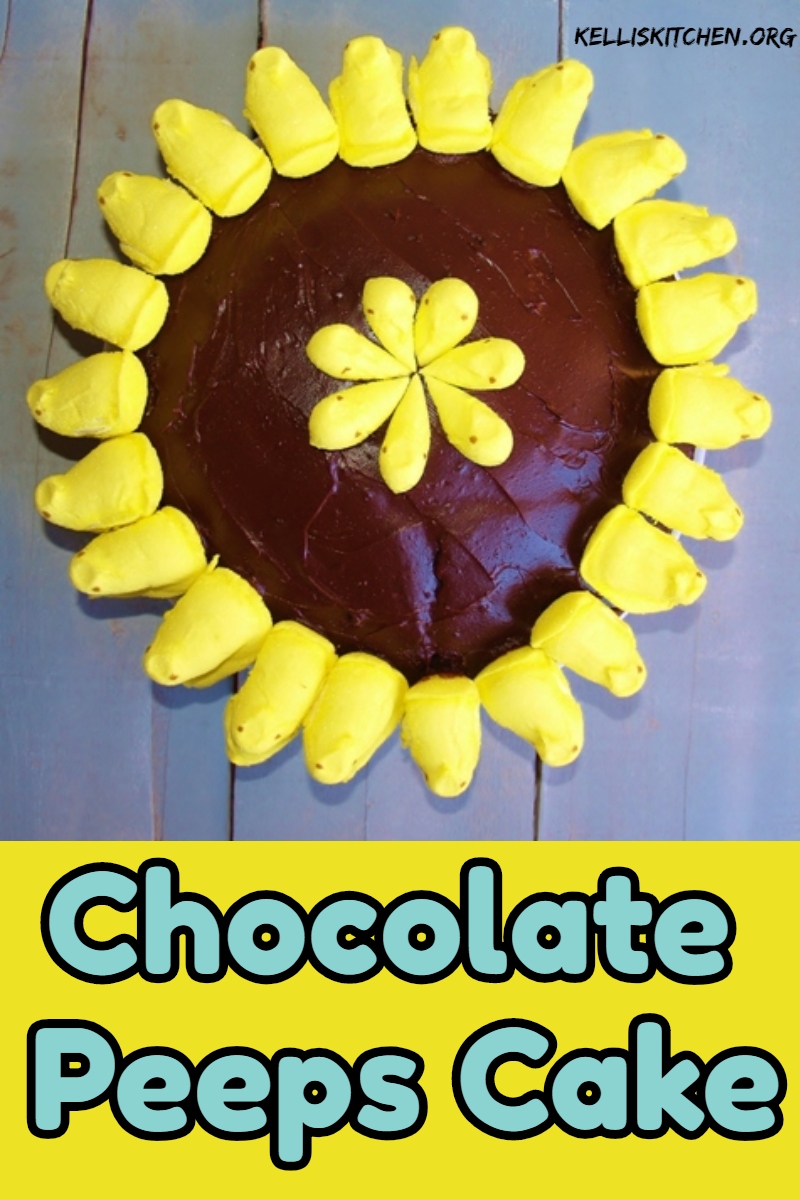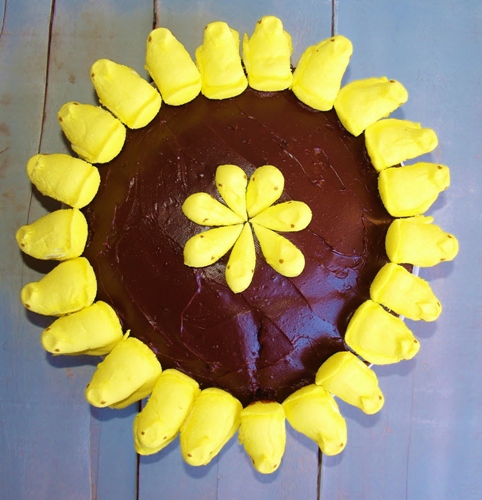 Good Morning! It's the first full day of spring and at least here it will be 75F so I am looking forward to a warm (but also very windy) day. Our next door neighbor has goldenrod in his front yard and it bloomed yesterday so hopefully warm weather is here to stay.
Last year after Easter, I saw a wonderful cake with Peeps decorating it making it appear to be a big sunflower. The cake was on Plain Chicken so I pinned it and waited patiently for next year. As you remember, I LOVE Peeps as those of you who were here witnessed with my Peeps dioramas and Cake.
I changed my cake decoration up a little to make it mine and I also used a cake and frosting recipe I had been wanting to make ever since I saw it on Recipes for Divine Living. This frosting is luscious and the cake, made from scratch is so moist and tantalizing it makes your mouth water! I hope you will make this cake even using a box cake and canned icing because it is such an easy and festive decorating scheme. Kids will love it! All you have to do is use tooth picks to hold the Peeps along the side of the cake and then snip the heads off the top making the little inside flower. It takes 6 single boxes or 3 double boxes of yellow Peeps to do it. If you do not like the taste of coffee, don't worry, just leave it out!
Chocolate Peeps Cake
Ingredients for cake:
3 Cups all purpose flour
2 Cups sugar
12 Cup unsweetened cocoa powder
2 teaspoons baking soda
1 teaspoon table salt
2 Cups hot water
¾ Cup vegetable oil
2 Tablespoons white vinegar
1 Tablespoon instant coffee (that's 2 of those little single-serving packs)
1 Tablespoon vanilla extract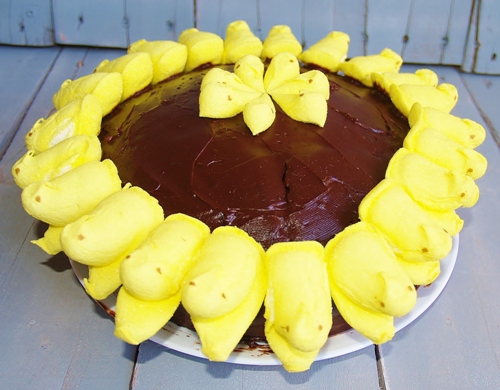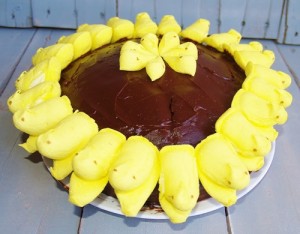 Directions for cake:
Pre-heat the oven to 350F with rack in the center (make sure you do this, it makes a difference).
Whisk flour, sugar, cocoa, baking soda, and salt together in a big bowl.
Combine water, oil, vinegar, instant coffee, and vanilla in another bowl.
Add the dry to the wet until mixed up.
Divide batter between 2 well greased pans.
Bake until a toothpick inserted in center comes out clean. About 30 minutes.
Cool the cakes in their pans on wire racks for 15 minutes then flip them upside down on the same racks – and leave them there until completely cool – don't try to take them off early or you will pull the cake apart.
Ingredients for frosting:
1 stick unsalted butter
1 ½ Cups white granulated sugar
1 ¼ Cups unsweetened cocoa powder
Pinch of salt
1 ¼ heavy cream
¼ sour cream
1 teaspoon instant coffee
2 teaspoons vanilla extract
Directions for Frosting:
Melt butter in saucepan over medium heat.
Whisk in the sugar, cocoa and salt.
In another bowl combine the heavy cream, sour cream and instant coffee and mix it well until smooth.
Gradually add the wet ingredients into the sugar mixture until smooth.
Mixture should be hot but not bubbling or boiling!
Take the pan off the stove and stir in the vanilla.
Allow to cool completely – at least 3 hours – (I had to then put mine in the fridge for about an hour to get it to spreadable frosting and you may have to as well, otherwise it's too runny).
Spread it on the cake and serve!