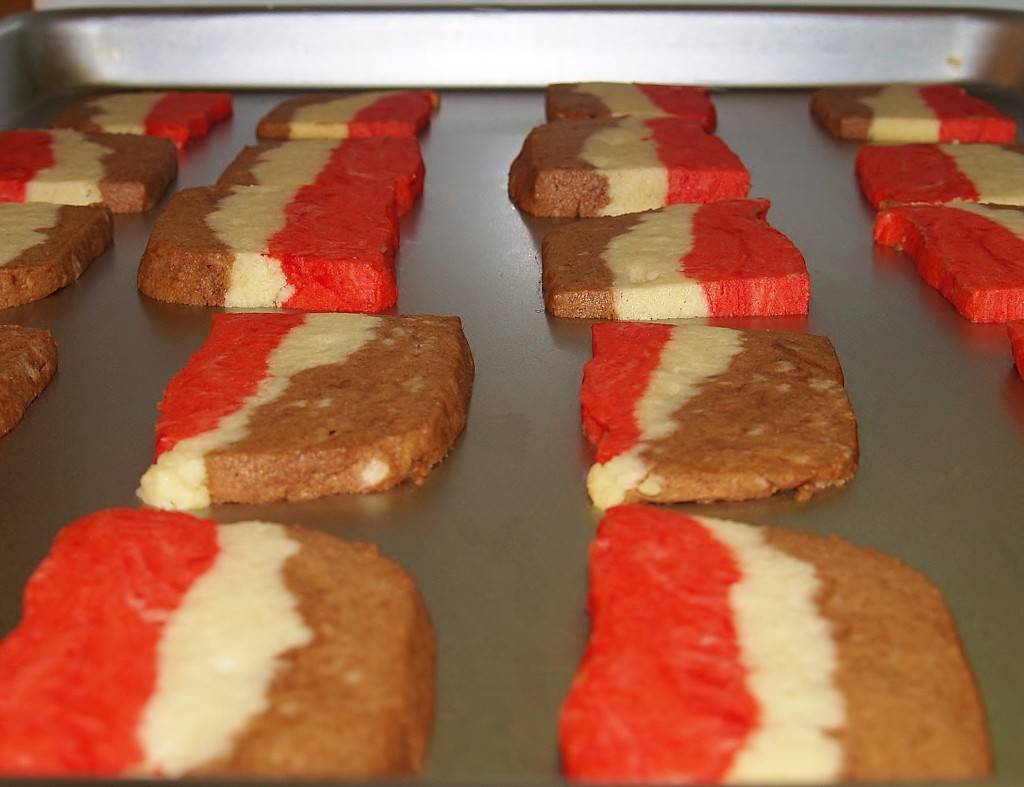 I love Neapolitan ice cream so I was pretty sure I would like Neapolitan cookies when I saw the recipe on allrecipes. When Mr. Picky Eater saw me preparing the ingredients, he asked what was in Neapolitan cookies. I told him chocolate, nuts, and cherries. His response was to ask if I could substitute something for the cherries. With the cake last night and Cherry Mash candies a week or so ago, he was about cherried out. I agreed. He doesn't like nuts either so I acquiesced to his wishes not knowing how that would benefit me later in the day! I am offering you the original recipe, but just know that I used red food coloring on one layer and no nuts or cherries basically making the cookie colorful but chocolate and vanilla only. The finished product is very tender and flaky – something I rather like in a cookie and one Mr. Picky Eater does as well – another point for me!
Neapolitan Cookies
The ingredients:
1 Cup softened butter
½ Cup White Sugar
1 Teaspoon vanilla
1 egg
2 ¼ Cups all-purpose flour
½ teaspoon salt
¼ Cup chopped nuts
1 ounce unsweetened chocolate, melted
1 Tablespoons maraschino cherries, chopped
Directions:
1. Mix butter, sugar, vanilla, and egg
2. Stir in flour and salt
3. Divide dough into 3 equal parts (I didn't do a very good job)
4. Mix nuts into the vanilla part
5. Melted chocolate into the 2nd
6. Maraschino cherries and red food coloring into the 3rd
7. Layer each part into a loaf pan that has been lined on bottom and up sides with parchment paper or foil
8. Cover and place in fridge for at least 2 hours and not more than 2 weeks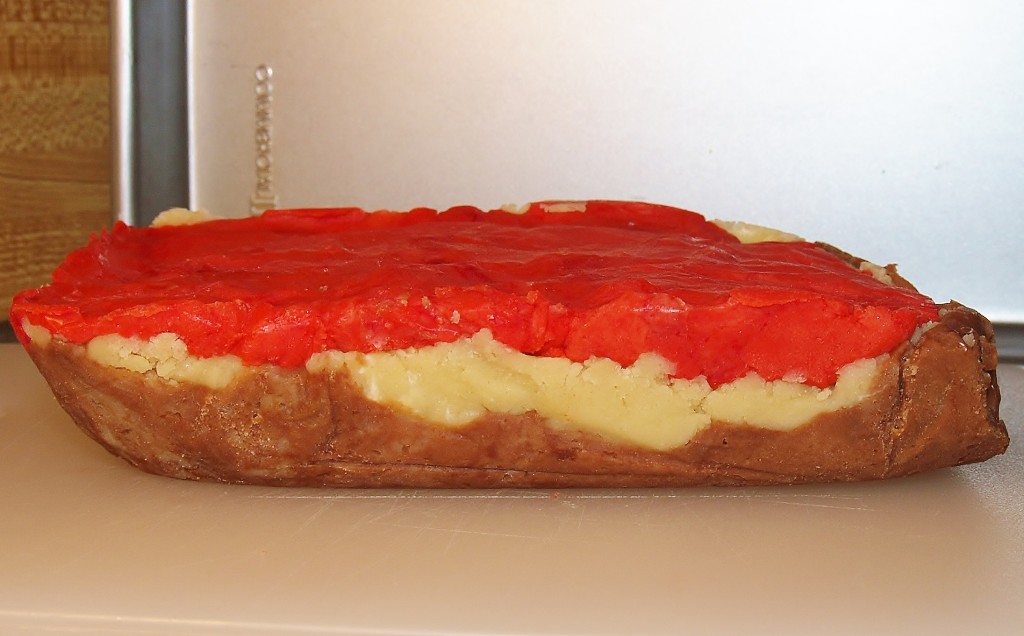 9. Remove dough from pan and slice ¼ inch thick
10. Place on ungreased baking sheet
11. Place pans in pre-heated 375 F for 10 minutes
12. Remove pan from oven and put cookies onto wire trays immediately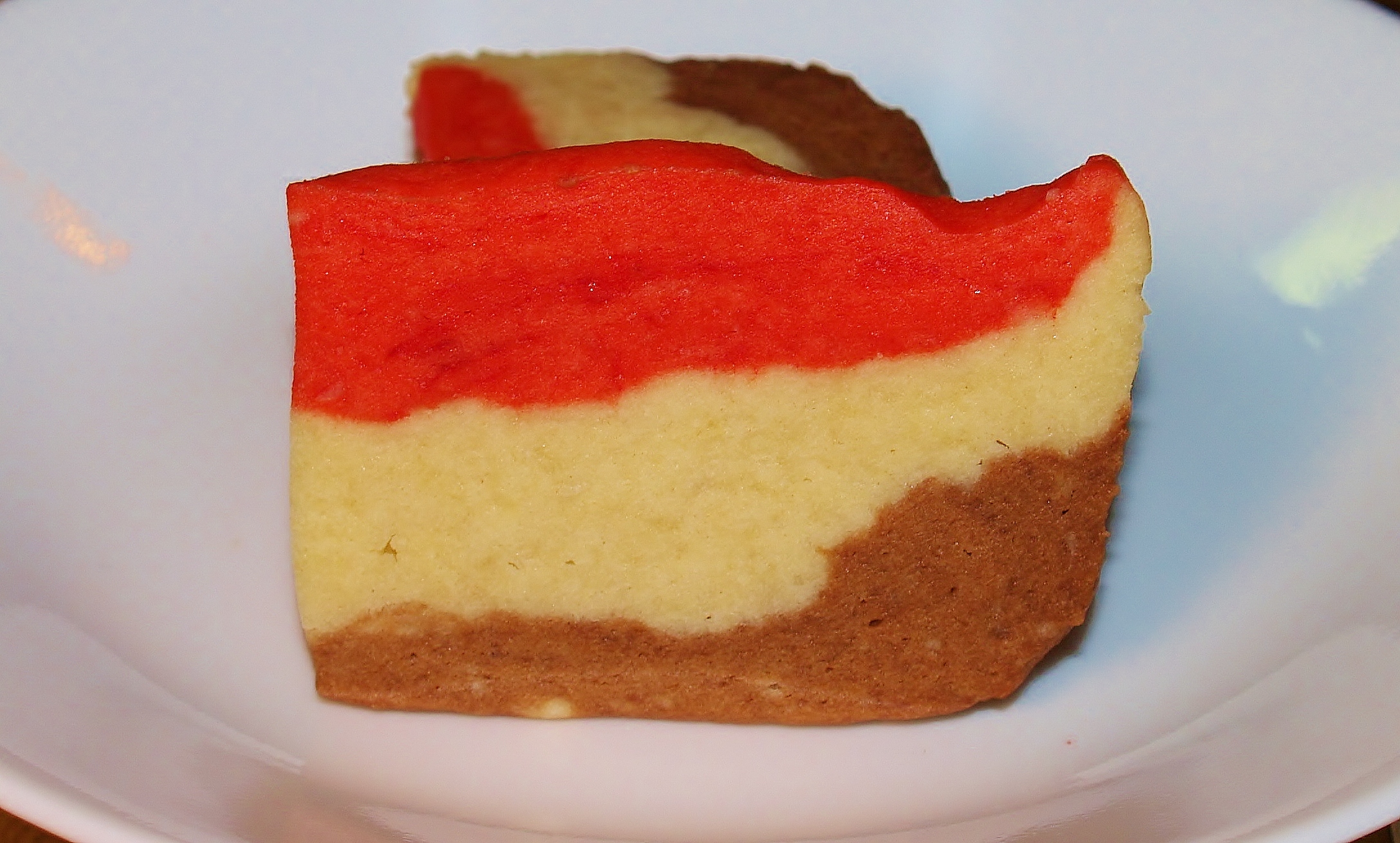 Okay, I will admit I didn't get the layers perfect and it looks a little like fake bacon but they really taste good. When I was finished – I actually made 3 recipes over the last 2 days plus supper – each time I finished, Mr. Picky eater, without prompting, cleaned up the kitchen including loading and unloading the dishwasher twice! Leaving that stupid job high paying job has done more for his blood pressure and disposition than I could have ever hoped for. Tomorrow is my day off and so I will be doing other things. Sure wish there was a yard sale to go to! What are y'all doing this weekend?