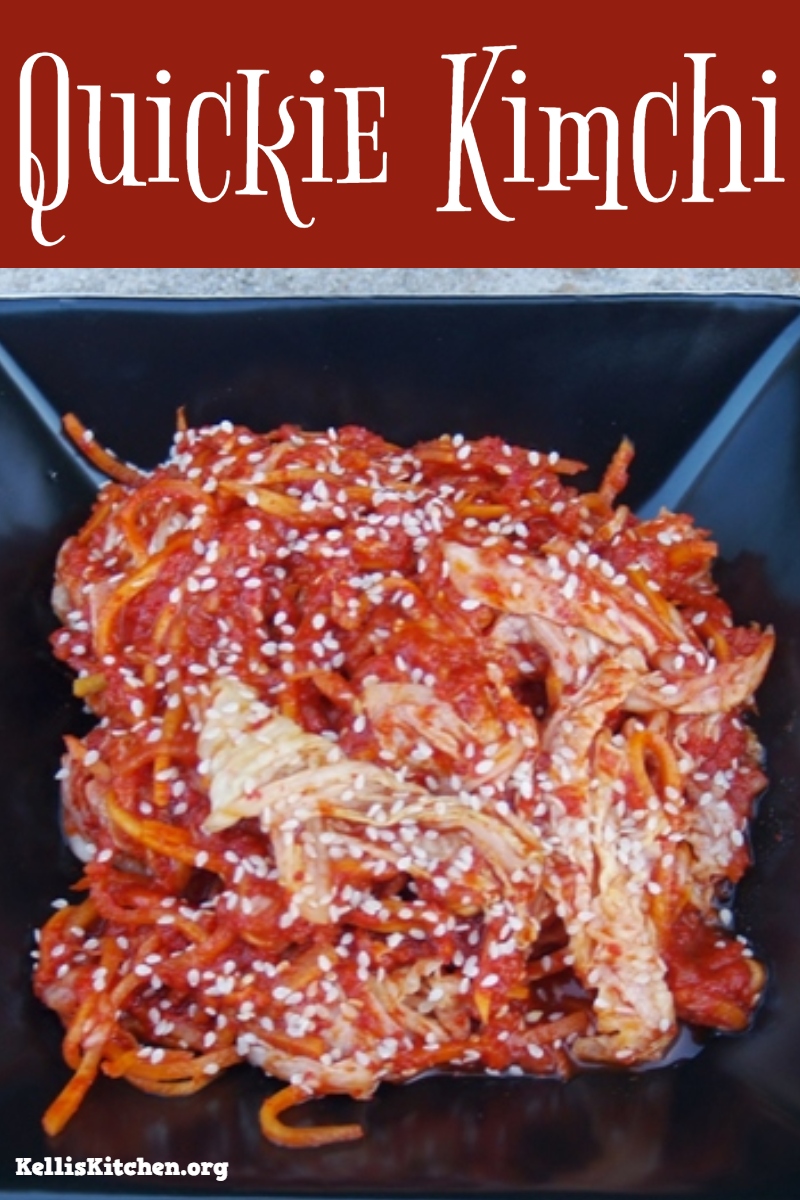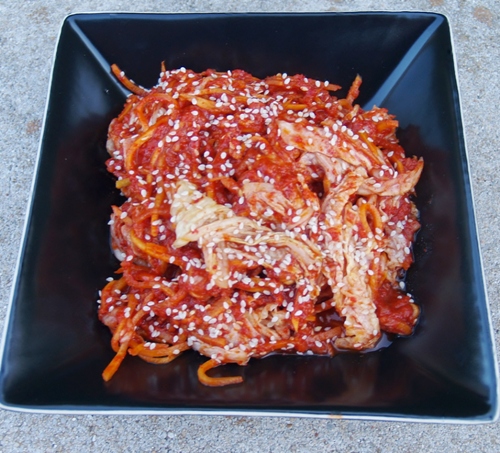 As many of you know, my son-in-law is Korean….and Italian and Polish but tonight we are talking about his Korean heritage. His dad was an Air Force pilot stationed in Korea when he met his mom – they fell in love, got married and moved back to the states, New Jersey to be exact and then out to Altus Air Force Base where son-in-law and his sisters were raised. The kids grew up and most of them settled in Norman so upon retirement the parents moved here too. About that time Top Girl and son-in-law began dating and eventually married. Rocket was born a year later and less than a year after that, Air Force Pilot passed away. During the time we have known son-in-law's family, I have had the very best homemade Asian food I have ever had in my entire life! I'm telling you – his mom can cook Korean (and Italian) like nobody's business! The lo mien and pot stickers are two items I might push old ladies down and kick dogs to get to first. Okay, I probably wouldn't kick any dogs but the old ladies should watch out!
I have wanted to make Kimchi with a recipe of hers for a long time. She makes several different kinds, all family favorites. When I ask son-in-law's favorite his response has always been – "any kind, just fresh". In other words, he does not care for the fermented kind. After tasting the fermented kind, I must agree. Fresh can take 3 days so I was so happy to hear about Quickie Kimchi. You can make it in the morning and eat it for lunch or supper or you can leave it for up to 10 days in the fridge. I enjoyed the taste and son-in-law gave it the thumbs up! In fact, he said it wasn't his mom's but he liked it a lot. I'm pretty happy with that endorsement. Besides, I did change a couple of things in the recipe so I guess it wouldn't taste just like his mom's. If you have a hankerin' for Kimchi, this is a very quick way to find out if you like it. I had mine on a special taco that I will post about soon. You can order the ingredients from a korean grocery store online and have them delivered to your home.
Quickie Kimchi
Ingredients:
1 large Napa Cabbage
Handful of shredded carrots
½ Cup Coarse Salt
4 Cups Water
4 cloves garlic – peeled and smashed
1" piece of ginger – peeled and grated
1 small onion – diced
2 teaspoons sugar
5 Tablespoons Korean chili flakes
½ cup Rice Wine
Toasted sesame seeds
Directions:
Cut off the end of the cabbage, then the inside part.
Take each leaf and then cut off the stem parts like this: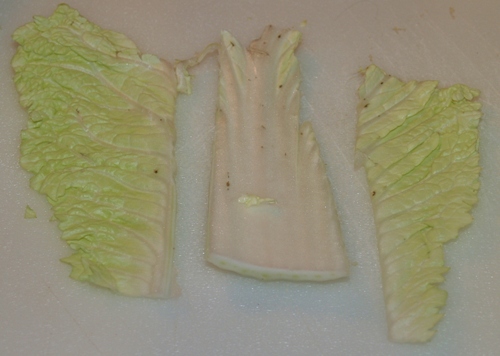 After you do all that, you will need to wash it all well.
Put the cabbage and carrots in a very large bowl.
Put all water in the saucepan with the salt.
Bring water to a boil dissolving salt.
Take off the stove and let sit for 5 minutes.
Pour over cabbage and carrots – give it a good stir and set the timer for 10 minutes.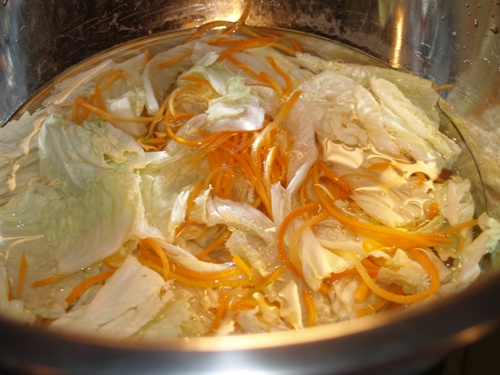 Meantime, put garlic, onion, ginger and rice vinegar in a blender and puree.
Then add salt, sugar, and the chili flakes (they are very fine) and stir it up – is will look something like this: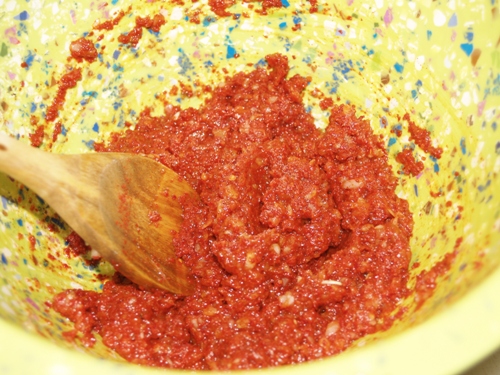 After 10 minutes, stir the cabbage again and wait 5 minutes. See how "bendy" it is?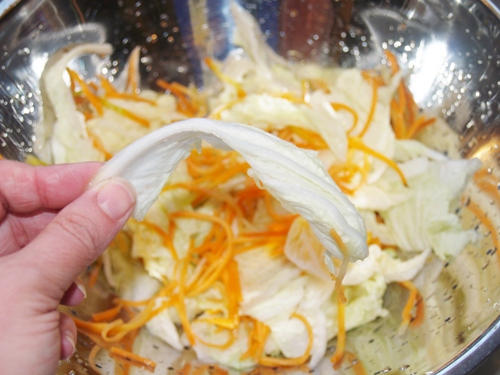 Drain and rinse the cabbage really well then put in a shallow bowl or plastic lidded container.
Massage in the Korean rub well. Let it "marinate" in the fridge for a few hours.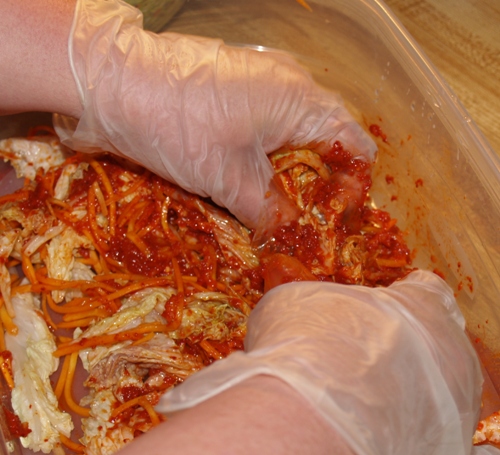 When you are ready, take it out and sprinkle with sesame seeds then eat!
Have you tried Kimchi before? What did you think?
I am partying at Weekend Potluck this weekend!