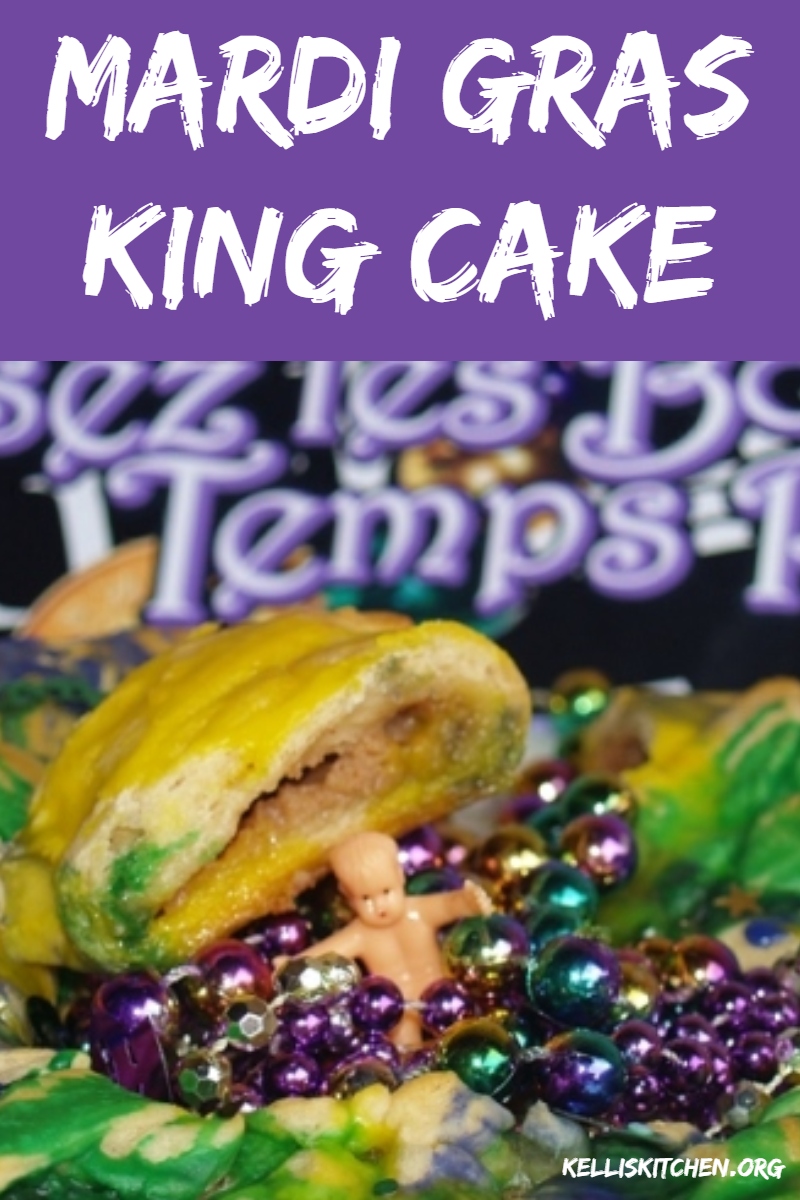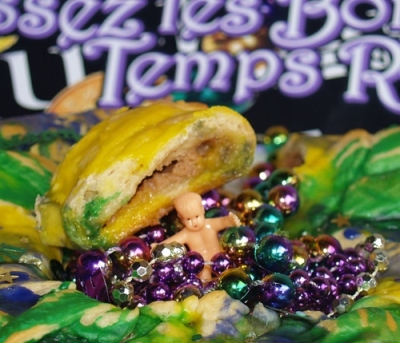 Have you ever been to Mardi Gras? It is a celebration of food, drink and debauchery – it is supposed to be one last big party prior to Lent which is the 40 days leading up to Easter. There are many parades and family gatherings with friends in tow, generally associated with New Orleans (NOLA) and Bourbon St. I went once many years ago with friends from college. It is as advertised, that's for sure!
While there, I had this wonderful dessert called King Cake. There was a rather ugly icing in three colors Purple, Green and Gold. I was told it signified Justice, Faith, and Power – in that order. It wasn't all that pretty a cake and honestly it was more of a sweet bread than it was a cake but there was a baby inside and if you got the piece having the plastic baby in it – you were supposed to have lots of good luck throughout the year.
The way the cake was made all had to do with family tradition – what your grandmother and her grandmother made – I loved it all! The whole thing was gawdy and splashy and bawdy – like Dolly Parton! I have always glamorized the seedy side of life a bit – so I was in my element down there. Now I am older and wiser plus I have to be in bed by 10PM, so I won't be going to NOLA for Mardi Gras anytime soon. This year, Fat Tuesday (Mardi Gras) is on March 4th but the parades will start on February 15th! See, I told you it was a big long party!
I have tried to make gumbo and King Cake each year during the season but MY family King Cake tradition is of the No-yeast-no-knead-no-raisins-no-nuts kind so when I found this recipe, I was thrilled. If you have a work party or kids Mardi Gras celebration – this will be quick and perfect! It only takes about 30 minutes to throw together and it tastes DIVINE!
Mardi Gras King Cake
Here's what you are going to need:
Cake:
2 cans Pillsbury Crescent Rolls
4 oz of Cream Cheese – softened
½ Cup Brown Sugar
½ teaspoon cinnamon
½ soaked raisins – optional
½ chopped pecans – optional
Icing:
1 ½ Cups powdered sugar
1 teaspoon vanilla
3-4 Tablespoons milk
Food coloring to make purple, green, and yellow or gold
Directions:
Preheat oven to 350 F
Pop the cans and separate all the crescent triangles like this:
Then put them around a parchment covered pizza pan overlapping just like this:
The press and seal ONLY in the middle parts like this leaving the pointy end and other end loose.
Mix up the cream cheese, sugar, cinnamon (nuts and raisin if wanted) in a food processor.
Spread the cream cheese mixture only on the sealed part of the crescent sections like this:
Drop the plastic baby in randomly.
Fold the back end over, just in front of the filling and then the pointy end back up over the back end, sealing it into a very large donut.
Bake for 20 – 25 minutes or until golden brown. Allow to cool completely.
Mix up powdered sugar, vanilla and milk then separate into 3 different bowls and color.
Spread over a single color at a time until it is used up. It's not all that attractive but many of them look that way. You could always just leave the icing white spreading it all over the cake and then put sprinkles in purple, green and gold all over the cake.
It's a wonderful fun cake to make for a quick celebration – it won't try your patience and it won't take all day!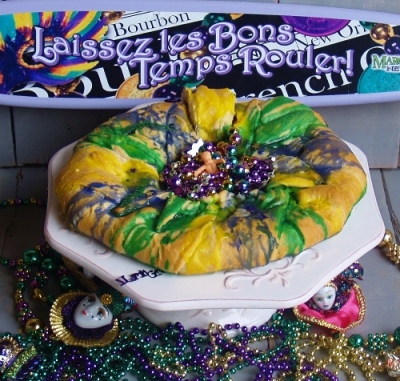 Find me at Weekend Potluck!