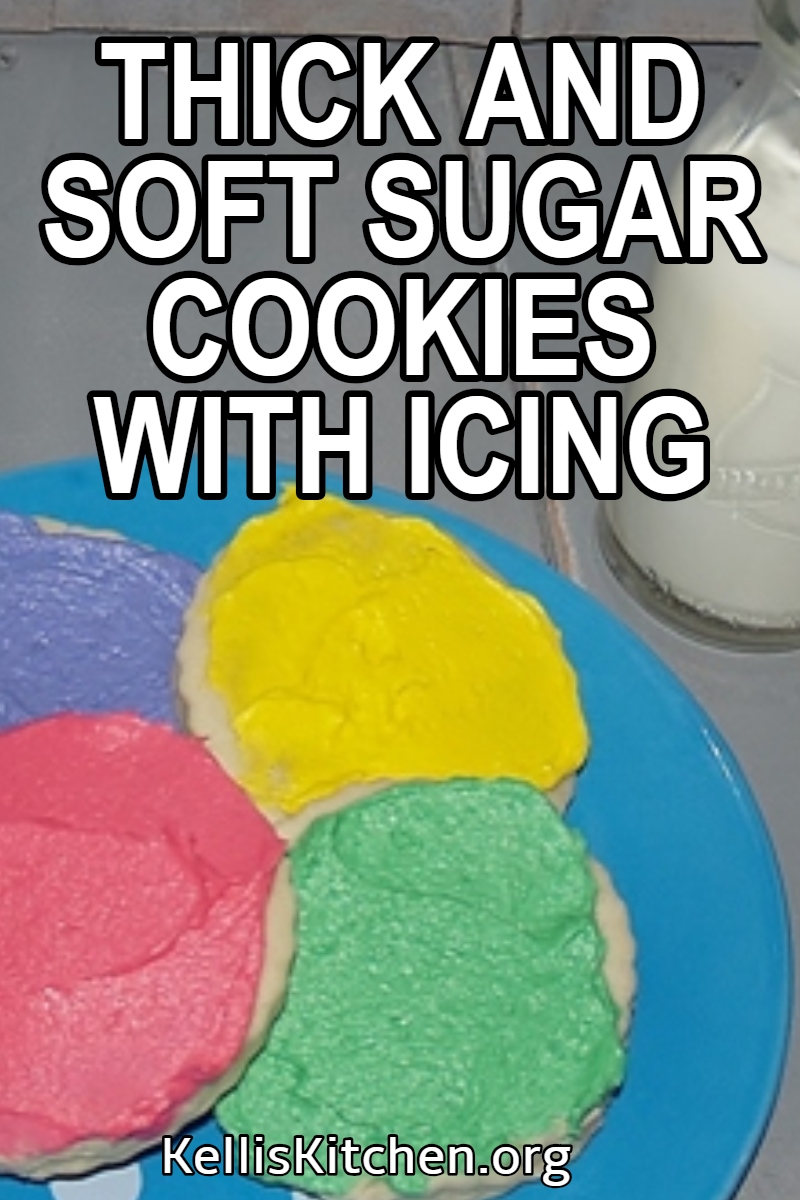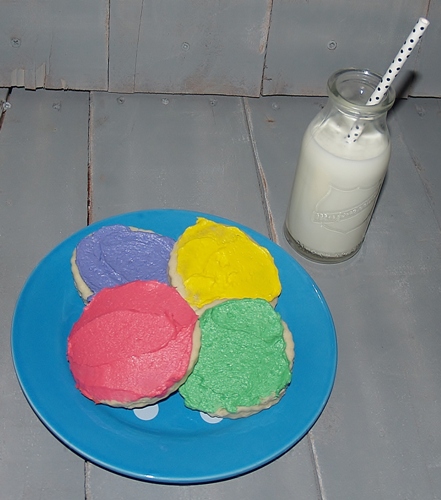 You know the cookies I am talking about, the wonderful Lofthouse sugar cookie with thick luscious icing that costs around $4.99 for nine cookies? That works out to a little more than $.55 cents per cookie. I love the cookies but I do not always love the icing – I'm funny about my icing colors. Some just do not taste good to me. After 13 months of searching, I have finally hit upon a cookie with icing that is thisclose to the original and my family loves them! Mr. Picky Eater said the cookie was "perfect"! The icing tastes right but my technique could use a lot of work! Before I get to that, I want to share some big news:
Tomorrow, January 14th (Tuesday) at 2:00 PM Easter Standard Time I will be one of the featured speakers on a hometalk Hangout and if you have a Google+ account, you can watch! Read below then click on the link and RSVP. I was asked to show how I made my mom's canisters (pictured below the Hangout flyer) along with several other ladies during a Hangout entitled "Insanely Clever Organizing Ideas!" Since my portion will probably take about 5 minutes, I won't be on there too long but I am very excited to be included at all! If you cannot make it at the appointed time, it should be on Youtube afterwards just search for Hometalk Hangout and all of them should come up with the newest being first.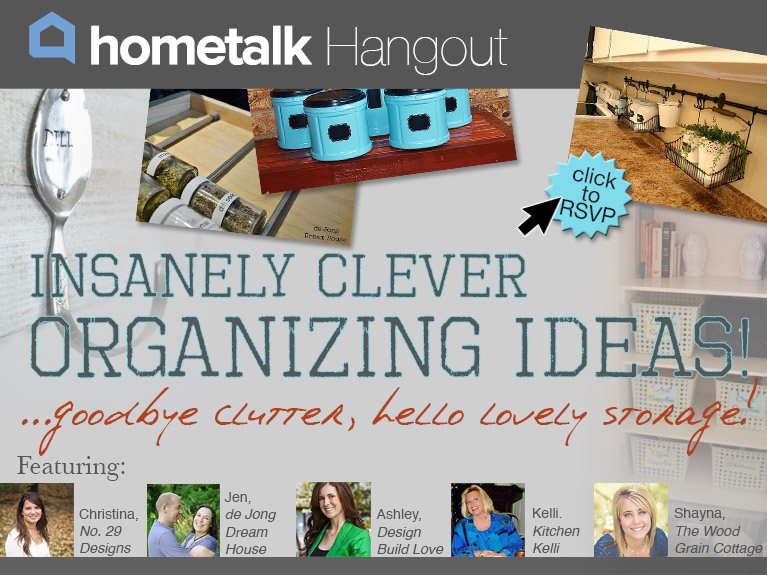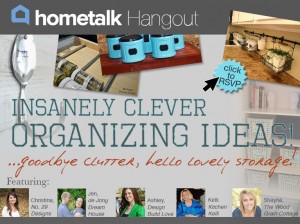 Click here to see the YouTube Video of the program – it's about 30 minutes long and I go last! http://www.youtube.com/watch?v=T8TAewzKwfo&feature=c4-overview&list=UUCqZ18V6706J1NJOIDCVgAQ
Another couple of highlights of the weekend were these recipes I made, both from The Country Cook. I have never been very good at homemade biscuits – they always come out like hard tack or something but these are the easiest and the best biscuits I and Mr. Picky Eater have had. He told me not to buy anymore biscuits, only to make these no-knead, no-rise, no-drop, Butter Dip Biscuits. Here's the recipe in case something is wrong with the link:
1 stick of unsalted butter
2 ½ Cups all purpose flour
2 tsp. granulated sugar
4 tsp. baking powder
2 tsp. salt
1 ¾ Cups Buttermilk
Directions:
Pre-heat oven to 450F
Spray a 9×9 pan with non stick spray
Put the stick of butter in the pan and melt either in microwave (if not metal) or oven.
Put the flour, sugar, baking powder, and salt into a bowl and stir around.
Then add the buttermilk mixing only until all ingredients come together.
Put dough directly into the pan on top of melted butter – do not knead or let rise.
Pat dough out to edges of pan.
Some butter may come up on top of dough.
Using a sharp knife, make 4 large cuts in pan – 2 from each side making 9 square biscuits.
Bake for 20 – 25 minutes until golden brown on top.
Dough will rise beautifully making them crisp on outside and tender on inside.
Aren't they just gorgeous??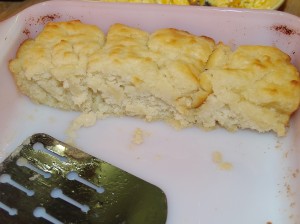 But, as you will see, I am still buying biscuits at least in order to make the Bubble Up Pizza (also from The Country Cook) that takes no time at all and is wonderful! We put ours in my iron skillets because I like the crust better that way but you do not have to. Full Disclosure: It was Top Girl's night to cook and she actually made the pizzas but they were so delicious, I just had to mention them here.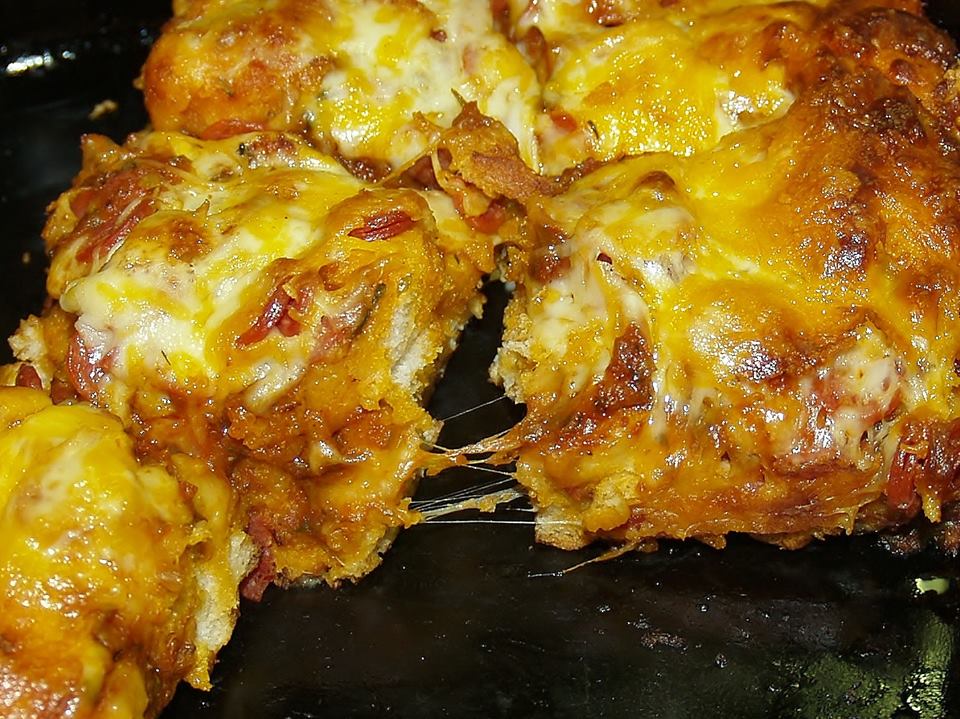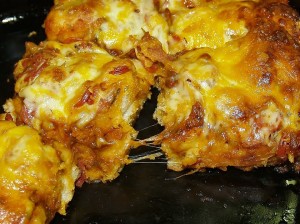 Now, on to the cookies. The directions are very specific because I have made them this way and that way over the last year and the way I made them this time is the way that makes them good like the store bought ones, only better! I was able to make 45 cookies that were 2 ½ inches wide or larger so this is now small amount of dough. If you make smaller cookies you will be five dozen at least and 60 cookies is nothing to sneeze at.
Thick and Soft Sugar Cookies with Icing
Cookie Ingredients:
6 Cups all purpose flour
1 teaspoon baking soda
1 teaspoon baking powder
1 Cup Butter room temperature
2 Cups granulated sugar
3 eggs
2 teaspoon vanilla extract
1/4 teaspoon Salt
1 1/2 Cups Sour cream
Cookie Directions:
Cream the butter and granulated sugar at medium speed until light and fluffy, about 3 minutes.
Scrape down the sides of the bowl with a rubber spatula as needed.
Add the eggs, ONE at a time – beating until each is mixed well.
Add the vanilla and sour cream and beat at low speed until combined.
Add the dry ingredients and beat at low speed until just combined, scraping down the bowl.
Divide dough into four equal pieces. Flatten into rectangles.
Wrap with plastic wrap. Chill in the refrigerator overnight or 24 hours which actually works best.
Preheat the oven to 425 degrees. Line baking sheets with parchment paper or a silicone baking mat.
Dust the top of the dough with flour and then flip and generously flour the other side.
Use flour generously. With a rolling pin, roll the dough out to 1/4-inch thickness. Keep dough you are not working with IN the fridge.
Using a 2 1/2- inch round cookie cutter, cut out circles and transfer to a baking sheet. Bake for 7 minutes, until pale golden. 7 minutes is enough.
Immediately transfer cookies to a wire rack to cool.
Take out only 1 wrapped piece of the cookie dough at a time.
Icing Ingredients:
1 cup unsalted butter, at room temperature
1 teaspoon almond extract (can also use vanilla extract)
4 cups powdered sugar
Pinch salt
6 tablespoons heavy cream
Several drops food coloring
Sprinkles
Icing Directions:
Cream together the butter and vanilla.
Slowly beat in the powdered sugar and the pinch of salt.
Once smooth and creamy add heavy cream 1 tablespoon at a time, then beat at medium-high speed for a minute until light and fluffy.
If desired, add food coloring and beat until combined.
Once cookies have cooled completely, frost and add sprinkles.
Allow frosting to set, then store in an air tight container in the fridge.