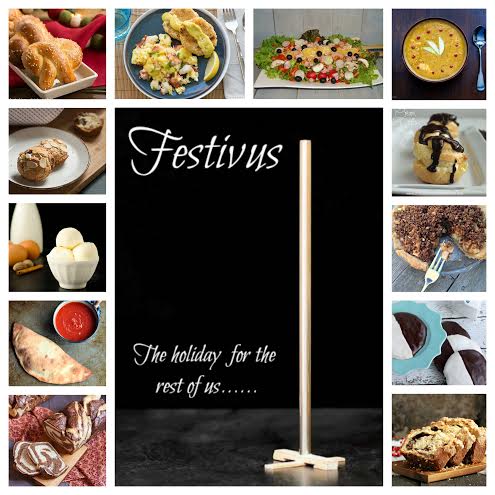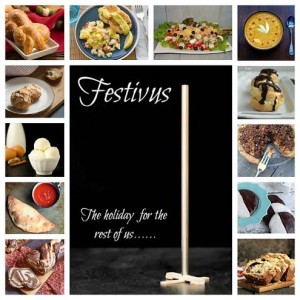 Today we're taking a break from all the Christmas celebrations to discuss an odd group of friends, a strange pole and a 'show about nothing.' And by now, all you Seinfeld fans are smiling. It's been 15 years since the TV series left the air but it's still very much around in syndication, popular culture and a little made-up holiday called Festivus. Celebrated with a bare pole and an airing of grievances, it's a time to come together and say "I got a lot of problems with you people!" It's all in good fun, of course, and in its 9 seasons, quite a lot of delicious food came up on the show. So some of my blogger friends and I decided to cook the foods best associated with the Seinfeld years.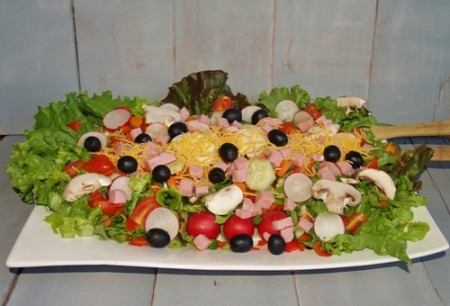 Our blended family celebrates Festivus and this is how it began: When I met my husband, talk naturally evolved into favorites – food, music, restaurants, and television. My husband mentioned a few TV shows he watched during the 1990's, one being Seinfeld and the other Wings. I had never watched either because as a single mom, I was busy going to school full time, working full time and taking care of Top Girl. Mr. Picky Eater described all the highlights from both shows and how he thought Festivus was something he and his boys should have celebrated since they usually had their Christmas together around the 23rd of December. During our first year of marriage, I thought it would be grand to put together a Festivus for our new blended family as we attempted to get to know each other. I did not tell anyone my plan but asked if everyone could be at the house on the evening of the 23rd. I worked all day at home preparing for our Festivus Feast, evening finding an old pole I put in a Christmas tree stand to serve as decoration. Of course there were Christmas presents and a tree but I did not want the kids – who were pretty much adults – to feel any kind of pressure or competition, I really wanted everyone to have fun!
Up to this point, I had seen very few reruns of Seinfeld and Wings but I commonly got the characters mixed up. I remembered the shows I watched seemed to have had celebrations involved where a Big Sandwich was ordered each time so I settled on that. A large loaf of French bread with meats, cheeses and accoutrements to beat the band! Everyone arrived around the same time where I welcomed them all the Festivus! We all got shirts to wear: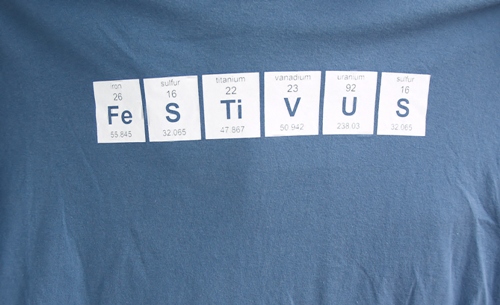 I gave an explanation of the pole, gave them index cards to write their grievances on and presented the Big Sandwich – celebratory meal of Seinfeld and our Festivus!

At first there was a moment of silence where I thought I had flopped, and then raucous laughter from the boys and their dad. My face turned red and I was very embarrassed because I felt like they thought I was stupid for coming up with it. Finally, when they stopped laughing one of them told me that Big Sandwich was from the sit-com Wings. The Big Salad was from Seinfeld.
Then we had to dig out the episode (from Season two episode number 6) and watch it, right then and there. Elaine's salad does not look like MY salad but once I did make up the salads in Styrofoam containers just to give it a little authenticity.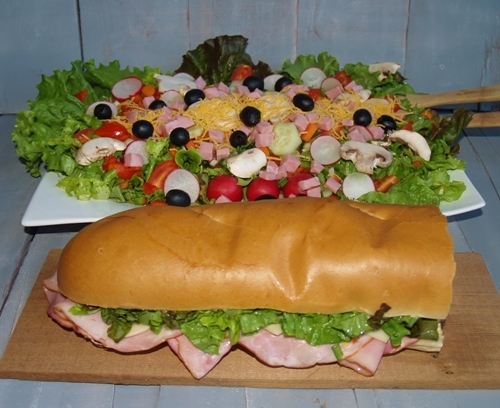 Nowadays, we have a Big Salad and a Big Sandwich together then we each are allowed one 'grievance' to air per attendee (all done in fun) and at the end, the boys have their Feats of Strength exhibition since they started taking their bodybuilding steroids and THAT'S pretty darn funny. Rocket will join in this year because he is old enough (20 months) to show his feats with complete abandon! We do not always get to celebrate on the 23rd, but we always celebrate and nowadays there are no presents which make it even better.
The salad is easy and most of you know how to put one together by using whatever vegetables you like in combination – would you believe the Mr. Picky Eater put this one together? Yes he did – and he even touched the mushrooms! He didn't eat them of course but he placed them on. He also chopped every single morsel of this beauty.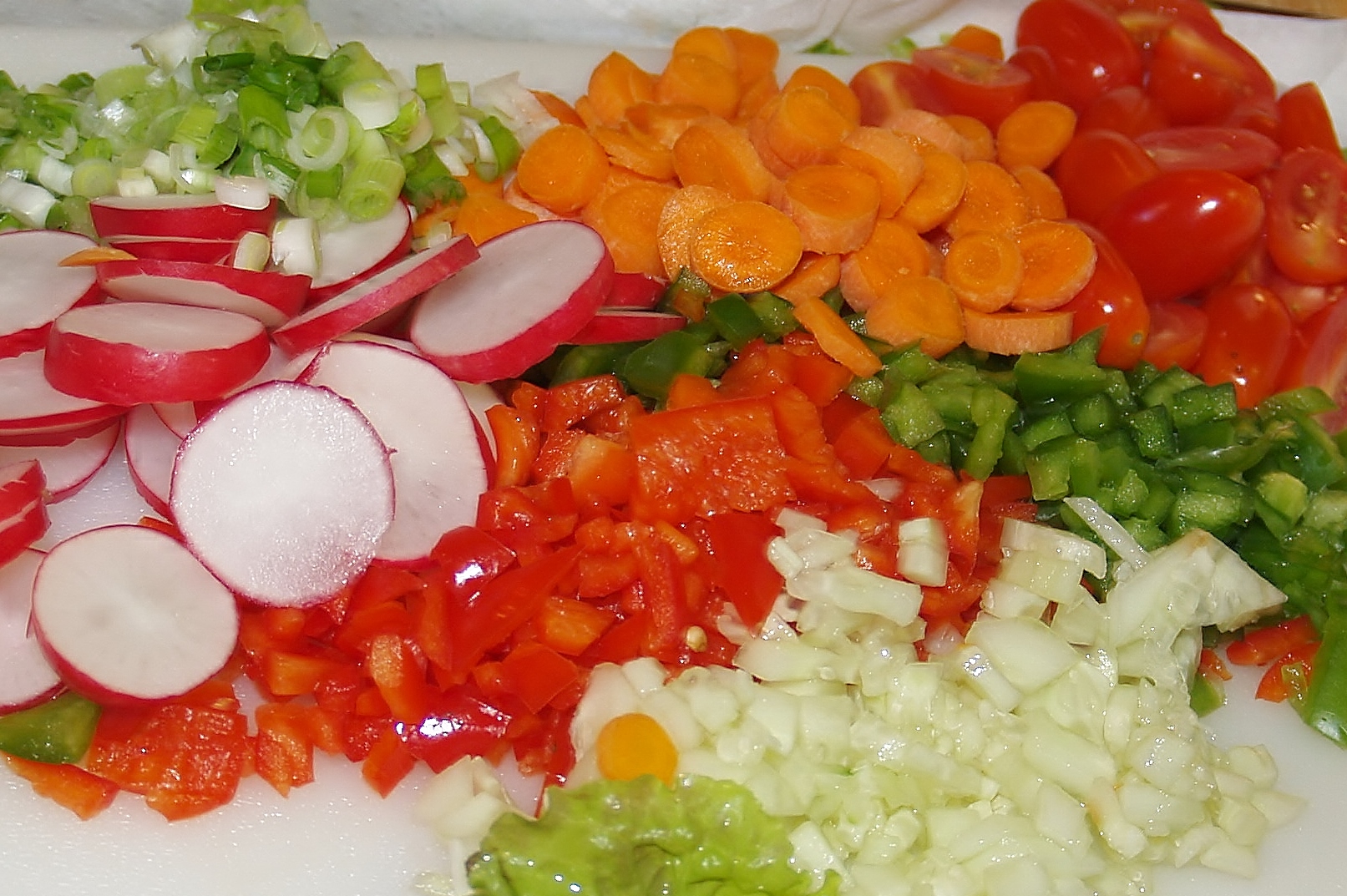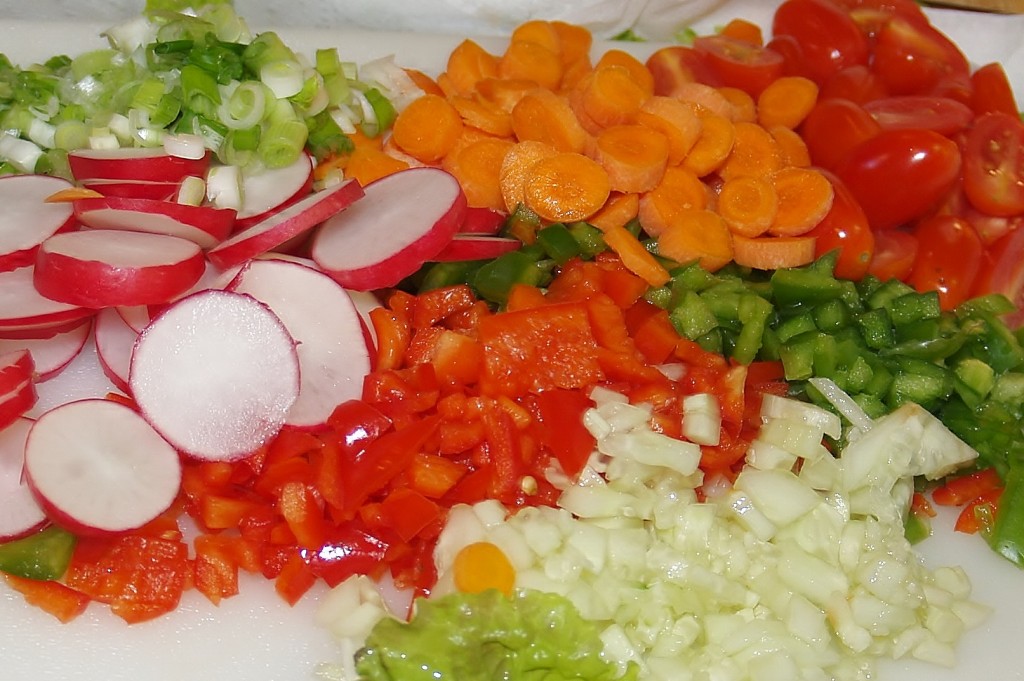 Isn't his work admirable? He is such a perfectionist that he chops each and every piece of vegetable uniformly after washing and running through the salad spinner……..I told you we loved that kitchen item! I make the vinaigrette and the Big Sandwich early in the day so the flavors can meld. The vinaigrette is a simple basic recipe: three parts olive oil and one part vinegar. I've tried using balsamic or red wine (my favorite) vinegar but that has not been acceptable – also, no "weeds or twigs" in the salad or dressing either. Weeds or twigs are anything resembling herbs or non-iceberg lettuce.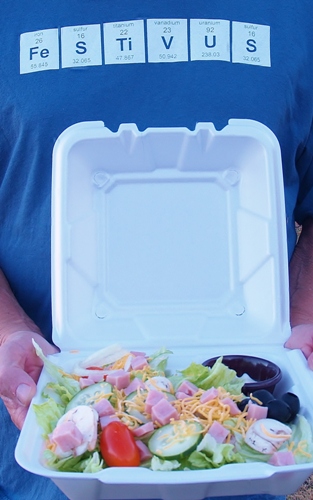 While Mr. Picky Eater enjoys making the salad, he never eats it. I make him a salad like the one he is holding in Styrofoam above minus the mushrooms and green olives with Ranch dressing that I make from scratch – no bottled. Truth be told, none of us care for bottled Ranch. The fancy salad and vinaigrette are left to the rest of us — for Festivus.