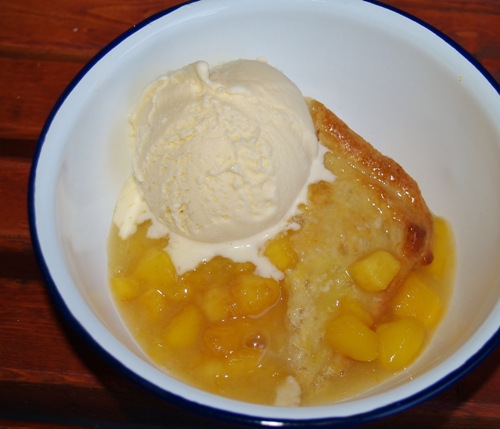 My Nana was such a great cook and I didn't even give it a second thought growing up – these days I sure wish I had paid more attention to what she did. She made a wonderful cobbler. Blackberry, blueberry, cherry, apple and peach. Her cobbler crust was not exactly like pie crust and it also wasn't like a cake mix or biscuit either. It was sweet but it was also a bit chewy and there were pieces inside the with the fruit too. I used to watch her make it but I never paid that much attention so I had no idea how she made up her "insides". For that, I went straight to my friend Carla's blog Chocolate Moosey. I saw her great recipe for Peach Pie filling just the other day so I decided to use that:
Peach Cobbler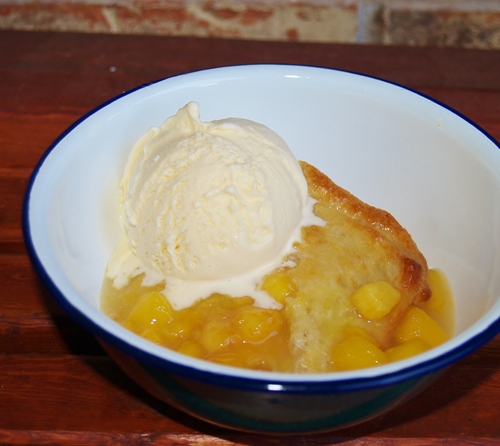 1 Cup water
1 Cup sugar
¼ Cup cornstarch
1 tablespoon lemon juice
3 Cups peaches peeled and chopped
¼ teaspoon vanilla
1 Pillsbury thin Pizza Crust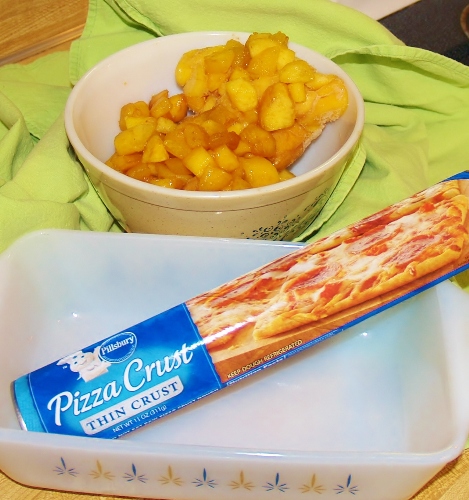 Non stick spray and a pan – I used a Pyrex rectangular pan
Directions:
Put the water, sugar, cornstarch and lemon juice in a pot, bring to a boil then take off stove.
Stir in the vanilla and then the peaches. I put them back on the stove and stirred occasionally while I put the dough in the dish.
With my fingers, I pulled the pizza dough and stretched it out pretty far and then I used a pizza cutter to slice it in half.
I put one piece one way and the other piece on the other like this: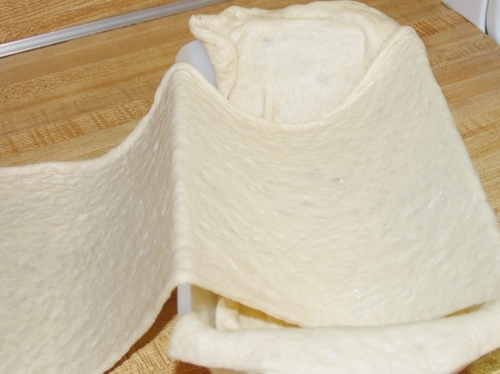 Still there was enough to put the top on and pinch it together.
Using scissors, I trimmed the dough and cut holes in the top.
I also beat an egg and put in 1 tablespoon of water then brushed on top of crust and sprinkled sugar on top of that.
In a Pre-heated 400 F degree oven, I put the cobbler and baked it for 30 minutes, or until golden brown on top.
I suggest some ice cream to go along with it!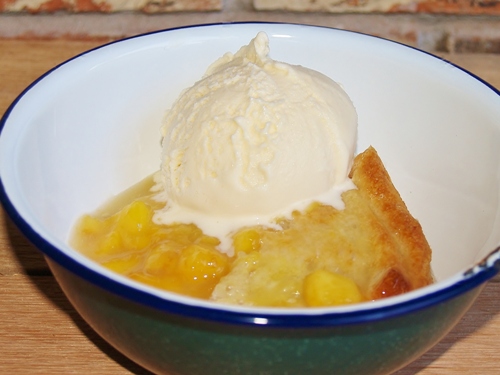 I am not terribly up on all things gluten free but if you used that gluten free pizza crust, would it be a gluten free cobbler? Anyone know? Enjoy!