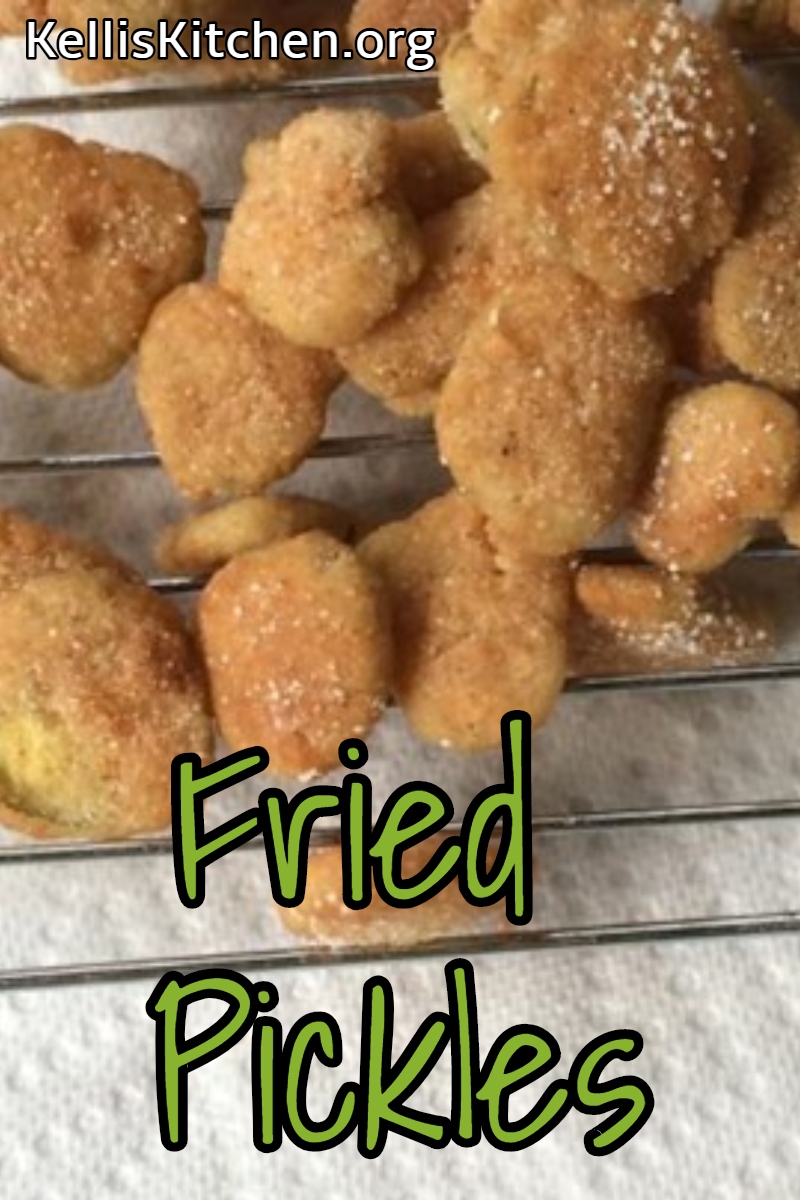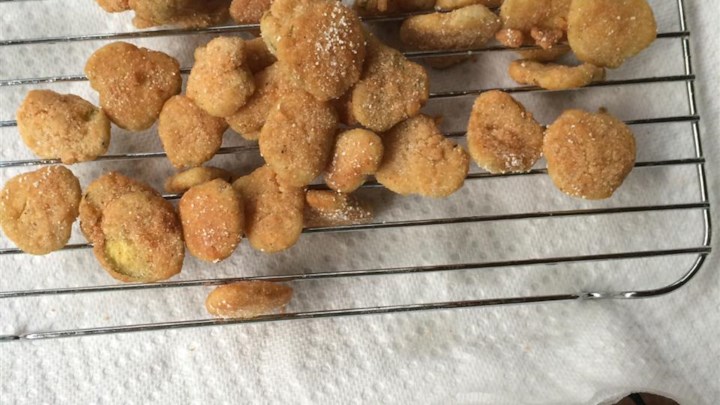 Have you ever tried fried pickles? Mr. Picky-Eater loves them. They are widely available here in Oklahoma at many different venues, most notably Sonic.
Sonic Drive-In was started in 1953 in Shawnee, Oklahoma – coincidentally where Brad Pitt was born and many family members still live – and now, Sonic is the largest drive in chain in the U.S. Anyway, I've been eating foot-long chili cheese dogs and tater tots for as long as I can remember. When I began dating my husband, our first "date" was ½ price burger night (Tuesday's) from Sonic.
***He's not cheap, he was taking chemo/radiation treatment for Non-Hodgkin's Lymphoma when we began dating and Sonic burgers was about all he could keep down for a while***
When he asked me to pick up fried pickles from Sonic I had no idea what he was talking about. Back then, it wasn't on the menu and you had to ask for it and the first time I tried them, they tasted spicy and sour. I didn't care much for them. I would get my tater tots and he would get the pickles each time. I've tried them from every restaurant that offers them across the United States and they were always spicy and sour…….and I never cared for them.
However, one day recently I ran across a recipe for homemade fried pickles in the June 2012 issue of Food Network Magazine (pg. 80). I realized I could do this easily and it wasn't all that complicated! I made it exactly by the recipe the first time and they came out limp. While I loved the taste I made up, I wanted them crispy! So I adapted the recipe to some of the cooking tricks and tips I've learned in my quest to learn to cook. The second time I made them? Perfection! My husband loves them even more than Sonic and I've made them nearly every weekend since.
The actual work involved takes little time although there is a "marinate" time of an hour to an hour and a half. But don't worry – it's worth it!! Here is my recipe adapted from Food Network Magazine and mine are fabulous if I do say so myself! 
Fried Pickles, a Southern Delicacy
Dipping Sauce:
¼ Cup Mayo
1 Tablespoon horseradish sauce
2 teaspoons ketchup
¼ teaspoon Cajun seasoning
Pre-Cook Coating:
2 Cups drained and patted dry pickle slices – I used Vlasic pickle slices. Dry very well.
½ Cup Flour
½ teaspoon garlic powder
¼ teaspoon paprika (I recommend smoky paprika if you can find it)
Coat the dried pickle slices in the flour, garlic, and paprika.
Place in single layer in pan and cover with foil or plastic wrap for an hour to 90 minutes in fridge.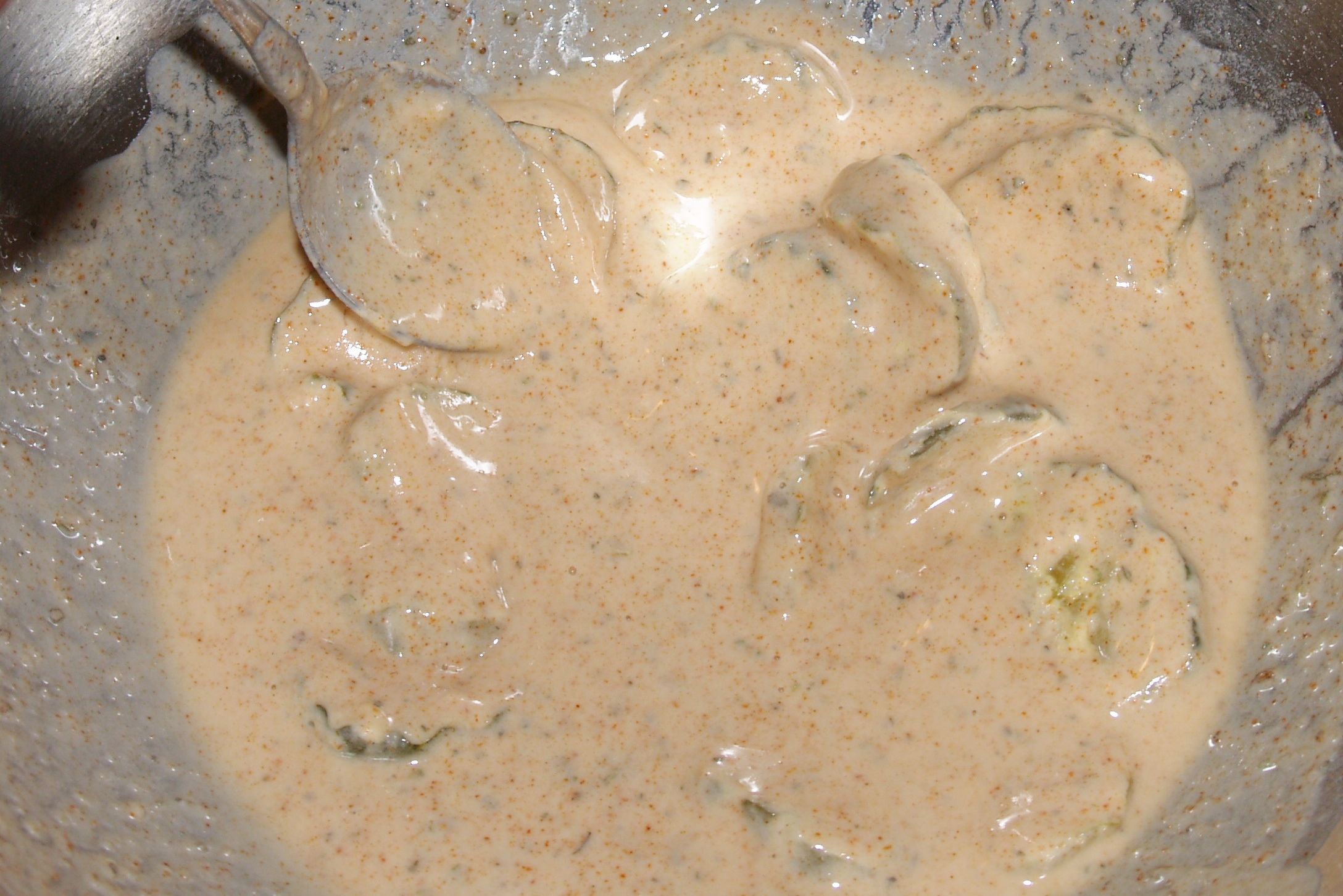 Batter Coated Pickles
Batter Coating and Cooking:
Peanut or vegetable oil
½ Cup all-purpose flour
1 ¾ teaspoon Cajun seasoning
½ teaspoon Italian seasoning
¼ teaspoon Cayenne pepper
½ Cup water
½ teaspoon kosher salt
Directions:
1. Heat 1 inch oil to 375 F.
2. Mix up the ingredients, except pickles, until smooth.
3. Place ½ pickles into bowl of batter and toss.
4. Using slotted spoon, dip coated pickles out, allowing excess to drain.
5. Place pickles, one at a time, into heated oil.
6. Cook 1-2 minutes.
7. Remove from pan and place on paper towels to drain.
8. Cook remaining pickles in same manner.
9. Serve warm with cold dip!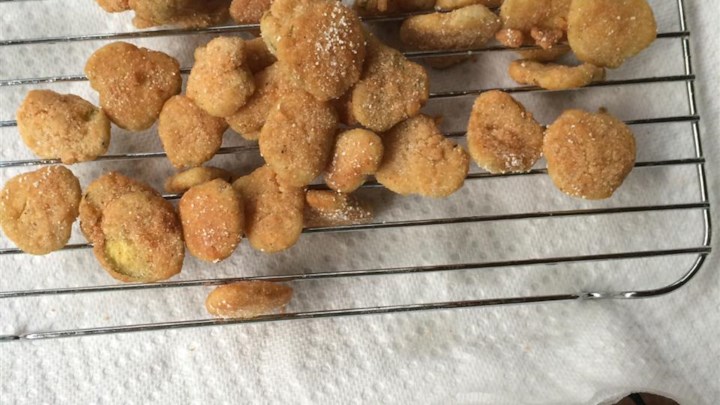 P.S. – Don't cover these with foil to keep warm until all food is served. It will "steam" them and they will become limp. Just make these last and serve immediately. Enjoy!