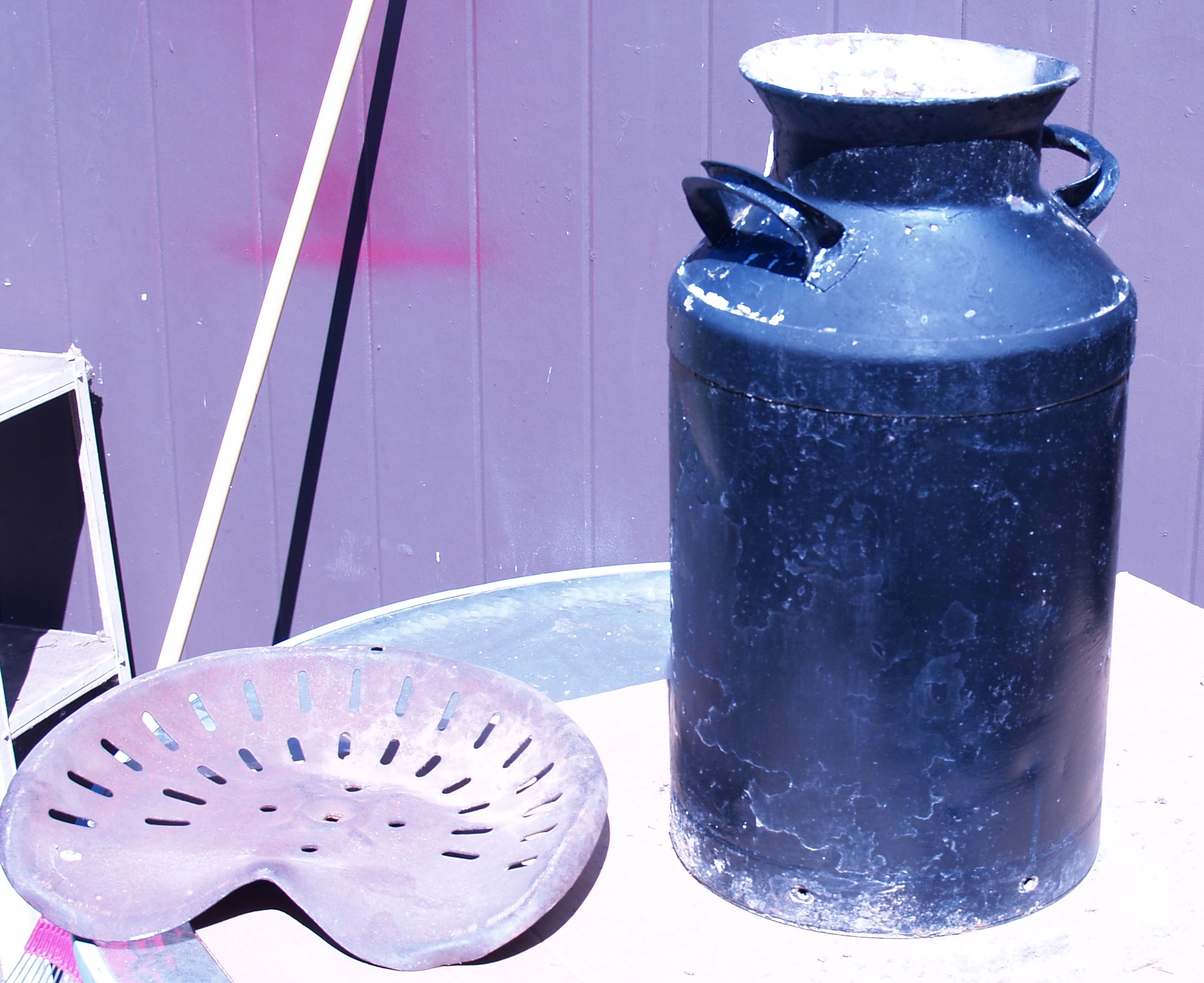 Living in a place like Oklahoma, you can imagine that we have lots of rusted farm implements and other farming equipment lying in fields and on the side of the road. Sometimes I feel the challenge to be imaginative enough to do something constructive with that junk as that is a retro-art. I can usually come up with an idea, but I'm not much of an executor – that's my husband's job. He has never let me down and our children have watched us create many things over the years. Some they like and some they don't but, they are always encouraging. Recently The Kalamity Team (JD & me) have been repurposing many things for the grandchild soon-to-be-born (18 days from now in case I haven't told you!) I have some great pictures to show you later that shows our new take on my great-grandmother's four-poster bed and how we are using it in the grandbaby's nursery. JD's out there right now redefining a changing table into something useful for Daughter Dear to use with the baby and then there's my bassinet and her cradle that he refurbished.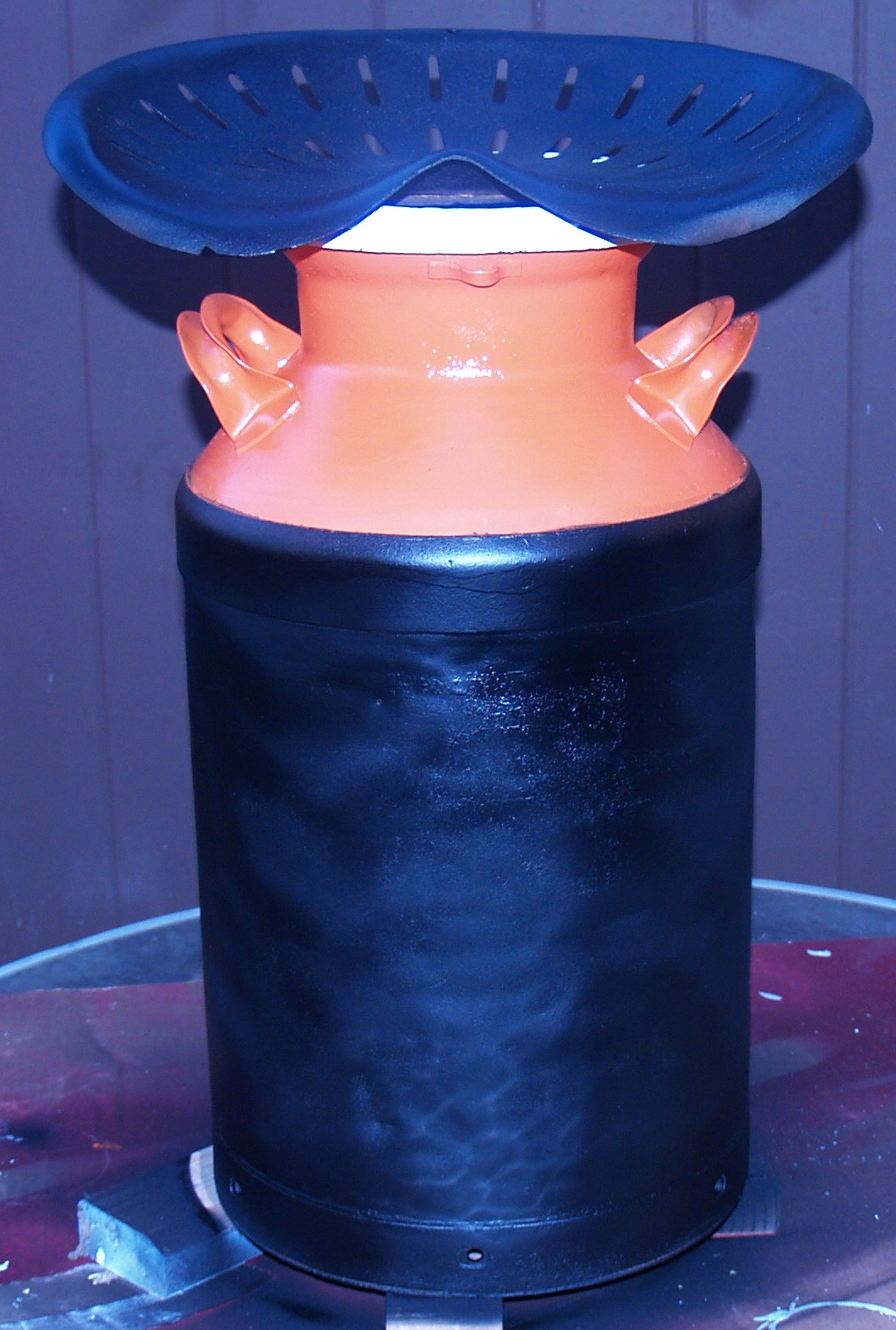 Daughter Dear is not the only big achiever in our family: Son Smarty-Pants will graduate from Law School in a little over one month. That's not to say DD isn't smart – but she's 6 years older and has had her Master's Degree for some time. SSP was offered two jobs back in November and he took the one closest to his family. His undergraduate work was completed at Oklahoma State University and his JD will come from the University of Oklahoma. If you know anything about sports, you know that these two schools vie to state domination all year long and there are some die-hard fans living here and my family is no exception. We all have allegiance to our undergraduate universities. That's 2 for OU, 1 for OSU, and me – The University of Kansas, yep we'll be playing basket-ball Monday night! 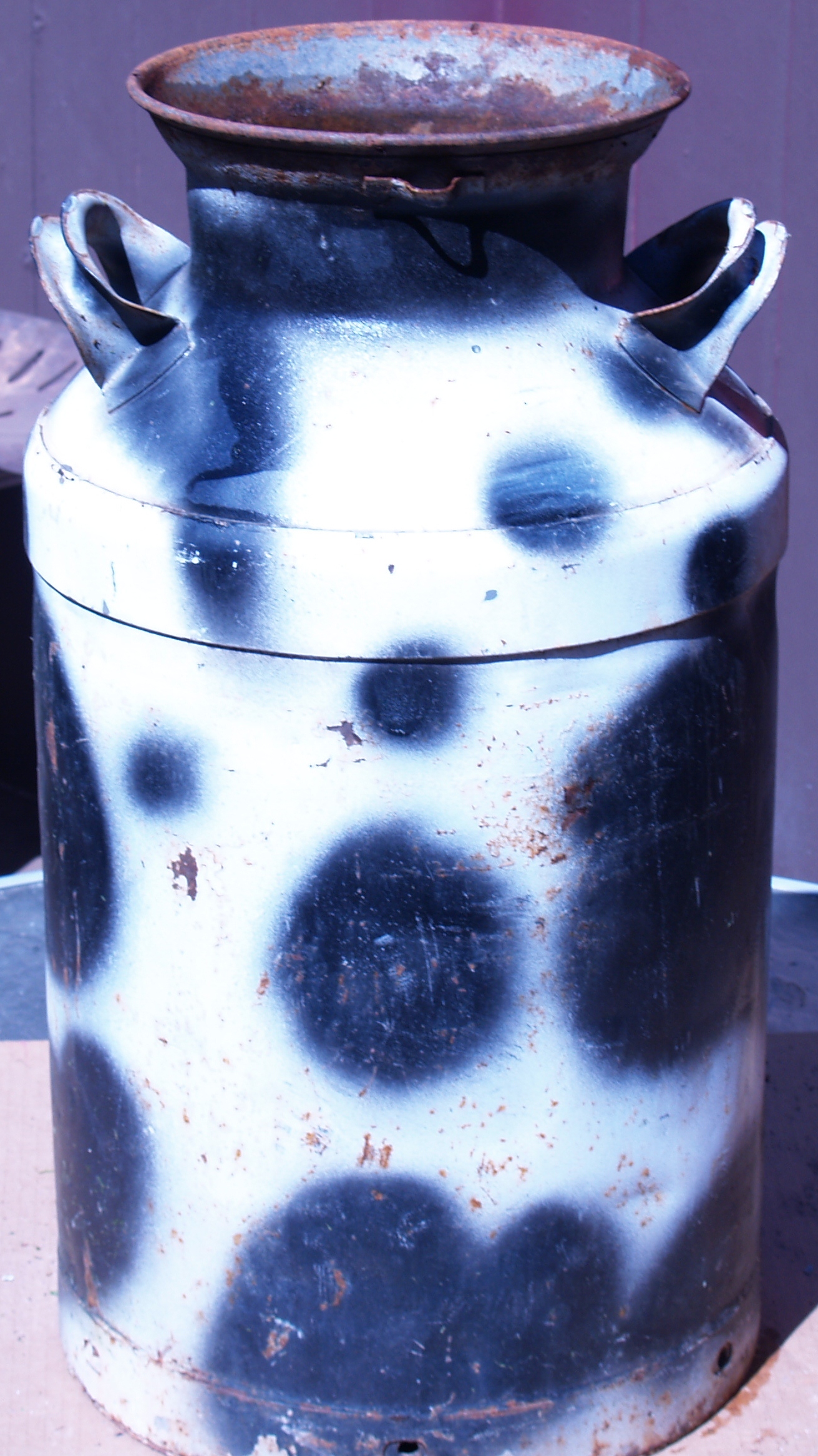 SSP has seen my milk can re: rusted farm equipment in fields and ditches, that Kalamity Team made into Jayhawk milk can for our office. He expressed interest it. 2 weeks ago, SSP asked JD to make him a milk can like mine only from his alma mater – OSU that reflected his background and his future position. So, we added a tractor seat to the milk can so he can have an extra seat in his new office. There are two: OSU (that's Pistol Pete) and one from Farm House, SSP's fraternity. Pretty cool things to have in an office where rural small-town development is the focus.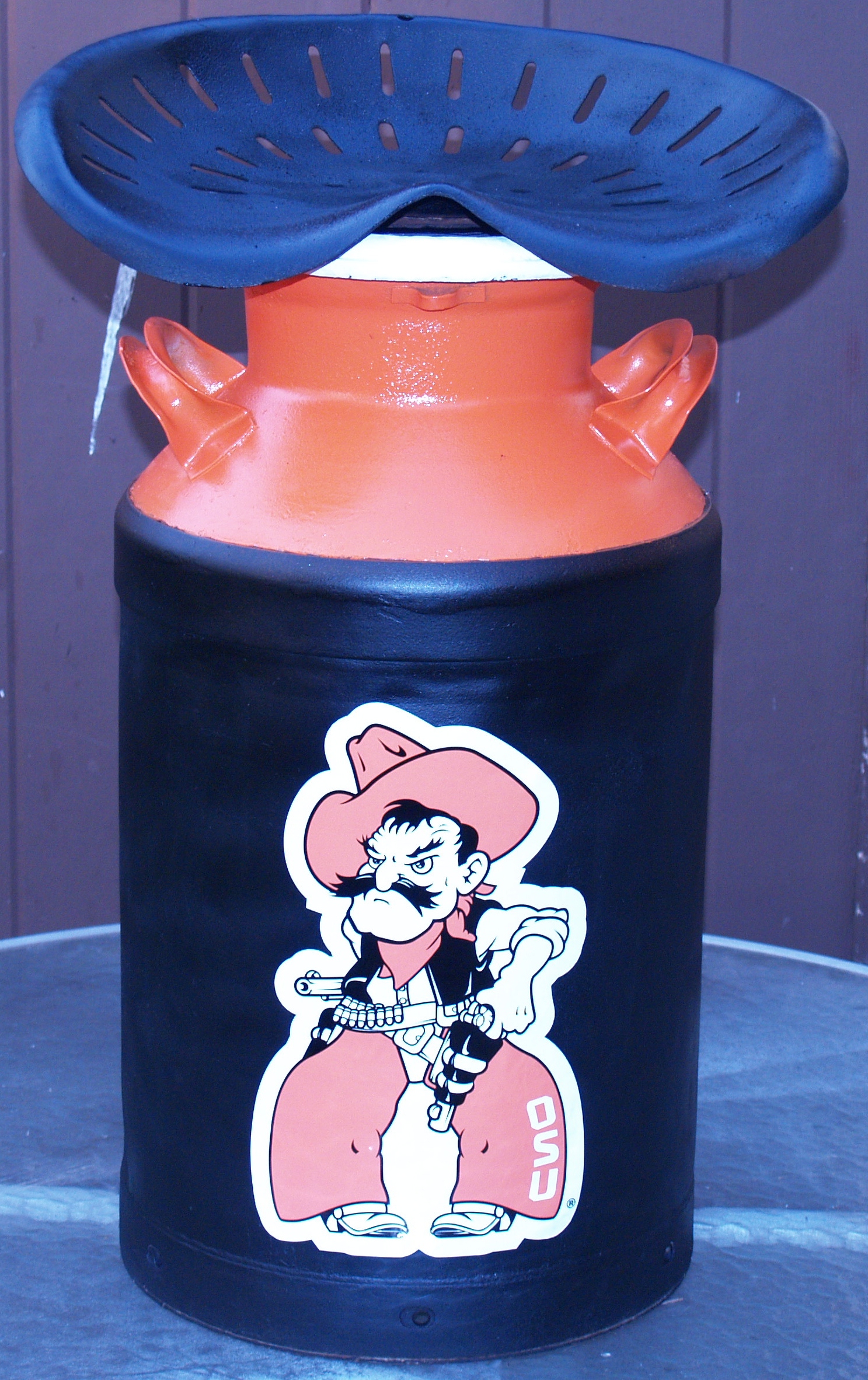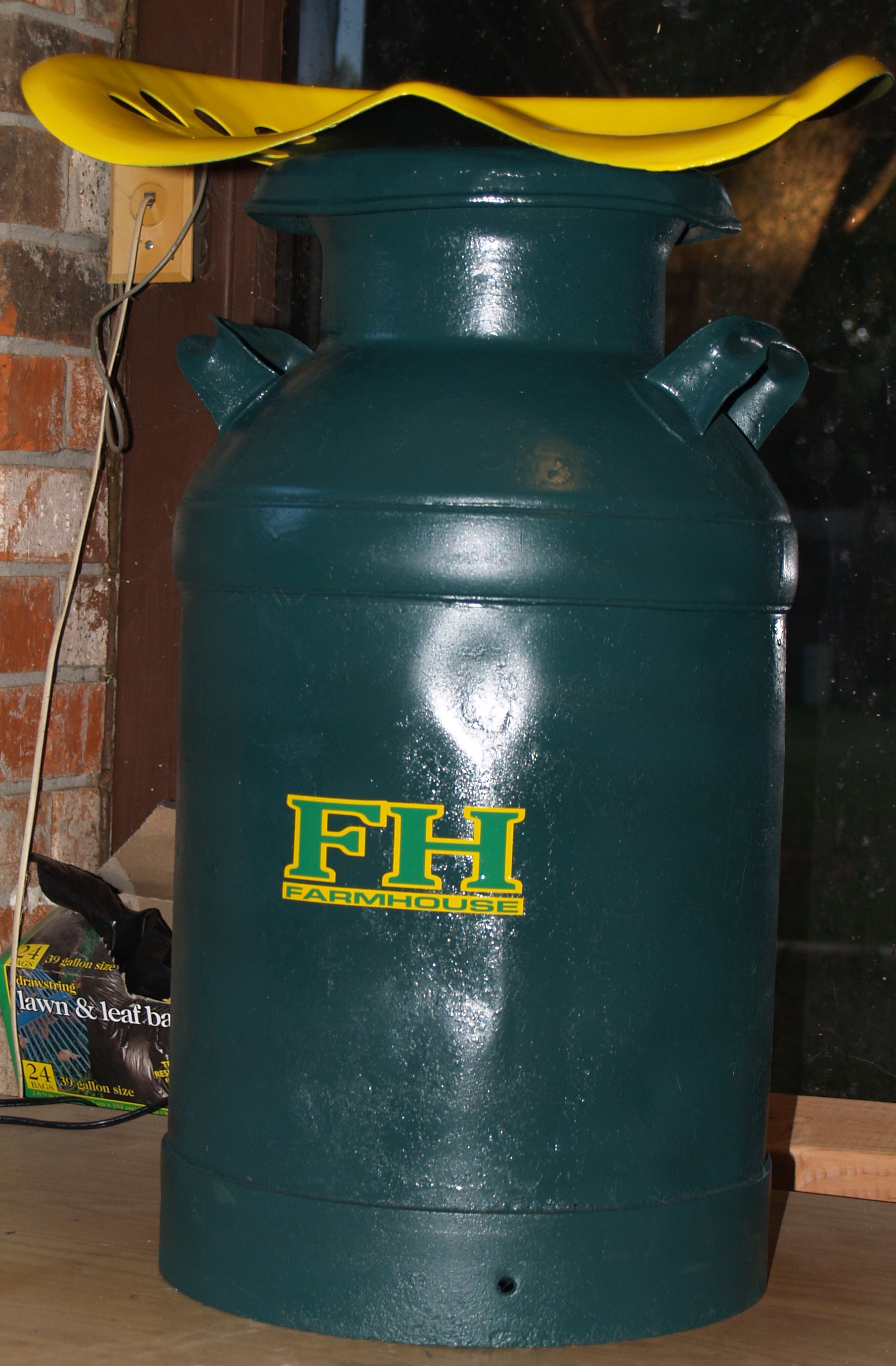 JD took a few pictures to work where there were so many requests; he spent yesterday making 2 more! It is a bit hard for an OU grad to work on an OSU item. Generally, orange – one of their school colors – is not even allowed in this house! I think he's found a post-retirement job! Enjoy and please comment!