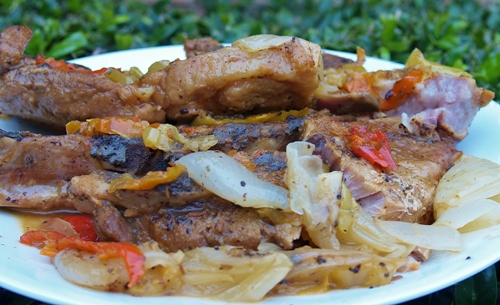 How is everyone doing this holiday weekend? We have been busy moving in the kids and getting things settled down. I have also done a few Halloween projects for my posts on Hometalk (click on the icon to the right) so I have been very busy! We were going to grill out yesterday but Mr. Picky Eater thought it might rain and wanted to put it off until today. I had to come up with something for Sunday Supper. Hmmmmm….. Remember when I made the Pulled Pickle Pork with the recipe from Juanita's Cocina? I thought about it and found the jar of pickles but there were not that many and we still needed some for the cook-out but I did have a nice jar of mild sliced banana peppers and so, that's what I used and it turned out wonderfully! I think you'll like this recipe since there are so few ingredients.
Pepper Braised Ribs
4 ribs – we used pork but you can use beef too.
1 can chicken broth.
1 Ten ounce jar sliced mild banana peppers.
1 onion peeled and quartered.
1 teaspoon cumin.
Salt and pepper to taste.
2 Tablespoons oil.
Directions:
Pre heat oven to 325 F.
Brown ribs in oil in heavy pot – Dutch oven.
Pour can of chicken broth into a Dutch oven.
Salt and pepper ribs and place in Dutch oven.
Place quartered onions around ribs.
Pour entire jar of banana peppers over ribs.
Sprinkle cumin all around.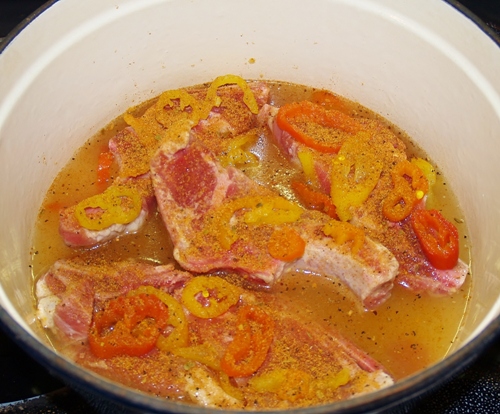 Place lid on top and braise for 2 ½ to 3 hours.
Take out of oven and allow to set for 15 minutes.
Serve! MMMMmmmmmmmm good!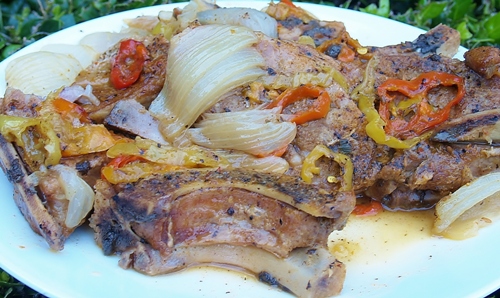 I'm partying here this week!!! http://www.tumbleweedcontessa.com/blog/whatd-you-do-this-weekend-31/
Great party is here this week! http://www.thisgalcooks.com/2013/09/01/link-party-marvelous-mondays-62/
I'm finally back partying at a great link up! http://www.thecountrycook.net/2013/10/weekend-potluck-89.html