***This post was sponsored by The Women Bloggers, LLC and #SoapBoxInfluence. The opinions are mine and those reported to me by party goers. *** Also, a special thanks to the Kendal King Group creators of #HummusMadeEasy Campaign. #ad #sponsored
This past week was Rocket's 4th Birthday Party where Rescue Bots was the theme.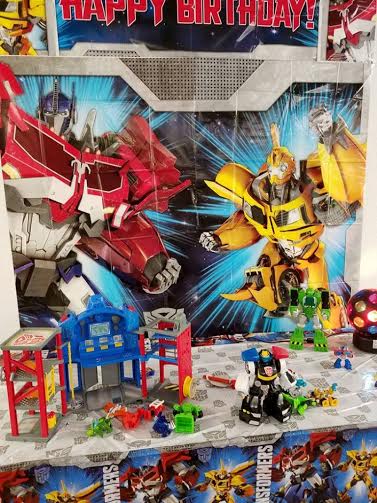 Those attending are all family and friends of the Birthday Boy but these little ones brought along their moms, aunts, grand parents and even a few great grands along with some aunts and cousins face-timing because of the flooding in Texas. They came from the country and city alike – all Walmart shoppers and some of the most opinionated people (women) I've ever met – so if the food wasn't good, I was going to hear about it for sure.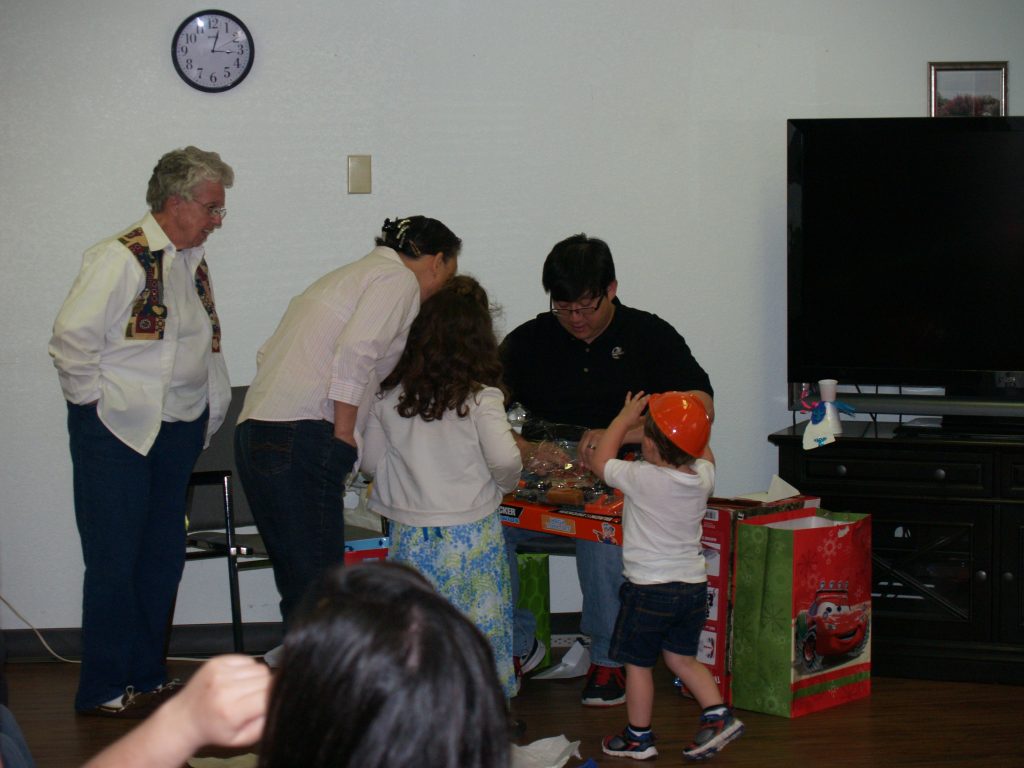 My daughter and I often stress over what to serve at the party because we have many vegetarians and near vegetarians coming to the event while our immediate family are all carnivores. We always try and do more than the "fruit and vegetable trays" that are so common at grocery stores these days, so when I got the opportunity to work with Bush's Beans #HummusMadeEasy campaign, I jumped at the chance! I used the free product to practice and then purchased much more on my own for the actual party – you are not going to believe how well this went over for all the party goers! First, I went to Walmart and bought the beans and the #HummusMadeEasy pouches: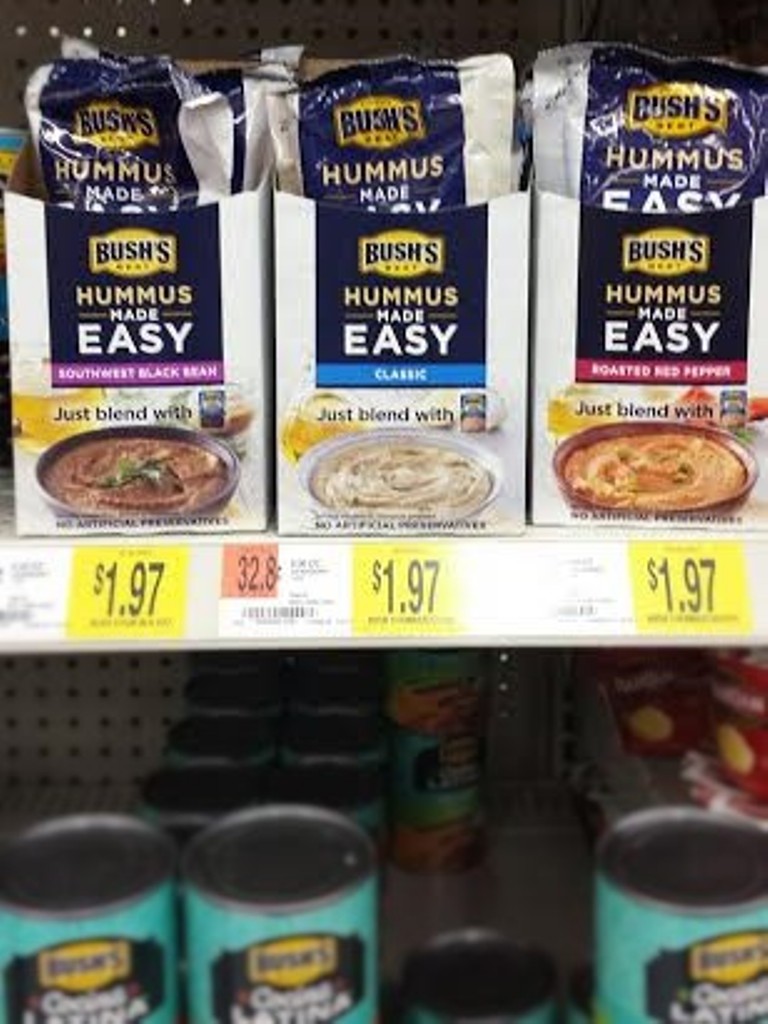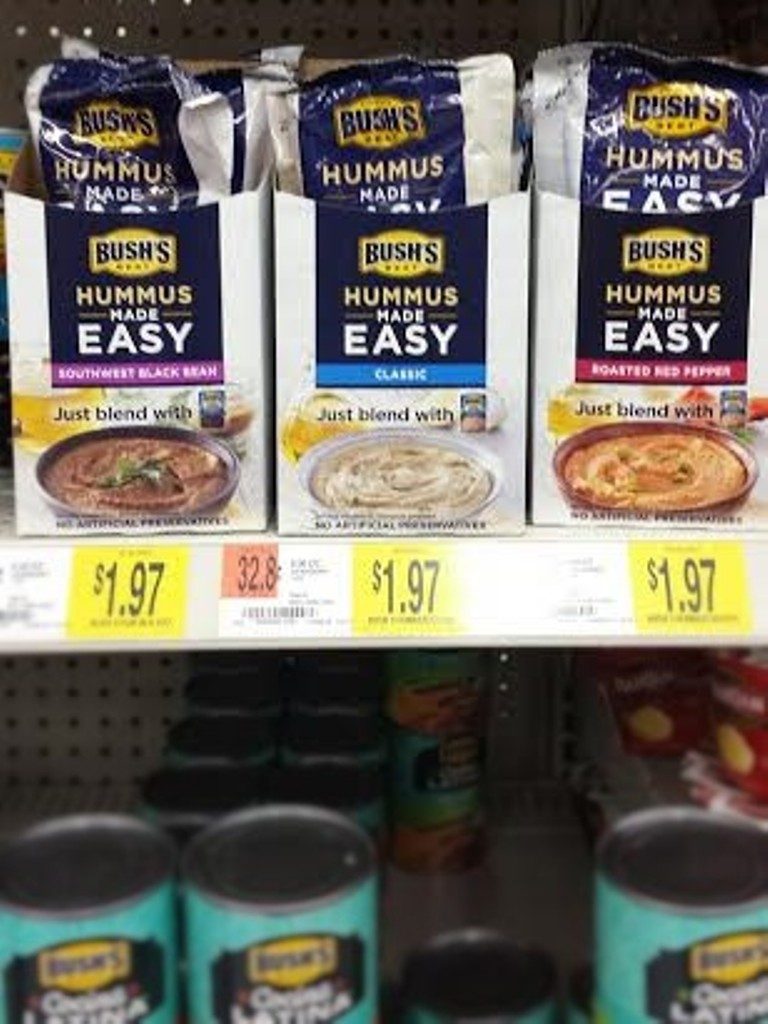 Then I took them home and put them in my "party box" where it sat with my strainer and small food processor until the day of the party. On the day of the party – at the party room – I unpacked the beans, hummus pouch, strainer and food processor where I processed like this:
I rinsed out the processor several times and made many different kinds including Classic, Black Bean, Roasted Red Pepper, spicy black beans and garlicy classic – all you do is use the pouch and whatever kind of beans you like: Garbanzo, black bean, spicy chili black bean, black-eyed peas, white navy beans and you can then add in extras like fresh garlic, chipotle peppers, whatever you like! In order to make up 7 batches of hummus it took exactly 13 minutes. That's pretty amazing!
Three of the batches we put out in the traditional buffet setting – doesn't that look pretty and appetizing? And then……….I made more recipes that I developed especially for this campaign and to make it more interesting, we had a contest of regular hummus eaters and non-hummus eaters who would determine their favorite by popular vote – it was very exciting and helped keep the adults attention while many children ran wild outside with dinosaurs and rescue bots like this – see how we all love to eat?!?!
We started the kids off with Nachos but all the beautiful colors brought the adults in the "taste test" right away!
Hummus Nachos:
1 Can Bush's Beans (Garbanzo or Black)
1 Pouch #HummusMadeEasy
Nacho chips
1 Cup shredded cheese
Chopped Sweet Bell Peppers
Thinly sliced Red Pepper
1 Can Sliced Black Olives
1 small Can chopped Mushrooms
1 small can of corn, drained
Directions:
Put drained and rinsed beans into food processor along with #HummusMadeEasy Pouch
Put chips on a plate
Spoon hummus on top
Sprinkle Shredded Cheese
Pop into the oven or microwave just until cheese is melted
Sprinkle other desired toppings on – eat and enjoy!
Now on to the big vegetarians – they are lovers of quinoa so I made some bowls.
Hummus Quinoa Bowls
I made the quinoa bowls quickly by making the quinoa according to package directions and then dipping into a bowl with hummus and assorted fresh cut vegetables on top – there's very little effort to this one and it made a huge impact on the quinoa eaters at the party!
Next came the Hummus Pizza Dip – easy, healthy AND tasty!
Next I made the Hummus Pizza Dip – I made it into a photo collage that is so each it only takes a microwave and goes like nobody's business! The ingredients and directions are self-explanatory on the tutorial board so be sure to pin this one! The hummus makes a "crust" and the rest is just ooey-gooey good. Ingredients are Hummus, Pizza Sauce, Mozzarella Cheese and Pepperoni (optional). You can either microwave until the cheese melts or put the broiler on his and set the dish into the oven for a few minutes until the cheese gets brown and bubbly. Even the non- hummus eaters loved this one……….and the kids devoured it!
Hummus Pizza Dip

Now for the Egg-O-Nator:
This was my favorite and I've had it every single morning since!
Hummus Egg-O-Nator
1 round muffin bottom or even toast
1 Can Bush's Beans, drained and rinsed
1 Pouch of #HummusMadeEasy
Fresh Spinach
Mozzarella Cheese, shredded
Fried Egg (optional – but without it you can't call it the Egg-O-Nator!)
Directions:
Process the beans and #HummusMadeEasy Pouch
Toast the bread
Spread on the hummus
Sprinkle on the spinach and cheese
At this point you can broil a moment until the cheese bubbles or microwave
If you love eggs like me, then you fry an egg like me and put it on top – prick the top letting all the eggy loveliness run into the nooks and crannies, MAKE SURE TO USE PASTURIZED EGGS!! Sit back and enjoy the egg-o-nator experience!
Here's how the voting went:
The kids all voted for the nachos and pizza dip while the regular hummus eaters preferred the Egg-O-Nator and the non-hummus eaters wanted ALL the muffins! I'm bringing the muffins to you next week in a separate post because they turned out pretty spectacularly and because it is a great way to introduce hummus into someone's diet.
My Mother and father-in-law (pictured here) loved the hummus so much they asked for all the leftovers to take on the 2 ½ hour drive home that evening and made sure they remembered that they could currently get the Bush's Hummus Maker at Walmart. They are getting ready for a long road trip where they would be stocking up because it was much easier to make the hummus fresh than to chance buying it made and it getting soggy or dried out in the RV fridge. They have been vegetarians for over 40 years and tell me this was the best hummus they ever ate! Of course when Face-Time came with MIL's Sisters in Texas to wish Rocket a Happy Birthday, she was more than happy to tell them to get to Walmart and get some of the #HummusMadeEasy.
Several of us here in the house like hummus but the problem is when we get a hankerin' for some hummus it's at the store! With Hummus Made Easy, we can keep the two items in the pantry and make it whenever we want – do you have any idea how great that is? I wish I could have more food this easily!
Here's my tip: Take that $5 you have in your pocket and go buy a can of Bush's Beans and a pouch of Hummus Made Easy – bring it home and make it. Put it in the fridge for a while if you like it cold and eat up. I highly recommend the egg-o-nater…..and think about it, it's fun to say! Enjoy!