It is so cold here! How about where you live? Tomorrow morning, they tell me it will be about 9F when I leave for work. I hope I don't have car trouble because I will probably freeze to death. My work clothes are not made for this kind of weather. Today it was sunny but cold and blustery just the same. Everyone in the house wanted stew but I wanted something different. I decided it would be Daube Glace' – or at least my version of it.
When I was a girl, we used to visit my parent's friends, Sam and Juanita Labrocca who lived in the country near Ft. Gibson, OK. They were both from Italy and while they had a lovely home, they had no bathroom inside the house! Yep, they had an outhouse. I had to use it once and it was as awful as you think. We went to lunch there often on Sundays after church and we had wonderful spaghetti with meatballs, petit pois – angel hair pasta with green peas, anchovy pizza, and this wonderful meat dish: it was roast with gravy – spaghetti sauce – that was so delicious I would nearly lick my plate clean each time they served it.
Moving forward to my first marriage, Top Girl's dad and I took a trip to NOLA. He had been many times so he knew all the best restaurants and fun places to go. I've been back many times since then but I will never have as much fun as I did the first one. He bought me a cookbook for $7.95 while we were there that I have continued to use on and off for the last 30 years. It's called "Old French Market Recipes" by Lois deLatour. Lois ran a restaurant called de Latour's Chicken Restaurants in NOLA that specialized in chicken but also served other Cajun fare.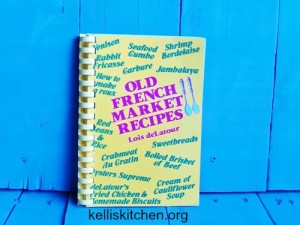 This is the colorful front of the cook book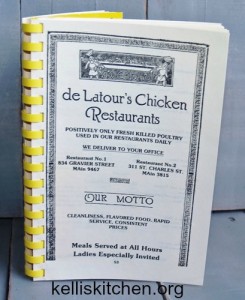 In the book – this is the front of the menu from the original restaurant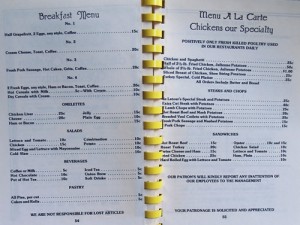 Look how cheap these dishes were!
I made several of the recipes over the years and one day came upon a recipe called Daube and Spaghetti. I decided to make it and when I took my first bite I was taken back to my childhood at the Labrocca's house eating that wonderful recipe of meat and gravy. I sure love it and I think you will too. First, you should know that this makes a very large amount and you can cut it all in half making it pretty nice sized for 2 people for a couple of meals. That's what I used to do but now, I make it full-sized for all the eaters in my house….I'm always happy to see them eat it all up.
Daube Glace'
Ingredients:
Two roasts – 3 to 4 pounds each – one beef and one veal. (we do not eat veal so both ours are beef)
Sauce ingredients:
½ stick butter
¼ cup olive oil
1 12-ounce can tomato paste
2 16-ounce cans tomato puree
4 Tablespoons flour
1 bunch Italian parsley, 2 heads garlic, 1 stalk of celery, 1 green bell pepper, 1 bunch green onions, 1 red onion – all finely chopped and mixed together
1 tablespoon sugar
4 8-ounce cans of mushrooms, stems & pieces – including liquid (we leave these out for Mr. Picky eater)
8 cups beef stock
3-4 Bay Leaves
1 teaspoon each of oregano, thyme, basil, and rosemary.
4 ounces grates Romano cheese
Directions:
Put oil and butter in large, oven-proof Dutch oven over medium heat.
Slowly stir in flour and continue stirring until the flour smell is gone.
Add tomato paste and stir some more.
Pour in tomato puree a little at a time while continuing to stir then put in all the finely chopped fresh vegetables.
Add in sugar and all listed spice.
Sear roasts and add to the sauce.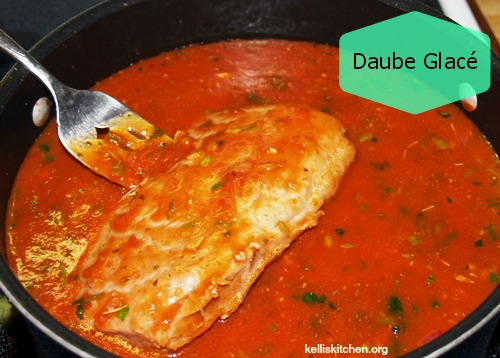 Cover pot and cook on medium for 30 to 45 minutes, meanwhile pre-heat oven to 325 f.
After it's cooked for 35 minutes put it in the oven and cook in there for 3 hours or until roasts are fall-apart tender.
Add mushrooms in the last ½ hour.
Remove from oven and stir in grated cheese.
Pull roasts out and allow to rest for about 30 minutes then slice meat and serve with sauce or make pasta and serve sauce with pasta.
This is one of the most warm and comforting dishes ever! Stay warm and I hope you try this dish sometime soon!