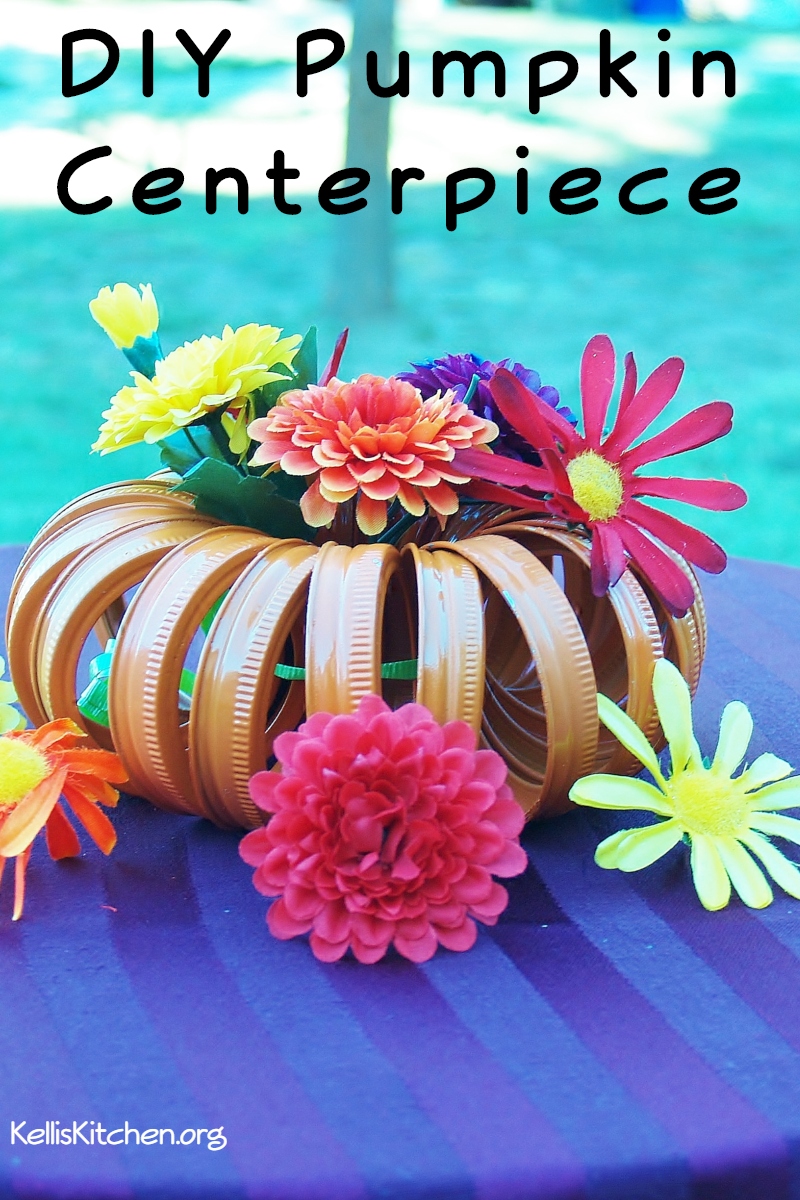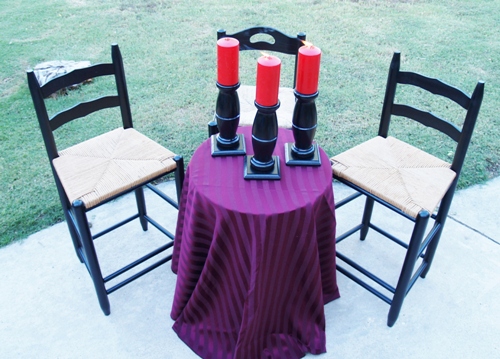 For those of you, who are used to a recipe from me, know every so often I post something I have repurposed – and when I say "I", I mean I buy and have the idea and Mr. Picky Eater executes the design. This one is pretty impressive and it's all due to MPE's talent! It's amazing what a little Krylon Black Satin and one can of Krylon Colormaster Pumpkin Orange Gloss is capable of, isn't it?
The first of September, I read on the Oklahoma Women Bloggers site that this month's challenge would be a $25 Thrift Store Challenge. I was In Like Flynn on this because I love the thrill of the hunt! However, I am not a fan of thrift stores. I prefer yard sales and since it is still very warm here, I thought I would find my treasures where I usually do. We were also supposed to make it something to wear. Uh, nope however, I did stick with the $25 limit AND this will be posted by tomorrow when I'm supposed to link up with them……………I followed ½ the rules and for those of you who know me, know that's better than average.
I did not find my challenge items until Saturday morning and it was difficult because I was looking from inside the car while Top Girl followed my pointing and then relayed info on cost – but together, we got it done! I was in the car because I had a little back problem. Getting in and out of the car was not going to happen. So here it is:
These 2 chairs were $1.75 each at the third day of an estate sale (80% off).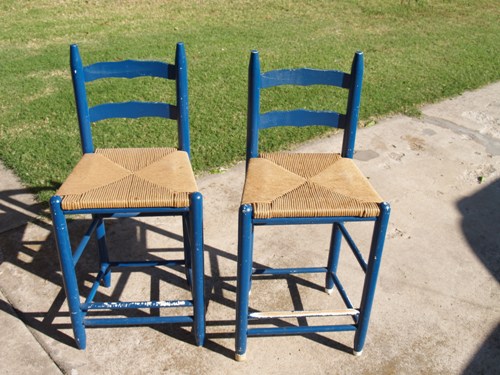 This white chair was at a different yard sale but had the same woven rush seat so I paid $2.50 for it.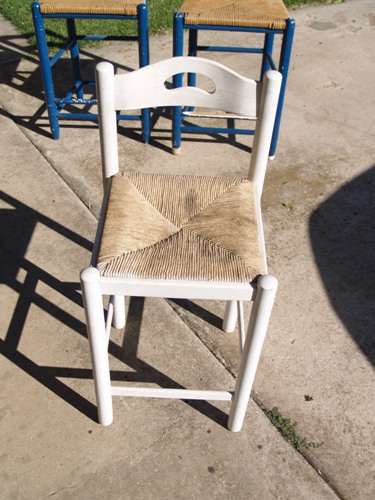 At the same yard sale, I got this awful end table for $1. Notice it does not have any pedestals on the bottom – wonder where those are? The top is pressed board- very chipped!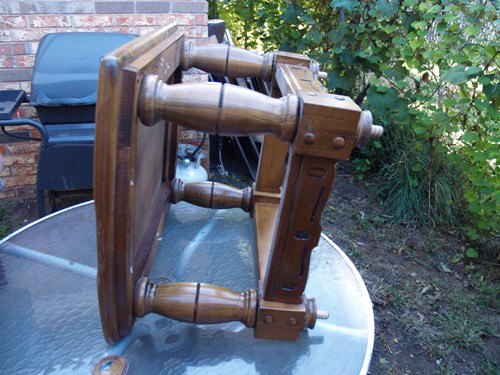 These were at another sale in the free box.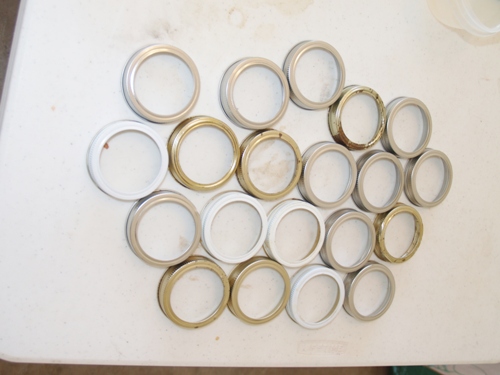 So, a total of $7 for all these. With a little elbow grease and $18 (including tax) in paint and 3 wooden bases, it came to exactly $25!! Not bad, is it?
MPE painted the lids Krylon Colormaster Pumpkin Orange Gloss.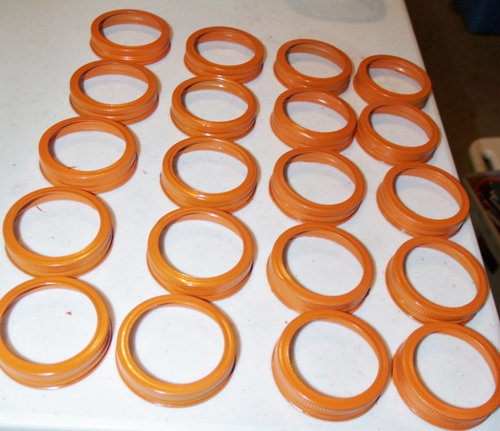 After I got the jar lids, I saw this wonderful post from Brandie at The Country Cook – who did a lovely job with her pumpkin. Mine is just okay but I thought the flowers made it look lovely.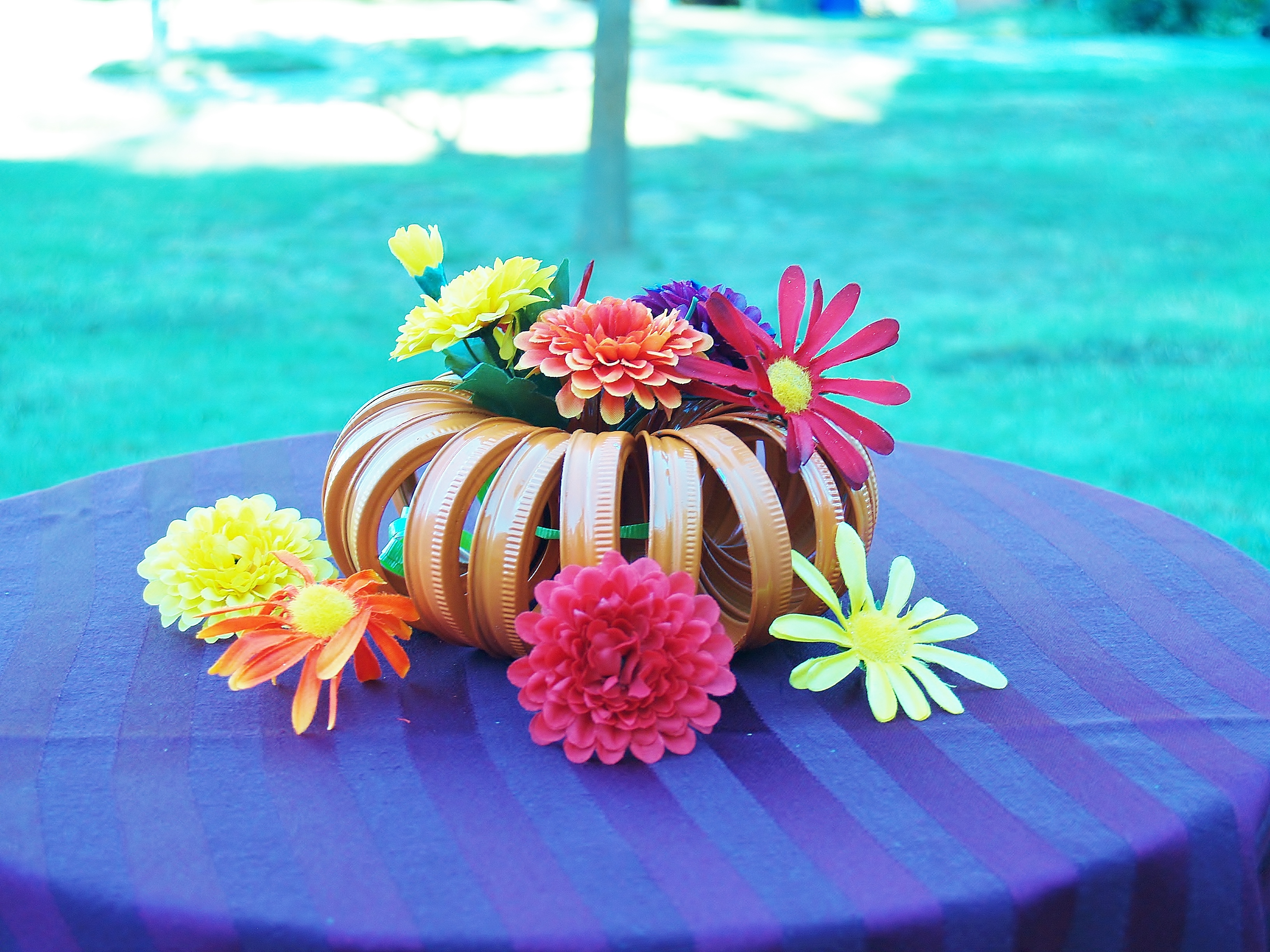 Mom is going to enjoy it as a decoration for her dining table! If you like it share and or pin! Thanks!